MAGLJMatthew
From MasonicGenealogy
JAMES MATTHEW 1884-1955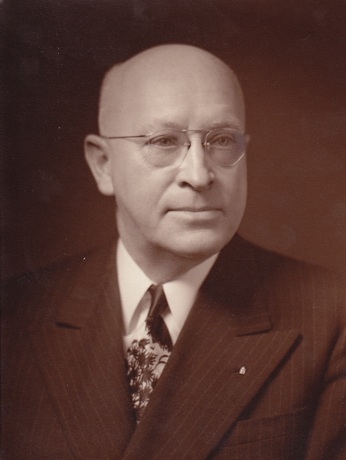 Junior Grand Warden, 1950
MEMORIAL
From Proceedings, Page 1955-135:
Right Worshipful James Matthew was born in Schenectady, New York, on February 27, 1884, the son of John and Harriet (Weekes) Matthew, and died in Springfield, Massachusetts' on May 21, 1955.
R.W. Brother Matthew was educated in the public schools in Schenectady and spent his early life there. He worked with his father as a pattern maker at the General Electric Company in Schenectady before moving to Indian Orchard in 1920. Here he was associated with the Chapman Valve Company where he was Supervisor of Patterns, retiring from that position on October 1, 1954.
On April 26, 1913, he married Maude Remington, who survives him, as do their son, James R., and their daughter, Mrs. Jennie Difley, and eight grandchildren. Brother Matthew was an enthusiastic and devoted Mason, exemplifying at all times the true spirit of friendship and brotherly love. He received his degrees in Indian Orchard Lodge, Entered Apprentice Degree on March 8, 1923; Fellow Craft on April 16, 1923, and Master Mason on May 17r 1923.
He was appointed to office in Indian Orchard Lodge in the Fall of that year and served as its Master in 1929. He was elected Treasurer of his Lodge in 1944, serving in this office at the time of his death. He served as District Deputy Grand Master for the Springfield Thirty-third Masonic District in 1932 and 1933, by appointment of Most Worshipful Curtis Chipman. He was awarded the Joseph Warren Distinguished Service Medal for meritorious service to the Craft on March 13, 1948. He served as Junior Grand Warden of the Grand Lodge of Massachusetts in 1950, and as Grand Representative of Occidental Grand Lodge in Cali, Columbia, from 1952 until his death. He received the Henry Price Medal in 1950. He held honorary membership in Longmeadow Lodge, Longmeadow; Samuel Osgood Lodge, Springfield; Newton, Wilbraham; Elm Lodge, West Springfield; Mount Orthodox Lodge, West Springfield; Eden Lodge, Ware; Charles C. Spellman Lodge, East Longmeadow, and his own Indian Orchard Lodge.
He received the Royal Arch Degree in Morning Star Chapter at Springfield on April 25,1924, and served as its High Priest in 1944, and as its Treasurer for many years preceding his death. He received the Super Excellent Degree in Springfield Council, Royal and Select Masters on May 16, 1945. He received the Order of the Temple in Springfield Commandery No. 6, Knights Templar, on May 22r 1944.
In the Ancient Accepted Scottish Rite he received the Degrees in Evening Star Lodge of Perfection on May 3, 1949; in Massasoit Council, Princes of Jerusalem on May 17, 1949; in Springfield Chapter of Rose Croix on April 7, 1949, and in Connecticut Valley Consistory on April 28, 1949.
He was a member of Melha Temple, A.A.O.N.M.S., and served as Potentate in 1952. He held honorary membership in twenty-six Shrine Temples throughout the United States. He became a member of Dwight Clark Chapter, No. 148, Order of the Eastern Star, in 1937 and seryed as Worthy Patron in 1941.
His pleasant smile and warm hand clasp brought him a host of friends and he was known and well liked wherever he went. A true personification of Masonry.
Funeral services were held at the Dickinson-Streeter Funeral home in Springfield on Tuesday afternoon, May 24, 1955. The Masonic service was conducted by the presiding Master of Indian Orchard Lodge, Wor. William F. Sweetland., Jr., and the other officers of his Lodge, and Rev. Bro. Leslie H. Johnson, Pastor of Wesley Methodist Church, officiated for the Church service. The Grand Lodge was represented by Most Worshipful Thomas S. Roy, Past Grand Master; Right Worshipful Henry O. Holley, Senior Grand Warden; and Right Worshipful Brothers Gurdon W. Gordon, Past Deputy Grand Master; Emil U. Dillenback, Past Deputy Grand Master; Ronald Astley, Past Senior Grand Warden; Sten G. Nyberg, Past Senior Grand Warden; George W. Gray, Past Junior Grand Warden; Hilmer Ackerrnan, District Deputy Grand Master for the Springfield 33rd District; Raymond L. Chisholm, District Deputy Grand Master for the Chicopee 18th District; Francis M. Webler, District Deputy Grand Master for the Springfield 18th District; Alexander R. Dunbar, Grand Lecturer; and Worshipful Rev. Raymond H. Kendrick, Grand Chaplain. Interment was in Hillcrest Cemetery.
His passing leaves a void in our hearts, but the memory of his friendship will remain with us always.
Fraternally submitted,
Roger Keith
Hilmer Ackerman
William F. Sweetland, Jr.
Committee
---