MAGLADunbar
From MasonicGenealogy
ALEXANDER ROBERTSON DUNBAR 1899-1972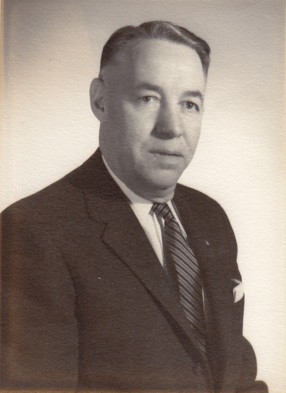 Senior Grand Warden, 1959
MEMORIAL
From Proceedings, Page 1972-31:
"R.W. Alexander Robertson Dunbar, son of David and Hannah Robertson Dunbar, was born on February 9, 1899, at Arbroath, Scotland. He died on January 6, 1972 at Wesson Memorial Hospital, Springfield, Massachusetts.
"A retired gun inspector for the Savage Arms for the past fifty years, he made his home at Beauchamp Terrace, Chicopee Falls, Massachusetts. He leaves one brother, David, in Scotland. He was a member of the Chicopee Falls Methodist Church, a cemetery commissioner for the city of Chicopee and an active Mason serving our Grand Lodge for over twenty-five years. A member of Belcher Lodge, he was initiated November 16, 1925, passed January 4, 1927 and raised March 1, 1927.
"He served as Worshipful Master 1934, 1935 and again in 1945. He was District Depury Grand Master of Springfield 33rd District, 1948 and 1949. He served as Grand Lecturer from 1953 to 1958 and 1960 to 1972. He'was elected Senior Grand Warden in 1959 and a recipient of the Henry Price Medal in 1959. He was Grand Representative to the Grand Lodge of Saskatchewan from 1959-1972. He was awarded the Joseph Warren Medal in 1953. He was Honorary member of twenty-three Masonic Lodges throughout Massachusetts.
"He also served as: Past High Priest of Unity Chapter, Chicopee Falls Royal Arch Masonsl member of Springfield Commandery No. 6; received all the degrees in Scottish Rite Bodies - Valley of Springfield; member of Melha Temple Shrine and Clan Bruce, Order of the Scottish Clan; Past Patron of Cabot Chapter No. 95, Order of the Eastern Star.
"The Scythe of Time has cut the brittle thread of our Brother's life and has left us saddened with the great loss of his passing, but rich with the memory of his love and devotion for Masons and Masonry, of his perfection as a ritualist, and of the impressive performance when he installed or gave the third degree charge. Yes, he will be missed, but he has been found worthy to be admitted into the Sanctum Sanctorum above, there to rest secure in the protecting love of our Heavenly Father and enjoy the happy reflection consequent on a well spent life, in a world where all are equal.
There is a world where all are equal
We are hastening toward it fast
We shall meet upon the level there
When the gates of death are past.
We shall stand before the Orient
And our Master will be there
To try the lives we offer
By His own unerring square.
We shall meet upon the level there
And from thence no more depart
There's a mansion now in waiting
For each faithful trusting heart.
There's a mansion and a welcome
And a multitude are there
Who have met upon the level
And been tried upon the square.
"A very large representation of Grand Lodge officers and officers and Brethren from all over Massachusetts were in attendance at a Masonic ritual service held at the funeral home Sunday night. The funeral service was held at the Dickinson-Streeter Funeral Home Monday afternoon lvith Rev. Robert W. Holcomb, Pastor of the Chicopee Falis Methodist Church officiating.
---