MAGLSNyberg
From MasonicGenealogy
STEN GUSTAF NYBERG 1904-1971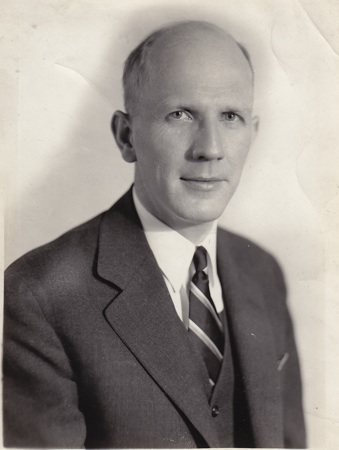 Senior Grand Steward, 1951
Senior Grand Warden, 1953
MEMORIAL
From Proceedings, Page 1971-304:
Right Worshipful Sten Gustaf Nyberg was born in Boston on July 7, 1904, and died in Arlington on April 12, 1971. He was the son of Gustaf and Anne E. Nyberg. He is survived by his wife, Ruth, and one daughter.
Right Worshipful Brother Nyberg's professional career was in the field of law and accounting. His educational preparation was in the Bentley School of Accounting and Finance, Northeastern University, and the Law School of Boston University. He had a successful career as a Certified Public Accountant, a Comptroller, and a Counsellor-at-Law. He was a member of the Boston Bar Association, the Massachusetts Bar Association, the Controller's Institute of America, the National Association of Cost Accountants, the American Institute of Management, and the Massachusetts Society of Certified Public Accountants.
Our Brother had a distinguished career as a Mason, extending over forty-three years. He was raised in Algonquin Lodge on May 7, 1928. He was Worshipful Master of Algonquin Lodge in 1937-38. He was Master of the Fourth Lodge of Instruction in 1940-41. He served as Senior Grand Steward of the Grand Lodge of Massachusetts in 1941, and as District Deputy Grand Master (South Boston 4th District)in 1942. He was elected as Senior Grand Warden for the year 1953. He received the Henry Price Medal in 1953.
Right Worshipful Brother Nyberg became a member of Concord Royal Arch Chapter in 1939, and received the Order of the Temple in St. Bernard Commandery of Boston in 1950. He was active for many years in the Scottish Rite. He was Sovereign Prince of Giles F. Yates Council, Princes of Jerusalem, and was created a Sovereign Grand Inspector General, thirty-third degree, Honorary Member of the Supreme Council on September 27, 1967.
Right Worshipful Brother Nyberg found in Freemasonry not only principles congenial to his character, but a field of activity worthy of his best endeavours. He was aggressive and vigorous in the performance of the duties involved in whatever office he held, and with a genius for friendship he made it easy for others to cooperate with him.
His all too sudden death robbed his family of a loved one, and his friends of a companian whose presence brought heightened interest and enjoyment to every gathering. We salute his memory in gratitude for his contribution to the Craft, and from the inspiration of his life, would find renewed incentive to continue the work to which he gave his life.
Respectfully submitted,
Thomas S. Roy
William A. Wood
Harry E. Davis, Jr.
Committee
---