MAGLGGray
From MasonicGenealogy
GEORGE W. GRAY 1896-1964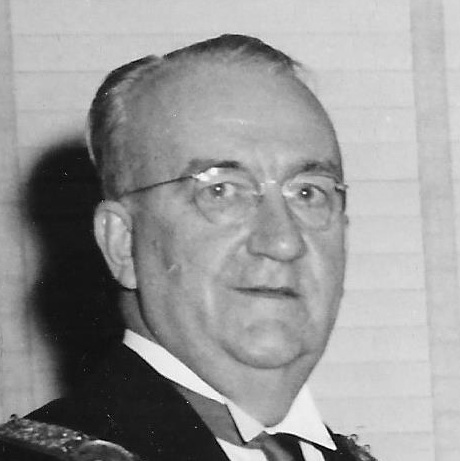 Junior Grand Warden, 1948
MEMORIAL
Right Worshipful George Westphal Gray was born in Brooklyn, New York, March 10, 1896, and died in Springfield, Massachusetts, January 11,1964.
Freemasonry in all its various,branches lost one of its most faithful, devoted and ardent members with the untimely death of Right Worshipful George Westphal Gray at the age of 97. Although he had recently been discharged from the hospital after undergoing major surgery, he had apparently seemed well on the road to a complete restoration of health when he was suddenly stricken in his home.
He was the son of George and Fannie Westphal Gray. His early schooling was in the public schools of Plainfield, New Jersey. After graduating from Bethlehem, Pennsylvania, High School in 1915 he entered the University of Pennsylvania School of Dentistry, received his degree in 1919, and established a dental practice in Springfield, which he maintained until his death.
In 1921 he was married to Emily Bryant Coote, A son, Dr. George Robert Gray, became associated with him in the practice of dentistry. Both:his wife and son as well:as three grandchildren survive.
In Craft Masonry, Brother Gray was raised in Hampden Lodge in Springfield, February 27, 1923; became Master in 1934; District Deputy Grand Master of the Springfield 18th District in 1938 and 1939 by appointment of M.W. Joseph Earl Perry; Grand Representative of the Grand Lodge of Kansas from 1939 to the date of his death and Junior Grand Warden in 1948, serving under M.W. Roger Keith, who presented him with the Henry Price Medal.
He was a Past Master of the Fifth Lodge of Instruction and a member of the Grand Lodge Committee on Masonic Education from 1942 until his death, serving as its Chairman during 1953. In the York Rite he was exalted in the Morning Star Chapter September 28, 1945; greeted in Springfield Council, Royal and Select Masters, on May 11, 1949; and Knighted in Springfield Commandery, K.T., No. 6, on December 12,1945.
He received the degrees of the Scottish Rite in 1940 in Evening Star Lodge of Perfection, Massasoit Council Princes of Jerusalem, Springfield Chapter of Rose Croix and Connecticut Valley, Consistory, all in the Valley of Springfield. He was appointed Master of Ceremonies in the Lodge of Perfection in March 1941 and elected Senior Warden in 1942 and 1943, and was elected Junior Warden of Massasoit Council Princes of Jerusalem is 1942, serving until March of 1944, when he was compelled to forego further active participation in Scottish Rite because of the many other demands - personal, professional, civic and Masonic - made upon his time and energies.
In the appendant bodies Brother Gray was initiated in Melha Temple, AANOMS, in 1940, became its Illustrious Potentate in 1946, and served as Orator since 1949. He was a Past President of Cabri, International Past Potentatcs' Association. He originated Shrine Blue Lodge Night in 1942 and served as Chairman and Master of Ceremonies until his death. ln 1942 he also originated and acted as Chairman of the Shrine Blue Lodge Purple Degree Team.
He was a member and Past Direotor of Springfield Court #144 Royal Order of Jesters, and last December he had been elected to receive the Orders of the Red Cross of Constantine in Saint Matthew's Conclave in Springfield, but his death occurred before the Orders could be conferred.
In professional life Brother Gray was a prominent Dentist, a member of the Valley District Dental Society, the Massachusetts State Dental Society, and the American Dental Association. He was a member of the First Church of Christ, Congregational, and of its Financial Board, a member and Director of Springfield Rotary CIub and as a Veteran of the First World War he was a member of American Legion Post #21 in Springfield.
Funeral Services attended by a host of his friends, despite one of the worst storms of the winter, were held January 14th at his Church on Court Square in Springfield and the interment was in Hillcrest Park Cemetery.
Right Worshipful Brother Gray's loss to the Masonic Fraternity is one that will be felt for many a year, He was equally happy laboring in the Masonic quarries as he was superintending the work. He had an extraordinary capacity for warm friendships. Widely known as a Mason, not only throughout Massachusetts but also far beyond our jurisdiction, he commanded the respect and affectionate esteem of all who were fortunate enough to come within the warmth of his friendship. He was not only a man worthy of the finest of friendships but by the same token he inspired those whose paths he crossed to prove themselves worthy of his friendship. The extent and the warmth of his Masonic friendships was vividly demonstrated when friends from near and far, many from out of state, gathered on the occasion of the Installation of his son as Master of Hampden Lodge in October, 1958. Brother Gray's friends share with his family the loss which we have all sustained, but rejoice that we have been privileged for so many years, to share with them this gracious friend and sincere Masonic Brother.
Fraternally submitted,
Whitfield W. Johnson
Ray L. Bartlett, Jr.
Philip A. Christensen
Committee
---