StBernard
From MasonicGenealogy
SAINT BERNARD'S LODGE
Location: Southborough
Chartered By: Charles C. Dame
Charter Date: 09/09/1868 VII-248
Precedence Date: 09/06/1867
Current Status: unknown; merged into United Brethren Lodge, 04/27/1996.
---
PAST MASTERS
John Blair, 1867-1873, 1876
John F. Pearl, 1874, 1875
Lowell Holman, 1877
Henry C. Williams, 1878, 1879, 1881, 1887
Samuel F. Blodgett, 1880, 1882, 1886
Francis D. Newton, 1883-1885, 1901, 1902; SN
Frederick A. Fairbanks, 1888-1890
Irving W. Horne, 1891
Paul S. Lincoln, 1892
Samuel A. Wilson, 1893
Charles W. Frail, 1894, 1895
F. Samuel Draper, 1896
Merlon A. Johnson, 1897
John Sealey, 1894, 1899
Lorenzo C. Newton, 1900
Edgar M. Smith, 1903, 1904
John F. Baker, Jr., 1905, 1910
Hiram E. Barney, 1906, 1907
Edgar D. Hawkins, 1908, 1909
George A. Sanders, 1911, 1913
William Y. Stivers, 1912, 1914
Edwin A. Simpson, 1915, 1916
Charles A. Knight, 1917
Harry A. McMaster, 1918, 1919
Eugene P. Bent, 1920, 1921; Memorial
William L. Smith, 1922, 1923
Arthur E. Smith, 1924
James G. Stockwell, 1925
Erwin L. Smith, 1926; SN
James W. Robbins, 1927, 1928
Chester C. Gray, 1929
Clarence W. Wentworth, 1930; N
Felz W. Bridges, 1931
Joseph F. Blake, 1932
Harry B. Spurr, 1933
Harry W. Moore, 1934
Elwood W. Ward, 1935
Arlington A. Wilde, 1936
Earle S. Bugbee, 1937
Everett I. Flanders, 1938
Herbert P. Faber, 1939; N
Frank Charnley, 1940
Clarence E. Baker, 1941, 1942
John L. Connor, 1943
Harold Aiken, 1944
Burton B. Derby, 1945
Edmond H. Bullard, 1946
Charles E. Corbett, 1947
Thomas H. Ferris, 1948, 1964
Ralph F. Rand, 1949, 1983; SN
Hugh J. Heckle, 1950
George P. Knight, 1951
David W. Aldrich, 1952
Herbert P. Pendleton, 1953
Donald M. Campbell, 1954
Frederic E. Claflin, Jr., 1955
Lewis M. Lacounte, 1956
Albert E. Killam, 1957
Donald R. Banks, Sr., 1958, 1965
James E. Malcom, 1959
Albert A. Erickson, 1960
Henry P. Szretter, 1961
James E. Hawkins, 1962
George T. Campbell, 1963
Russell F. Fortini, 1966
James A. Vytal, 1967; N
Willard S. Putnam, 1968
John J. Farrell, 1969
David F. Schnare, 1970; SN
Manuel D. Buchieri, 1971
Paul R. Nelson, 1972
Lawrence F. Heine, 1973
Warren R. Meier, 1974
William M. Meyers, 1975
Francis A. Derby, 1976
James E. Burt, 1977
James H. Cookman, III, 1978
Michael A. Pessolano, 1979, 1994-1996
Ronald C. Nelson, 1980, 1988
William E. Gray, 1981
Donald R. Banks, Jr., 1982
Lanny M. Beaulieu, 1984
Richard S. Carman, 1985
Kevin J. O.Donnell, 1986, 1992
Danny R. Chernewski, 1987
Alexander W. Macneil, 1989
Gene B. Reid, 1990
Robert S. Szumski, 1991
James P. Martin, 1993
Thomas J. Meleones (Hon.)
REFERENCES IN GRAND LODGE PROCEEDINGS
ANNIVERSARIES
VISITS BY GRAND MASTER
BY-LAW CHANGES
1869 1878 1879 1903 1911 1948 1954 1955 1960 1967 1968 1969 1973 1980 1986 1991 1994
HISTORY
75TH ANNIVERSARY HISTORY, SEPTEMBER 1942
From Proceedings, Page 1942-203:
By Right Worshipful Clarence W. Wentworth:
Webster's Dictionary defines history as follows: "An account of past facts and events, arranged in the order of their occurrence." Therefore, we reconstruct the past events of Saint Bernard's Lodge and bring them to light. From them you, our honored guests of the Grand Lodge and our new members, may learn why Saint Bernard's Lodge, small in membership but large in the friendly and brotherly spirit shown to all that come within its portals, has become one of the landmarks of the community. Such reward is due any organization after it has served its community, as has this Lodge, for seventy-five years.
Seventy-five years, according to the Psalmist, is about the allotted span of life given to human beings, but in an institution such as ours, which has survived the trying days of the past, it has been a brief period and we are animated by the lives and deeds of the Brethren who have gone before. In looking back upon the early days of the Lodge, it would be well for us to consider the circumstances and environments of its members. With the present rapid transit by auto, bus and plane which annihilates space and reduces cities to neighborhoods, and with the modern conveniences of electricity and air conditioning, we little appreciate the conditions under which our early members lived and discharged their Masonic duties. It was not an uncommon thing for members of the Craft to walk or drive long distances to attend Lodge meetings, but their love for the Craft, however, prompted them to the faithful discharge of their duties.
It has been a great pleasure to review the records of the seventy-five years since the organization of Saint Bernard's Lodge, although some of the earliest records are almost obliterated and only by the use of a reading glass can the early events of the Lodge be brought to light.
The petitioners to the Grand Lodge for a dispensation were Lyman B. Collins, Joseph Burnett, John W. Hammond, Curtis Newton, Caleb S. Williams, John A. Page, Frank W. Walker, J. Henry Robinson, H. W. Smith, Henry Smith, Lewis Brewer, Lorenzo C. Newton, John Blair and Sullivan F. Onthank. We learn that on September 12, 1867, the first meeting was held under the dispensation granted by Most Worshipful Grand Master Charles C. Dame and that the following officers were chosen:
John Blair, Worshipful Master
Leander Newton, Senior Warden
John A. Page, Junior Warden
Caleb S. Williams, Treasurer
J. Henry Robinson, Secretary
Joseph Burnett, Chaplain
Curtis Newton, Marshal
Lorenzo C. Newton, Senior Deacon
Peter W. Howe, Junior Deacon
Lewis Brewer, Senior Steward

Sullivan F. Onthank, Junior Steward
Lorenzo Walker, Tyler
Worshipful Brother Blair was Master of Middlesex Lodge 1866-1867 and so was well qualified to carry on the duties of Master of this new Lodge.
The name of Joseph Fairbanks was proposed at this first meeting and on October 24, 1867, the first special meeting of the Lodge was held and he was duly initiated an Entered Apprentice, showing that the officers lost no time but were very anxious to demonstrate their ability.
November 7, 1867, on motion of Brother Joseph Burnett, the Master and Wardens were appointed a committee to negotiate a lease for quarters for the Lodge from Mrs. Wall. The records do not state where these quarters were, but by investigation, the writer learns the first meetings were held in a small hall situated on the site of Fay School Annex and now the private garage of Mr. Edward Fay.
November 21, 1867, Worshipful Burleigh Morse, presiding Master of United Brethren Lodge, occupied the East and by request of the Lodge, initiated Allen S. West as an Entered Apprentice. At this time Worshipful Brother Morse presented the Lodge with a membership ledger which is still in good condition after seventy-five years of constant use.
January 16, 1868, Saint Bernard's Lodge held its first entertainment and had as guests six Brethren from North Star Lodge, eleven from Siloam and one from Marlboro.
March 8, 1868, our Chaplain, Brother Joseph Burnett, who was a very public spirited man, donated to the Lodge $158.50 to pay for decorations to the lodge-room, furniture, etc. Brother Burnett served the Lodge six years as Chaplain and then, owing to business connections, was obliged to retire as an officer, but the records show that Saint Bernard's Lodge was dear to his heart for on a number of occasions he made generous donations. He also left behind, as monuments to his memory, St. Mark's School and St. Mark's Episcopal Church.
September 28, 1868, was an unusual day for the Lodge, for its honored guests were Most Worshipful Charles C. Dame and his suite, who had come to Southboro to constitute Saint Bernard's Lodge and to dedicate the lodge-room. Thus Saint Bernard's Lodge received its Charter and reported that under dispensation thirteen regular and twenty special meetings had been held.
October 1, 1869, the Lodge held its first public installation, with Right Worshipful Charles G. Reed of the 11th Worcester District, and his assistants, installing the officers.
March 2, 1871, Brother J. H. Robinson presented a Past Master's jewel to Worshipful Brother John Blair, who was Master eight years, seven of them consecutive. If any Master was ever entitled to a jewel, it was this Brother, for his faithful and zealous attention to the duties of the Lodge.
May 21, 1875, Francis Dexter Newton's application was presented. He was later to become one of the outstanding members of the Lodge. He received his Master Mason Degree August 19, 1875, and on October 14, 1875, was elected Secretary — an office he filled for seven years. He was also Chaplain for five years, Treasurer, five, and Master, five, later serving the District as District Deputy Grand Master for two years — 1912 and 1913.
December 1, 1876. The communication was held under this date by reason of Thanksgiving coming on the appointed night. The Stated meetings were held on Thursday on or before the full moon each month.
February 26, 1889, Paul S. Lincoln received his Master Mason Degree. This Brother is the pillar of strength in Saint Bernard's Lodge, and though incapacitated now on account of his age, he still maintains his interest in the Lodge. He had devoted much time and money to our present building when it was a church and it was largely through his earnest endeavors that it later became our lodge quarters. Brother Lincoln was elected Worshipful Master in 1892 and also served the Lodge efficiently as Treasurer for eighteen years.
August 5, 1899. On this day a special meeting was called for the purpose of discussing the possibility of Saint Bernard's having new lodge quarters. Worshipful John Sealey was Master at this time and he informed the members that a piece of land near the station could be bought for $1000.00 and that an option had been taken on it. It was voted to adjourn until August 14, at which time a building association would be formed.
October 17, 1900. It was voted to lease a new lodge-room at a rental not to exceed $125.00 per year. This may seem to be a very small amount, but the Lodge was in arrears for years by not being financially able to meet the sum annually.
April 21, 1910, Brother Fred M. Ambrose presented the Lodge with a gavel made from stone which he had procured from King Solomon's quarries in Jerusalem, the handle being made of olive wood.
March 9, 1911. Voted that the by-laws be changed so that the first clause of Section 1, Article 2, read "Regular communications shall be held on the second Wednesday of each month."
December 29,1911, a reception was held for Right Worshipful Francis Dexter Newton, there being present seventy-five members of the Craft to honor him on his appointment as District Deputy Grand Master. It was the first time in the forty-three years of its existence that Saint Bernard's Lodge had been honored by such an appointment.
September 18, 1912, was the first visitation of Right Worshipful Brother Newton in his own Lodge. Fifty visitors from neighboring Lodges, as well as sixteen from other Districts, were present, demonstrating the esteem in which our new Deputy was held.
May 13, 1914. This meeting was a regular communication and the last to be held in the Masonic Building. Sixty members and visitors were present and Lodge closed in form at 10:15 p.m. Between one and two o'clock in the morning, the building was destroyed by fire, the Lodge losing all its property.
June 10, 1914. The Lodge rented Fayville Hall for $2.00 per night and this meeting was the first to be held there. Thus the members were inspired to carry on and work for the future.
October 31, 1914. Voted to appoint Worshipful Brothers Edgar M. Smith and John Sealey and Right Worshipful Brother Francis D. Newton a committee to inspect the furniture of an Athol Lodge which had surrendered its charter and power given them to purchase what they found desirable.
November 11, 1914, the committee reported they had purchased the furniture from the Brethren at Athol for $300.00 and a vote of thanks was extended Brother Smith for his work in connection with the transaction.
December 9, 1914, Saint Bernard's Lodge held its first meeting in lower town hall (formerly the library room), which was to be its home for the next sixteen years.
November 14, 1917, Saint Bernard's Lodge celebrated its fiftieth anniversary and was honored by the presence of Most Worshipful Leon M. Abbott, Grand Master, and his suite, as follows:
R. W. William M. Harrington, Senior Grand Warden

R. W. Edward L. Chase, Junior Grand Warden
R. W. William M. Belcher, Past Grand Warden
R. W. George W. Bishop, Past Grand Warden

R. W. Roscoe E. Learned, Past Grand Warden
R. W. Charles H. Ramsey, Grand Treasurer
R. W. Frederick W. Hamilton, Grand Secretary
R. W. George H. Gutteridge, D.D.G. Master, Dist. No. 24
R. W. Edward N. West, Grand Marshal
Wor. Rev. R. Perry Bush, Grand Chaplain
Rev. Francis L. Beal , Grand Chaplain
H. Everett Crane, Senior Grand Deacon
George T. Wiley, Junior Grand Deacon
John H. Blodgett, Senior Grand Steward
Clarence A. Russell , Junior Grand Steward
Herbert M. Chase, as Grand Steward
J. Everett Brown, as Grand Steward
John P. Feehan, Grand Standard Bearer
After an informal reception for the Grand Lodge Officers, all repaired to the banquet hall where over one hundred enjoyed a turkey dinner. Returning to the lodge-room, Most Worshipful Leon M. Abbott delivered the anniversary address. Brother Leander W. Newton, the only living Charter Member, was present and gave an interesting talk on the early days of the Lodge. Brother John E. Rice also addressed the Brethren.
October 10, 1923, was the official visitation of Right Worshipful Elon F. Tandy, District Deputy Grand Master for the 24th Masonic District. The members of the Craft enjoyed a banquet in the vestry of Pilgrim Church, owing to the fact that the Knights of Columbus were using the remainder of the town hall. As the District Deputy, accompanied by his suite, marched into the lodge-room, the fife and drum corps in the upper hall played a march and he informed the Brethren that was the first time he ever marched to Knights of Columbus music.
February 11, 1925, a reception-was given in honor of our new District Deputy Grand Master, Right Worshipful Eugene P. Bent, at which time he was presented a Past Master's apron by the officers of Saint Bernard's Lodge as a token of their esteem.
May 13, 1925. The Lodge was honored this evening by the presence of its only living Charter Member, Brother Leander W. Newton, who had been made an Honorary Member at the April 18th meeting. This was Brother Newton's first visit to the Lodge for a number of years as he was now eighty-six years old, although in excellent health. Brother Newton at this time presented the Lodge with a check for fifty dollars.
June 10, 1925. The Grim Reaper visited Saint Bernard's Lodge and removed one of its most outstanding members, Worshipful Arthur E. Smith, a Brother who surely exemplified our Masonic teachings in his daily life. His life was one of service to his fellow man. His record in the newspaper world, where he merited and received the respect and regard of his fellow workers, was an exceptionally brilliant one. His life, both in business and in private, was worthy of emulation—in every sense of the word, he was an honor to our Lodge.
May 11, 1927, Veteran's Medals were presented Brother Nathaniel R. Gerald and Right Worshipful Francis Dexter Newton by Right Worshipful Winfield Temple, District Deputy Grand Master for the 24th Masonic District. Brother Newton responded very feelingly and gave a number of reminiscences of the past fifty years. He stated that in the early days anyone who did not have a horse had to walk and that he did the walking act many times.
May 9, 1928, Brother Frank I. Bassett presented the Lodge with a set of Lesser Lights. It was voted that the Lodge accept the gift and extend to him a rising vote of thanks; also that a page in our records be suitably inscribed to him. Every meeting we hold in this lodge-room we enjoy the benefits of his thoughtful gift.
June 10, 1931, it was voted that the Treasurer of the Lodge be instructed to pay the Trustees of Saint Bernard's Building Association the balance due on the purchase price of the building and land at Southville. Thus the Lodge once more owned its own building and we trust may continue to occupy its present quarters for many years to come.
September 9, 1931. The first regular meeting in the new lodge-room was held on this date. Although alterations were not entirely completed, great progress had been made and much credit and praise was due the Brothers who had worked so faithfully and diligently on the project.
September 23, 1931, the present lodge-room was dedicated. After opening, a recess was declared and 121 members and guests repaired to the vestry of the Federated Church and enjoyed a chicken-pie dinner. After disposing of all the good things possible, the Lodge was called to labor from refreshments and the following Grand Lodge Officers were formally received and proceeded to dedicate the new hall to Freemasonry, in accordance with due and ancient form:
M.W. Herbert W. Dean, Grand Master
R.W. Edwin L. Davis, Deputy Grand Master
R.W. Winfield Temple, Senior Grand Warden
R.W. William H. Franklin, Jr., Junior Grand Warden
M.W. Dudley H. Ferrell, Past Grand Master
R.W. James P. Smith, as Grand Treasurer
R.W. Frederick W. Hamilton, Grand Secretary
R.W. George Morrison, D. D. G. Master, Dist. No. 23
R.W. Erwin B. Woodbury, D. D. G. Master, Dist. No. 24
R.W. Charles C. Balcom, Grand Marshal
Wor. Rev. Warren P. Landers, Grand Chaplain
Rev. John C. Breaker, Grand Chaplain
Albert A. Schaefer, Senior Grand Deacon
Charles C. Henry, Junior Grand Deacon
Fred H. Hitchcock, Senior Grand Steward
Eugene Closson, Junior Grand Steward
Morton R. Milne, Junior Grand Steward
Cornelius S. Hurlbut, Grand Sword Bearer
George W. Chester, Grand Tyler
This evening we have the honor to extend to the Senior Grand Deacon at that dedication our most cordial felicitations as Most Worshipful Grand Master — one who by his experience is well qualified for his present office.
December 13, 1933. The regular communication for this month was to honor our senior living Past Master, Worshipful Paul S. Lincoln, who was instrumental in securing our present building. At this meeting, Worshipful Erwin L. Smith gave a most interesting biography of Brother Lincoln's life as a Mason, Steward in the church and as a townsman, speaking in glowing terms of his value to the community, and then dedicating the lodge-room to be known as Paul S. Lincoln Hall.
March 28, 1937, a special communication was held for the purpose of attending the funeral services of Brother Nathaniel R. Gerald at the Congregational Church at Cochituate, Massachusetts. Brother Gerald was Saint Bernard's oldest member, having been initiated an Entered Apprentice June 12, 1873. He was very active in town affairs and later, at Cochituate, served as Postmaster and conducted a store. His Masonic life of almost sixty-four years was very active, as in addition to his membership in Saint Bernard's Lodge, he was a member of Parker Chapter and Natick Commandery.
December 14, 1938, Brother Burton B. Derby presented the Lodge with a set of unique station lights in memory of his father, Brother Warren M. Derby, who passed away December 17, 1936.
February 8, 1939, Right Worshipful Harry E. Burnham, District Deputy Grand Master for the 24th Masonic District, paid Saint Bernard's Lodge a fraternal visit and was accompanied by a large suite. After assuming the East, he instructed his Marshal, Worshipful Brother Gray, to conduct Worshipful Paul S. Lincoln to the East, where after a very cordial greeting, he presented to him a Veteran's Medal in commemoration of his fifty years as a Mason.
During the seventy-five years of its existence, Saint Bernard's Lodge has had forty-two Past Masters, fifteen Treasurers and fifteen Secretaries. The Lodge has been honored three times by the Grand Lodge by the appointment of District Deputy Grand Masters for the District from among its Past Masters, namely: Right Worshipful Brothers Francis Dexter Newton, Eugene P. Bent and Clarence W. Wentworth.
I have diligently searched the records to gather something of the light which has guided our Brethren through the past seventy-five years. The records are imperfect and incomplete, but the real record of the Lodge is not recorded in books, but by its influence upon the community. What the future holds for us we do not know, but we are confident that Saint Bernard's Lodge will continue to be a landmark and a power for good in this community. Our institution has always been a part of the life and growth of man in all ages, turning him from material things of life to spiritual things that lead to truth and character. It measures its existence not by years but by centuries. Where-ever Masonry flourishes and is allowed to build without being hindered, liberty, justice and true religion flourish, and where it is hindered, all suffer. We need only to turn to Continental Europe for corroboration of this statement.
Freemasonry in Southville of today is not the Freemasonry of 1867, nor will it be that of 1967. The Institution has grown and will continue to adapt itself to the new conditions which each age presents. Our Masonry of today is what they made it — Masonry of tomorrow will be what we make it, and as we return to our homes, let us resolve to act as Masons, to live up to the teachings of Masonry in our daily lives and Saint Bernard's Lodge will continue to grow and to have a bright future.
CENTENARY HISTORY, OCTOBER 1967
From Proceedings, Page 1967-407:
By Rt. Wor. Edwin L. Smith.
St. Bernard's Lodge has now been for 100 years the symbol of Freemasonry in Southboro.
Southboro as a town was set apart from Marlboro in 1727, five years before Henry Price organized our Grand Lodge here in Massachusetts.
"When time who steals our years away

Shall steal our pleasures too,

The memory of the past will stay

And half our joys renew." - Moore
Time has taken from us all knowledge, and so too the pleasure of knowing those earliest Masons who found in Southboro a home, who found here the fields for farming, the pastures for their livestock, the timber for their lumber, the water-power for saw and grist mills, all so necessary in those days to family livelihood and prosperity.
It is only from meager records that we can renew' our pleasures and find joy in the fact that fourteen Masons here in Southboro petitioned the Most Worshipful Grand Lodge of Masons in Massachusetts in 1867 for a dispensation to form a new Lodge to be known as "St. Bernard's".
The Lodge's first meeting, under the newly granted dispensation, was held on September 12, 1867. The Presiding Master was Wor. John Blair, a Past Master of Middlesex Lodge of Framingham.
Then on September 28, 1868, Most Worshipful Charles C. Dame, Grand Master of Masons in Massachusetts, with his Suite of Grand Lodge Officers came to Southboro to constitute St. Bernard's Lodge. They presented our Lodge with a Charter and dedicated our new Lodge Room, a lengthy and interesting ceremony. Thus regular and duly constituted Masonry was established here in Southboro.
On the occasion of our 75th Anniversary in 1942, Rt. Wor. Clarence W. Wentworth, who was at the time Secretary of the Lodge, made a thorough study of the Lodge records and compiled a very complete history for presentation at that time. That history is a matter of record both with St. Bernard's Lodge and with the Grand Lodge. It would appear unnecessary at this time to go into that detail again.
Let us consider the history for our 100th Anniversary under three headings: Lodge Quarters, Lodge Meetings and Lodge Members.
LODGE QUARTERS
On November 7, 1867, the Master and Wardens were appointed as a committee to negotiate a lease with a Mrs. Wall for the Lodge Quarters then being used.
This has been assumed to be a small hall situated where the Fay School Annex now stands. According to records the room was furnished and decorated, and served the Lodge for 32 years.
At a special meeting held August 5, 1899, the possibility of new Lodge Quarters was discussed. Wor. John Sealey, the presiding Master, informed the Brethren that an option had been taken on a piece of land as a site for a new building. Though not mentioned in the records, the site was at the corner of East Main Street and Boston Road where the Southboro Pharmacy now stands.
The Lodge voted to adjourn until August 14 at which time a Building Association would be formed. At a subsequent meeting on October 17, 1900, it was voted to lease floor space in the new Masonic Building.
This structure was three stories high. The Post Office, stores and offices occupied the first and second floors with the Lodge apartments on the third floor. I never had the pleasure of seeing this Lodge room, but I do remember the building well.
St. Bernard's tenure here was all too short. On the evening of May 13, 1914, a Regular Communication was held with 60 members and visitors present. Little did they think or know it was to be their last meeting in their Masonic building.
During the early morning hours of May 14 the building was destroyed by fire. It was certainly a shock to me as I passed the building on the electric car that morning on my way to Marlboro to see nothing but the chimney and cellar hole.
Bret Harte, after the Chicago fire, wrote these lines which, I think, best express my feelings of that May morning in 1914. "Blackened and bleeding, panting, prone, On the charred fragments of her shattered throne Lies she who stood but yesterday, alone."
Surely that Masonic building, which was bounded by streets on two sides, the railroad and a vacant lot on the other two sides, and all three stories in chocolate brown with white trim, did stand alone.
Summer and Fall meetings that year were held in the Fayville Village Hall.
Through the efforts of a committee, the furniture of Athol Lodge, which had surrendered its Charter, was purchased. The belongings were installed in the former Library Room in Town Hall, where St. Bernard's Lodge was to be located for the next 16 years.
It was in these quarters that our 50th Anniversary was celebrated in 1917. Too few of us are left who remember being initiated, passed and raised there. Those who do, know that a lot of good old Masonic fellowship was crammed into these small quarters.
In 1931, the Lodge members, through their newly formed Association, purchased the present building where we now are observing our 100th Anniversary. Once more the Lodge took title to its own building. From dreams and negotiations came reality.
The ediface had been the Methodist Church. It was unoccupied after federation of the two Southville congregations. Dedication of St. Bernard's present quarters took place on September 23, 1931. To Wor. Paul S. Lincoln, this was a memorable evening, for this building had been his Church, and he, one of its pillars for many years. He was most influential throughout the negotiations and on this evening it took on a new dignity for him. Two years later, in 1933, the Lodge Room was dedicated in his honor, and since then it has been known as the Paul S. Lincoln Hall.
A warm welcome was given at the 1931 dedication to the Grand Master, Most Worshipful Herbert W. Dean, and the distinguished Suite of Grand Lodge Officers who accompanied him.
The Grand Lodge Suite then dedicated our new Lodge Room according to the Ancient Ritual. The Grand Master addressed the Lodge in a manner befitting the occasion.
Recent improvements, new decorations and the like have put the building into its best condition since we bought it. So for our 100th Anniversary the present St. Bernard's quarters are an inspiration as we look to the future.
LODGE MEETINGS
In the early days, evening travel to and from Lodge meetings was much easier if it could be done by moonlight. For that reason the By-Laws of St. Bernard's Lodge designated the Thursday on or before the full moon for Regular Meetings. Should we say that the moon governed the meetings until electricity, street lights and automobiles were available? Whatever the reason, a change in the By-Laws was voted on March 9, 1911 establishing the second Wednesday of each month as the regular meeting date and so stand the By-Laws today.
At the first meeting on September 12, 1867 an application for the degrees was received. To Joseph Fairbanks went the honor of being the first initiate. He received his Entered Apprentice Degree on the first Special Meeting which was held on October 24, 1867. This indicates that then, as now, the Officers always welcome candidates and the opportunity to exemplify the ritual.
"All work and no play makes Jack a dull boy." This old saying or something similar must have been recognized 100 years ago.
In January 1868, St. Bernard's held its first meeting with entertainment as a part of the evening program. It must have proved appealing. The visitors' register for that evening shows six Brethren from North Star Lodge, Ashland; eleven Brethren from Siloam Lodge, Westboro, each having about a two hour round-trip drive with a good driving horse; and one Brother from United Brethren Lodge, Marlboro, he being a little nearer.
Interest continued with meetings for business, degree work, installation of new officers, reception of Grand Lodge Officers, funerals, anniversaries and meetings with entertainment, varied as these can be. Along this line I should like to mention two such meetings.
One which took place in the mid-twenties comes to mind. In those days most Third Degree candidates were given to believe that they would have to "ride the goat" probably with dire results. On this particular occasion a real live "nanny goat" was presented to Wor. Arthur E. Smith, the presiding Master, by a group of his Brethren from Fourth Estate Lodge. Pictures were taken of the Brethren with Wor. Smith and the goat as they gathered over an old abandoned piece of fire apparatus that had been hauled out of the old horse sheds in back of the Church and Town Hall. A grand time was had by all, including the goat, who consumed with great relish, a large number of cigar butts as fast as they were discarded.
As we all know, a bit of humor may find its way into an otherwise very formal program. This happened on the occasion of an Official Visitation of Right Worshipful Elon F. Tandy, D. D. G. M., of our Marlboro 24th District. As previously stated, we were meeting at the Town Hall, Southboro. Normally, we had free use of the kitchen and lower hall. On this occasion, however, the local Knights of Columbus had engaged both the upper and lower halls for the evening. Our dinner was served in Pilgrim Church Vestry. Just as R.W. Brother Tandy entered the hallway to the Lodge Room, a fife and drum corps in the upper hall struck up a march; a coincidence to be sure. Brother Tandy remarked later that it was the first time he had ever marched to a Masonic meeting with K. of C. music. I find no recognition of our 25th Anniversary.
Our 50th Anniversary was held Nov. 17, 1917 in the Lodge Room in the Town Hall. The smallness of the room seemed to enlarge the spirit of the occasion.
Most Worshipful Leon M. Abbott, Grand Master, with a distinguished Suite of Grand Lodge Officers, was present and conducted the program with the usual dignity.
Most Worshipful Brother Abbott delivered the Anniversary address. Bro. Leander W. Newton, the only living Charter Member, was present and spoke of the early days of St. Bernard's Lodge.
Our 75th Anniversary was celebrated September 30, 1942, in our present Lodge quarters. We were honored this evening in having with us Most Worshipful Albert A. Schaefer as Grand Master accompanied by his Grand Lodge Officers.
After being received in proper form, Most Worshipful Brother Schaefer introduced those who accompanied him. The program then continued with a history of St. Bernard's Lodge by Rt. Wor. Clarence W. Wentworth, our Secretary at the time. Its detail is to be commended to all interested.
The Joseph Warren medal was presented to Wor. Paul S. Lincoln at this time for his distinguished services to the Lodge. It was a well-deserved honor to one who had served his Lodge and Masonry for so many years.
It was unfortunate that this 75th Anniversary had to come in the midst of those trying times associated with World War II. However, such was the case and so we began the 25-year period that ends with this 100th Anniversary. This quarter century has seen the greatest scientific advancement of any time known to us in world history. The speed of present day travel and communication has made the world little more than a neighborhood.
Our own interests have so broadened that we think nothing of traveling distances 10 times or more than that of early Brethren to visit or take part in a program that is of interest to us.
I cannot help feeling that this ever increasing mobility has been in a large measure responsible for the noticeable decline in attendance at Lodge meetings. St. Bernard's Lodge has not been alone in having this problem of late. We say so often that interest moves in cycles. Yet we must admit that these cycles are not always uniform in time or intensity.
However, I am glad to say that recently we here in St. Bernard's Lodge have been on the upward side of the curve, and a new intensity of interest is really manifest for our 100th Anniversary. This new interest in our meetings is most gratifying to both officers and members, and is certainly a motivating force as we start our new year 101 with real health and vigor.
May it prove the oft used phrase, that the "first 100 years are the hardest."
LODGE MEMBERS
I haven't counted the members that have signed the membership over these 100 years. However, out of that membership 66 Brethren have served as Masters of St. Bernard's Lodge. Our first, Wor. Bro. John Blair, who had just completed his year as Master of Middlesex Lodge, was Master here in 1867 to 1873 and again in 1876, a total of seven years.
Recently a photograph of Wor. Bro. John Blair, together with his Past Master's Jewel, was presented to St. Bernard's Lodge, a gift we do appreciate and treasure greatly.
Our 67th Master, Wor. James A. Vytal, is presiding Master for this occasion.
Three Brothers recently affiliated with St. Bernard's Lodge have each served their mother lodges as Master: Wor. Bro. Willard Putnam, Past Master of Amicable Lodge, Cambridge; Wor. Bro. David Taylor, Past Master of John Warren Lodge, Hopkinton; and Wor. Bro. Robert Hastings, Past Master of United Brethren Lodge, Marlboro. We welcome them as Past Masters to our midst.
St. Bernard's Lodge waited 43 years for the honor of having an appointment of a District Deputy Grand Master. This honor came to Rt. Wor. Francis Dexter Newton, or to "Frank Dek" as he was known to his host of friends. He had previously served his Lodge for five years as Master, seven years as Secretary, five years as Chaplain and five years as Treasurer. Since then, those receiving this honor have been respectively: Rt. Wor. Eugene P. Bent, Rt. Wor. Clarence W. Wentworth, Rt. Wor. Erwin L. Smith, Rt. Wor. Herbert P. Faber, and Rt. Wor. Ralph F. Rand.
Also, the following Past Masters have served as Master of our 38th Lodge of Instruction: Wor. Clarence W. Wentworth, Wor. F. William Bridges, Wor. Herbert P. Faber, Wor. C. Edward Baker, R.W. Erwin L. Smith, Wor. Burton B. Derby, Wor. Donald R. Banks, Wor. Robert E. Hastings, and our present Master, Wor. James A. Vytal, serving as Senior Warden.
But Officers alone do not and cannot make a Lodge. The presence of Brethren on the side lines is also needed. With Officers and Brethren working in harmony, it is then that we have a worthwhile Lodge.
At this 100th Anniversary, we should honor all the Brethren, the high and low, rich and poor: those who have taught and ruled, those who have submitted and obeyed, those who willingly have taken on the responsibility of committee work in all that it entails, those who fill in when an officer is absent, those who take on the seemingly endless tasks at the request of the Master; all those faithful and honored Brethren who through these 100 years of service to the Craft have had but one aim, that of transmitting the tenets of our profession through our Lodge, pure and unimpaired from generation to generation. To them, one and all, we do owe and do hereby give our deep and sincere gratitude. So, I will close by saying:
"The past is gone beyond us, the present is speeding by with every tick of the clock, the future, new and glorious, is ever approaching, full of promise and hope for those with courage and faith."
May all the best come to St. Bernard's Lodge in the years ahead.
OTHER
1870 (Jurisdictional dispute, 1870-13)
---
EVENTS
BUILDING PURCHASE, AUGUST 1931
From New England Craftsman, Vol. XXVI, No. 11, August 1931, Page 264:
St. Bernard Lodge, A. F. & A. M.. of Southboro. Mass., has organized a building association and purchased, for use as a lodge room, the Methodist Episcopal Church in the Southville section of the town. The building is to be remodeled throughout and equipped as a lodge room and club headquarters for the Masons.
The church has not been used for worship for many years as the former Methodist congregation united with the Southville Federated Church in holding services at the latter edifice. The Masons formerly owned an impressive block in the center of the town, this being destroyed by fire several years ago. Since that time lodge meetings have been held in space rented in the town hall.
The trustees of the lodge building association are: Edgar M. Smith, president; Chester C. Gray, Paul S. Lincoln, Erwin L. Smith, Harry B. Spurr, Clarence W. Wentworth, James G. Stockwell. Parker N. Uhlman and William L. Smith.
75TH ANNIVERSARY, SEPTEMBER 1942
See 75th Anniversary History above.
The 75th Anniversary of the lodge was celebrated in September 1942, with a visit by M. W. Albert A. Schaefer. The program book appears below: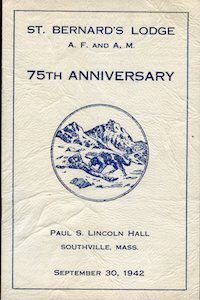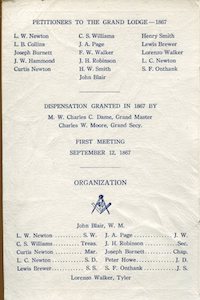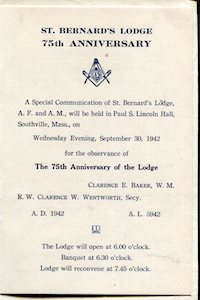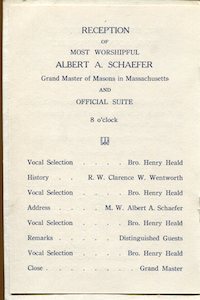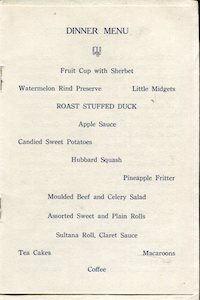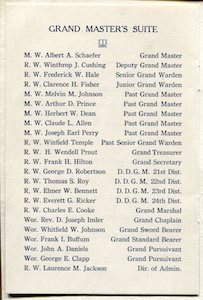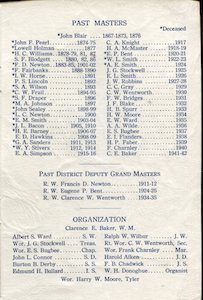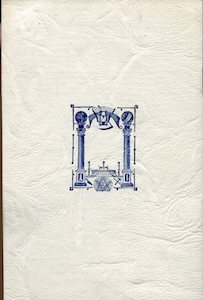 ---
GRAND LODGE OFFICERS
OTHER BROTHERS
---
DISTRICTS
1883: District 21 (Framingham)
1911: District 24 (Marlborough)
1927: District 24 (Marlborough)
---
LINKS