MAGLHFowle
From MasonicGenealogy
HENRY FOWLE 1766-1837
MM 1793, WM 1811-1817, 1819-1820, Lodge of St. Andrew
WM 1801-1803, 1805, Mount Lebanon
Junior Grand Deacon, 1803-1805; Senior Grand Deacon, 1806-1807; Junior Grand Warden, 1808; Senior Grand Warden, 1809; Grand Marshal 1811-1818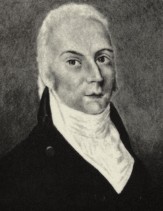 BIOGRAPHY
BIOGRAPHY FROM MOORE'S FREEMASON'S MONTHLY
From Moore's Freemason's Monthly, Vol. XVIII, No. 12, October 1859, History of St. Andrew's Chapter; Page 365:
Henry Fowle was a native of Medford, Mass., born in September, 1766; went to Boston at the age of fourteen, and served an apprenticeship as a pump and block maker, which occupation he followed in after life. He was better educated than most mechanics of his time. He had a good knowledge of the French language, and spoke it with the same fluency as his mother tongue; hence his society was sought by Frenchmen and other foreigners resorting to our shores. They were often invited to his house, and treated with kindness and cordiality.
The embargo and subsequent war with Great Britain proved disastrous to his business, and well nigh ruined it. He died in Boston, in April 1837, aged seventy-one years.
Mr. Fowle was twice married. His first wife was the mother of fourteen children; his second wife, of six. Eight of his children were living in 1854, being people of character and respectability.
. . . He was one of the original members of Mount Lebanon Lodge, and its first Master. This office he held in 1801, 1802, 1803 and 1805. He also sustained various important offices in some of the other Masonic bodies, being a member of St. Andrew's Lodge a number of years, and Master, and an officer in the Grand Lodge several years.
In all these relations Brother Fowle exerted an influence beyond that of almost any of his contemporaries. As he was perfect in the ritual of every grade of the Order, he was considered high authority by his younger and less informed Brethren. Being so intimately connected with the Masonic fraternity, his biography, if written out, would necessarily contain a pretty good history of the Order during the most active portion of his life.
1833 AUTOBIOGRAPHY
From Moore's Freemason's Monthly Magazine:
Vol. XXIV, No. 7, May, 1865, Page 205
Vol. XXIV, No. 8, June, 1865, Page 234
Vol. XXIV, No. 9, July, 1865, Page 266
Vol. XXIV, No. 10, August, 1865, Page 297
Vol. XXIV, No. 11, September, 1865, Page 326
Vol. XXIV, No. 12, October, 1865, Page 361
AUTOBIOGRAPHY OF THE LATE BROTHER HENRY FOWLE, WRITTEN IN 1833.
The writer and subject of this Memoir was one of the most active and distinguished Masons of his time, and in connection with the late Brothers Thomas S. Webb and Benj. Gleason, may be regarded ns the author and founder of the present Masonic system and organization of this country. It was our good fortune to be intimately associated with him and Brother Gleason in our early Masonic labors, and so have received the benefit of their experience and instruction. With Brother Webb we had no personal acquaintance. He passed away before our Masonic life began. With his Masonic labors and history we are of course well acquainted, and entertain the highest respect for his memory. The Autobiography here given was written at our request, and near the close ol the life of the author, who died in 1837, in the 73d year of his age.
INTRODUCTION.
Boston, April 21, 1833.
To Brother Charles W. Moore — In a late conversation you requested me to give you a sketch of my Masonic career, as you were pleased to call it. You wished also that I might not be confined entirely to that subject. It is with much pleasure I comply with your request, and I feel flattered in rinding that a gentleman and Brother Knight, whose good opinion I so highly prize, can take such interest in my concerns as to wish to know more of them.
In perusing the following pages, you will please to recollect, that the writer is an unfortunate poor old man, (almost 67 years of age,) broken down by misfortunes and bodily infirmities. If therefore I should be guilty of that folly, so common to those in advanced age, garrulity and egotism, you must pardon the folly for the sake of the good intention. I must also bespeak your candor on account of bad writing, worse spelling, and the worst of grammar. You will not however be much surprised when I declare that the only lesson I ever took in the English Grammar was comprised in one afternoon's study. Our master had been involved in an intrigue, and the next morning was not to be found. If how. ever the perusal should afford yon half an hour's relaxation from the duties of your arduous and highly useful employments, I shall be gratified, and the end for which I write will be accomplished. To give you, however, a true and[faitliful history of my life, I must, like other heroes, who have written their own biography, give some account of my ancestors.
Part I.
PERSONAL.
About the commencement of the 17th Century, three men by the name of Fowle, brothers, arrived at Boston from Manchester, (England.) They however soon separated: one of them located at Boston, one at Watertown, and the third at Med ford. The latter was by trade a cooper; his christian name was Henry: he married a Medford girl, by whom he had seven children; my father was the second child, and in due time was sent to Boston, and bound apprentice to a Mr. Symmes, an eminent merchant tailor. After his term of service had ex* pired, my father returned to Medford; and his father, having been called away by death, he built a shop adjoining the house; commenced business for himself, and assisted in the support of his family; his mother also kept a school for the instruction of little children. My father became enamored of a young woman named Mary Patten, only child of Thomas Patten, a brickmaker, a very respectable, pious man. Mary had been brought up in the family of her uncle, Thomas Seccomb, a trader, of considerable property. My father paid his addresses to her, was accepted, and they were married. My father was then 25 years of age, and she only sixteen. ' They were serious, well disposed, if not pious persons. My mother was a member of the church under the pastoral care of Mr. Turel, an eminent orthodox divine, and from some writings I have seen of my mother's, I think she must have been a pious good woman; My parents were very happy and seemed to live only to promote the felicity of each other; at least so said those most intimately acquainted with them. If anything could have increased their happiness it was the birth of a son, the writer of these lines, who, at the close of the first year after their marriage, viz., on the 19th of September, 1766, made his appearance on the stage of human existence. But for some time I was a weak, puny thing, and when two years old I appeared to die, was laid out, and a coffin prepared; when an old lady, who had been very fond of me, saying she would see the poor little thing once more, came into the room where I lay, and thinking my clothes were not well adjusted, attempted to put them in order, when perceiving a little warmth at my back, she called for a blanket, and placing me in it brought me again to life!!
As soon as I was capable of noticing things, I was frequently carried to my uncle Seccomb's family, who having no children of their own, were very fond of me. My aunt had been many years a cripple, rendered so by rheumatism; their fondness for me increased daily, my uncle declaring that as soon as I could read I should study Latin and go to college. At five years old, I could read pretty well in the Bible, my uncle having taken great pains to instruct me. I commenced the study of the Latin language at eight years old, and made considerable progress in the Accidence and Grammar. I studied Æsop's fables, Erasmus, and had made considerable progress in Virgil, when my uncle and aunt both died, at a good old age, highly respected and deeply regretted. About this time the Revolutionary War commenced, and an end was put, at least for a time, to schooling. Among the most intimate of my young friends, and playmates, was a boy named John vVade. He was born on the same day, and I believe at the same hour, on which I first saw the light. His mother used to say, that if I was sick, John was sure to be indisposed: if I cut my finger, John was certain to be wounded: if I had a new coat or pair of shoes, there was no peace in the house until John was in like manner accommodated. One day we were strolling together in the fields, when John spied a bird's nest on the limb of a tree which hung over a clay pit; the late rains had filled the pit with water to the depth of seven or eight feet. John was determined to have the nest. I tried in vain to dissuade him from the attempt; he ascended the tree, stretched himself out upon the limb, and just as his fingers touched the nest, the bough broke and he fell plump into the middle of the pit; he could not swim a stroke; I seized a piece of broken rail which fortunately lay near, and poking it in his face, he laid hold of it and I drew him to the shore. We wrung out his clothes and dried them in the sun, and his father, who was a very passionate man, did not discover the accident.
Some few months after this, John's father came, and accused me to my father, of having pushed his son into the river, where he was all but drowned. I denied the charge, and John was sent for, who for fear of a whipping, had not the courage to tell the truth, but declared that I had pushed him off the wharf. My father then made me take off my coat, and with a piece of line gave me a severe whipping. The wharf, of which I speak, was at the back of Mr. Wade's house and shop. On the .wharf was a slip or notch about eight feet wide, with steps to go down on to a platform which the tide every day covered, and on which they washed the sheepskins, for Mr. or Major Wade, as he was called, was by trade a leather-dresser. This whipping was on Thursday, and on Saturday following, my father, as was his invariable custom, went to the barber's shop to get trimmed for Sunday. He there met a Mr. Tufts, a famous mower of grass, who thus accosted my father:
—"So, Mr. Fowle, your son Henry made a bold push the day before yesterday."
"A bold push, indeed," said my father, "and he got well paid for it."

"That's right," said Tufts, " for he saved the young man's life."
"What," said my father, " by pushing him into the river!
"Who says Henry pushed John into the river?" cried Tufts.
"I do," said my father.
"'tis a d__d lie,' cried Tufts.
"What do you mean?" said my father, (much agitated.)
"I mean," said Tufts, "that I saw those two boys on the wharf. Tbey were trying which could skip a stone fartherest on the water, the ground was slippery; in John's exertion he slipped and plunged head foremost into the river; Henry watched him under the water, ran down the slip, and as John rose, he seized him by the collar and dragged him towards the steps; one second later the tide would have swept him beyond all hopes."
"And where weie you, pray," said my father, " that you could see all this?"
"On the bank of the river, directly opposite the boys," answered Tufts, " mowing sedge grass," (the river at this place is about one hundred yards wide.)
"Good bye," said my father, snatching up bis hat and rushing out of the shop.
He was soon at his own door. I was at the window, and saw him enter, much agitated, and very pale.
"What is the matter, father,"cried I, "are you unwell!" He did not answer, but taking a seat, beckoned me to come to him: he took my hand and burst into tears. I was much frightened, and asked if I should call some one to his assistance.
When he could speak, he said, "my poor boy, I am well now, but tell me Henry, and tell me truly, did you push John Wade into the river the other day?"
"Indeed I did not, sir," I said, and told him the story as Mr. Tufts had stated it.
"And why," he asked, " did you not tell me all this at the lime?"
"Because, sir, you were determined to believe Major Wade and his son before me. I could say no more, and had no witness that I knew of."
My father then took Tufts and me with him to Mr. Wade, where the same facts were told, and at last John confessed the whole story to be true, got a severe flogging, and was locked up in a garret four days, with only bread and water for his food. The next week my father went to Boston, and on his return presented me with a handsome volume of the Seven Champions of Christendom, with plates!
When I was about 11 years old, my dear mother died, having presented her husband with four more children, all girls; two of them are yet alive. My father was inconsolable for the loss of his beloved partner. I slept in the same bed with him, and was often a weeping witness of his distress when he supposed me to be sound asleep; indeed for some lime, his grief was so great as to incapacitate him for the common duties of life; but at length the lenient hand of time assuaged his sorrows and he again attended to business. But not with that spirit of alacrity which had for. merly distinguished him; and to add to his .misfortunes, his house (which had also been his father's) was unfortunately situated among the H— families, and one of the pleasantest situations in the town. One of the H—a wished to buy it, and because my father would not sell, he withdrew his custom from the shop, and had influence enough with many others to persuade them to do the same. My father soon felt the consequences of their malice; his business declined, he became melancholy, and poverty stared him in the face, and he was obliged to sell his house. In the mean time, having nothing to do, and owing to the war, all was confusion, my father persuaded me to learn his trade. I tried it more than two years, and made considerable proficiency.
When about 14, my father had a field of corn on the bank of the Mystic river. One day he told me to take his gun and go to the field, and if all were safe, we would go on the marshes and try to find some birds. My father had loaded the gun two or three days previously, intending to shoot some pigeons, which had alighted near the house. But they did not give him an opportunity to fire, the gun remained deeply charged. I asked my father if I might fire at the birds, should I find any on the beach. He replied, " no indeed, by no means;" but I importuned him so much that at length he said, " well, give me the gun and I will fix it for you." He did so, by taking out all the priming. 1 knew nothing of that at the time, but trudged with my gun shouldered, which by the by was a large French piece, and very heavy. Arrived at length at the beach, near the corn field, 1 espied two lillle birds, called peeps; not being able to hold the gun at arm's length, I rested it over a pile of bricks, and although she was never before known to miss fire, I could not get her off; when, upon examination, I found there was no priming. I went to the mill, which was near,—to the owner of which I was well known,—and begged of hirp a little powder for priming, and I started again for the birds, but they had flown. After ascertaining that the field was safe, I strolled down upon the marshes; at length there came a large flock of fine birds called yellow.legs; between me and them was a ditch about two feet wide and three feel deep, half full of salt, muddy, slinking water; the turf cut from the ditch was piled in a row on the opposite side to that whereon 1 lay; with great caution I passed the ditch, crept op to the bank of turf, on which resting my gun, I fired : the first thing after, of which I was sensible, was to find myself half buried in the muddy water at the bottom of the ditch my gun by my side. I scrambled out as fast as possible, and seeing several wounded birds fluttering about, I gave chase,.and picked up, killed and wounded, seventeen birds! Bonaparte having put hora du combat 20,000 of his enemies, felt not more elated than I! It was the first time that I had fired a gun with shot, and my victims were excellent food, which was not the case with his.
While contemplating my good fortune, my father arrived, and seeing me in a woful pickle, exclaimed, "where have you been, you blockhead?"
"Into that ditch, sir," said I.
"And pray how came you there? demanded he.
"Your gun kicked me there," said I, "and followed me herself."
"The gun, the gun," repeated my lather, "you have not fired, I hope?"
"Indeed I have," snid I, "and killed all those birds," pulling them from under some bushes which hid them from the sun.
My father was astonished, and observed, that the gun being so deeply charged it was two chances to one it had not killed me, or broke my bones, ami he had taken out the priming that I might not fire; I told h m I had found that out, and got a supply from the mill.
About this time my father married his second wife, by whom he had six children, all of whom are no living, but scattered about the country. In 1810, my father died, aged 70 years, and a few months after, his widow died also.
The sedentary employment of tailor did not agree with my health, and I was obliged to leave the shop board for more active life; so, for the iron-goose, I substituted the iron pump-borer. In February, 1783, I entered apprentice to Mr. Richard Skillin, of Boston, Block and Pump Maker. He was a good master,— kind to his boys, just in his dealings, beloved and respected by all who knew him. He had a daughter, lovely as spring, and good as lovely: to me at least she was a ministering angel: in sickness ahe was my friend and nurse, and always an agreeable companion. But she had a lover at sea; he returned, and they were married; and are now living, their second child, was a daughter, and twenty years after, became my wife!
When I arrived at the age of 21, our business, like all others at that time, was very dull, aud I staid with Mr. Skillin nearly one year as a journeyman. In June, 1788, by the help of a small legacy left me by an old lady, I was enabled to purchase a set of tools, stock, &c., and set up for myself. I hired my shop at $20 per annum. It was situated on what was then called Scarlett's Wharf, afterwards Horry's, and at present Snow's Wharf; at that time I could have bought the whole estate from Ann street to low water mark, for $800! A few years after it was sold for $4,000, and is now worth $20,000.
March 1st. 1789, I went into the hospital at Medford, and was inoculated for the small pox. The establishment belonged to Doctor John Brooks, afterwards Governor of Massachusetts. We were thirty in the class, all of whom recovered. I was in the hospital twenty-one days and had twenty-one pustules, and was sick but two days. On returning to my shop, I fouud business very dull. I had employed B. Varney, 10 take care of my concerns during my absence, and he did mil take half money enough to pay himself for his time. No business to be had here, I fell in debt for board $60; wrote to New York, iec.eived flattering offers, and made prepaiations to go; but on the afternoon of the day befoie that on which the packet was to sail, Mr. Matthew Bridge, of Charlestown engaged of me a suit of blocks &c., for a ship of 250 tons; the price was $200, the half of which, of his own accord, he paid me down, and before the close of the next day I had two more ships engaged, and from that time during twenty years I was not without business.
I had for several years been acquainted with Elizabeth Bently, and believing I was not indifferent to her,—she having been twice to see me at the hospital,— proposed myself to her for a husband, was accepted, and on the 1st of November, 1789, we were married. If ever a woman's whole soul was devoted to her husband, hers was to me; she was in every sense of the term a most excellent wife.
This amiable woman brought me thirteen children, the last of which proved fatal to herself, in this manner:—Our rooms in Clark street were very high, tind in the front chamber was a window which gave light to the main stair way; over this window usually hung a white dimity curtain, which had been taken down to be washed, and as a friend was to sleep in the chamber that night, my wife attempted to fix the curtain on to the rods, for which purpose she placed a table under the window and a chair on the table, but not being properly secured, the chair slipped off and she fell to the floor: four weeks afterwards she was canfined with a dead child, mortification ensued, and in eight days my wife was no more! Eight of her children still survive, (1833.) God Almighty bless them and make them more happy than their father.
I cannnot confine myself to a regular rotation of dates, nor do I now that it is necessary to my being understood. We must now go bacft a few years. In December, 1794, I bought a house of Simeon Skillin, in Salutation lane, for which I paid $1,000 down, and took possession by agreement in June following. My family now rapidly increasing, the house was too small to accommodate us, and with the advice of my friends, I sold it, and bought the mansion house of Mr. S. Mather, in Clark street; this was in 1805. The estate cost me nearly, $6,000, and was the worst speculation I ever made. For from the moment the deeds were executed, real estates began to declince ; embargoes, non.intercourse, and war following each other, reduced me almost to bessary. The gentlemen who usually employed me would not be concerned in privateering; and the officers of government, and other Democrats, would not employ me because I was a Federalist. To show you, however, the estimation I was held in by my former employers, I will relate one instance of their attention. Col. J. May sent for me one day during the war, and thus addressed me:—"Mr. Fowle, your friends are well aware that you have but little business in the present state of affairs; that the government folks will not employ you for political reasons; and also that yon have a large family to support; and they have directed me to inquire how they may be useful to you and not hurt your feelings." I told him I wanted only employment, but as that was out of the question I must endeavor to be content. He desired me to go to a Mr. Wyman, who supplied him with beef, and direct him to put up a barrel of the best saltpetered beef, and bring him the bill and he would give me money to pay it. I did so, the bill was $22.50; he gave me the money ; " but," said he, " tny friend, yon cannot live on beel alone, take this also as a proof of the good will of your friends," and he put into my hand a $50 bill!
The times, however with me, grew worse, and I lost all that I had gained by 30 years hard labor. On the 10th of August, 1810, I was taken down by the typhus fever; the effects of which incapacitated me for business during one whole year. Indeed I have reason to believe that the effects of the shock, my constitution received from that severe attack, were never completely removed, and at once, to complete my misfortunes, on the 18th of January, 1811, my beloved wife died, after having given birth to a dead child, as before related.
Thus was I left with eight children,—two of them little girls,—and feeling the necessity of having a mistress to my family,—especially on account of the girls,— in the course of the year I married Mary Adams, with whom, and her relations, (who were very respectable,) I had long been acquainted. Her father was owner and master of a fine brig, and some years before, had died abroad. With Mary I only lived three years, for in giving birth to her first child she herself fell a sacrifice, at the age of thirty years; the child also died.
About six months after Mary and I were married, we were riding in the country, when, taking my hand, she said, " my dear friend, I have been driven about from post to pillar ever since the death of my beloved father, and now, if God will permit me to enjoy my present happiness for three years, I will not ask of Him another moment." A day or two before she died, she asked me if I remembered that conversation, " for," said she, " the three years are up in a day or two, and 1 must then leave you." I tried to persuade her to hope better things, but she said she was sure to die to-morrow or the next day; and on the second day, about noon, she resigned as good a soul as ever animated a human breast!
Thus, within three years, I lost two amiable wives, two children, an apprentice, eighteen years of age,—a fine young mm,—was myself sick one whole year, and found myself in debt, and business good for nothing.
January, 1815, I married Ruthy Skimmer, daughter of Capt. John, and Ruthy Skimmer, of Charlestown, and grand daughter of my late master, Richard Skillin: by her I have had six children,—three boys and three girls. God bless them and make them good and happy.
Thus, my friend, have I tried in the lottery of matrimony,—in which they say there are a thousand blanks to one prize,—how fortunate I have been to escape the blanks! But the observation was undoubtedly made by some sour, cynical, old bachelor, who had never been blest with woman's smiles; or by some worn out debauchee whose converse had been only with the profligate and abandoned.
Women, in our infancy, in manhood, and in old age, in our sports, enjoyments and relaxations, are our choicest companions: in the cares, troubles and disap pointments of this world, they are our best solace, and our most faithful friends; and in the last hoar of weak humanity,—even on the bed of death,—they are the ministering spirits to smooth our pillows, alleviate our sufferings, and finally close our eyes and wrap us in the winding sheet,—the last clothing of humanity.
"Were I the monarch of the earth,
And master of the swelling sea,
I would estimate their worth,
Dear woman, half the price of thee.
At the close of the war with Great Britain, and on the 23d of February, 1815, I admitted my eldest son Henry, co-partner with me in business, he having served his apprenticeship with me. Business revived. I had many good customers, and a good shop, which had a good name; good set of tools, and stock on hand to the amount of $1,000. For some years we prospered; Henry was enabled to build him a house, buy shares in navigation, bank stock, &c., whilst I was obliged to appropriate all the money I could acquire, to the payment of debts contracted in war, non-intercourse and embargo times, and support a large family at the same time; having before sold my house for the same purpose, for $4,000.
In 1827, I was seized with the rheumatism so as to render me incapable of much exertion. I, however, kept the books, made contracts, &c. Henry, now wishing to get the whole concern into his own hands, persuaded his brothers, William and Joshua, to sign an instrument with himself, by which it was agreed that Henry should pay me $100 down and $5 a week during my life; William to pay me $10 per month, and Joshua $100 per year for the same term of time. In consideration for the above, I was to relinquish to Henry all my right ad title to the shop, tools, stock, customers and outstanding debts. I asked Henry what other consideration or sacrifice would be required of me, he said none of any kind would be wished for, and I should have nothing to do but to enjoy myself with my friends, visit my children, and be happy with them.
After much consideration, many objections, and great reluctance, I agreed to their wishes, - my objections and reluctance arose from the consideratio of the consequences of the measure to my family; for should my life terminate in one week, the property I was about to transfer to Henry would be totally lost to them; or, should he die before me, I had no claim upon his estate or heirs. When I mentioned these objections to Henry, he said if either of these cases should occur, he would take care that my family should not be wronged.
During the second year of the engagement, business became dull; Henry sold off all the business of the late firm; bought a good farm in the country, and quitted the city, declaring he would no longer abide by his engagement. Thus I was throw upon the world, a thousand times worse than I entered it at twenty-one, severely afflicted with rheumatism, and other disorders incident to advanced years, - a criplle both in body and mind. What have I now to hope for!
It has been said, that I ought at this moment to be worth $20,000. I have done a great deal of business in my line, it is true, but I have always had a very expensive, though not an extravagant family. I have had much sickness in my family, have lost much by bankruptcies, by endorsing for a friend, and by being bail for others; add to these the time lost and money spent during embargoes, non-intercourse and war times, and the wonder will cease that I have done no better.
I removed to, and resided on Jamaica Plain, Roxbury, one year; while there, I had much time for contemplation; it was delightful on a calm, bright night to walk out alone and contemplate the glorious scene around one. There is, I know not why, something pleasing to the imagination in contemplating the queen of night, when she is wading, as they call it, among the vapors which she has not power to dissipate, and which on their part are unable entirely to quench her lustre; it is striking image of patient virtue calmly pursuing her path, through good report and evil report, having that excellence in herself which ought to command admiration, but bedimed in the eyes of the world by suffering, by misfortune, by calumny.
Circumstances now arose which rendered it inconvenient for me to remain longer on the Plain; accordingly, on the 10th of November, 1830, I removed to a small house in Suth street, Boston, where at present I remain.
My bodily infirmities gradually increase, and my whole system grows sensibly weaker; my mind, bent down under a sense of obligations to my friends and anxieties for the future, has lost all the energy, elasticity ad firmness it ever possessed. I am now, within a few weeks, sixty-seven years of age, and what have I in this world to hope for. The last twenty years of my life seem a dream: I know not what has become of them. Thus, years rush by us like the wind; we see not whence the eddy comes, nor whither it is tending; and we seem ourselves to witness their flight without a sense that we are changed; yet time is beguiling man of his strength, as the winds rob the woods of their foliage.
Beside my narrow escape from death when an infant, I was very near being shot in a smith's ship. A man had placed a gun-barrel in the fire in a horizontal position, thinking to loosen the breech pin or screw, at the end of the barrel. I had an instant before passed the muzzle, when it exploded and the ball passed through the side of the shop,within a few inches of my body. At another time, as I was hunting near Spot Pond (the place whence it is proposed to bring water to the city,) I had passed through a set of bars, and on replacing the rails, I felt something strike the one in my hand; on looking over, I found a musket ball half buried in the rail, directly against my breast. I heard the report of a gun, and going down to the pond, found a negro man with a fowling piece in my hand. I asked him if he had just fired; he said he had just fired at some wild geese on the pond, but they were too far off from him, although he had fired with ball. I asked him to show me the position in which he was placed when he fired, and I found it to range precisely with the bars through which I had passed; although they were more than fifty feet hire than the surface of the pond. I then tried the ball, which I had with a knife had dug out of the rail, - into the gun, and found it to fit exactly, and had no doubt of it being the same the black man had fired.
Twice have I been upset in pleasure boats; once, in a thick fog out of sight of land: in either of which case, I should inevitably had been drowned, had I not early learned to swim.
I shall say but little respecting politics or religion. Respecting the former, my sentiments are well known. I am, and always have been since I could distinguish good from evil, a republican of the Washington school, and detest the demagogue of any party, whatever may be his professions. In regard to religion, what shall I say? When gownsmen disagree, who shall decide? I agree with the poet: - "He can't be wrong, whose life is in the right." Do unto others as you wish them to do unto you, is the sum and substance of religion. I shall never puzzle my head in conversing the merits of Infallibility, Transubstantiation, Total Depravity, Eternal Torments, or any such dogmas, which from time immemorial have divided Christians, - consigned themselves to the stake, and driven many to self-destruction!
I will now state some of the offices I have had the honor to sustain. They are minor in point of rank, but the discharge of the duties attached to them demanded much time and attention. When I was twenty-three years of age, I received a commission from Governor Hancock, appointing me Lieutenant in a company, Ward No. 1; but I never performed duty in that capacity. Our Captain went to Charlestown, S. C., for his health, and remained there, but did not resign; of course the command of the company devolved upon me. In the meantime, orders came from head quarters to draft a certain number of men from each company, to relieve the garrison on Castle William (not Fort Independence), the soldiers there being about to undergo inoculation for the small pos. I drafted six men from my company, armed and equipped them for service and on their arrival paid them off; and some months after was remunerated by Government. At the end of four years, our Colonel resigned; and being tired with the military, I requested him to procure my discharge also; which he did. Having thus held a commission, I was exempted from military duty, which at that time was no small privilege. However, some years afterwards, I was induced to join the Ancient and Honorable Artillery Company. The third year I was elected second dergeant, and the year following, requested to accept a Lieutenant's commission, but, fearful of the expense, I declined, and the next year at my own request was discharged.
I was three years fireward, but finding it a laborious and thankless office, I quitted it.
I was four years clerk of Ward No. 1, and three years do. of No. 2; a member also of the Humane Society. I was admitted a member of the Massachusetts Mechanic Association in 1795; was frequently invited to their dinner and supper parties, but in 1799, being determined to quit all extra societies, - the support of which cost money, - I withdrew my membership, after four years attendance. I quitted a fire club, of which I was also a member. I will speak of my Masonic career presently, and by itself.
Part II.
MASONIC.
I had been frequently solicited to join a Society, or "Lodge of Odd Fellows"; several of my friends were attached to it, who assured me if I would join them I should be subjected to no expense. Being desirous to know whether it was, as I had been informed, an encroachment upon Masonry, I permitted my name to be proposed, was admitted, and the same evening put into office. Upon studying the principles upon which the Institution is founded, I discovered no great allusion to Masonry. They have indeed their secrets, their signs, grips, words, &c. But their greatest resemblance to Masonry, is their Charity; which, if duly exercised, may be of essential benefit to indigent and unfortunate members. But the persons composing the Society at that time were not such men as I had been on habits of intimacy with. I soon quitted them, on the most friendly terms, however. They having always treated me with the utmost kindess and respect. I am happy to be informed that there has since been a radical reform in their habits and measures, and that the real object of the Society, - Charity, - is the only grand ruling and governing principle.
In tracing my Masonic course, my memory will not permit me to related the facts in the rotation in which they occurred. I shall therefore tell you (most probably) of matters which occurred years after other happened, and then go back and tell of the latter.
On the evening of the 10th of April, 1793, I was initiated into the Society of Freemasonry, in St. Andrew's Lodge, Boston, which was then held at the Green Dragon Tavern, so called, and which was the property of the Lodge. A gentleman named Dakin was their Master. This was the second Lodge in the United States, and received their Charter from the Grand Lodge of Scotland. Although second in point of date, they were first in respectability, in funds, in Masonic information, and the number of their initiates, among whom was General Joseph Warren who fell on Bunker Hill. When the Lodges became more numerous, frequent applications were made to St. Andrew's for Masonic information in the History, Work, and Lectures of the Institution; in fact she was the emporium of Masonic information.
In May, following my initiation, I passed to the degree of Fellow Craft; in September, raised to a Master Mason; in November, admitted a member; and soon after elected a Junior Warden; and two years after, Senior Warden. This year also I was admitted to the several degrees of Mark Master, Past Master, Most Excellet Master, and Royal Arch Mason in St. Andrew's Royal Arch Chapter.
In 1797, for want of regularity and uniformity in work, lectures and government, the Institution had greatly declined. To effect a remedy, it was proposed that a convention of delegates from as many Chapters as might please t send, should be assembled at some central place to take the subject into consideration. The delegates from our Chapter were Benjamin Hurd, Wm. Woart and Henry Fowle.
In January, 1798, the convention met at Hartford, Connecticut, and adjourned from day to day, until their business was completed. They drafted a Constitution for the formation and government of a General Grand Royal Arch Chapter for the United States. This having been accepted by the delegates, they proceeded to elect the officers of the General Grand Chapter, when Ephraim Kirby, Esq., an eminent lawyer of Litchfield, Connecticut, was elected General Grand High Priest; Benjamin Hurd, Esq., of Charlestown, Massachusetts, General Grand King, and Thomas S. Webb, Esq., of Albany, New York, General Grand Scribe. On the fifth day of the session the convention was dissolved, the Grand Chapter opened in due form and the officers duly installed. The General Grand Chapter was then closed until 1807. As soon as practicable after this, the Grand Chapter of Massachusetts was formed and organized. Benjamin Hurd, Esq., was the first Grand High Priest, and the utility of the objects contemplated were fully realized.
My health for some time had been precarious, and at my own request, I was dismissed from St. Andrew's Lodge. In 1800, however, having in a great measure regained my health, I was persuaded t put my name at the head of a petition to the Grand Lodge of Massachusetts for a Charter to form a new Lodge by the name of Mount Lebanon Lodge. The petition was granted, and I became Master of that Lodge. I had long witnessed the improprieties and errors that had crept into the work, lectures and government of the Lodges, and could I find a few zealous and active Masons who would assist me without the fear of being denounced as innovators or disorganizers, I thought i could effect a reform which would be beneficial to the Craft. And I feel proud to say that the reform we effected in the work and lectures met the approbation of the Grand Lodge, and has been adopted almost universally, not only here, but in all the States. Grand Master Thomas was so delighted with the lectures that he offered me $1,200 ($100 per month) to spend one year in teaching them to the Lodges under his jurisdiction. I could not at that time leave my business, but recommended Bro. Benjamin Gleason as well qualified; who was employed and paid by the Grand Master.
About this time an affair happened in the Craft which had at first a serious aspect, but ended in a ludicrous manner. There was a Lodge in town (chartered by the Grand Lodge) composed of foreigners, - chiefly Germans, - who were about as well versed in the science as their Jewels; they were assembled for the election of officers; the members were divided between two candidates, and were about equal: the Master in the chair, who was one of the candidates, called for the votes for Master, when it appeared that Bro. A was elected; this gave great offence to Bro. B and his friends; however, after much wrangling, peace was apparently restored, when they were called to refreshment, during which Bro. B and his friends took possession of the hall; called to work; reconsidered the former vote, and elected Bro. B Master. When this was made known to the opponents, the door was forced open; when broken bottles, glasses and heads soon covered the floor.
With great difficulty, at last, order was in some measure restored, and the combatants were separated. The next morning, a friend of Bro. A called upon Bro. B with a note, in which A challenged B to mortal combat, which must take place on the following morning at sunrise, near a small grove at the west end of Cambridge bride; and if B had no pistols, A would bring one for him. B accepted the terms, and was on the ground in season. A soon after appeared with his second and a surgeon. While the seconds were making the necessary arrangements, A stepped up to B and demanded where his pistol was. B replied he had none; and A had promised by his second to bring one for him. A cried, "now then, I have you, Got tam, take dat," and snapped the pistol in his face; the weapon, however, missed fire, when B seized it, and with the butt immediately knocked A down, and threw the pistol into a ditch which was ear, ad turning to the surgeon, desired him to take care of the wounded man, and left the field! The knowledge of the affair was not long in reaching the Grand Lodge; and the [Grand Marshal was directed to demand their Charter. He did so: and it was deposited among the Archives of the Grand Lodge; and this was the end of the Harmonic Lodge. (Note: this charter was vacated in 1797 for other stated reasons.)
St. Andrew's Lodge were now desirous that I should return to them. Accordingly, having retired from Mount Lebanon Lodge, I was in September re-admitted a member of St. Andrew's free of expense. In November following, I was elected their Master; which office I held by re-election six years in succession, and on retiring from the chair, they voted me an Honorary Member during life. The Chapter and Encampment have done the same.
By virtue of the high offices I have at different times sustained, I am a constitutional member of the following Societies: - General Grand Encampment of the United States; General Grand Chapter of the United States; Grand Encampment of Massachusetts and Rhode Island; Grand Chapter and Grand Lodge of Massachusetts.
In 1803, I was elected High Priest of St. Andrew's Royal Arch Chapter, and re-elected annually until 1808. On retiring from the chair, the members presented me with a silver pitcher; value $55. I was Deputy Grand High Priest eight years, under different Grand High Priests; was elected Grand High Priest of the Chapter, but declined in favor of a friend. I was seven years Deputy to the Honorable De Witt Clinton, who was General Grand Master, and General Grad High Priest of the United States.
In 1801, I was appointed Junior Grand Deacon of the Grand Lodge of Massachusetts, and subsequently elected Senior Grand Warden of the same Body; and six years in succession I was appointed Grand Marshal; and during the administration of Grand Master Francis J. Oliver, he appointed and commissioned me Deputy Grand Master for the Third Masonic District; in which capacity I visited the Lodges from Duxbury to Cape Cod, inclusive; corrected many errors, reformed many abuses; and brought them to a settlement and upon good terms with the Grand Lodge; for which I received the thanks of the Grand Master, who, in his annual communication to the Grand Lodge, made honorable mention of my services; paid all my expenses, and $4 per day for my time. In the Grand Chapter also, I was successively appointed Grand Lecturer, an office of great importance, and vital interest to the Craft.
Having, several years previous to all this, received the several Orders of High Priest, Knight of the Red Cross, Knight Templar and Knight of Malta, I conversed with several of my friends respecting the establishment of those Orders in Boston; the only objection made to the measure was a conscientious scruple whether we should be able to live up to the moral and religious obligations they impose. While we were deliberating upon the matter, a curious circumstance occurred which convinced us that the means by which those Sublime Orders could only be prevented from falling into the hands of the most unprincipled and abandoned of mankind, was for us to establish them here forthwith, upon a legal and honorable basis. The circumstance to which I allude is not, I believe, generally known; if it will not be too great a tax upon your patience, I will relate it.
A young man from the "Emerald Isle" called upon me one day, and requested employment. I liked his looks, and his manner pleased me. I employed him in a number of petty affairs, and recommended him to several of my friends, by whom he was also employed. At length, a gentleman for whom I worked occasionally, told me he wished for a good servant in his family, but found it difficult to procure one; for he had two little sons, and feared they might learn bad tricks of bad servants. I told him of this young man, and that I believed him honest; he was a Catholic, but seemed very sober and sincere; he agreed to take him on my recommendation. I sent for Patrick and told him what I had done; he was overjoyed, and in an hour had entered upon his duties.
About twelve months subsequent to this, Patrick came to me one fine day looking very black, and seemed very uneasy. "What is the matter, Pat?" said I. "Ooh, Master Fowle," said he, "I fear I've done wrong." "How so, Pat," said I, "have you left your Master?" "No, by the powers, for that would have killed him quite." (To prevent the too often repetition of said he and said I, I will give you the dialogue as between F. and P.)
F: "Tell me, then, what is the matter? You know I will help you, if in my power."
P: "Yes, Master Fowle, God bless you; I know you will; but, Sir, I am a Mason!"
F: "Well, there is no harm in that I hope; I am a Mason, also."
P: "Yes, Sir, I know it; I saw you in the procession one day, with an apron on."
F: "Where were you made a Mason?"
P: "Up in Mrs. Marian's garret, in Elm street, Master Fowle."
F: "Well, and what Lodge was it?"
P: "Our own Lodge, shure."
F: "But what was your Master's name?"
P: "Och, he was a countryman of mine, named Hanmar."
F: "I know Hanmar, and believe him to be everything but good."
P: "Faith I believe so too; and so I come to tell you all about it."
F: "Well, Pat, you are right; tell me all about it, and I promise you no harm shall fall on you."
P: "Well then, Sir, one night Hanmar tells Finnemore to go to Concord Hall, where the Rising States Lodge was held, and take from that trunk the Charter, Jewels, &c, and bring them to him. Now Finnemore is their first Steward, and keeps the keys. He soon returned with all the articles; a coach was at the door; Hanmar told three of us to get in with the things; and he followed us in; the driver was ordered to drive over Cambridge bridge, and in over Charlestown bridge. On our return to our hall, as we called it, Hanmar told us that there were many respectable, good men who wanted the degrees, but doubted his authority to confer them; and by what we had performed that evening, we had altered the Charter and made a traveling Charter, which would do away all their scruples, and we should have all the degrees to the number of thirty, or more."
F: "Well, Patrick, how many degrees have you taken in this manner?"
P: "Why, Master Fowle, I'm as yet only Royal Arch; but next Saturday night there are seven of us to be Knights Templars."
F: "But, Patrick, your good Bishop would be much grieved to know you were engaged in such unlawful business, and your Master would discharge you directly."
P: "Faith, Sir, that's what I'm afraid of: what shall I do?"
F: "Help me to expose them, and I will reward you handsomely."
P: "I'll do that thing, Sir, if you will show me the way, and thank you, too."
F: "Well, Patrick, take no notion to any one of your having seen me, but if you get together on Saturday night, and have the Charter and Jewels with you in use, hang out of such a window a white napkin or handkerchief, and take n notice of anything you may see or hear."
In the mean time I made up my mind as to the manner of proceeding should I observe the signal.
On Saturday evening, at 9 o'clock, I repaired to Elm street, and the signal was flying. I immediately waited upon Major Russell, who was then Grand Marshal and also Master of the Rising States Lodge. I told him in a few words the whole story and proposed that we should go and immediately arrest them. He said that he did not believe a word of it; Finnemore was his barber and one of the cleverest fellows in the world. I proposed to go to Concert Hall and inspect the trunk; he consented. We found the trunk there and safely locked; but Finnemore had the key. Major Russell called for an axe and pryed open the lid; but no Charter or Jewels were there. I had for some days before been laid up with a complaint in the bowels, and a fit coming upon me at that time, I was unable to walk; I persuaded the Major to take Mr. Samuel Billings in my stead. Billings was at hand, and consented, for he said he wished to see some fun.
Having given them the necessary information to enable them to find the room without much noise, they started, whilst I took a hack and returned home. Our two friends asked Mrs. Marian if there were any company up stairs. She said, "yes, a good deal"; the Major asked are they Masons; she replied they were; "but don't you go to making a noise with them." "Do you fear nothing," said the Major, "you shall not be hurt."
Following my directions, our friends easily found the lobby adjoining the hall, and the Tyler had gone in to witness the ceremony. The Major knocked gently at the door, when the Tyler put his nose out to see who was there; no sooner was the door ajar than Major Russell threw himself against it with such force as sent the peeper quite under the table. Hanmar was in the chair, was so astonished that he knew not what he was about; but he and the other officers pulled off their jewels and threw them under the table; while the Major advanced by double quick time and clapped him on the shoulder.
"I arrest you, Sir, in the name of the Grand Lodge of Massachusetts; and you, and you, and you," to the other dignitaries. They were perfectly astounded; and although each had a drawn sword in his hand - and there were twenty of them - they attempted not the slightest resistance. Hanmar at length having a little recovered, observed that the Grand Lodge of Massachusetts had no jurisdiction over the degrees which they were upon; which he said was the Royal Arch. "Very well," said the Major, "I have the honor to be Grand King of the Grand Chapter, and as such I arrest you all; and before to-morrow noon as many of you as can be found will have a warrant after you for stealing these things from Concert Hall; and now pick them all up and give them to us." They did so, and we left them to the enjoyment of no very pleasing reflections. Those were members of Lodges were expelled; and Hanmar had an intrigue with a married woman, and to avoid the just vengeance of the injured husband, was obliged to decamp without beat of drum, and is since dead! We made interest for Patrick, and he was formally healed in St. Andrew's Chapter.
Soon after this, some of the officers and members of Washington Lodge, Roxbury, attempted something of the same kind upon the higher Orders. It came to my knowledge: I wrote an affectionate letter to their Master, whose name was Witherington, stated the information I had received, - which was from a source not to be doubted, - and the consequences which would ensue to those concerned. Colonel M. Roulston was the bearer of my letter, which so affected Mr. Witherington that he promised to go no further in the busness, and also, not to permit the Charter to be used for any purpose other than those expressed in it. Notwithstanding all this, two or three days after, they assembled, conferred the degrees, orders, &c, and voted to proceed with the other candidates.
I had notice of the whole the next morning, and the Grand Lodge was to meet the next evening. I immediately wrote a memorial, addressed to the Grand Lodge, stating all that had come to my knowledge. This, with a copy of my letter to Witherington, I presented to the Grand Lodge; after due consideration, it was voted that the members of Washington Lodge had forfeited their Charter, and that the Grand Marshal be directed forthwith to demand it. The next day Major Russell, who was Grand Marshal, called on me (Senior Grand Warden,) and we proceeded in a carriage to the home of Mr. Witherington; found him at home, and told him our errand. After some conversation he delivered up the Charter, and we returned to town. About two years after this, several of the former members, who had not been concerned in the above affair, were joined by others in a petition to the Grand Lodge for restoration of their Charter. After due consideration it was voted that the prayer of the petitioners be granted.
These transactions, by such characters, first taught us the necessity of a strong legal coalition, to prevent the recurrence of like scenes in future. Accordingly a constitutional number of us assembled, formed and opened a Council of the Red Cross, and an Encampment of Knights Templars, and of Malta. This was in 1805. I was elected their first Grand Commander, and continued to be reelected to that important office annually during twenty succeeding years, none of the members being willing to take upon himself the duties of the office. On retiring from the chair the members presented me with $100, as a token of their approbation and friendship. Since which, also, I have received many acts of kindness from them, which, when I forget, may God forget me.
In 1819, I was elected Deputy Grand Master, and Deputy Grand High Priest of the General Grand Encampment, and General Grand Chapter of the United States. The same year I was elected Grand Master of the Grand Encampment of Massachusetts and Rhode Island.
In addition to the orders and degrees above mentioned, I have had more than twenty others conferred on me by my partial friends at different times and places. I regard them, however, as unimportant, and merely indicative of friendship and esteem; as such I received them, and as such only, I regard them.
In 1820, I was commissioned by the Hon. J. Prescot, Grand High Priest, (whose Deputy I then was,) to proceed to Bath, Wiscasset, and Hallowell, in Maine, there to consecrate three Chapters of Royal Arch Masons,—which had been previously Chartered by the Gr. Chapter of Massachusetts,—install their officers, &c. Accordingly, on the 12th of July, I took passage on board a sloop at 5 o'clock, P. M., and arrived at Bath the next day at 11 A. M., where I was received in the most cordial and affectionate manner by the Companions and Brethren there, and was introduced to His Excellency Gov. King, and other dignitaries of the new State.
On the 14th, being joined by a number of worthy Companions from Portland, .whose attendance and services I had| previously engaged, we formed a Grand Chapter, opened in due form, and proceeded to business by consecrating the Chapter at Bath and installing their officers. The next day we proceeded to Wiscasset and installed the officers of the Chapter at that place. On the 20th, started for and arrived at Hallowell; consecrated the Chapter there, installed the officers, &c. On the two first occasions we were honored with the company of His Excellency and many of his friends, and on all the occasions the churches were crowded with the taste and beauty of the neighboring towns, and all appeared highly gratified and pleased. On each occasion a public dinner was given, and conducted in very handsome style. On leaving them I received a very affectionate letter from a Committee appointed by the three Chapters, expressive of their thanks and approbation of my conduct while with them. I travelled, on my return, by land to Portland, then took passage on board a packet, and was four days and nights getting to Boston, owing to continual calms!
When Andrew Sigourney, Esq., was Grand High Priest of Massachusetts, he commissioned me (then his Deputy,) to repair to the Island of Nantucket, and there consecrate a Chapter, install their officers, &c. Having selected such assistants as I knew would be agreeable and useful, we left Boston in a hired carriage and arrived at New Bedford the same day, where we found a packet waiting for us. The next morning we went on board and arrived at Nantucket the same day, after striking and beating over the bar. We were there received with all that politeness, kindness, and interesting hospitality, which so eminently distinguish the inhabitants of that Island. On the second day after our arrival, we consecrated their Chapter and installed the officers. On this occasion also, the church was crowded to overflowing; there were present, faces from 85 to those hidden in their mother's bosoms. Having completed our business, and gratified our curiosity by visiting all the natural curiosities of the place, we returned to Boston and received the thanks of the Grand High Priest, wo having been absent seven days.
In 1820, I received a pressing invitation from Major Howard, of New York, to visit St. John's Encampment in that city; correct their errors, teach them to work, and encourage them in well-doing. He promised to pay all my expenses, and $4 per day from my leaving home until my return. Accordingly I left Boston in the month of May; had a pleasant passage, was most cordially received and boarded in the "Majors family,—and it was one of the most pleasant families I ever knew. His wife was very handsome, indeed she was loveliness personified,—polite, without affectation; gay, without giddiness; devout, without austerity; liberal in her sentiments, and affable to all: everybody loved her; she seemed happy herself, and her sole desire seemed to be to make others so: I accompanied her twice to the theatre, and was charmed with the expression visible on her lovely countenance in the scenes presented from the stage. Her husband was an open hearted, liberal minded man, and an elegant figure; he was attached to the Custom House, and a most faithful officer. I remained with this interesting family fourteen days; two of which I was very sick, occasionedby eating quahaugs,—a species of shell fish of which the New Yorkers are very fond. Two physicians, members of the Encampment, attended me,—one of them staid with me all night,—and to their kind attentions, aided by those of my lovely nurse, I must attribute my speedy recover)-. On settlement with Major Howard, he paid all my expenses and $4 per day, Sundays and sick days not excluded, and the Encampment gave me a very flattering vote of thanks. They carried me several times to the theatre, and to all the public places worth seeing; would not permit me to pay a cent, and only seemed fearful that I should work too hard. I arrived safe at home after having been absent twenty daysThere are some circumstances attending the establishment of the General Grand Encampment, which may not be uninteresting to a Brother Knight so much devoted to the Order as yourself, and, if I have not already given you a surfeit, you may proceed.
On the 1st of June, 1816, I left Boston in company with Colonel Thomas S. Webb and the Honorable John Abbot, bound to New York, to attend a Communication of the General Grand Chapter which was to be held in that city on the 6th instant, and from thence to proceed to the city of Philadelphia, there to meet a Convention of Knights Templars, whose object was to effect a coalition of all the Grand Encampments of the United States under one General Grand Encampment.
We arrived at Providence at 4 P. M. on the same day, and found our friends had engaged a packet to take us on to New York; we were here also joined by Brother J. Snow, who, with Colonel Webb and myself, were the delegates from our Grand Encampment. On Sunday morning at 10 o'clock, we sailed, the wind ahead and very light; the passengers were in number thirty-one: arrived at 8 o'clock within two miles of Newport; the wind then dying away, and the tide coming ahead, we came to anchor. I had taken the precaution to select a good berth by attaching my name to the curtains. After the company had sung several hymns we turned in and slept profoundly. About half an hour before sunrise I awoke, and going on deck found the wind fair and blowing a fine breeze, I called the Captain, who mustered all hands, and in a few minutes we were under weigh.
June 3. A fine breeze at north; all sail set; lower dead-eyes under water; many of the passengers sea sick; some playing whist; some singing; others playing the flute and violin; others conversing, and some attending the sick ladies. In this manner we sailed one hundred and twenty miles in eight hours. The breeze now becoming light, and we right before it, handed the flying-jib and set a large square-sail. At 8, called to supper; excellent fare and the best of accommodations; this evening and indeed the whole of the night was delightful; the beams of the silver moon dancing upon the sparkling waves; the songs and gratulations on board of other vessels which we met or overtook,—for we outsailed everything we saw,—rendered the scene truly charming. At a late hour I left the deck for repose, on all sides the passengers lay snoring, all had turned in except the man at the helm, a black boy and myself. At this moment the idea of a superintending Providence impressed my mind: I reflected that a board only one inch and a half thick was between me and eternity: that when all were locked in the embraces of Morpheus, the helmsman might also fall asleep; or, through his carelessness, another vessel might run foul of us, and before we should be able to reach the deck, meet death in the passage; or, as all sail was set, a sudden squall might upset us, and none escape to tell the news. But again reflecting that the power and goodness of our Almighty Grand Master extend to every part of His vast dominions, and that all his creatures, in all situations, are equally His care, I turned in and slept soundly until sunrise.
June 4. A most beautiful morning and a fine breeze: we passed the mouths of several rivers of note, and also several towns and cities, such as New London, New Haven, Norwalk, &c. The Sound is from twenty to thirty miles wide—Long Island making one side, and the shores of Connecticut the other. At 9 o'clock we passed Hurl Gate, and, from the velocity of the current and the numerous rocks, pots and pans, I could have some faint idea of the terrors of the place at certain times of the tides, for now it was slack water. The wind now falling calm we were obliged to stop, and brought to at a new wharf four miles from the city. Near this wharf stands the new alms house,—then just finished, but not occupied,—we were permitted to visit every part of it. On entering, with that intention, we were told by a sprightly black eyed girl to follow her, on which she sprang up several stairs and disappeared in an instant. Fearing to lose the opportunity of gratifying our curiosity, we quickened our pace, and soon the pursuit resembled the chase of the hounds after the deer: sometimes we caught a glimpse of her garter, then bounce ! she was up six or ten stairs like a rocket; at length we overtook her, but it was only when she could go no higher.
I shall not attempt to describe the elegant buildings and other curiosities I visited during my tour, because I know that you are as well, perhaps better, acquainted with them, than myself. After giving us time to examine this grand edifice, and eat our dinner, the breeze again sprang up, but directly ahead: however, the tide being fair, we started again for the city amidst shoals of porpoises, who were dancing around us as if to welcome our arrival.
At 5 P. M., we landed at the city, and took lodgings at Mr. S. Gorham's (formerly of Boston,) in Pearl street. I [very soon found that the grey mare was here the better horse, and that the husband, although as large as any tw< common men, was very like an 0 set on the left of a sum, which looks big but counts nothing. We were in all twenty-five boarders, including four very handsome and agreeable ladies. On leaving home I had taken charge of several letters to be delivered in the city.
June 5. Sallied forth to see the city, deliver letters, &c.; and first I waited upon Miss Valiant, to whom I had letters from a friend in Boston. I found her an agreeable, handsome brunette, very polite, perfectly well bred, and, like all the French, very sociable.
June 6, 7, 8. Attended to business. It is not, I presume, necessary that I give you an account of the proceedings of the General Grand Chapter on this occasion. They consisted, as usual in such Bodies, of choosing and installing officers, &c. In the course of business I had the honor to be introduced to His Excellency, De Witt Clinton; he is a gentleman of the most prepossessing appearance, tall, well made, and has a most fascinating address, and his eyes seem to penetrate to the soul of him on whom they are directed. This is the man to whom the helm of our government would be committed, were he not too independent to lie to a faction, and flatter knaves and fools. I think him the greatest man I ever saw, one only excepted.
At intervals of business I availed myself of every opportunity to see the city, and make my remarks, some of which are not much in favor of the place. The streets are shamefully dirty; hundreds of hogs of all sizes and colors are here running at large in the streets. The people tell me that they improve the health of the city by eating the offals, which are here thrown into the streets and lanes. But why permit such things to be thrown there? We manage such things better in Boston. Conversing with some well informed persons they told me that there are in the city twenty thousand carmen; (similiar to our truckmen,) they are poor, and permitted to keep hogs, and have been so long allowed the privilege of having them run about to feed, that the men and hogs have become so numerous, it would be dangerous to restrain or deprive them of what they now conceive to be their constitutional rights, and so they submit to this abominable nuisance. The male part of the inhabitants are handsome, very polite, and attentive to strangers. The ladies are not behind the men in politeness, but are not so handsome: there are ladies here, however, in the first circles of life and fashion, on whom the sun has scarcely ever shone, or whose cheek the rough winds, or even gentle zephyrs, have never dared to kiss, except through a veil; some of these are very handsome: but you may walk the thronged streets, even on Sunday when they are dressed in their best, and you will hardly find one handsome woman in a hundred, of the sea that passes you.
Among other public buildings, is City Hall; it is a handsome edifice of white marble, in front of which is a fine park laid out with much taste. The churches are elegant. There are also, Tammany Hall, City Hotel, and many others. The Battery, as it is called, is a handsome promenade of about four acres, but not to be compared to our Mall and Common. I visited the steam frigate; she is a most wonderful machine, one hundred and eighty feet long on deck; indeed she resembles a vessel sawn in two from stem to stern; the two halves placed eighteen feet asunder, so as to have two keels, between which, and in the centre of the ship, is a wheel twenty feet diameter and ten feet broad, which is turned with astonishing velocity by the steam engine; and the ship is propelled either end foremost at the rate of twelve or fourteen miles an hour; she draws fourteen feet of water, and has on her lower deck thirty 32 pounders! Besides other guns, she has also another mode of destruction peculiar to herself, it is a machine impelled by the same engine, which can discharge a column of water six inches diameter with such force as to sweep the men from their quarters at the distance of a hundred yards. Take her altogether I think her a most terrible creature, and if she had been completed one year sooner, others, no doubt, would have felt her to have been so.
Sunday, June 9. Attended at the Catholic church; heard much real music, and a sermon: employed the afternoon in writing to my family, settling bills, and making preparations for Philadelphia.
Monday, 10. At 7 o'clock went on board the steamboat Raritan and sailed forty miles, to New Brunswick; take stage twenty-six miles to Trenton,—a beautiful city, the Capital of New Jersey, and famous for the capture of a large body of Hessians by the immortal Washington in the Revolutionary War. The road through Jersey was most villainous,—a turnpike, too, they call it,—indeed I was fearful it would have turned me inside out: the horses pretty good, but the carriages worse than our beef carts! Arrived at Trenton at 7 P. M.; found the best of accommodations. Here, a fine bridge connects the Pennsylvania and Jersey shores; it is 1060 feet long, without a pier, but supported by five geometrical arches above, all covered from the weather.
Tuesday, 11. Embarked at 7, A. M., on board the steamer Philadelphia and sailed thirty-eight miles down the river Delaware,—a charming river, from one to two miles wide.
Arrived at Philadelphia at 11, A. M., and took lodgings at the Gold Swan. On board the boat the charges were high, but the fare very good; here, the charges were very high and the fare not very good. After taking the necessary measures to meet our Brother Knights on the morrow, retired to rest at an early hour.
Wednesday, 12. Arose at 7, and after breakfast removed to more agreeable lodgings, kept by two sisters by the name of Pease, one of them thirty-three, the other thirty-six years of age, and both virgins; they were very polite, and very attentive, particularly so to our little party; they were from Connecticut, and of course partial to Eastern people. We then waited upon the Knights: their Grand Encampment was in session, but we could not then be admitted! Finding no business was to be done we proceeded to view the city, Masonic Hall, &c.
Thursday, 13, and Friday, 14.. Met in Convention, but found the Knights here very averse to a coalition as proposed,—not that they thought the measure useless, impracticable, or wrong,—but the fact was that they were completely under the control of the Grand Lodge; that Body having assumed an authority over all the Masonic Bodies in that State, and exacted and received a portion of the fines, not only of the Lodges, but also of the Chapters and Encampments. Several of the Grand Encampment were candidates for offices in the Grand Lodge, and dare do nothing which would curtail her revenue, lest they should not be elected to office. As it respected the Orders of Knighthood, they were ignorant as mules: we witnessed the reception of six candidates at one and the same time. After the ceremony was completed they asked Br. Webb what he thought of it. Webb asked if they wished him to be candid in his reply; they said, "by all means." "Well," said Webb, " if I had not heard you tell them that they were Knights Templars I should not have believed it." Their Grand Commander then desired Br. Webb to request two of his party to step out with two of theirs and exhibit all the signs, grips and words of each degree from the Entered Apprentice to the Knight of Malta, inclusive. Bro. Webb requested Bro. Snow and myself to gratify them. We accordingly stepped out with two of their officers, and having passed all the degrees, their Grand Commander asked his Grand Generalissimo: "well, Bro. H., what do you think of it: are you satisfied?" "Yes, Most Eminent; that we know nothing," was the reply. Hoping that something might turn up more favorable to our wishes, we continued to meet and argue with them for several days, until finding them totally incorrigible, we gave them up and prepared for our return.
In the intervals from business I visited the various curiosities with which this city abounds. The Academy of the Fine Arts is a building of one story high, containing many specimens of painting, sculpture, engravings, &c., which cannot be viewed without pride and delight. We visited also the hospital for the insane; it is a most noble institution, and highly honorable to the city and humanity. The buildings and gardens occupy one whole square, of about three acres. There are here about forty patients; they are mostly confined. We saw in one, however, the wreck of a most elegant figure, and of a still more noble mind; this was a beautiful and interesting young lady of twenty-two years of age. A young gentleman of this city paid his addresses to her, and they were to have been married in two or three weeks. Business called him to Baltimore about the time of the invasion of that place by the British troops; having considerable property in the city, he offered his services to assist in repelling the invaders, and was among the first who fell; his lovely girl on learning the dreadful news fainted, and lay a long time as dead,— happy would it have been for her had she never revived,—life, however, did at length return, but reason had fled forever. She conversed on various subjects with much ease and propriety, and no one would have thought her insane, until one of the company speaking, whose voice was supposed to resemble that of her deceased lover, the blood instantly mounted to her marble cheeks, her eyes assumed a brilliancy almost supernatural, she rose with a majestic air, raised her fine eyes and one hand toward Heaven, while with the other she forbade any one to follow; she quitted the room!
Saturday, 15. This morning I visited many fine streets, and also the Pennsylvania Bank; the latter is of white marble, and portico in front and rear, each supported by marble columns thirty feet high; it is said to be the most elegant building in the United States. In the afternoon visited Peal's Museum; it contains a most wonderful collection of natural curiosities,—from the monstrous Mammoth, down to the animalcule, which requires the aid of a microscope to become acquainted with,—on an attentive examination of the wonders here exhibited, one cannot forbear exclaiming, "great and marvellous are Thy works, Lord God Almighty, in wisdom hast Thou made them all."
Sunday, 16. At church: heard a preacher who was once a famous comedian; he gave us a good discourse in handsome style. Their churches here [are elegant; but one thing, in my opinion, is wanting to complete the beauty of the city, and that is the beauty of steeples, there being but one solitary church spire in the city!
Monday, 17. Col. Fairman sent his carriage for, and accompanied us himself on horse back, to the water works on Schuylkill river. They are a most wonderful specimen of what may be done by money, perseverance and ingenuity. They supply the whole city with plenty of water, carried into, if desired, every room in the house, and over the house, if necessary. Not far from these works is a beautiful bridge composed of one arch, whose span is three hundred and forty feet.
Tuesday, 18. Visited one of the shot towers; it is of brick, thirty feet square at the base, gradually diminishing as it rises; it is two hundred feet high. On the top is a furnace for melting the lead, which is hoisted up by a large wheel; when melted they pour it into a large kettle,—like a cullender,—pierced full of holes; in descending it meets with resistance from the atmosphere, and falls like rain into a pit at the bottom, which is filled with water; it is then scooped out and thrown into an oblong box, in which are various apartments, the box is then agitated to and fro, and the shot is found of various sizes in the different appartments,—No. 1, 2, 3, &c. 10,000 pounds of shot may thus be cast in one day!
This afternoon Col. Fairman accompanied us to Mr. Pratt's elegant seat and gardens, a few miles from the city. I am told that they are superior to those of Joseph Bonaparte, which are a few miles further out; indeed I can hardly conceive of anything more delightful,—here are beautiful views, elegant walks, fountains, grottoes, trees and plants of every kind and every climate; oranges, lemmons, limes; some in bloom, some green, and others ripe; beds of strawberries, of half an acre each, and the fruit as large as acorns; indeed I can hardly believe that the garden of Eden surpassed in beauty this enchanted spot. The difference in one respect is, however, truly great; for in that everything grew spontaneously, while this costs the owner $10,000 annually to support it. But Mr. Pratt is immensely rich, and always happy to exhibit all its beauties to the stranger or traveller. He received us graciously, and said we were welcome to examine every part,—there were hundreds of kinds of trees I had never seen; thousands of plants I had never heard of, and tens of thousands of flowers of the most beautiful variety, colors and odour presented themselves at every step; in short, nothing but the enchanting Houries of Mahomet were lacking to make this place equal to his paradise. Yet, so far is this enviable situation from exempting Mr. Pratt from the misfortunes and sorrows to which our frail nature is exposed, that I believe him to be at this moment the most unhappy of men; for the day before yesterday he consigned to the silent tomb his amiable lady,—who was suddenly called to the enjoyment of a more perfect paradise above! For her sake, and at her request, he had employed so much time and had expended such large sums of money; they had lived most happily together more than thirty years, and now the inexorable destroyer of human bliss had, in a moment, blasted all his hopes. Sic transit gloria mundi!
The observations respecting the ladies of New York will hold good, generally speaking, in regard to those of Philadelphia; there are, however, some very elegant figures here, and Ihey are extremely so; but among the middle class you hardly find one lovely girl in a hundred of the females you meet in the streets, or with whom you fall in company; and there is scarcely a white domestic under twenty-five years in the city; the affairs of the house and kitchen being performed by blacks. When a pretty girl makes her appearance here, she is followed as some strange animal, and persecuted with the addresses of the beaux, until she either marries one, or surrenders at discretion.
Having spent much time with Knights here, and finding it impossible to effect anything satisfactorily, we resolved to turn our attention to New York.
Wednesday, 19. At 7, A. M., we accordingly left Philadelphia in a steamboat, and at Trenton took the stage, and after being jolted almost to pummicc were set down at New Brunswick. During this land passage we were eight loads,—our carriage was the third,—and passing through a wood we heard a great outcry behind us; on looking out we perceived the next carnage on its beam-ends, and the passengers, male and female, huddled together and bawling for help; we immediately alighted and run to their assistance,—the hind axle had broken, which was the cause of their disaster,—we succeeded at length in hauling women off the men, and the men from the ruins, to set them on their feet again, and then there was such swearing, and fainting, and sobbing, and such a set of scarecrows was perhaps never seen,—some had lost their shoes; some their head gear; and one her petticoat; and all were tumbled and dirty as heart could wish; for the affair had happened near a fine puddle, which the rain had made the day before: however, no bones were broken, (except the axle,) and the passengers seated themselves upon the verdant turf to wait the return of their driver, who started for another carriage.
We resumed our seats, and, as before stated, were safely landed at New Brunswick. The weather was intensely hot. I was obliged to leave my window open; and while attempting to write, was attacked by myriads of gnats; so was obliged to extinguish my candle and retire to bed. I had just fallen asleep when I was attacked by a more formidable enemy than the gnats: a little cursed mouse, thinking to make a good supper, seized and attempted to devour me, beginning at the fore finger of my right hand; had he finished his supper, the finger at least would have gone, and this famous journal would have remained unfinished, and you, my friend, would have been spared the trouble of reading it.
Thursday, 20. Left New Brunswick, and after a long passage, (owing to some defect in the engine,) arrived at New York.
I have often read in novels and romances of the power of filial affection, but never saw it so beautifully exemplified as on this passage. On leaving Philadelphia my friends and myself were introduced to a gentleman by the name of Sheafe, and his two daughters, all of that city. He had been, three years before, striken by the numb palsy, was now a little better, but had not yet recovered the use of one leg and one arm; he was, however, very cheerful, and very good company. The eldest daughter was twenty-three, and the other eighteen years of age; the former by no means a regular beauty, but no angel from the heavens could have inspired more exalted reverence,—amounting almost to adoration,—than did her character and conduct to her decrepid father. She had left the city, where everything conspired to attach her to the place, rich to excess, beloved, almost adored by all who knew her, and about to be united to an amiable man, and of an age to enjoy life with the highest relish; yet she voluntarily forsook all to accompany her aged and infirm father to the Springs for the benefit of his health. She performed for him, with a cheerfulness which could not fail to render every service agreeable, the meanest offices, and would permit no one else to perform them. At night she had a bed placed for herself and lovely sister near that of her father, that she might be near if wanted. One day after dinner, she having washed her father, he threw his arm around her, and looking tenderly in her expressive face, he said, "come, Maria, now give your old father one of your best kisses?" "Sir," cried the amiable girl, "you forget that we are surrounded with spectators." "Never mind that, my love," said he, "if there be here a father who can disapprove the action, may he never know the happiness of an attentive daughter when he most needs her services to assist him in his infirmities, and her caresses to support his spirits under affliction." Without further hesitation Maria gave her father such a kiss, that I believe there was hardly a man within the sound of her lips, who would not have been willing to exchange situations with the old man (infirmities and all,) to have it repeated on his.
Friday, 21 June. Assembled with the Knights: took into consideration the formation of a General Grand Encampment: voted it to be expedient and necessary, and chose Committee, who would report to-morrow.
This evening, at her invitation, we visited Miss Vailant; we found there assembled several of her pupils, and also an interesting French lady, whose father was an eminent physician in the city, and formerly very rich in Paris, but lost the whole in the late revolution, and was happy to escape with life and his daughter; death, however, deprived her of his protection, and at the age of seventeen she married a gentleman of her own country, and a friend of her late father; he is thirty years her senior, and by repeated misfortunes they are much reduced; his amiable wife supports the family by the exertion of those talents,—with which she is amply furnished,—in teaching young ladies, the pupils of Miss Vailant, those accomplishments which she formerly acquired for her own amusement; she plays the piano forte to a miracle and sings divinely. Miss Vailant, ever attentive to please, omitted nothing to charm and gratify her guests, and I here passed the most delightful evening since my departure from home. At a late hour we parted, and, on reaching our lodging, found our landlady waiting for us. "Ah," cried she, "you Eastern folks, when from home, forget the hours; I fear you will learn bad habits." "No, Madame," I replied, "I hope not; and if you had been with us you would not have hurried us away." I then told her where we had been: she knew Miss Vailant, she said, and had always heard her, and her school, spoken of in the highest terms of approbation, and could not blame us for not making haste home.
Saturday, 22. The Knights assembled in Convention: the Committee reported a Constitution for a General Grand Chapter, which was accepted: the officers were elected, installed, &c. Having completed our business to our satisfaction, — without the aid of Pennsylvania,—the General Grand Encampment was closed.
Sunday, 23. Very hot; the mercury at 98 in the shade, at 10, A. M. This afternoon, at the polite invitation of Lieutenant Timothy Green, who is stationed at the fort on Governor's Island, we visited that formidable place. Mr. Green sent his barge for us at 4 o'clock, and received us with true politeness and friendship. Mr. Green is a Bostonian, and well acquainted with us all; he married the daughter of Mr. J. Martin, of Boston, and was desirous her parents might hear from me a description of her situation, she having arrived only a month since. This fort is pleasantly situated, one mile and a quarter from the city, and commands the spacious harbor. The fort is mounted with 100 cannon, from 100 pounders down to 24s, and is called Castle Williams, in honor of Colonel Williams, who was the Chief Engineer at its construction. It is a mass of hewn stone, three stories high and nine feet thick, semi-circular, and a most formidable battery. When the frigate President lay here during the late war, the Commodore wishing to try the effect of balls upon the fort, brought the broadside of the frigate to bear upon the fort, and, at the distance of half a mile, let fly several 42 pound shot; they struck the Castle, but made no impression; one ball, however, entered a port in the second story, gouged a piece about half an incli deep out of a 32 pounder, and buried itself in the wall.
Lieut. Green, with great politeness, conducted us to every part of the fort, and ordered out the garrison for drill. They were one hundred good looking men, but very shabbily dressed. [laving fully gratified our curiosity in the fort, &c., we were introduced to Mrs. Green, at her quarters. We found her a very amiable, sprightly little woman, with two pretty children; the family appear to want nothing to make them happy. We were here also shown the famous iron chain, which was intended to be thrown across the Narrows—the grand entrance to the harbor, nine miles from the city. The chain is three quarters of a mile long; the links are of square bars, two inches and three quarters diameter; three feet long; it cost $30,000. The barge brought us to the city at 9 o'clock, Mr. Green accompanying us, of whom we took an affectionate leave, and returned to our quarters.
Monday, 24 June. Being the anniversary of our Patron, St. John, several Committees from various Societies waited upon us and invited us to assist in the solemnities of the day; but having been so long absent from home, and also having completed our business, I was not to be persuaded, so went on board the Fulton, which brought us to New Haven in nine hours.
Tuesday, 25. A few days before we left New York Monsieur De Valnais and his daughter arrived there from France in a fine frigate. He had been appointed Consul at Boston by Louis XVIII. I had been introduced to him at New York, and on the passage found means to be useful to them and gain his favor. Last night he requested my friend Snow, and myself, to come on with him and his daughter,—he had taken the whole carriage for themselves and baggage, and if we would come with them, they would take care that the latter should not incommode us,— we accepted the offer and were well accommodated, - while the other stages were crowded to overflowing. We started from New Haven at 9 o'clock and arrived at Hartford at 6 P. M., and put up for the night.
Mr. De Valnais was married in Boston in 1787, and when his daughter was six months old, he, with his family, returned to France. Miss De Valnais is a very agreeable lady, perfectly well bred, polite and sociable; she is proud to be called a Yankee,—having been born in Boston. Both she and her father speak English perfectly, and are very partial to this country.
'Tis now that witching time of night when, as they tell us, church yards yawn, and send their noiseless tenants forth to fright poor mortals. In short 'tis midnight; I am a hundred miles from home; Mr. Snow lies before me .sounding his nasal trumpet; all the family and guests are in bed, except myself and a cat,—who has just popped her head into my room on her way to her own. I feel the power of the drowsy god upon my eye-lids, and can no longer resist it. Good angels protect my family, and give us a happy meeting.
Wednesday, 26. Started from Hartford at C, A. M.; great change in the weather yesterday,—at 3 o'clock in the afternoon the mercury in the shade stood at 98, and this morning we were obliged to put on additional clothes to prevent freezing!
At 4, P. M., very pleasant and comfortable, when, passing down a declivity, not very steep, but at the rate of twenty miles an hour, one of the wheel horses, as they call them, made a false step, and fell upon his broadside as dead, and the leaders dragged him about forty feet before the velocity of the carriage could be retarded; sitting near the door I saw the horse fall, and supposed him to be instantly killed, but did not think the passengers in danger. Miss De Yalnais was not of my opinion, she shrieked and would have leaped from the carriage, but I prevented her, and her father cried, Courage! ma chere, nous ne sommes pas en danger; she instantly regained her spirits, saying, "I am ashamed of my weakness, but the surprise was so sudden it almost overpowered me."
The horses now began to snort and plunge. I had the door open in an in¬ stant, and was on the ground with the lady in my arms; the father also alighted. After stripping the horse, he arose, having received no other damage than the loss of the hair, perhaps a little of the skin, from his hip and shoulder. Being again seated, we scampered off, and arrived at Providence at 8, P. M., having travelled seventy miles. We put up for the night at Monsieur Chapotain's ho¬ tel, where we had a great deal of talk, small rations, and plenty of charge.
Thursday, 27. Left Providence at 8, arrived safe at home at 2, after an absence of twenty-seven days, and had the happiness to find my family and friends in good health.
I have been censured, by some severely, for my attachment to Masonry. I know it has taken a good deal of time and some money, but I have never re¬ pented it. The Institution has suffered, and is still suffering, under a cloud of calumny and misrepresentation, but if the Christian Religion is worth preserving, (and no honest man will deny it,) Masonry is worthy of our support. There is not a sentiment or principle in real Masonry which is not recommended and enjoined in the New Testament. If love to God and love to man be inculcated in the Christian Religion, it is no less so in Masonry.
I have long since made it a rule never to engage in violent disputes upon subjects of a Religious, Political or Masonic nature, for it is a folly to argue with a man who is predetermined not to believe you, nor to be convinced by reason and common sense. Truth is acknowledged by all to be a divine attribute; it is the foundation of every virtue. To be good and true, is the first lesson we are taught in Masonry. Does Religion enjoin a strict adherence to truth? So does Masonry. God is truth, and must be worshipped in spirit and truth. The reverend clergy are said to be the ministers of the God of Truth,—they have obligated themselves to preach the truth to their brother mortals, and be true to the trust reposed in them. What then shall we say of that man who, thus obligated, shall voluntarily engage by solemn oath to keep the secrets of a Society of which he is solicitous to become a member, who is told,—and with truth,—that the oath he is about to take will not improperly affect either his religion, the allegiance he owes his country, or any other moral or social duty: he takes the oath; he calls upon his God to witness his sincerity, and takes one degree after another, with full time between for consideration: after having taken the first oath,—and there is none more strict and severe,—he has full time for reflection; if he finds nothing in it unworthy a man, or a Christian, he goes on to the next, and so on: but if at the commencement of the business he finds that he is doing wrong, and that the principles of the Society, as they are unfolded to him, are such as no honest man ought to imbibe, and that by proceeding he will commit a heinous sin; instead of reviling with horror, as a good man naturally would, he presses on, taking oath upon oath, and degree after degree( to the amount of twenty or more, believing all the time he is committing a damnable sin? This man, too, is a minister of the everlasting gospel of truth, and resides not a hundred miles from us. His sermons and orations on the subject of Masonry would lead one to think that he would cheerfully suffer martyrdom in the cause for which he was contending. This man, too, when in the most abject poverty, was fed and clothed by his Brother Masons; in sickness, nursed and nourished from the same source, and when recovered, was by them cherished and caressed; and they finally presented him with the means of a handsome support. Having received all these favors from his Brother Masons, and received all these degrees gratis, he-comes out and openly denounces the Society as devilish, and his benefactors as robbers and murderers! Great God ! is this man a minister of the gospel ? Judas Iscarriot was a saint to him!
But the Institution is not destroyed; it is too good to fall by such hands; the benefits mankind have received from it are innumerable; it has saved the lives of multitudes in foreign countries, when shipwreck and misery had over¬ whelmed them; when robbers had plundered them; when sickness and want had brought them to the very brink of the grave, the discovery of being a Mason has saved them; the discovery of being a Brother hath stayed the hand of the conqueror, already lifted in the field of battle to cut off the captive; hath with¬ held the sword imbrued in carnage and slaughter, and subdued the insolence of triumph to do homage to the Craft. How many of our fellow-men are destitute of the common necessaries of life; shut up in the walls of dreary prisons, and deprived of the light and air of Heaven; or languishing in the midst of helpless families of children, without clothes to screen them from the wintry blast, or food to protect them from the voracious jaws of famine,—no bette prospect before them than misery: hope—the last refuge of the wretched— nearly converted into despair; and the retrospect of past days serving only as an ignis fatuus to bewilder them still deeper in affliction, and upon its disappearance to increase the darknees visible to their misery.
How glorious, my friend; how God like, to step forth to the relief of such distress,—to arrest the tear of sorrow,—to disarm affliction of its darts,—to smooth the pillow of declining age,—to rescue from the fangs of vice the helpless or¬ phan, and diffuse the most lively joy over a whole family of rational, immortal creatures,—and many, very many times has this been done by our despised and persecuted Society; and many times have I, with tears of joy, witnessed it. To make one fellow-creature happy, is more truly great than the triumphs of a conqueror, with ten thousand captives groaning at his heels. Success and triumph may cast a transient gleam of grandeur over the names of an Alexander, a Caesar, a Suwarrow, or a Bonaparte, but the impartial voice of history will ever distinguish such characters as the robbers and murderers of mankind; the lustre of their glories, when compared with some of our American worthies, is as the glimmering of the glow-worm to the splendor of the meridian sun. I will mention but three of them,—and they were Masons:—Our Grand Master, Joseph Warren, who fell a martyr to American Liberty; the Sage of Pennsylvania, who snatched the fire from Heaven and broke the oppressor's spear; and the Hero of Virginia, who defended his country in war, governed it in peace, and is now immortal.
The former class of great men employed all their energies for their own ag¬ grandizement, or for the slavery and destruction of mankind. The latter, for the benefit, happiness, and liberty of the human species.
And now, my friend, let us not be weary in well-doing; for Masonry, although cast down, is not destroyed. We have seen the sun so totally eclipsed as to render the noon-day dark as night, but the dark body soon moved off into the vast expanse and left the sun to shine.again in all his glory. So it is with Freemasonry ; it may, for a time, be depressed by persecution from without, and apostacy from within,—Yet
"Magna est Veritas et prevalebti."
In addition to those places, already stated, I have taught the Lectures, Work, &c, of the Orders, in the following, viz:—Portland, Me.; Hanover, N. H.; Windsor and Middlebury, Vt.; Boston, Newburyport, Greenwich and Rutland, Mass.; Providence, R. I.; Colchester and New London, Conn.; New York, Granville and Salem, N. Y.
I had frequently been requested to pay them a visit at Rutland, in Vermont: accordingly on the 10th of March, 1823, I left Boston (on Monday,) at 8, A. M., and arrived at Keene, New Hampshire, at 7, the same evening. Started at 4, next morning, and arrived at Rutland at 7, in the evening,—through a smart snow storm the whole day I Found Messrs. Haskins and Gookins waiting for me. They informed me that their Chapter was then in Session, and requested me to visit and examine them. I found them tolerably correct, and suggested some amendments, which were adopted.
12. A number of the Knights assembled . 11 made preparations for the morrow.
March 13. Recited the Lectures; which were received with enthusiasm: commenced the instruction of the officers, &c.
March 14, 15. Conferred the Orders upon six candidates.
March 16, 17. Revised the Work; correcting errors, &c.
While here, I received a pressing invitation from a gentleman at Granville, in New York State, to visit the Encampment at that place, (Granville.)
March 18.. Left Rutland,—in another snow storm,—and arrived at Granville, at 7, P.M.,—twenty-seven miles. Mr. Arch Bishop, to whom I had let¬ ters of introduction and recommendation, and at whose particular invitation I had come to Granville, being indisposed, sent for me to his house. He bade me welcome to Granville, and to his house, which het desired; me tojnake my home during my stay; and from him and his amiable lady Inexperienced every kind attention which they could have bestowed on a beloved brother.
March 19. We commenced business. I found them totallypgnorant of everything they should know as Knights Templars. They had a Charter, as they called it, from Europe, and did not acknowledge the authority of the General Grand Encampment, nor the Grand Encampment of New York. I told them that it would ill-become me,—an officer in the former Body,—to set an example of insubordination, by teaching them to work, or even hold communication as Templars, with them; and requested to see them altogether, when I would make them a proposition. When they had assembled,—to the number of sixteen, from twenty-eight to forty-five years of age,—they said they were sensible of their ignorance, and, hearing that I was to be at Rutland, had determined, if possible, to have me visit them, and tell them what they must do to be saved, and were then ready to attend to any proposition I should be pleased to make. I then told them if they if would take the oath of allegiance to the State Grand Encampment, and to the General Grand Encampment, and promise upon their honor to petition the former for a Charter of recognition, I would proceed with them, and would also write to the State Grand Officers in their favor. They accepted my offer with great joy, and declared that they had long been sensible of being wrong, but knew not how to get right; that their eyes were at first ope~.ed to their ignorance by a short conversation with Major Brown,—a member of the Encampment at Windsor, Vermont,—who told them what I had done for hem at Windsor, and explained some of the ceremonies as he had received them. This put them, they said, upon thinking, and comparing work; and the more they examined the matter, the more they were convinced of their ignorance and the more they longed for light. But how were they to obtain it? At ist they heard of me, and were then ready to do as I should dictate.
They all accordingly took the oath required, and I commenced a course of instruction, repeated! the ceremonies with them, and taught them the Lectures, &c. Bro. Bishop was so highly pleased, that he was desirous others should be pleased also, and requested me to visit the Encampment at Salem,—a flourishing village, eighteen miles further south-west. He said they were worse, if possible, than they had been, and, if I would consent, he would at his own expense send an express to Salem, to know if they would attend to me. I told him if he did so, it must be entirely as from himself, and by his means at my request. He consented; and wrote a statement of the agreeable change which had taken place at Granville, &c. This, he sent by express, and at 12 o'clock the same night a letter was returned by the Grand Commander at Salem, full of the warmest expressions of gratitude, to Bro. Bishop, and pressing invitations to me to visit them.
1916 BIOGRAPHY
From Proceedings, Page 1916-175:
R. W. Brother Henry Fowle was born in Medford, Mass., in 1766. At the age of fourteen he was appointed a pump and block maker in Boston, and this was his life occupation. He was initiated in the Lodge of St. Andrew April 10, 1793. On March 9, 1801, a petition was received from him and others praying for a charter for a Lodge to be holden in the town of Boston (2 Mass. 180). This charter was granted June 8, 1801, to him and thirteen others as Mt. Lebanon Lodge (2 Mass 181). Brother Fowle was the first Master, and served as such in 1801, 1802, 1803 and 1805. In the latter part of 1805 he resigned his membership and returned to the Lodge of St. Andrew, which he served as Master from 1810 to 1817.
In Grand Lodge he was very active, serving as Junior Grand Deacon from December 27, 1802, to December 27, 1805; as Senior Grand Deacon until December 14, 1807; as Junior Grand Warden until December 27, 1808, and as Senior Grand Warden until December 28, 1809. He was Grand Marshal from December 17, 1810, until December 28, 1818. He served almost constantly on committees of the Grand Lodge and was a member of every recorded committee having anything to do with matters of regalia during his Grand Lodge activity. He died in Boston in 1857 at the age of seventy-one. Of him our Honorary Past Grand Master, Charles W. Moore, said:
". . . probably no Brother of his time was better informed than he in all the earlier formulas of our institution, nor did any exert a wider influence over its practical operations, or labor more ardently and faithfully for its best interests and solid prosperity."
---
History of Templary - contains biographical information on Bro. Fowle.