WalthamTriad
From MasonicGenealogy
WALTHAM TRIAD LODGE
Location: Newtonville
Chartered By: Albert T. Ames
Charter Date: 06/10/1988 1988-73
Precedence Date: 12/13/1820
Current Status: formed by a merger of Monitor, Isaac Parker and Waltham Lodges, 06/10/1988.
Victory Lodge merged into this lodge, 06/02/2003.
---
PAST MASTERS
H. Frank Albee, 1988-1989
Harlan B. Tewksbury, 1989-1990
Scott M. Sherman, 1990-1991, 1997-1998
Robert L. Anderson, 1991-1992
Jaak Juhansoo, 1992-1993
Salvatore S. Privitera, 1993-1994
Daniel J. Vallucci, 1994-1995
Norman P. Poirier, 1995-1996, 1996-1997, 2002-2003
Roger E. Berthold, 1997-1998
Brian H. Sherman, 1998-1999, 1999-2000, 2000-2001 (Expelled for cause - 2010)
W. Roger Melick, 2001-2002
Robert J. Jingozian, 2003-2004, 2004-2005, 2005-2006
William P. Asadoorian, 2006-2007, 2007-2008, 2008-2009, 2019-2020
John H. Asadoorian, 2009-2010, 2010-2011
Joseph L. Wooters, Jr., 2011-2012, 2012-2013
Kenneth L. Brown, 2013-2014, 2014-2015; DDGM
Benjamin E. Bloomenthal, 2015-2016
William W. Dahlbeck, Jr., 2016-2017
Mark J. Collins, Sr., 2017-2018, 2018-2019
David E. A. Ferrazzoli, 2019-2020, 2020-2021, 2021-2022
James M. McMullin, 2022-2023
---
REFERENCES IN GRAND LODGE PROCEEDINGS
Petition for Consolidation: 1987
Petition for Charter Amendment: 1988
VISITS BY GRAND MASTER
BY-LAW CHANGES
---
EVENTS
CONSOLIDATION, JUNE 1988
From TROWEL, Fall 1988, Page 24:
Waltham Triad Lodge Meets in Newtonville
The official merger of Isaac Parker Lodge of Belmont, Monitor Lodge of Waltham that had been meeting in Belmont, and Waltham Lodge that had been meeting in Watertown, was consummated June 10 in the Newtonville Masonic Temple. Grand Master Albert T. Ames and Grand Lodge's officers officiated. The Grand Master then installed the new officers of the new Waltham Triad Lodge.
Grand Lodge approved the merger at the September 1987 quarterly communication. Monitor Lodge dates back to 1820, Isaac Parker to 1867, and Waltham Lodge to 1928. The new Lodge will be in the Brighton Fifth District.
CONSOLIDATION, JUNE 2003
From TROWEL, Summer 2003, Page 30:
Grand Master Merges Waltham Triad and Victory Lodges
The merger of Victory Lodge and Waltham Triad Lodge took place on Monday, June 2 in Newtonville. The Charter of Victory Lodge was turned in, and the combined Lodge will continue as Waltham Triad Lodge, which has a precedence of 1820. The Lodge room was filled to overflowing with more than 150 members and guests for the merger ceremony, and the social hour and dinner which followed.
[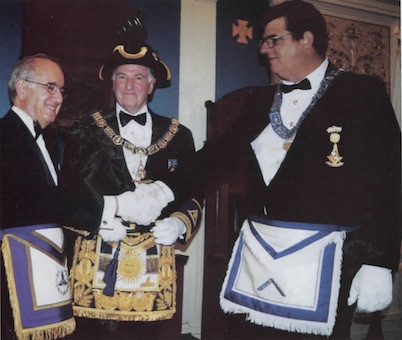 Pictured above with Grand Master Donald G. Hicks, Jr. are (L) R. W. Shant L. Chebookjian, Master of Victory, and (R) Wor. Norman P. Poirier. Master of Waltham Triad.
---
GRAND LODGE OFFICERS
Kenneth L. Brown, DDGM, District 5, 2019, 2020
Shant T. Chebookjian, DDGM, District 5 (Waltham), 1979, 1980; Senior Grand Warden 1983; N
Stephen Kaloyanides, DDGM, District 5 (Waltham), 1985, 1986; Senior Grand Warden 1998; N
---
DISTRICTS
---
LINKS
---
The curator for this page is Brother Scott Sherman. Please direct informational updates and questions to him.