StPaulAlgonquin
From MasonicGenealogy
SAINT PAUL'S - ALGONQUIN LODGE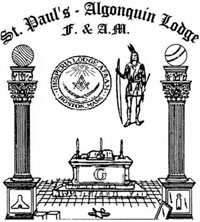 Location: Braintree
Chartered By: Albert T. Ames
Charter Date: 03/08/1988 1988-49
Precedence Date: 01/26/1797
Current Status: in Grand Lodge vault; formed by merger of St. Paul's and Algonquin Lodges, 03/08/1988; merged with Delta Lodge, 10/24/2014.
---
PAST MASTERS
Jonathan F. Hill, 1988
Joseph H. Hilchey, 1989, 1998, 2003, 2008
Gerald N. Scampoli, 1990, 1993, 2009
Edward L. Shockley, Sr., 1991
Michael D. Mowles, Jr., 1992
Robert C. Speranza, Jr., 1994
Barry D. Waldman, 1995, 1996, 1999, 2004
Richard S. Fredholm, 1997
Steven A. Cooper, 2000, 2001
George E. Alexanian, 2002
Ronald O. Preble, 2005-2007; N
Alexander J. Nicol, 2010-2012
---
REFERENCES IN GRAND LODGE PROCEEDINGS
ANNIVERSARIES
VISITS BY GRAND MASTER
BY-LAW CHANGES
---
EVENTS
CONSOLIDATION, MAY 1988
From TROWEL, Fall 1988, Page 25:
Saint Paul's Lodge of Braintree and Algonquin Lodge of Quincy were officially merged into Saint Paul's-Algonquin Lodge of Braintree when Grand Master Albert T. Ames and Grand Lodge officers met at Braintree on May 28. The Lodge will meet in the Braintree Temple, off Washington St., the second Thursday of the month. Wor. Joseph H. Hilchey was seated the first Master.
Saint Paul's Lodge was chartered 1846 and Algonquin dates its precedence to 1913 in Dorchester. The merger reduces the Lodges in the South Boston Fourth District to four.
GRAND LODGE OFFICERS
OTHER BROTHERS
---
DISTRICTS
---
LINKS