GMBigelow
From MasonicGenealogy
TIMOTHY BIGELOW 1767-1821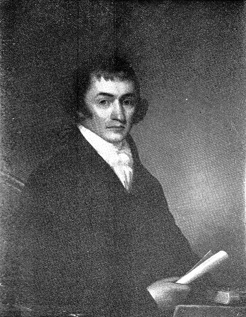 MM 1797, WM 1802, Saint Paul
Junior Grand Warden 1803
Senior Grand Warden 1804-1805
Grand Master 1806-1808, 1811-1813
Grand High Priest, 1803-1805
---
TERM
BIOGRAPHY
MOORE'S FREEMASON'S MONTHLY, 1867
From Moore's Freemason's Monthly Magazine, Vol. XXVI:6, April 1867, Page 172:
Pepperell, Feb. 14, 1867.
Br. C.W. Moore,
"In looking over the records of Saint Paul Lodge, I find the next W.M. (after W. Oliver Prescott, Jr.,) was the Hon. Timothy Bigelow, who was chosen Dec. 28, 5801, and held the office to Dec. 27, 5802. He was the son of Col. Timothy Bigelow, of Worcester, who commanded one of the Massachusetts regiments in the Revolutionay War. My uncle, Col. Jonathan Bancroft, of this town used to tell me, when I was young, that he was an excellent officer, as he served as waiter to him for a number of months, in those days that "tried men's souls." As this distinguished man and brother Mason deserves a notice in your Magazine, I have tumbled over records and books to obtain what I have committed to paper.
Brother Timothy Bigelow was born April 30, 1767; graduated at Harvard College in 1786;* read law with Hon. Levi Lincoln, Senr.; and opened an office in Groton in 1789. He was eminently successful in the practice of his profession, a sound lawyer, and distinguished advocate and counsellor. He was chosen representative of the town in 1798, and in each of the next succeeding thirteen years, except 1803. In 1802 he was chosen one of the Executive Council, and taken from the House of Representatives to fill that station, in which he served two years. In October, 1806, he removed with his family from Groton to Medford, and opened an office, for practise, in Boston. He represented the town of Medford in General Court, most, if not all the years, from his removal there to that of his death.
He possessed an admirable talent for presiding in deliberative and other assemblies, and had opportunity to exercise that talent by being Speaker of the House of Representatives for eleven years, as well as by presiding in numerous literary and charitable societies, of which he was a member. Law and politics were not the only sciences in which he excelled. He was a great student and general reader. Books in all the liberal arts and sciences were his familiar acquaintances. His conversation in private and social circles of his friends was highly exhilirating, and none ever spent an hour in his presence on such occasions without enjoying a rich feast of intellectual entertainment. (He died May 18, 1821, aged 54.)
In 1798, April 4, he delivered an oration at Amherst, N.H., at the interment of Hon. Samuel Dana, W.M. of Benevolent Lodge of Free and Accepted Masons, at which were present delegations from St. Paul, and other Lodges, who had assembled to pay their respect to him who, but a few weeks before, was seated in the East, "affording light and instruction to his brethren." He closes his oration in these words: "But the testimonial roll shall long remain incorruptible, and the sprig of sweet remembrance shall flourish on his grave. While with funeral pomp and Masonic honours we transfer the remains of our departed brother to the house of silence, in imitation of the wise Solomon, the second founder of our Order, let us resolve to serve our Supreme Grand Master on high with a perfect heart and a willing mind, that so being duly prepared, when we shall be transferred from the Lodge here below, we may gain admittance into the Sublime Lodge above, there to meet our departed brother, and perfect that affection which had its origin on earth." What a noble mind! Soon ripe for immortality! He wielded the mallet of St. Paul's, and the M.W. G. Lodge of this State, with order, law, and religion. As a brilliant orator, freemason, and statesman, his name will remain on perpetual record. I hope if there is another Lodge formed in this State, that it will be named Timothy Bigelow Lodge.
Yours in the bonds of Freemasonry,
Luther S. Bancroft.
The Hon. Timothy Bigelow delivered a eulogy on the character of Washington, before the Grand Lodge of Massachusetts, on the 11th of February, 1800. His language is as follows: "The information received from our brethren, who had the happiness to be members of the Lodge over which he presided for many years, and of which he died the Master, furnishes us abundant proof of his persevering zeal fo the prosperity of the institution. Constant and punctual in his attendance, scrupulous in his observance of the regulations of the Lodge, and solicitous at all times to communicate light and instruction, he discharged the duties of the chair with uncommon dignity and intelligence in all the mysteries of our art."
MOORE'S FREEMASON'S MONTHLY, 1871
From Moore's Freemason's Monthly, Vol. XXX, No. 3, January 1871, Page 99:
". . . the following note . . . is in answer to one from Dr. Lewis, as chairman of the [portrait] committee, to Rt. Wor. Bro. John P. Bigelow, ex-Mayor of Boston, asking for the portrait of his father, the late Hon. Timothy Bigelow. We deem it valuable as a concise and reliable biographical sketch of the distinguished brother who is the subject of it: -"
REVERE HOUSE, June 24th, 1855.

My Dear Sir,

My father was born at Worcester, April 30th, 1767, and died May 18th, 1821, fifty-four years and eighteen days old. He graduated at Harvard College, 1786, commenced the practice of law in Groton, 1789, married the daughter of Judge Oliver Prescott (brother of the Bunker Hill Prescott) in 1791, and removed to Medford in 1806. He was, during most of his adult life, a member of some branch of the State Government - Council, Senate or House, and was eleven years Speaker of the last named body - he was the last Speaker, 1820 (winter), of Massachusetts and Maine UNITED. He twice had the nomination of the legislative caucus of the Federal party (then dominant in our State) for the Senate of the United States, but declined. He was also pressed by the caucus to stand for Governor in 1816, but declined and recommended his friend and physician General Brooks of Medford, whose subsequent official career shed so much lustre on the State, and his profession. My father had also repeated offers of a seat on the Supreme Bech, as vacancies occurred; but adhered to his rule, - never to accept any office which would interfere with his accumulating an honorable competency for his family, a matter which he accomplished to his satisfaction several years previous to his decease. He was in full practice for many years of his life, not only in Middlesex, Suffolk and Worcester, in this State, but also in Hillsboro and Cheshire in New Hampshire, - the law reports for all those counties indicating the fact. An article in Lempriere's biographical dictionary, American edition, sketched by an eminent lawyer (deceased). estimates that my father argued fifteen thousand cases during his life! Be that the exact fact or not, it is quite certain (in the opinion of lawyers competent to judge) that no lawyer in this country has, within the same space of time (30 years), argued more causes or enjoyed greater patronage in his profession than my father.

His attachment to the institution of Freemasonry was ardent and sincere. The records of its Chapters and Lodges attest to his labors to promote its welfare.

I have thus answered your inquiries more fully perhaps than you desired or expected, and am with sincere regard,

Your friend and serv't,
John P. Bigelow.
MOUNT CARMEL CENTENNIAL, 1905
From Proceedings, Page 1905-85, Address by Past Grand Master and Corresponding Grand Secretary Sereno D. Nickerson:
To Timothy Bigelow belongs the distinction of having been the only Grand Master, since the union, who served two full terms, namely in 1806, 1807 and 1808, and again in 1811, 1812 and 1813. Between these two terms the office was filled by Isaiah Thomas in 1809, and by a scarcely less distinguished Revolutionary patriot, Josiah Bartlett, in 1810. John Abbot served in 1824, 1825 and 1826, and again in 1834. In 1825, on the fiftieth anniversary, he laid the corner-stone of the Bunker Hill Monument, assisted by General LaFayette, in the presence of two hundred soldiers of the Revolution, forty of them being surviving veterans of the battle. In 1834 it became the same Grand Master's sad duty to announce to his Brethren the death of the illustrious Marquis.
The strong character, the marked ability and consequent powerful influence of Isaiah Thomas are further attested by the fact that two of his apprentices succeeded him as Grand Master, Timothy Bigelow and Benjamin Russell. With the exception of a single year these three Brethren presided over the Grand Lodge from 1803 to 1816 inclusive. During the year 1810 the chair of Solomon was filled by Dr. Josiah Bartlett, a famous Revolutionary soldier, who had served as our Grand Master in 1798 and 1799, but then felt obliged to decline a third year's service on account of the pressure of professional duty, greatly to the regret of his Brethren.
Timothy Bigelow was one of the most distinguished lawyers of his time, the eldest son of a gallant officer of the Revolutionary War, of the same name. He was born in Worcester, April 30, 1767. As a boy he served for two years in the printing office of Isaiah Thomas, and in 1779 in the quarters of the Continental Army posted to watch the British forces in Rhode Island. In such apparently unsuitable schools he managed to pick up enough of the rudiments to obtain admission in 1782, at the age of fifteen, to Harvard College, where he gained high rank in a distinguished class and was graduated in 1786. The pious bent of his mind may perhaps be inferred from the fact that on his Commencement Day he took part in a discussion of the question Whether Religious Disputation Promotes the Interest of True Piety.
He at once entered upon the study of law, varying its monotony by a few weeks' service as a volunteer in the small force hastily enlisted for the suppression of Shay's Rebellion. On his admission to the Bar in 1789 he began the practice of his profession in Groton; where he is said to have sat in his office for six weeks without earning a fee, his patience being at length rewarded by a service for which the compensation was a pistareen, a small Spanish silver coin then in common circulation and worth about eighteen cents.
This day of small things was of short duration. Even then it was said of him: "His acquirements are great, his studiousness indefatigable, his fluency astonishing." Of course his business soon became widely extended. For years he was one of the leading counsel in Middlesex and Worcester Counties, and later became prominent at the Suffolk Bar. It is believed that in a practice of thirty-two years he tried more cases than any lawyer we have ever had in the Commonwealth — the number being estimated at fifteen thousand.
For a long series of years he served either in the Senate or House of Representatives of the Commonwealth. In 1805 he was chosen Speaker of the House, an office which he filled for eleven years — eight of them in succession — a longer service than is recorded of any other Speaker. It was in that office that he is said to have given a striking illustration of his remarkable memory. Although the House numbered more than three hundred members, it is related that within three days after they came together he could call them all by name — a feat requiring a recollection of faces as well as names. He presided over that branch of the Legislature with signal ability and popularity, although he entered warmly into the strenuous and exciting politics of the times as an opponent of the policy and measures of the General Government, particularly the embargo.
He married, Sept. 30, 1791, Lucy, the daughter of Hon. Oliver Prescott, an officer of the Revolutionary Army and for many years Judge of Probate for Middlesex County. They had a numerous family. In 1806, the first year of his Grand Mastership, he removed to Medford and opened an office in Boston. He took great delight in horticulture and his grounds on the banks of the Mystic river were famous for their beauty. He died there, of typhus fever, May 18, 1821, at fifty-four years of age. His wife survived him thirty-one years, dying on the fifteenth of December, 1852, and retaining in a remarkable, degree to an advanced age her youthful freshness and beauty.
Brother Bigelow was initiated in St. Paul Lodge, of Groton, in July, 1797, and served as Worshipful Master in 1802, and perhaps longer; he was Senior Grand Warden in 1804 and 1805, but at the Quarterly Communication of the Grand Lodge held on the tenth of June in the latter year, when the charter of Mount Carmel Lodge was granted, he occupied the chair of the Deputy Grand Master. The charter, however, does not bear his signature, Brother Joseph Laughton signing as Senior Grand Warden pro tem.
In those days, so different from our own, in most matters, especially those Masonic, the motto was Festina lente — hasten slowly. Probably the charter was not engrossed until several weeks after it was voted. In the meantime Brother Bigelow had set forth on what was considered a great journey. On the eighth day of July, 1805, in company with four other gentlemen, he started from Boston to visit the Falls of Niagara, intending to return by way of Montreal and Lake Champlain, a trip of 1355 miles, occupying exactly six weeks. He kept a daily journal while on the journey, which was lost sight of for many years. In 1876 it was discovered among some old family papers and published by a grandson, who kindly furnished a copy for our Grand Lodge Library. During the summer of 1815 he kept a " Diary of a Visit to Newport, New York and Philadelphia," which was published in 1880. Probably the charter was prepared while Brother Bigelow was absent on the first-named journey, and signed by a predecessor as Senior Grand Warden.
Grand Master Bigelow officiated in person at the important ceremony of the constitution of Mount Carmel Lodge on the twenty-fourth of June, 1807, two years after the charter was granted. The practice at. the present day is to have the ceremony performed within two or three weeks after the charter is voted, but one hundred years ago the practice in this respect seems to have been very irregular.: We have recently observed an instance reported in the Grand Lodge Records where the constitution of a Lodge took place more than seven years after its charter was granted.
Probably these delays were largely owing to the lack of the necessary facilities for travelling and the consequent difficulty of assembling the considerable number of competent Grand Officers needed for the service. It seems hardly credible to us, but the carrying through of such a ceremony in that day, even in a locality no farther distant from headquarters than Lynn, was an achievement to be regarded with pride.
FROM 1916 PROCEEDINGS
Hon. Timothy Bigelow was born April 30, 1767, the son of Col. Timothy Bigelow, of Worcester, who commanded the Thirteenth Massachusetts Regiment in the Revolutionary War. M.W. Brother Bigelow graduated at Harvard College in 1786; read law with Hon. Levi Lincoln, Senior; and opened an office in Groton in 1789. He was eminently successful in the practice of his profession, a sound lawyer, and a distinguished advocate and counselor. He was chosen representative of the town in 1798 and in each of the next succeeding thirteen years, except 1803. In 1802 he was chosen one of the Executive Council and taken from the House of Representatives to fill that station in which he served two years. In October, 1806, he removed with his family from Groton to Medford and opened an office, for practice, in Boston. He represented the town of Medford in the General Court, most, if not all of the years, from his removal there until his death. He was Senator from Middlesex from 1797 to 1801, and Councillor again in 1821. He possessed an admirable talent for presiding in deliberative and other assemblies, and had opportunity to exercise that talent by being Speaker of the House of Representatives for eleven years, as well as by presiding in literary and charitable societies of which he was a member. Law and politics were not the only sciences in which he excelled. He was a great student and general reader. Books in all the liberal arts and sciences were his familiar acquaintances. His conversation in private and social circles of his friends was highly exhilarating, and none ever spent an hour in his presence on such occasions without enjoying a rich feast of intellectual entertainment. He died May 18, 1821, aged 54.
He was Master of Saint Paul Lodge from December 28, 1801 to December 27, 1802. He was a noted orator and among his various orations which have been published is his eulogy on the character of Washington, delivered before the Grand Lodge of Massachusetts on February 11, 1800. (Note: this oration is mentioned in the Proceedings but is not reproduced.)
FROM TROWEL, 1997
From TROWEL, Spring 1997, Page 13:
Grand Master, Politician and Lawyer
by R. W. James T. Watson, Jr.
Timothy Bigelow had a rich heritage. His father served as major under Benedict Arnold at Quebec and later as colonel of the 15th Massachusetts Regulars in the Revolution. It was he who transported Isaiah Thomas' press and supplies out of Boston (see Trowel, Winter. 1996).
Timothy Bigelow. Grand Master, was born April 30, 1767, at Worcester, and graduated from Harvard College in 1786. Admitted to the bar in 1789. he read law with the Hon. Levi Lincoln, Sr., and practiced in Groton, MA until 1804. A friend ascribed to him "a remarkably tenacious memory, great acquirements, indefatigable studiousness, and an astonishing fluency" (Grand Lodge Proceedings, 1876-77, p. 161). He was an active Federalist favoring adoption of the Constitution and the federal control of government, before the Democratic and Republican parties were formed.
While in Groton he was raised in St. Paul Lodge in 1797 and served as Secretary. Junior and Senior Warden and Master (1801). He was one of four members of that Lodge who became Grand Masters. There he served as Junior and Senior Grand Warden and then as Grand Master for two triennial terms from 1806-08 and 1811-13, the only Grand Master since the union to serve more than one triennial.
During many of these same years he was also Speaker of the House of Representatives, having been elected 11 times, eight consecutively. Chosen for the Executive Council in 1802 he left the House for that post where he served two years.
In 1806 Bigelow moved to Medford with an office in Boston. He represented Medford in the General Court until his death in 1821. He also served as senator in Middlesex. 1797-1801. and executive councilor, 1821. Because of his extensive practice he was considered one of the eminent men of his day. In 32 years he argued 15.000 cases in MA and NH courts, being noted for his great talent in law.
Timothy Bigelow made many impressive orations in Masonry, such as his eulogy for George Washington, delivered in Boston on March 11, 1800, reprinted in the Grand Lodge Proceedings, 1876-77, pp. 311-321. Bigelow compared Washington with the great men who had preceded him, then outlined his record in the Revolutionary War, his presidency and his career in Masonry.
Timothy Bigelow was elected Grand Master, December 9. 1805, with Installation on St. John' s Day, December 27. He considered this first formal installation adequate, and was installed for his second and third years in office immediately after election.
After three years in office he was succeeded by his predecessor, the only occasion this has happened in our Grand Lodge history. Isaiah Thomas was installed on the traditional December 27, 1808, for one year. Josiah Bartlett, who had declined his third year as Grand Master because of obligations to his patients, now completed his triennial in 1810. In 1811 Bro. Bigelow began his second triennial as Grand Master by his election on December 10 and installation on December 17. 1810. again defying the traditional date for installing officers.
In this triennial M. W. Bro. Bigelow started a new Charity Fund with $1000 from Grand Lodge funds, to be built up by adding a fourth of the Quarterages paid to Grand Lodge and half of donations not specifically designated. The Grand Constitutions were revised and printed in the Grand Proceedings, 1792-1815. pp. 515-525. These new rules provided for Recording and Corresponding Secretaries, the offices to be restricted to Past Masters of a Lodge. Installation of officers was now set for the Festival of St. John the Evangelist, with a Monday observance if the holiday came on a Sunday.
Grand Lodge had repeatedly petitioned the legislature for an act of incorporation and was denied until 1817. The act was signed by the President of the Senate and the Speaker of the House, P.G.M. Timothy Bigelow. By this authority Grand Lodge could hold real estate up to $20,000 and a personal estate for charitable purposes up to $60,000.
While Grand Lodge had all but two portraits of our Past Grand Masters, the fire of 1864 destroyed many of them. Much energy was spent replacing them. The only available likeness of Timothy Bigelow was a miniature made about 1800, six years before he became Grand Master, which was then owned by his granddaughter. Portrait painter Edgar Parker assured P.G.M. Charles A. Welch that a fine portrait could be produced. Two of Bigelow's sons declared the portrait an excellent likeness, one of them having a copy made for his home. One may see the portrait in the Corinthian Lodge room on the third floor.
P. G. M. Timothy Bigelow died, May 18. 1821. M. W. John Dixwell, M.D., directed "badges of mourning to be displayed upon the jewels...to prepare a resolution, expressive of the feelings of the Grand Lodge...direct a letter of condolence to Mrs. Bigelow" (Grand Lodge Proceedings, 1815-1825. pp 356-358). The period of mourning was to be one month. Thomas Sherrard Roy in Stalwart Builders, p. 98, wrote: "It speaks well for the Freemasonry of that day that it could command the services of such an able and distinguished person. He was one of the greatest men in the Commonwealth."
SPEECHES
BEFORE PHI BETA KAPPA, JULY 1796
An Oration Pronounced at Cambridge, before the Phi Beta Kappa,
At their Annual Meeting on Thursday, July 21, 1796,
It being the Day Following the Public Commencement.
Brethren and Friends,
I address you with a mixture of pleasure and embarrassment. It is impossible not to participate the general satisfaction which this anniversary affords; though a want of sufficient leisure and opportunity has, I fear, prevented my coming forward prepared to satisfy the expectations of this respectable auditory, or justify the partiality of those who placed me here. But the fields of Science have lately been so thoroughly explored, and the choicest productions so carefully collected, that to expect a new and rich repast at this time, would he like looking for the bounties of Nature In fields where the harvest had been gathered.
It is a custom with the Society which is here assembled, on the occasion of this anniversary, to delegate one or more of its members to deliver a public harangue. In discharging this duty, the performer has the choice of his theme. It must be proper on such an occasion, when friends and
 strangers out of the Society oblige us with their 
attendance, to unfold and discuss the motives
 which led to this establishment; the principle 
which have governed the members of it, in pros
ecuting the design; and the consequences that
 may probably result therefrom. As this has never
 yet been done, fo far as my knowledge extends,
 with your permission I will attempt it.
The form of this Institution originated in a
 Sister Seminary to the South, and from thence
 was mediately communicated to this. It was not
 adopted here with an idea of attaching to its members superior privileges, or arrogating to them an invidious distinction. No expectations were 
formed that the connexion would afford a dispensation from any of the duties of scholastic 
life, or independently insure success in the world. But it was well understood that respectability 
here, and eminence and good fortune through 
life, were exclusively attached to ability, information and merit. To improve and increase these important qualities, give complete effect to the 
endeavors of our instructors, more fully accomplish the purposes for which we were placed here by our friends, as well as to cultivate harmony
and establish a durable friendship, the plan of the 
Institution was approved and carried into effect. Experience has confirmed theory; and the util
ity of the scheme has equalled the expectations of 
its advocates.
In its prosecution, objects of pursuit and the modes of investigation have been pointed out. These have been such as were either useful in themselves, or as they tended to invigorate and extend the reasoning faculty. A literary accountability to the whole is naturally expected of each of the members; and hence results, not only industry, but a circumspection of mind, an endeavor at classic purity and correctness, which might otherwise have been neglected. Free communication on all proper subjects is encouraged; and accurate discussions of particular points enjoined. By this expedient, the stock of information is improved, the ideas are assorted and arranged, and pedantry and hesitation give place to ease and ready resource. The student who confines himself to his closet, and collects his information wholly from the dead letter of his authors, without improving the faculty of communication or an interchange of sentiments and observations, may acquire much learning; but the mass will be of little more ude to him than a treasure deposited under the base of a pyramid.
As the Society was not exclusively connected with one seminary, it was necessary, to prevent mistakes and impositions, as well as for other purposes, to preserve those mysteries and arcana, which had been attached to it from its origin. Independent of the many precedents which exist in point, to which we might appeal for an apology, we trust that this consideration will afford to the candid a sufficient justification. But a tree, it is said, is to be known by its fruit; and, as we have endeavored to approve ourselves to the world, we feel a modest assurance that our Institution will not suffer by an application of the rule. Fifteen years have already elapsed since its first establishment here: during all which time, irregularities of conduct, riot, tumult and disorder have uniformly been discountenanced; and due subordination and a regard to order have been enjoined and practiced. Many advantages therefore have resulted to the University, and perhaps to society itself. From a conviction of the utility of the scheme, on all these and various other accounts, the Government of this Seminary have, with great propriety, afforded their patronage and countenance to the Institution.
Some of the general consequences that may probably flow from this establishment are obvious and apparent. The interests of the community are undoubtedly advanced by the information and ability of its members. Nay, a general diffusion of knowledge and literature is thought essentially necessary to the preservation of a free government. This benefit, however, does not fully result to society, unless the powers of the head are connected with goodness of heart. In what consists the difference between a civilized man and a savage? Certainly not more in the improvement of mind, than disposition. Let one, therefore, be enlarged, without a proportional correction of the other, and the man will be but a savage still, with greater
 ability to gratify his uncorrected propensities.
 Those societies, therefore, must be importantly 
useful, which make a reciprocal friendship a part
 of their constitutions. For, it is from the cultivation of private attachments, that we learn to
extend our affections to a general philanthropy.
 It is not to be denied, that some of the benefits
 which they would produce are happily superseded 
by the tranquil state of our country, and the mild
 manners of a polished and enlightened age. Such 
institutions, especially if they become extensive,
are admirably calculated to soften the manners,
 and ameliorate the condition of mankind, in barbarous or tumultuous times.
The Masonic Establishment, which is of this
 description, from its antiquity and universality,
 furnishes the best illustration of this doctrine.
 Avoiding all the chimerical, or at best, doubtful
 accounts of a very high antiquity; it is certain
that their order existed, and was held in respect, during the latter part of the dark ages. In addition to the refinement of disposition, which the
 cherishing the mild virtue of friendship always 
induces; history affords us many instances of the
 beneficial effects which that establishment produced. The exile, whom differences in religious 
opinions, revolutions in government, or the
chances of war had driven from his country to
 a foreign land; instead of there finding himself friendless and alone, instead of being exposed to
 the insults and abuse of the unfeeling, or reduced to the sad alternative of menial service, or soliciting a cold charity to obtain a pitiful subsistence; no sooner did he make known his connexion to any of the fraternity whom he might chance to meet, than he found the bosom of friendship open to receive, the arm of power stretched forth to protect, and the hand of a liberal charity unfolded to support him. The unhappy captive who had fallen into the hands of a ferocious and exasperated enemy, instead of meeting that cruel death, or being condemned to the still more cruel bondage which he expected, is discovered by a brother of the order among the conquerors : Forthwith the fetters are struck from his limbs, the balm of consolation is copiously administered, and he is relieved from his fearful apprehensions. This generous relief was not confined to Masonic Brethren, but often extended to their friends and fellow-sufferers. How grateful is it to observe such instances of humanity and benevolence, breaking forth in times of general barbarism and depravity of manners! The gem of friendship shines with a brighter, a diviner ray, in proportion to the general gloom of the times in which it is found.
Unacquainted with the secrets of Masonry, I state no other instance of analogy between that order and ours, but that of a fraternal attachment to each other. But certain I am that a cultivation of the tender and social affections, and the consequent extension of our benevolence to a general philanthropy, is the molt important, the most honorable principle that any fraternity can profess. If ever this was a secret, thank God, it is now rapidly developing, or is already unfolded to society at large.
Comparing the state of mankind with what it was scarce more than a century ago, how immensely is it improved! In many countries, instead of laws which authorized the governments to seize the property of an unfortunate stranger, who should die within their jurisdiction, however just the claims of his relations or others might be; or to strip from the wretches who were wrecked on their coasts, the remnant of their property which the rage of the elements had spared; instead of the barbarous custom of coolly murdering or condemning to slavery the unhappy captives, whom the fortune of war, or even a violation of the rights of hospitality had brought within their power; we find laws providing for the support of the distressed of every description; societies established and countenanced by government for the relief of the unfortunate. In times of peace, most countries are open for the free admission and departure of strangers; and their equal right to protection and relief is acknowledged: and in time of war, excepting some partial instances of cruelty, which have unfortunately stained the history of our own times; if any one fall into the hands of his enemy, the danger of his life ceases with his resistance; he is treated with politeness, and allowed all the conveniences and comforts of life. In a short time he is liberated on his simple parole, or exchanged unhurt; or, on the conclusion of a peace, is dismissed without a ransom. Wars in general are no longer personal, but national: and though individuals discharge their duty with gallantry in the field; yet they have none of that private animosity and rancor which formerly armed that destructive evil with double terror.
In this picture, which is undoubtedly just with respect to much the greater part of what is termed the civilized world, it must be highly satisfactory to observe that our own country stands in the foreground. Mildness and benevolence are ruling principles in all our governments: philanthropy is both honored and practiced by the great body of our citizens. The poor are provided for by standing laws; and the unfortunate often relieved by particular ads of munificence. Individuals also have uniformly discovered alacrity and zeal to avert the dangers with which others were threatened, and have liberally contributed to repair unmerited misfortunes. Societies have been formed for the kind reception and friendly treatment of such foreigners as seek an asylum in our happy country; others, to restore persons apparently dead to life and the embraces of then-anxious friends. Many similar establishments do honor to our country. When engaged in war, no American was ever known to take the life of the unresisting or unarmed; and the kindness and humanity with which our magnanimous armies, though often exasperated by cruelties which had been practiced on their countrymen, always treated their prisoners, extorted praises from their enemies themselves. What other people can exhibit an example of a complete revolution achieved, both in the form and the administration of government, or of rebellions effectually suppressed, where no blood has been spilled on account of the opinion of individuals, or the side of the controversy merely, which they espoused? Far hence be the time, when either foreign war or internal commotion shall again call for the exercise of these magnanimous virtues; but still let us cherish, and be ready to put them in practice, if the sad necessity should ever re-exist.
Though humanity and benevolence be justly a part of our national character; yet, as other nations are behind us, fo we have not arrived at perfection. There still remains a wide field for the exercise of a generous ambition. To revise, and mitigate in many cases, our codes of criminal law, by endeavoring to make a reformation of the offender, instead of his extirpation, the object of punishment ; to transform our common places of confinement from seminaries of wickedness and villainy into schools of morality; to liberate the unhappy Africans from the horrors of a slavery equally unjust and inhuman; to promote an interchange of good offices, and a mild and pacific disposition among mankind; objects like these are worthy the pursuit of the noblest minds. Some of them have already immortalized the names of Penn, Howard, and Wilberforce. Shall we be deterred, mall we shrink in despair from objects of such magnitude? Is it chimerical to indulge a hope that even we may bear a conspicuous part in this noble pursuit? No; remembering that, in such a cause, it is much more honorable to lead than to follow; we will lend our individual assistance, as circumstances may permit, and endeavor to give a tone to the public opinion. If one man, by his personal exertion, could alleviate the distresses of thousands, scattered through all the countries of Europe, nay, could gladden even the horrors of the East; what may not numbers achieve? It is true we are yet comparatively few: But our number, both here and elsewhere, is continually increasing. Our Institution is now confined to a few seminaries in this country : But what obstacle exists to its further extension? or even to a communication of it to foreign universities? in many of which, establishments of this kind have heretofore found a cordial support. Let us remember also, that in the practice of philanthropy, which is far from being the least important object of our association, we shall act in concert with many other respectable institutions, and meet the concurrence of a generous public. With due exertion, therefore, even of a few, in various places and different walks of life, the great current of opinion may be directed into proper channels, and its ramifications reach every object of compassion. When the beneficial effects of a general spirit of humanity shall be observed here, it will readily be adopted abroad. Our country has already taught the world the true science of government, and the art to be free. She exhibits the example of a great people flourishing and happy, among whom, to the surprise of other nations, gradations in rank, and exclusive rights, are entirely unknown. Why then shall we not instruct the species in the arts of humanity, and the science of universal friendship? Is this general diffusion of philanthropy mere chimera and extravagance? If it be, I could almost wish that we might still cherish the delusion. For what but the reality could be more grateful to benevolent minds, than a confident anticipation that the whole world would become a common country to each individual; that mankind would be but one family, by practice, as well as extraction; and thereby taste on Earth, the joys of Heaven itself?
CHARTERS GRANTED
1806-1808
1811-1813
RULINGS
---
Previous (Thomas)
Next (Russell)