GMBartlett
From MasonicGenealogy
JOSIAH BARTLETT 1759-1820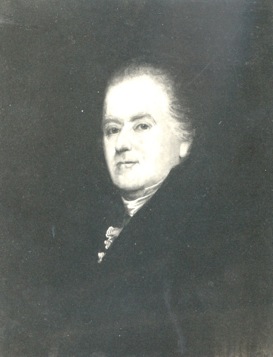 MM 1780, Union, Danbury, CT
Charter Member 1783, WM 1783, 1784, 1787, 1793, 1808, King Solomon's
Senior Grand Warden 1787-1789, 1792, 1793
Deputy Grand Master 1794
Grand Master, 1798-1799, 1810.
---
TERM
NOTES
BIOGRAPHICAL SKETCHES
BIOGRAPHY, 1883
From remarks by Past Grand Master Charles A. Welch, at the Quarterly Communication, March 1883, Page 1883-19:
M. W. GRAND MASTER: — I present to the Grand Lodge a portrait of the Hon. Josiah Bartlett, M.D., who was the third Grand Master of the Grand Lodge of Massachusetts after the union, in 1792; namely, in 1798 and 1799, and also subsequently, in 1810. The portrait has been copied by Miss Ellen M. Carpenter, from an original portrait by Stuart in the possession of his grandchildren. Dr. Bartlett was born in Charlestown, August 11, 1759, and died there, March 5, 1820.
He entered the medical department of the American army while still a student of medicine and not quite sixteen years of age, April 20, 1775, the day following the battle of Lexington; was shortly after made a surgeon's mate, and continued to serve in the army until some time in 1780, when he resigned his commission, and was employed for two voyages as surgeon to ships of war. In these capacities he secured the full approbation of his superiors in office. In 1789 he was admitted a member of the Massachusetts Medical Society, and soon after became its Recording Secretary. He was not only active in the daily duties of a physician, but he delivered many addresses in relation to his profession, and, amongst others, an historical sketch of the physicians in this part of the -country, from its settlement. He was also a member of the American Academy of Arts and Sciences, of the Historical Society, and at different times a representative, senator, and councillor of the Commonwealth.
By the Records of King Solomon's Lodge, of Charlestown, it appears that August 20, 1783,— not quite one hundred years ago, — eight Brethren, and among them Josiah Bartlett, met at Mr. Richard Trumbull's, in that town, and voted that an application for a charter of a Lodge be presented to the Grand Lodge at its then next Quarterly Communication, and that Dr. Josiah Bartlett be the first Master. A charter was granted to them, signed by John Warren, Joseph Webb, Paul Revere, and James Avery. I do not know how long Brother Bartlett continued Master of this Lodge, and can only state that, on March 14, 1786, Warren Hall was opened, with appropriate ceremonies, including an oration by W. Past Master Josiah Bartlett, and a supper in "Masonic form," at which M.W. Grand Master Webb was present. What the nature of that "Masonic form" was, I can only guess from the fact that, a few months previous, namely, October 11, 1785, it was voted by the Lodge that the Secretary be requested "to procure two kegs, properly fixed for rum, wine, and other necessaries." It appears by the same records that, in 1793, an oration was delivered by R. W. Josiah Bartlett; that in 1794, on the occasion of King Solomon's Lodge erecting a monument to Brother Joseph Warren, an oration on that distinguished patriot was delivered by Brother Bartlett; that in 1797, on the occasion of the Lodge meeting "to celebrate the birthday of our illustrious Brother George Washington," Brother Bartlett delivered an oration; that, December 27, 1808, on the Festival of St.-John the Evangelist, the M.W. Grand Master, Isaiah Thomas, installed the Hon. Josiah Bartlett, Past G. Master, as Master of the Lodge; and that, February 8, 1814, Brother Bartlett delivered an address "containing many historical events, and much useful information." I have also found that, in 1815, he delivered an oration on the death of Dr. John Warren, the brother of Joseph Warren, another of our Grand Masters. This oration was found by the Grand Secretary amongst the pamphlets belonging to the Grand Lodge, and appears by the title-page to have been delivered in the Grand Lodge, at a Quarterly Meeting in Boston, June 12, 1815, "in presence of the Supreme Executive of the Commonwealth, the President of the Senate, the Speaker of the House of Representatives ; the Judges, the Corporation and Instructors of Harvard University; the officers of the American Academy of Arts and Sciences, of the Massachusetts Medical Society, and of the Humane Society, the Clergy, Selectmen, etc."
Brother Bartlett was Senior Grand Warden of this Grand Lodge in 1792 and 1793, Deputy Grand Master in 1794, and Grand Master, as already stated, in 1798, '99, and 1810.
By the kindness of the Grand Secretary, I have been referred to a short sketch of Brother Bartlett's life and character in the American Medical Biography, by Dr. James Thacher, and it is there stated that he was remarkable for his industry, activity, and intelligence; that he never declined any duty that was assigned to him ; always executed it speedily and thoroughly, and was, of course, constantly resorted to for difficult services. It is added that, perhaps, no individual in this vicinity delivered so great a number of public orations, — medical, political, and literary. It is, I think, apparent from his delivering addresses, Masonic and otherwise, in 1814 and 1815, when fifty-five years old, and engaged in extensive practice, and from his accepting, after he had been Grand Master, the office of Master of a Lodge, that he never flinched from any work which he was requested to perform.
During the last two years of his life his health became impaired, and he died, March 5, 1820, of apoplexy, after an illness of two days.
I am happy to have been able, with the assistance of W. Bro. Henry J. Parker, to place in this Hall the picture of this ardent patriot, this skilful physician, this faithful Mason, this industrious and upright man.
BIOGRAPHY, 1909
From remarks by Past Grand Master Charles T. Gallagher, at the Feast of St. John 1909; Proceedings, Page 1909-227:
"Brother Josiah Bartlett was a physician of high character and standing, and is known in the Middlesex, Suffolk, and Massachusetts Medical societies as a very eminent man. Dr. Thacher said of him that he probably did more for the Massachusetts Medical Society of his time than any one has done for it since. He was trhe personal friend of Dr. John Warren our Past Grand Master, the founder of that latter body. Brother Bartlett was born in Charlestown in 1759, and was a charter member and the first Master of King Solomon's Lodge in 1783, being less than twenty-four years old, and it is remarkable to note the amount of work that he did, the influence which he had, and the position which he took in the Grand Lodge as well as the community at large, at a time when Masonry was almost in its formative state in this country.
"He began an active career at an early age. At sixteen he was at Bunker Hill, holding the position of Surgeon's Mate to Dr. John Warren. He was made a full Surgeon soon after and served through the rest of the war in our American Army. The year 1783 was one which marked three important events in his life; it was the year when he got through with the Revolutionary War and took up civil life; the same year he was married, and also entered Masonry; apparently he did well in all these things; for besides being a successful physician and high in Masonry he had had at the time of his death sixteen children by that marriage.
"Time will not permit in an address the enumeration of details that would enlarge this speech to the dignity of a biography but I have seen thirteen of his addresses and orations, each scholarly and of great moment, while his ordinary speeches and papers were unnumbered. But it is as a Mason that we are especially interested in him. In 1786 he delivered his first public oration at the founding of Warren Hall in Charlestown; his last was as chairman of a reception committee when President Monroe visited Charlestown in 1817. He held almost evely position of prominence in his town, military, civil, and magisterial. He was a Major, school committeeman, selectman, moderator, civil magistrate, Representative, Senator and Councillor, besides being one of the committee to build Charlestown Bridge, and the founder of the Harvard Congregational Church; in three medical societies he held honorable positions.
"I think in his day Charlestown included what is now Malden, where we get Grand Masters and other men who compose our Grand Lodge; I believe we have seven men living in Malden who hold office in it now ! (Laughter.) If this goes on we may have to move the Grand Lodge over there. (Laughter.)
"While Dr. Bartlett was installed Grand Master in 1809, one hundred years ago to-night, he was previously installed on the twenty-seventh of December, 1798, and again in 1799; he was one of the Committee of three, consisting of Dr. John Warren, Paul Revere and himself, deputed by the Grand Lodge to receive from Martha Washington that lock of hair of our immortal patriot and foremost Mason, which is kept in the golden urn fashioned by Paul Revere, and cherished as one of our most precious possessions to be received as a sacred trust by the incoming Grand Master at each new installation.
"He was one of the pall-bearers at the funeral of Dr. John Warren, and later delivered an oration on his life and character in the presence of our Grand Lodge at an open meeting which was attended by the Governor, State and city officials and very many people of note; the oration is spoken of as an extremely fine literary production and one that will go into history as a classic.
"I find in his address when he was elected Grand Master in 1798, these quaint words, It is my purpose to attend with punctuality the meetings of this Grand Lodge, but some inconveniences may arise from my not residing in Boston . . . if I do not attend the meeting, in half an hour from the time affixed, you will consider me necessarily absent, and that the business may commence under the Deputy Grand Master.
"However, for two years he attended every meeting except the last two, and apparently he absented himself from these because he did not wish to be re-elected. He was, however, re-elected later and was acting Grand Master several times in after years, and there are few names that occur as many times as that of Josiah Bartlett in the printed volume of our Grand Lodge records; the installation service composed by him covering three or four printed pages, which he used in installing Timothy Bigelow, is a jewel of literary composition. He was Master of his Lodge at twenty four, and from then almost to the day of his death, March 3, 1820, he was not only active and deeply interested in Freemasonry but he enriched its literature and crystallized its landmarks in our jurisdiction as few have done before or since.
"In a brief and hasty sketch of this Brother, I have outlined something of his value, but we cannot think too much or consider too long the good that he accomplished in his time and by his deeds. After all he simply did what all the old worthies of his time tried to do; unselfish and patriotic, each gave all his talents to his associations, his church and the public weal; and it is increasingly brought home to us by the lives of such men how much we owe to them for what they did for us; all honor to these men of a hundred years ago; may their names be sung at least annually and their memories honored continually, so that we and those who come after us may be incited to present duty and future thought. The tribute of Dr Thacher on Dr. Bartlett is appropriate in closing:
"He was remarkable for industry, activity and intelligence. He never declined any duty which was assigned him, and always executed it speedily and thoroughly.
"Thomas Hopkins said of him: He was eminent in his profession, skillful in his practice, and his helping hand was always ready and open to aid in public improvements and private charities."
From Moore's Freemason's Monthly, Vol. XVIII, No. 6, April 1859, Page 169:
Hon. JOSIAH BARTLETT, M. D. Was the third Grand Master of Massachusetts, after the Union in 1792, and was the son of George Bartlett and Katharine Whittemore. He was born in Charlestown, August 11, 1759, where he died March 3d, 1820. He entered the American army, as physician and surgeon, at the commencement of the revolutionary war, and on its termination, he resumed the practice of his profession in Charlestown. He was a member of the Mass. Medical Society, in 1794; of the American Academy of Arts and Sciences; and of the Historical Society. He represented the County of Middlesex in the Senate of Massachusetts one or more years. He was Senior Grand Warden in 1792 and 1793; Deputy Grand Master in 1794; and Grand Master in 1793, 1799 and 1810. He was a member of King Solomon's Lodge, over which he presided for a time, as Master.
BIOGRAPHY FROM TROWEL, WINTER 1989
From TROWEL, Winter 1989, Page 4:
M. W. Josiah Bartlett Was a Proponent of Masonic Charity.
In the foyer of Ionic Hall (5th floor) of Grand Lodge hangs a painting of M. W. Josiah Bartlett, who was Grand Master 1798-99 and 1810. It was presented to Grand Lodge in 1883 by King Solomon's Lodge when it celebrated its 100th anniversary. Bro. Bartlett was the first Master of the Lodge, 1783-84, declined to serve in 1785, but presided in 1787, 1793, and in 1808 after he had been Grand Master. In 1787, 1789, and 1792 he was Senior Warden of the Massachusetts (Independent) Grand Lodge. Following the union of March 5-19,1792, Bro. Bartlett served as Senior Grand Warden 1792 and 1793, and was appointed Deputy Grand Master in 1794.
Born in Charlestown Aug. 11, 1759, the son of Capt. George Bartlett, he died in that town March 5, 1820. At age 12 he was orphaned and was a medical student with Dr. Isaac Foster of Charlestown and entered the Continental Army on April 20, 1775, not quite 16 years of age at the time. He advanced to surgeon's mate and served in the Army until sometime in 1780. He resigned his commission and was employed for two voyages as surgeon on a ship of war. He became a permanent resident of Charlestown and on June 2, 1783, was appointed Town Physician. He was admitted a member of the Massachusetts Medical Society in 1789, and later became its permanent secretary. The degree of Bachelor of Medicine was conferred upon him in 1793 and that of M.D. in 1801. He was a member of the American Academy of Arts and Sciences and the Historical Society.
There is no record to indicate where Bro. Bartlett received his degrees in Masonry but the records show it was M. W. John Warren who nominated him to be the first Master of King Solomon's Lodge. Bro. Warren, blood brother of M. W. Joseph Warren who was killed at the Battle of Bunker Hill, was Grand Master of the Massachusetts (Independent) Grand Lodge, 1783-84 and 1787-88. Bro. Bartlett was an earnest Mason and was early imbued with the spirit and principles of charity and benevolence. In a Lodge report of Jan. 26, 1786, he stated there was a balance in the treasury of "seven pounds, 16 shilling and 7 pence, which is earnestly recommended to be preserved as a foundation for a fund to be established for such charitable use as may do honor to the Lodge and give energy to the Masonic Institution." He tried without success to influence the members of King Solomon's Lodge to purchase land to erect a Masonic Hall in the town.
Apparently a gifted speaker, Bro. Bartlett was chosen orator at the dedication of the monument to M.W. Joseph Warren, Dec. 2, 1794, at the observance of the death of President George Washington, at the death of M. W. John Warren, and before many medical and historical societies. Only four of the Massachusetts Lodges chartered during Bartlett's three years as Grand Master are still actively engaged in business: Marine Lodge of Falmouth and King David of Taunton, 1798; Rising Star of Stoughton, 1799; and Mystic of Pittsfield, 1810.
Charlestown records show he was deeply interested in town and state affairs. He was a State Senator in 1800 and 1801 and Councillor in 1801 and 1802. He was chosen Moderator of the town June 5, 1805, was a Justice of the Peace, and was Representative to the General Court in 1815-16 and 1817-18. Records of King Solomon's Lodge show he attended almost every ' meeting for the first 18 years. He last visit was Nov. 9, 1819. He died from apoplexy after two days' illness at age 60 years, seven months and 24 days.
BIOGRAPHY FROM TROWEL, SUMMER 1996
From TROWEL, Summer 1996, Page 28:
Josiah Bartlett: Grand Master, Physician, Orator
by R. W. James T. Watson, Jr.
Dr. Josiah Bartlett combined in one life a wide range of interests. He was born and died in Charlestown MA (August 11, 1759-March 5, 1820). At 15. he joined the medical department of the American army on the day after the battle of Lexington. Later, he became a surgeon's mate, until transferring to the navy in 1780 and serving as surgeon on two voyages.
The Massachusetts Medical Society admitted him in 1789 and made him its recording secretary, although he did not become an M.D. until 1801. Bartlett was greatly interested in oratory, delivering many addresses, including an historical sketch of physicians in the northeast. He was a member of the American Academy of Arts and Sciences and of the Historical Society, and was a representative, senator and councilor of the Commonwealth. He used his oratorical abilities prominently in all these endeavors.
Union Lodge in Danbury CT made him a Mason (initiated April 13, passed April 24, and raised May 2, 1780). On August 20, 1783 he met with seven brethren at Charlestown, where they prepared an application to Grand Lodge seeking a Charter for a Lodge in Charlestown with Bartlett as its first Master. This Charter was granted and signed by John Warren, Joseph Webb, Paul Revere and James Avery, Bartlett being installed Master on September 5, 1783.
On January 8, 1784, Grand Lodge Officers, accompanied by 26 other officers and members, constituted King Solomon's Lodge. Almost immediately its Master began to fill in as an officer in Grand Lodge. At the Quarterly of June 2, 1786, he was elected Senior Grand Warden and re-elected on July 24, 1788. At the Quarterly Communication on December 5, 1788 he served as Grand Master, pro. tem.
Josiah Bartlett served as Master for an extended period. On October 11, 1785, it was voted that the secretary "procure two kegs, properly fixed for rum, wine and other necessaries." On March 14, 1786, with M. W. Joseph Webb present, P. M. Josiah Bartlett gave an oration, accompanied by a supper in "Masonic form." Another oration in 1794 marked the erection of a monument to Joseph Warren by King Solomon's Lodge on the site of the present Bunker Hill Monument, in the base of which is a marble replica of the Warren Monument. All this activity placed him in a favorable position for advancement in Grand Lodge. At the centennial observance of King Solomon's Lodge, the Junior Past Master presented a fine crayon portrait of Josiah Bartlett to the Lodge on behalf of the centennial committee. It was drawn by F. J. Devitt from an oil painting in Grand Lodge. Another portrait was presented to Grand Lodge on March 14. 1883. It was painted by Ellen M. Carpenter after an original portrait by Stuart.
Bartlett was chosen as Senior Grand Warden on the first slate of officers for the United Grand Lodge, serving in 1792-93, and as Deputy Grand Master in 1794. Installed as Grand Master on December 27, 1797; his address that day filled four pages of our Grand Proceedings. He was a most eloquent representative of the Craft during those early years. After the death of George Washington he was one of the committee that requested a lock of his hair to place in the golden urn fashioned by Paul Revere.
On September 9, 1799, Bartlett made known that he did not wish to serve a third year because of concerns that he had been neglecting his patients while in office. Though released from his duties. Bartlett still served on various committees and continued to give orations.
On the evening of December 27, 1808, after the observance of St. John's Day, Grand Lodge Officers journeyed to Charlestown and installed Bartlett. who then installed the remaining officers, as Master of King Solomon's Lodge. It was the first occurrence of a Past Grand Master serving as Master of a Lodge.
At the election of officers on December 11, 1809. five candidates ran for Grand Master, of whom two were more prominent, M. W. Isaiah Thomas and R. W. Josiah I Bartlett. Since neither could gain the majority needed for election, Grand Lodge adjourned for the first time in its history. At 10 a.m. the next day, after opening in ample form, Josiah Bartlett was elected on the first ballot, apparently an agreement having been reached in the intervening hours. He was regularly installed on December 27, 1809, and gave an oration on "The Important and Indispensable Concerns and Duties of the Fraternity.
After a successful term in office in 1810 Bartlett again gave an impressive oration and installed his successor and the remaining officers. Interestingly, during these years the procession "salutes of honor", were given to the Senior and Junior Warden, as well as to the Grand Master.
Josiah Bartlett continued to serve his Grand Lodge on the Charity Fund, as a speaker at Masonic functions, by installing Grand Masters and giving eulogies at funerals, and with his regular attendance at Grand Lodge until a few months before his death. His health failing in his last two years, he died of apoplexy after an illness of two days.
SPEECHES
ADDRESS TO GRAND LODGE, DECEMBER 1797
From Proceedings, II-117, following his election as Grand Master:
FATHERS AND BRETHREN,
With emotions of gratitude and anxiety, I address you on this occasion; for whilst I offer my unfeigned acknowledgments for the repeated tokens of your respect and confidence, when I contemplate the talents, the patience and unwearied exertions of a Price, of a Tomlinson, an Oxnard, a Gridley, a Rowe, a Warren, a Webb, a Hays, a Cutler and a Revere, I experience a full conviction of my inability to discharge the important duties to which your partiality has invited me.
Of these, my venerable predecessors in office in this Commonwealth, seven have been summoned by our Supreme and Unerring Grand Master to that exalted and harmonious Lodge, tyled with impenetrable secrecy and from whence "no traveller returns." But though absent, they yet speak in our public records; and perhaps, at this moment, look down with complacency on the effect of their benevolent endeavors.
The magnanimity and zeal with which they encounter'd the difficulties and embarrassments of establishing and supporting an institution, which from its novelty in this country, the natural curiosity of the human mind, and the prejudices of the uninformed, excited public attention and employed the talents of the censorious — will render their memories dear to the Brethren, and rank them with the Benefactors of Mankind.
With the attention and fidelity of the four survivors you are well acquainted. Often have you seen them engaged in promoting the cause of virtue, and diffusing the principles of this Ancient Fraternity to all around them. From the spot where I now stand they have frequently called upon you, to the exercise of those duties on which the generous mind delights to contemplate; and their continuance in office, by repeated elections, 'till the laws of the Grand Lodge obliged them to retire, is a better evidence of their acceptable services, than in any encomiums it is in my power to bestow.
To sweeten the bitter cup of misfortune and enlarge the sphere of social happiness, has engaged the attention of the philanthropist from the most remote antiquity, and among the various means of effecting these Godlike purposes the Masonic Institution has the earliest and most distinguished rank. Coeval with human weakness, and the disobedience of man to divine Authority, its doctrines and precepts, embracing the principles of Brotherly affection, candor and charity and its laws and ceremonies founded in allegories and the emblems of operative Masonry, like the symbols and hieroglyphics of the priests of Egypt, Greece and Rome in later times, which were intelligible only to their Brethren, have been transmitted inviolate through successive ages and different nations to the present period.
Sixty-four years have elapsed since the introduction of Free Masonry into North America by the formation of a Grand Lodge in Boston; a fountain from whence the Streams have been numerous and extensive. Within this period charters have been granted for the Creation of two Lodges in Vermont; five in New Hampshire, one in Pennsylvania, one in Maryland, two in Rhode Island, thirteen in Connecticut, one in New York, one in Virginia, one in North Carolina, one in South Carolina, one in Lower Canada, one in the late American Army, two in Nova Scotia, one in Newfoundland, and four in the West Indies, and fifty-six in Massachusetts. Of these last, forty-three still retain their commissioned authority, and are considered by the present Regulations as within the immediate control of this Grand Lodge; and thirty-two were represented here at our last Quarterly Communication.
By this statement it is very apparent that the members of our fraternity in this metropolis have been no less assiduous in vindicating its forms and diffusing its principles than the citizens in general, for their early and distinguished exertions, in the cause of civil and religious freedom; and that the flourishing state of the Craft, within this Jurisdiction, is not exceeded by any similar establishment of which we have any historical information.
The political division of the world into kingdoms, states and empires have been long considered as the boundaries of regular Masonic authority; and the largest cities in such divisions have been generally designated as the seat of the Grand Lodges; and it is obvious that this establishment is best calculated to accommodate the Brethren and enable the Lodges to communicate and correspond with convenience and punctuality.
Grand Lodges are now recognized in each of the United States except Delaware, which I am told is at present connected with the Grand Lodge of Pennsylvania, and Tennessee, from whence I have obtained no information. These several Grand Lodges, independent in their powers and prerogatives and warranted in their proceedings by the practice of Ancient Masons in all former ages, have diffused the ceremonies of the Institution in their respective Jurisdictions, and a regular intercourse with each other, and with the Grand Lodges in foreign countries enables the whole to preserve the ancient landmarks of our fathers and cement the bonds of friendship. For, says our Illustrious Grand Master of old, "as iron sharpeneth iron, so a man sharpeneth the countenance of his friends."
The important designs and essential duties of a Grand Lodge are so well understood by this assembly, and are so fully expressed in our Constitution and Laws, that it is needless to be particular on these interesting subjects, on this occasion. It only requires a uniform practice of what we know, and a regular and impartial conduct in all our measures, to confirm our present prosperity and display to the world the wisdom of our united endeavors, the strength of our virtuous resolutions and the beauty of our social interviews.
I find by a cursory review of our records, that there are several matters of consequence under the considerations of committees, which, I doubt not, will be speedily and carefully attended to; particularly the sentiments contained in an address from the Right Worshipful Past Grand Master, at the last Quarterly Communication.
Three years have elapsed since I last had the honor of holding an office in the Grand Lodge, and, unambitious of any further preferment, I have beheld with pleasure, from the background of the picture every successful attempt to beautify its appearance or increase its usefulness; still should I have been happy in that situation; but called by your kind and unsolicited suffrages to fill this chair and influenced by the opinion of some valued friends, I engage with a firm reliance on your candor and assistance.
The duties assigned me, so far as my abilities and my necessary avocations will allow, I shall attend with punctuality, but some inconveniences will probably result from my not residing in Boston, and my professional employments may sometimes prevent my presence in the Grand Lodge. I have, therefore, to request that when I do not attend the meeting, in half an hour from the time affixed, you will consider me as necessarily absent, and that the business may commence, under the direction of the R. W. Deputy Grand Master, with whose merits and attention you are well acquainted; or in his absence the next officer present qualified as the Regulations provide.
It is by the enaction of prudent and equal laws, and the faithful attention of officers appointed to administer them, that all societies are governed with convenience and advantage. A regular attendance of the members of the Grand Lodge will produce a laudable emulation in those who now occupy the places they once filled, and a continued punctuality in the officers and representatives of the respective Lodges will always contribute to their honor and respectability, for, "Whoso keepeth the fig-tree shall eat the fruit thereof," and "he that waiteth on his master shall be honored."
This also is the figurative language of inspiration, peculiar to its venerable author, who, by the exercise of prudence, wisdom and philanthropy, unequalled in the history of man, was enabled to connect operative and speculative Masonry and render them subservient to the purposes of convenience and morality; to erect Lodges; to distinguish and reward the merits of the different Craftsmen; and to instruct them "to subdue their passions, act upon the square, keep a tongue of good report, maintain secrecy and practice charity."
These, my respected Brethren, are the magnificent columns which support this ancient and extensive edifice, which,—as the pillar of stone erected by Enoch, to preserve the arts and sciences, escaped the universal deluge,—will remain unshaken until the sacred temples, the splendid palaces arid the sculptured monuments of human invention are buried in universal ruin; and until the Grand Master and the Entered Apprentice, who have done worthily, undistinguished by any other jewel, than the badge of Virtue, will stand on a perfect level in the regions of everlasting bliss.
ADDRESS AT ST. ANDREW'S LODGE, APRIL 1810
From Moore's Freemason's Monthly, Vol. XXXII, No. 7, July 1873, Page 199:
A VOICE FROM THE PAST.
The following address was delivered before St. Andrew's Lodge, at the old Green Dragon Tavern in Boston, on the 12th of April, 1810, by Dr. Josiah Bartlett, Grand Master of the Grand Lodge of this Commonwealth, and we take pleasure in laying it before our readers as a chaste and elegant production. The author was a fine scholar, and in his day was one of the most distinguished members of the medical profession. He had previously been Grand Master, and served in that capacity in the years 1797 and 1798, when he retired, but was again elected to the same office in December 1809 and held until the following December. He was a charter member of King Solomon's Lodge, Charlestown, where he resided for many years, in the practice of his profession. He was the first Master of the Lodge in 1783, and presided over it in the years 1783, '84, '87, '92 and 1808. He died in 1820. St. Andrew's Lodge, before which the address was delivered, was chartered by the Grand Lodge of Scotland in 1756, and was mainly instrumental in the organization of the second Grand Lodge in Boston, known as the "Massachusetts Grand Lodge," in contra-distinction to the " St. John's Grand Lodge," previously established under the English authority. At the union of these two bodies in 1792, St. Andrew's Lodge declined to recognize the compact, and resumed its connection with the mother Grand Lodge of Scotland, which connection was continued until December 1809, when, the objections being removed, it came under the jurisdiction of the United Grand Lodge. In April following, the M.W. Grand Master Bartlett paid it his first official visit, on which occasion he delivered the following address. It is a model °f 't8 kind, and will be read with interest, especially by many of our older brethren who are conversant with the early history of the institution in this Commonwealth :—
ADDRESS.
My Respected Brethren:— When I recollect that within these walls were displayed the early specimens of Masonic eloquence in our country; that beneath this venerable Arch, the distinguished badge I so unworthily wear, was first suspended on our illustrious Warren, whose life and death were instructive lessons of benevolence and patriotism; that around this ancient altar, commenced the labors of the late Massachusetts Grand Lodge, the influence of which, in connection with a similar institution (the late St. John's Grand Lodge) has extended from the limits of this Metropolis to every section of our territory; and especially when I indulge a pleasing fancy, that your respected predecessors are viewing with complacency, an official visit from your adopted patron, whilst at the same time they bestow a grateful remembrance on your distant parent, I feel sensations easier for you to conceive than for me to describe, and which you can but reciprocate by expressive silence.
In the appropriate duties of this occasion, I shall only remark, on the Masonic history, that its doctrines and precepts may be readily traced from the luxuriant garden of paradise to the magnificent city of Jerusalem, where, the capacious mind of the illustrious Solomon, comprehending the traditions of the most remote antiquity, applied the instruments of operative Masons to illustrate the principles of our Order, and establish a system, which for six thousand years, has resisted the influence of ignorance, superstition and political contention; whilst its genial power in every age, has softened the calamities of war, and alleviated the miseries of man.
Reverence to.the Supreme Architect of the Universe, a dignified obedience to the civil authority, an affectionate regard to the characters and interests of our brethren, justice to our neighbors, and unfeigned benevolence are its avowed objects; to preserve and cherish these as far as we are able, is the duty of all who are united by its solemn obligations.
The erection of Lodges, the adoption of general regulations, and an uniformity in practice, so far as the habits and customs of different countries will allow, have been always inculcated; and the formation and support of Grand Lodges, whose authority should comprehend a convenient territory, have been found by long experience, to promote the prosperity of the Fraternity. No arguments are necessary to confirm this fact in the United States. A regular intercourse among the brethren has extensively diffused its benefits, and the flourishing state of eighty-six Lodges within this jurisdiction, evinces, at least au equal progress with other establishments, for the promotion of public and private happiness.
Among the various duties of the Grand Lodge, that of visiting the Lodges is by no means the least important. With the power of "examining their records and proceedings, and seeing that no innovations are committed," we are enabled to judge of the care and qualifications of those who are appointed to govern and instruct the brethren; and by inculcating a strict obedience to the Constitution and Laws, we contribute our aid to preserve the ancient land-marks.
A punctual attendance at the stated meetings, when your necessary avocations will permit; caution in the admission and advancement of candidates; discretion in the election of officers; a judicious improvement of the lessons you are taught, and a prudent appropriation of your funds, are indispensable; for in vain we may extol the beauties of Masonry, or boast of its numerous advantages, if we are not distinguished by a correspondent conduct.
The R. W. Master and Wardens will permit me to require a constant attendance at the Grand Lodge, either by themselves or a well-informed representative, especially at the election of officers; this is among the most essential duties of their appointment, for it is by punctuality, candour, moderation and unanimity, that every institution is respected and prosperous.
We now, my respected brethren, congratulate you on the present situation of St. Andrew's Lodge, and from the result of this auspicious interview, we are bound to remark, that the wisdom of your by-laws, the accuracy of your records, the regularity of your proceedings, and the respectful address of your R. W. Master, discover a continuance of that laudable zeal, which for nearly sixty years has been successfully exerted for its respectable support. The cradle of its infancy was rocked with anxious solicitude, its blooming youth was defended with vigilance and assiduity, and its revered manhood, cherished by industry and perseverance, will conduct it to an honourable old age, which is not confined, like the fleeting days of man, to a single generation. Your knowledge of the nature and design of our institution ; your experience in its ceremonies, and a strict observance of the precepts which, from a pressure of other associations, I have barely hinted at, will best preserve and extend its usefulness. Erected on the rock of Charity, and cemented by beneficence, it will remain unshaken, when you, and your successors, are numbered with its venerable founders, whom we humbly hope, are participating in the pleasures of that exalted Grand Lodge, tiled with impenetrable secrecy, and from whence no traveller returns.
ORATION ON THE DEATH OF JOHN WARREN, 1815
AN ORATION
OCCASIONED BY THE DEATH OF JOHN WARREN, M. D.
Past Grand Master.
DELIVERED IN THE GRAND LODGE OF MASSACHUSETTS, AT A QUARTERLY MEETING, IN BOSTON, JUNE 12, 1815.
IN PRESENCE OF the Supreme Executive of the Commonwealth, the President of the Senate, the Speaker of the House of Representatives, the Judges, the Corporation and Instructors of Harvard University; the Officers of the American Academy of Arts and Sciences; of the Massachusetts Medical Society; and of the Humane Society; the Clergy, Selectmen, &c.
BY JOSIAH BARTLETT. M. D.
Past Grand Master.
MY BRETHREN AND FRIENDS,
Contemplations on the virtues of the dead are instructive to the living; they animate us in our present pursuits, and enforce the necessity of all our efforts for more permanent felicity.
Thirty nine years have elapsed, since this antient fraternity attended, with deep despondency, the obsequies of Doctor Joseph Warren. (He was slain on the heights of Charlestown, June 17, 1775, aged 35. His remains were re-interred at Boston, April 3, 1776.)
He descended from respectable parents, but was elevated by personal merit. His learning is discovered in the various productions of his pen; his eloquence was celebrated among his contemporaries; his industry and humanity were proved by his professional distinction; his good will to man, was manifested by an attachment to this benevolent institution, in which he enjoyed its highest honours; his patriotism was tested, in the cabinet, by deliberation and firmness; in the field, by valour, and a generous sacrifice of his life.
But are these uncommon attainments, or the splendid delineation of his character, by the orators of that interesting period, the only means of perpetuating his name ? No, my friends, a branch of the same vine has flourished with equal fragrance; and though this also is destroyed, we are favoured with another growth, to preserve the salubrious fruit.
The unfeigned grief of the citizens of this metropolis, and its vicinity, at the death of Doctor John Warren; the respectful attention of the societies to which he belonged, and the kindred tears that are still flowing over his tomb, are conclusive evidence of his worth; whilst the dignified eulogy at his interment, by my respected friend Professor Jackson, and the pious discourses of the clergy, which have followed it, must render this performance but a feeble expression of your wishes to illustrate his character.
(On Saturday, April 8, 1815, the corpse of Dr. Warren was conveyed to the Stone Chapel, where, after a dirge on the organ, prayers were offered by the Rev. J. T. Kirkland, D. D., President of Harvard University. An anthem was performed by the choir or singers of Brattle-street society, and an eulogy delivered by James Jackson, M. D., Professor of the theory and practice of Physick. A hymn closed the services at the church; a procession was then formed, and proceeded to the family vault. The corpse was preceded by the members of the Senior Class in Harvard University, Students in Medicine, resident Graduates at the University, Graduates and Licentiates in Medicine, the Fellows of the Massachusetts Medical Society, the immediate Government of Harvard University, and the Officers of the Medical Society The Pall was supported by His Honor William Phillips, Rev. J. T. Kirkland, D. D., John Jeffries, M. D., Lemuel Haywood, M. D., Thomas Welsh, M. D., and Josiah Bartlett, M. D. The Hearse was followed by the Family, the Corporation and Overseers of Harvard University, the Members of the Academy of Arts and Sciences, the Officers and Members of the Grand Lodge of Massachusetts, the members of the Human Society, the Reverend Clergy, and numerous Citizens.)
The town of Roxbury, in the County of Norfolk, was the place of his nativity; his birth was on the twenty seventh of July, seventeen hundred fifty three. At the age of fourteen years he entered the University in Cambridge, and by the exertions of his widowed mother, graduated at the usual period; he then commenced the study of medicine with his brother, and, at the expiration of his pupilage, began his professional pursuits, with flattering prospects, at Salem, in the county of Essex. At the organization of the revolutionary army, he was commissioned an Hospital Surgeon, and continued in the camp about two years, when he was appointed to superintend the department in Boston, where be united his publick duties with the most extensive private practice, and continued from the termination of the contest for independence, to the end of his life, an ornament to the medical faculty, and an honour to his country.
An investigation of the structure and functions of the human body was his delight, and he was well adapted to the office of a teacher. In seventeen hundred eighty, he delivered the first course of lectures upon this subject, that was ever given in New England. These were succeeded by the establishment of a medical school at the university, of which he was senior professor. In seventeen hundred eighty six, he received the degree of Doctor in Medicine, at that famous seminary, and I shall commit no error in asserting, that to his unaffected politeness, his talents, influence, and great industry, aided by the efforts of his respected colleagues, may be attributed the present flourishing state of medical science in this section of our nation.
Impressed with the advantages of regularity in every employment, and desirous to cultivate a judicious intercourse with his fellows, he was among the applicants for incorporating the Massachusetts Medical Society. The advantages of that important institution, are experienced to the remotest parts of the Commonwealth. His assistance in its organization, and in completing a uniform system of education, with his advancement, through various offices, to the presidency, which he sustained for eleven years, to the time of his death, discovers that his merits and assiduity were duly appreciated by his contemporaries. His dissertation on the use of mercury, read at the annual meeting in eighteen hundred five; his professional publications in periodical works, and his peculiar celebrity as a surgeon, will enroll his name with the improvers of the healing art.
Among his respected predecessors in office, the society has only been deprived of the usefulness of the late Doctor Kneeland, a valuable practitioner in Cambridge, who presided with great acceptance, and died at an advanced age. But there are many of our departed associates, whose services were highly esteemed, and whose memories are justly venerated. Since the melancholy event, we now commemorate, Doctor Saltonstall, of Haverhill, is added to the number; and Doctor Ramsay, of a sister state, has fallen by the hands of a lunatic. They were eminent in their profession, and descended to the grave, ripe in years and in honour.
Doctor Warren was a member of the committee of the university, on the Boylston prize questions, from the time of its establishment, and he was avcorresponding member of the London Medical Society.
Here it may be proper to remark, that he was sometimes considered as hasty in his visits and prescriptions, especially in ordinary eases; but this was the effect of a rapid and vigorous perception, which enabled him to perform so much. His opinions and conduct were highly approved in consultations, and a series of successful practice, is sufficient proof of his attention. I cannot forbear to add, that he cautiously avoided an injudicious use of technical language to the sick and their attendants, or when called to testify in courts; and he at all times, disdained the artful obsequiousness, which is often substituted for merit.
As an advocate for the general diffusion of knowledge, he was a member, and a counsellor, of the American Academy of Arts and Sciences. His communications, in their memoirs, discover an appropriate attention to every establishment, which is encouraged by the wise and the virtuous. The only deceased President of this learned association, is the late Governour Bowdoin, whose character as a philosopher and statesman, is eulogised, by the late Judge Lowell, an able, candid counsellor, and a distinguished civilian.
Of the Humane Society, Doctor Warren was one of the earliest members. The preparation of regulations for its government, and the best method of promoting its objects, were well adapted to his inquisitive mind. Having served several years, as one of the Vice Presidents, he was elected President, and sustained that situation, until his numerous engagements, and an impaired state of health, induced him to resign it.
In seventeen hundred ninety six, he delivered a handsome eulogy, on the character of the honourable Mr. Russell, his predecessor in office, who was an eminent merchant, a member of our supreme Executive, and President of several societies, at whose request this service was performed.
Doctor Warren, was a Vice President of the Massachusetts Society, for suppressing Intemperance, and its kindred vices; the last publick act of his life, was to regulate the proceedings, in their board of counsel and this valuable institution, can boast of no associate, whose example was better adapted to promote its important designs.
Those who, hi a retrospect of forty years, review the wonderful scenes which have passed before them, may estimate their sufferings and their blessings. Amidst the calamities of war, the revolutions in government, and the dissensions of our citizens; the streams of religion and learning, have flowed from Harvard's copious fountain, to the boundaries of the United- States, and every village in Massachusetts, partakes of their refreshing influence. Animosities have been softened by the extension of commerce, agriculture, and the mechanick arts; the collisions of party, have been suppressed, by the exercise of beneficence, and these invaluable benefits, were ardently encouraged and supported by the energies of our departed friend.
The political character of Doctor Warren was remarkable for consistency and moderation. With an illustrious example, in his early guardian and preceptor, who in the morning presided in council, and at evening was prostrate in battle; he advocated the freedom of his country. On relinquishing his settlement at Salem, I recollect him in the camp,, accoutered as a private soldier, and ready at that eventful crisis, to add another victim to the fame of his family, or to engage in any duties, to meliorate the condition of an infant army, ignorant of the various exposures, incident to a military life, and thence peculiarly liable to sickness and mortality.
From his residence in Boston, in seventeen hundred seventy seven, his opinion and judgment were resorted to, on the most important publick occurrences. His connection with the university, was a constitutional impediment to his advancement as an active statesmen, but he always advocated the strong principles of integrity. His addresses to his fellow citizens, on various occasions, and his oration at the celebration of Independence, in seventeen hundred eighty three, discover his feelings as a man, his qualifications as a scholar, and his merits as a patriot.
In private life, lie was happy in the most endearing connections. At the age of twenty four years, he married Abigail, daughter of the late Governour Collins, of Rhode Island. He was provident in the education of his children, of whom five sons and four daughters have survived him. One of the daughters is married to Doctor Gorham, Adjunct Professor of Chemistry in the University and another to Doctor Brown, both of whom are practitioners in Boston. He was cautious in the selection of his intimates, faithful to his friends, courteous to his domestics, an advocate of Christianity, and ready, on all suitable occasions, to con-tribute from his affluence for the relief of the necessitous. To several gentlemen his professional instruction was gratuitous, and he witnessed in his; own household, a successor in the school of medicine. His eldest son, Doctor John C. Warren, graduated at Cambridge, in seventeen hundred ninety seven. After the customary studies with his father, his medical education was completed in Europe, and he is now settled in Boston. In eighteen hundred nine, when Professor Warren had lectured without assistance, for more than a quarter of a century, and was desirous to resign, his son was appointed Adjunct Professor of Anatomy and Surgery; and he now sustains the important office, so ably filled by his honoured parent, whose principles and conduct, we believe, he will sedulously imitate.
By a connection with the Military Hospitals, it was my happiness, in early life, to enjoy the friendship of the deceased; his candid attentions were continued in my riper years, and his kindness, in periods of domestic sickness and adversity, I rejoice publickly to acknowledge with unfeigned gratitude. With the qualities I have honestly, but so imperfectly sketched, you will readily believe that he was an early friend and patron of the Masonick Institution. Antient as civilization, unlimited by territory, unshaken by political broils, and exempt from religious controversies, its benevolent principles have been amply tested; and though we have much reason to lament the apostasy of its members, they were honourably exemplified, in Washington and Franklin, who were Masters of Lodges; in Price, Tomlinson, Oxnard, Gridley, Rowe, the Warrens, Webb, Hays and Cutler, our deceased Past Grand Masters; and a host of other worthies who are inheriting the reward of merit. The same influence will characterize, and the same result will await the virtuous, in the successive ages of the world.
Our departed friend was initiated in this metropolis; he passed the different grades in regular succession, and in seventeen hundred eighty two, delivered a celebrated publick charge. On the following festival of saint John, June 24, 1783, he was installed Grand Master, and officiated several years. Such of us, my respected hearers, as attended on that auspicious occasion, never can forget the pathetick oration by the honourable Mr. Gore, our late Governour, and the impressive charge, by the late Rev. Doctor Eliot, of whom I need only to remark, that he was just, and his memory is blessed.
From the entrance of the Grand Master on the duties of his responsible station, he discovered an ardent zeal for the prosperity of the fraternity, and was deeply impressed with the necessity of circumspection and care, in the management of its concerns. His accurate knowledge of the Masonick history and ceremonies, from the most remote antiquity; his strict observance of the constitution and regulations of the Grand Lodge; his punctuality at the quarterly communications, and at the visitations of the subordinate lodges, arc well known to his associates in office; and his eloquent addresses, whilst they wonderfully charmed the ear; were highly instructive to the mind. It is eighty four years, since a provincial Grand Lodge was constituted in Boston, by a commission from the Grand Master of England, and forty six years, since a similar establishment was formed by the Grand Master of Scotland. Various attempts were made for a union of these bodies, which, after repeated conferences, distinguished by a spirit of conciliation, was happily effected. In seventeen hundred ninety two, the present Grand Lodge was created, by a mutual selection of officers from the two societies, which were then dissolved. On this important occasion, the prudence and accommodating disposition of our deceased benefactor were conspicuous. As senior Past Grand Master in the Commonwealth, he presided at its organization. His exemplary attention to the solemn invocation, by the late Rev. Doctor Walter, who officiated as chaplain, and whose memory is justly honoured; his elevated deportment, when, on this very spot, he installed the venerable Cutler on March 2, 1792, and his animated exhortation to the brethren, at that joyous event, were a true specimen of his feelings, on a new era in our affairs. He anticipated incalculable benefits to the institution, and he lived to witness and enjoy them. He was repeatedly invited to resume the chair of the Grand Lodge, but though his necessary avocations prevented an acceptance, he always afforded his services on interesting occasions. He assisted in arranging the unexampled funeral honours in memory of our political father, of whom he was a faithful disciple; for he always followed, and he never denied him.
That memorable transaction (See note at the end of the oration) was honourable to the fraternity. The record of so splendid a solemnity; which like the present, was heightened by the delicate sympathy of female condolence (Feb. 11, 1800; two hundred ladies attended on this occasion, among whom was the family of the deceased), the elegant eulogy by the honourable Past Grand Master Bigelow, and the golden Urn, containing the relicks of Washington, which is now before us, will continue through future generations, as tokens of our veneration, for the most distinguished Mason of the age, and the ablest asserter of civil and religious freedom.
Doctor Warren, at the time of his death, was a trustee of our permanent charity fund, which is raised by regular assessments on the several lodges, and voluntary contributions of the wealthy. It is solely appropriated to soften the bed of sickness, to lessen the cares of the widow, to assist the fatherless, and mitigate the sufferings of the prisoner.
It is worthy of remembrance, that our lamented friend never spake of Freemasonry, but with great discretion and propriety. He knew, from our records and traditions, that the ceremonies of the lodges commenced, when symbols and hieroglyphicks were the means of communicating instruction; that the implements of operative masons were rendered subservient to moral improvement: and that the badges of our order were imitated, from the changes of raiment, and the purple ornaments and jewels, which are mentioned in scripture, in the patriarchal ages; but he never excited the amazement of the curious, or aided the wishes of the malevolent, by unintelligible suggestions, or mysterious insinuations. He discouraged all innovations, and was a vigilant observer of the antient landmarks; but he uniformly represented the institution as exclusively designed to amend the heart, and extend the cause of philanthropy.
In concluding this humble tribute of your respect, methinks I hear his well known voice, speaking from the realms of bliss, in these consolatory strains! Thou beloved companion of my youth, and ye affectionate pledges of our sincere attachment, withhold your grief; sixty-two years of prosperity were sufficient for my earthly pilgrimage; diffuse the blessings bestowed by an indulgent Providence, and prepare to join me, in ceaseless praises to the author of all your enjoyments.
Ye respected guardians of the publick safety, review the characters of your predecessors, in their respective offices, and imitate their virtues; but whilst the welfare of so many thousands depends on your wisdom, fidelity and patriotism, you will consider, that you are still destined for higher and more noble employments.
My late associates in the fields of science, instruction and humanity, by the exertions of our ancestors, the solitary wilderness is converted to a pleasant garden; piety, literature, and the arts are progressing by your fostering care; the ravages of disease are assuaged by your investigations; the shipwrecked mariner is cheered by your kindness; suspended animation is restored by your assiduity, and the votaries of ebriety are reclaimed by your vigilance. Continue your laudable pursuits, and you will receive an abundant reward.
My surviving brethren of the Masonick family, remember your mutual engagements, and discharge them with fidelity. At the altar from whence you arc now addressed, I have inculcated those doctrines and precepts, the benefits of which are freely enjoyed by many, who have gone before you. Let it be your care to protect the fair inheritance, and transmit it inviolate to your successors, with united aspirations, that their posterity may preserve it, in usefulness and honour, to the latest period of time.
(The Solemnities in the Grand Lodge commenced with the funeral service of the church, read by the Rev. Asa Eaton, and the following were the other performances.)
MASONICK DIRGE.
TO THE MEMORY OF DR. JOHN WARREN, Past Grand Master of Massachusetts. WRITTEN BY REV. T. M. HARRIS, D. D.
Begin we now the song of woe,
Whose strains in mournful numbers flow;
Sad are the rites funereal paid,
Solemn the requiem for the dead.

Brethren, we all remember well,
On glory's mount, how Warren fell;
And we, with thoughtful, duteous care,
Raised and inscribed a column there.

Another, and like honour'd name,
Allied by birth, and worth, and fame,
Now claims that tribute of our praise,
Which here our band fraternal pays.

Alike by wise and good rever'd,
Alike to Masonry endear'd,
A Master once our Lodge to guide,
Its light, and ornament, and pride.

Skill'd in the healing art to ease
The wretched victim of disease, And by his kindness to impart
A balsam to the wounded heart.

Those who confided in that skill,
Now sink despondent o'er their ill.
And oh! what now the hearts shall cheer
His presence once enliven'd here?

Others regret a friend remov'd,
We mourn a brother most belov'd:
They plant the cypress near his shrine,
Around it we the cassia twine.

Brother! while here we shall remain,
We will thy memory retain;
And closing then our Lodge, we'll rise
To meet in that above the skies.
ODE TO THE MEMORY OF JOHN WARREN, M. D.
Professor of Anatomy of Harvard University, &c. &c.
WRITTEN BV MRS. ROWSON,
At the request of the Grand Lodge of Massachusetts.
RECITATIVE.

Be wreaths of glory for the hero's name,
August his deeds, and sacred be his fame;
But flow'rs of rich perfume shall deck the grave
Of him, who lived to succour and to save,
And Cassia's blossoms twine with Sharon's rose,
Where our dear brother's relicks' now repose.

AIR.

Thy memory oh Warren! will ever be dear,
Whilst any the sense of thy virtue retains,
Fraternal affection, with Gratitude's tear,
Shall blend on the marble that shrouds thy remains,
For bright as the arch, that through Heaven extends,
Was the genius that flash'd from thy luminous mind;
And soft as the dew on the dry earth descends,
Was the pity that led thee to succour mankind.

How sweet was the voice, that instructed our youth,
What wisdom, what science, that voice could impart
How bright was that face, where the radiance of truth
Beam'd over each feature direct from the heart.
Let sorrow each ensign of glory enshroud,
(When Sol is eclipsed we his absence deplore)
For sad is the hour, dark and sombre the cloud;
Warren's voice will be heard, and his face seen no more.

Then build the fair cenotaph, true be each block,
That raises the column his fame to record;
And oh! may that column, of time, bear the shock:
Upright as his actions, and firm as his word
But where is the man on this sublunar ball,
The jewels of honour so worthy to wear?
Since our Brother obeyed the Great Architect's call.
And the bright gem of hope is bedim'd with a tear.

CHORUS.

Who shall, sweet Hope, on thee rely,
Who lift the full confiding eye,
Who resting on thy promise die,
If not the just?

Freed from a world of care and pain,
His body shall in rest remain,
Till the Great Master's voice again,
Shall animate his dust.

FULL CHORUS.

See Religion's sacred ray,
Chase the cloud of grief away,
While welcomed by tK' Eternal Eye,
Our Warren's spirit mounts the sky.
---
Boston, January 11, 1800.
Mrs. MARTHA WASHINGTON.

MADAM,

"The Grand Lodge of the Commonwealth of Massachusetts have deeply participated in the general grief of their fellow-citizens, on the melancholy occasion of the death of their beloved Washington.

"As Americans, they have lamented the loss of the Chief, who had led their armies to victory, and their country to glory; but as Masons, they have wept the dissolution of that endearing relation, by which they were enabled to call him their Friend and their Brother. They presume not to offer you those consolations which might alleviate the weight of common sorrows, for they are themselves inconsolable. The object of this address is, not to interrupt the sieved offices of grief like yom's; tut, whilst they are mingling tears with each other on the common calamity, to condole with you on the irreparable misfortune which you have individually experienced.

"To their expressions of sympathy on this solemn dispensation, the Grand Lodge have subjoined an order, that a golden Urn be prepared as a deposit for a lock of hair, an invaluable relick of the Hero and the Patriot, whom their wishes would immortalize; and that it be preserved with the jewels and regalia of the Society.

"Should this favour be granted, Madam, it will be cherished as the most precious jewel in the cabinet of the Lodge, as the memory of his virtues will forever be in the hearts of its members.

"We have the honour to be,
With the highest respect,
Your most obedient Servants,
JOHN WARREN,
PAUL REVERE,
JOSIAH BARTLETT."

Mount Vernon, January 27,1800.

"GENTLEMEN,

"Mrs. Washington has received with sensibility your letter of the 11th inst. enclosing a vote of the Grand Lodge of Massachusetts, requesting a lock of her deceased husband's hair, to be preserved in a golden Urn, with the jewels and regalia of the Grand Lodge.

"In complying with this request, by sending the lock of hair, which you will find enclosed, Mrs. Washington begs me to assure you, that she views with gratitude the tributes of respect and affection, paid to the memory of her dear deceased husband; and receives, with a feeling heart, the expressions of sympathy contained in your letter.

With great respect and esteem,
I have the honour to be, Gentlemen,
Your most obedient Servant,
TOBIAS LEAR.
ADDRESS AT THE INSTALLATION OF GRAND MASTER OLIVER, DECEMBER 1818
From Masonic Mirror and Mechanics' Intelligencer, Vol. III, No. 47, November 1827, Page 369:
Once more, my respected brethren, we are assembled at the Masonic altar, to discharge an animating and important duty. Influenced by the principles we profess, and in compliance with the custom of the Grand Lodge, we have commenced with an appropriate Address to that All-Wise Beneficent Architect who is made the late barren wilderness to blossom as the rose; who enabled our fathers to conquer the most incredible dangers; and by their assiduity to establish and support those religious, civil and philanthropic institutions, which it is our happiness to enjoy. Among these, this honorable fraternity, which is withstood the various assaults of its enemies, the storms of political commotion, the calamities of war, and the common ravages of nearly sixty centuries, sustains a distinguished rank; and it is peculiarly proper on occasions like the present, to call to mind the talents and exertions of those of the American family who cherished its feeble infancy, protected its youthful growth, and sustained its vigorous manhood with magnanimity and zeal. They've resisted the united influence of ignorance, superstition and prejudice. Industry and perseverance have extended their labors from the limits of this metropolis to every section of our country; and their disinterested efforts have justly ranked them with the benefactors of mankind. Encouraged by such illustrious examples, we now proceed in our solemn ceremonies, and may we and our successors transmit unsullied to the fair inheritance to the last period of time.
Right Worshipful Brother – You having been elected Grand Master of the Ancient Free and Accepted Masons for the Commonwealth of Massachusetts, the ensuing year, having signified your acceptance, and been declared Grand Master elect, as provided by the laws of the Grand Lodge, it devolves on me, as your predecessor in office, to install you with the usual ceremonies.
This sash is worn by the respective Officers is a distinguishing mark of their connection with the Grand Lodge.
I have now the honor and a pleasure to invest you with this honorable badge of your high in responsible office, which you have heretofore worn through constitutional period, with no less honor yourself than benefit to the Grand Lodge. It must be considered as the most respectful token of esteem, and the power of your Brethren to bestow, and as the best reward of long and meritorious services in the cause of Masonry. Many of the worthiest and some of the most distinguished characters, both in ancient and modern times, have worn it with satisfaction and delight. Those of your venerable predecessors in this Commonwealth, whose eyes are now closed on all terrestrial objects, and whose ears are shut to all human eulogium, have been justly distinguished for benevolence and philanthropy: some of them have been peculiarly honored as the most conspicuous of our statesmen and heroes. We these considerations animate you and their other survivors, to a laudable imitation of their patriotism, or hospitality and their attachment to the interests of this ancient fraternity
This Great Light, from which our institution derives its Wisdom, its Strength and its Beauty, demands from you and from every good Mason the profoundest reference. It will confirm your Faith, strengthen your Hope, encourage your Charity, and direct you to that magnificent Temple, where all is harmony and peace. these instruments of Operative Masonry, constructed to assist the Architect in his various designs, when speculatively applied to the duties of your important office will direct you to square your actions by the principles of candor, justice and moderation; to keep our brethren within the compass of Brotherly Love, Relief and Truth, and to preserve that decorum on which the honor and usefulness of our institution essentially depend.
This Book of Constitutions, published under the sanction of the Grand Lodge, comprises the labors of antiquity, with the experience of later ages, and without departing from the ancient landmarks, is happily accommodated to modern improvement, in science, in civil government, and social happiness; it contains the necessary doctrines and precepts govern with dignity and maintain the reputation of the Craft, and will enable you to discharge the duties assigned you with fidelity and acceptance.
Permit me, Most Worshipful, when I place you in this venerable seat, as a representative of the Illustrious Grand Master of Israel, and cover you with this badge of superiority, to congratulate you on being again raised from the level of equality, to preside over the Lodges in this extensive jurisdiction. May the Supreme Architect of the Universe endow you with his choicest gifts and enable you to discharge your trust with fidelity and honor. "May your feet stand firm" on the rock of justice; from your hands may streams of beneficence continually issue; around your head may there be a circle made splendid by the rays of virtue; and finally, may you be transmitted from the feeding honors of an earthly Lodge to scenes where "love and bliss immortal reign."
And now, my respected brethren, will you permit me, at this solemn termination of my official duties, to repeat my unfeigned acknowledgments for the various tokens of respect and confidence, which for a long period of time and on different occasions, I have immediately experienced by the partiality of the Grand Lodge.
Twenty-one years have this evening elapsed since I was first called to officiate in this dignified chair – the transactions of that moment are still fresh in my memory, and with pleasure could I recapitulate them. All my predecessors have been summoned to the mansions of rest, and their successors must follow them in rapid succession. – At the expiration of another year, according to the regulations of Grand Lodge, you must elect a new Grand Master, and let me conjure you, as you venerate the Masonic character, to prepare for that important event with the spirit of candor, moderation, mutual consultation and forbearance, which for nearly a century has, with few exceptions, distinguished the proceedings of the Grand Lodge Massachusetts. –
Thus may we estimate the value of our Act of Incorporation, which is almost without a precedent in our happy country, and may determine whether we are to consider it a blessing or curse. From the experience and talents of those who are to direct the concerns of the fraternity for the ensuing year, we may anticipate the most beneficial consequences, and from your unanimity on this auspicious occasion, we may repeat that reading with which we were all received at the portal of Masonry: "Behold, how good &c." – Psalm 133.
---
CHARTERS GRANTED
1798-1799
1810
---