MAGLEWest
From MasonicGenealogy
EDWARD NASON WEST 1869-1930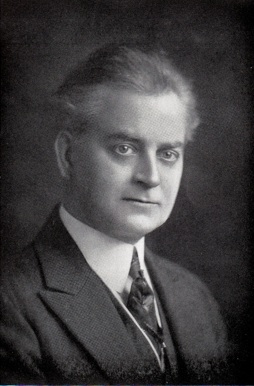 Grand Marshal, 1917-1919
Senior Grand Warden, 1920
MEMORIAL
FROM PROCEEDINGS, 1931
From Proceedings, Page 1931-22:
R.W. Brother West was born in Chester, N. H., September 13, 1869 and died at his home in Boston December 31. 1930. He was educated in the schools of Chester and Derry and came to Boston at the age of eighteen. He found employment with a provision dealer and soon had a business of his own. He conducted a provision business in Faneuil HaII Market up to the time of his death, a period. of about forty years.
Brother West's Masonic career was a long and active one. He was Raised in The Massachusetts Lodge March 18, 1895 and was its Master in 1907 and 1908. He was a Charter member of Shawmut Lodge and its Master under Dispensation in 1911 and under Charter in 1912. He was also a Charter member of Major General Henry Knox Lodge. He was District Deputy Grand Master for the First Masonic District in 1910 by appointment of M. W. Dana J. Flanders, and Senior Grand Warden in 1920. IIe was a member and Past High Priest of St. Paul's R. A. Chapter and a member of Boston Council, Boston Commandery, and the Scottish Rite bodies rn Boston.
He was much interested in military matters and was Commander of the Ancient and Honorable Artillery Company in 1918.
Brother West rvas tleeply loved by all who knew him, respected in business and honored as a citizen. His sudden death cast a gloom over his many friends, and leaves a vacant place in our affections which it will be hard to fill.
From Proceedings, Page 1931-51:
Born at Chester, N. H., September 13, 1869.
Died at Boston, Massachusetts, December 31, 1930.
After thirty-five years of faithful and honorable service to Masonry another of our esteemed Brothers has been called to the Celestial Lodge above. The Book is closed and we pause for a little while in reverie, in contemplation of the life that in retrospect is spread before us.
Brother West was born in the little town of Chester, New Hampshire; the son of Nason Henry and Sarah Jane West. When he was fourteen years of age the family moved from Chester to Manchester, where they resided for about four years before coming to Boston to live in 1887. That year he entered the employ of S. H. Wilkins and Co., in Faneuil Hall Market, where he remained for twelve years, later branching out for himself and establishing the firm which bears his name. All of Brother West's business career was spent in the market district of Boston, where he developed and conducted a prosperous provision business.
On September 25, 1900, he married Dora A. Willey at Iona, New Hampshire, and of this union, a son, Edward Nason West, Jr., was born. Both survive him.
To follow his life's history and the record. of his works is both interesting and inspiring. Of a quiet and unassuming disposition, he nevertheless had a dynamic energy and an intensive earnestness which entered into all he undertook.
Right Worshipful Brother West was:
Raised to the Sublime Degree of Master Mason in The Massachusetts Lodge March 18, 1895.
Master of The Massachusetts Lodge 1907-1908.
Master of Shawmut Lodge Under Dispensation 1911. Under Constituted Authority 1912.
District Deputy Grand Master for the First Masonic District 1910.
Grand Marshal of the Grand Lodge 1917-1918-1919.
Senior Grand Warden of the Grand Lodge 1920.
Exalted in Saint PauI's Royal Arch Chapter June 18, 1895.
Knighted in Boston Commandery July 19, 1895.
Admitted a Royal and Select Master in Boston Council June 27, 1901.
Excellent High Priest of Saint PauI's Royal Arch Chapter 1913-1914.
A Charter and Honorary Member of Shawmut Lodge A. F. & A.M.
A Charter and Honorary Member of Major General Henry Knox Lodge, A.F. & A. M.
In the Scottish Rite he received the degrees as follows:
Boston Lafayette Lodge of Perfection April S, 1896.
Giles Fonda Yates Council, Princes of Jerusalem, April 10, 1896.
Mount Olivet Chapter of Rose Croix April 17, 1896.
Massachusetts Consistory April 24, 1896.
Ennobled in Aleppo Temple, Mystic Shrine, December 30, 1904.
Senior Warden in Boston Lafayette Lodge of Perfection 1925-1926.
Being a man as gifted as he proved himself to be and of such sterling character and ability it was inevitable that he should be called upon to serve in other bodies than those of the Masonic Order.
Admitted to membership in the Ancient and Honorable Artillery Company of Boston on September 4, 1917, he soon became very prominent in this old and historic company. He served as Second Sergeant of Infantry in 1921; Second Lieutenant in 1923; Personnel Sergeant in 1924-25-26 and was unanimously elected Captain in 1928. From 1922 to the time of his death, Brother West was also Captain in the Quartermasters Reserve Corps.
Rt. Wor. Brother West was never happier than when surrounded by young men and as a result of this became greatly interested in the Boston Chapter of DeMoIay. He was untiring in his efforts to assist the boys in this order and was their "Dad" and adviser from 1926 to 1930 inclusive.
Of a patriotic and ardent nature, it was his great sorrow that on account of his age and poor health he was unable to serve his country on the battlefields of France. Determined, however, to do his "bit" he served throughout the entire length of the World War as a member of the United States Secret Service.
Brother West was an enthusiastic yachtsman, devoting many leisure hours to this favorite recreation. A sunstroke and nervous breakdown, however, so depleted his strength that he was able in the closing years of his life to indulge only to a very limited degree in this pastime which he loved so well.
At the services, very largely attended, held at the Jones Funeral Parlors in Boston and conducted by the Rev. Arthur M. Ellis, D. D., Chaplain of the Ancient and Honorable Artillery Company, there was a visible manifestation of the love and esteem in which Brother West was held. Large delegations were present, representing City, State, and Nation. Men from every walk of life were present to do honor in death to one so loved in life.
Brother West attained a very high position in the Craft receiving at the hands of his Brethren great honor. In the warp and woof of his Master's carpet we find many threads of silver and gold, emblematical representations of a life of service, loyalty to his ideals, and love for Freemasonry. Brother West gave Masonry much and as such will be forever blest, for it is written in the Book of Life -
"It is more blessed to give than to receive."
Leon M. Abbott,
Frank S. Jones,
W. Alden Burrell,
Committee.
FROM NEW ENGLAND CRAFTSMAN, 1931
From New England Craftsman, Vol. XXVI, No. 4, January 1931, Page 105:
R. W. Edward N. West, Senior Grand Warden of the Grand Lodge of Massachusetts in 1920, died at Boston, on Wednesday, Dec. 31, 1930. Funeral services were held at Boston, Friday, Jan. 2, 1931, at 9:30 a. m.
With the passing of "Eddie" West, a well-known figure in Massachusetts Masonry steps off the stage. Of a nature which endeared him to all, he was extremely popular. His work was decidedly upright and accurate. He will be much missed, both in the fraternity and among his fellow soldiers of the Ancient and Honorable Artillery Company, of which unit he had held command, as well as by a multitude of friends outside.
---