OrientalMarthasVineyard
From MasonicGenealogy
ORIENTAL - MARTHA'S VINEYARD LODGE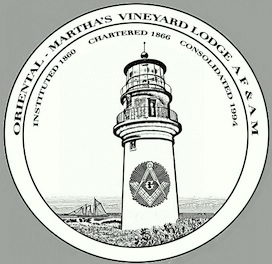 Location: Oak Bluffs
Chartered By: David W. Lovering
Charter Date: 01/29/1994 1994-10
Precedence Date: 08/10/1859
Current Status: formed by merger of Oriental Lodge with Martha's Vineyard Lodge, 01/29/1994.
---
PAST MASTERS
need list of living PMs
Frank G. Gibson, 1994
Leo P. Convery, Jr., 1995
John R. Tucker, 1996
George H. Fisher, Jr., 1997
Alan B. Reekie, 1998, 1999, 2002, 2003
David W. Roberts, 2000
R. Samuel Carroll, 2001
Richard L. Crawford, 2002 (died in office)
Christopher A. Knowles, 2004
Erik G. Blake, 2005
James T. Morse, 2006, 2007; PDDGM
Leonard R. Verville, 2008
Bruce E. Nevin, 2009
Colin M. Ouderkirk, 2010
Jeffrey S. Baker, 2011, 2012
---
REFERENCES IN GRAND LODGE PROCEEDINGS
Consolidation Petition: 1993
VISITS BY GRAND MASTER
BY-LAW CHANGES
HISTORY
150TH ANNIVERSARY HISTORY, JUNE 2017
By Wor. Bruce Nevin; referenced on Page 2017-56, but not included in Proceedings.
Freemasonry on Martha's Vineyard
The origins of Freemasonry are obscure. By tradition, it derives from the builders of King Solomon's Temple. Most historians connect it with the guilds of stonemasons who built the great cathedrals in the middle ages. Some cite evidence that some of the Knights Templar joined with those guilds in Scotland after their dispersal beginning in 1307. Certain it is that the oldest Masonic lodges were established in Scotland and in York. Subsequently, lodges spread through Scotland, Ireland, England, and elsewhere. Because instruction was strictly mouth to ear, regional divergences were inevitable. In 1717, the Grand Lodge of England was established in London with a deliberate program of reconciling and standardizing the work and instruction in lodges, followed not long after by the Grand Lodge of Scotland and the Grand Lodge of Ireland. The first Grand Lodge in America was in Boston, followed immediately by that in Philadelphia. Today, there is an autonomous Grand Lodge of Free and Accepted Masonry in each state in the United States and in most countries around the world.
Almost as obscure as the origins of Freemasonry are origins and doings of the earliest Masonic lodges on Martha's Vineyard. The first Masonic lodge here, named for King Solomon and located in Tisbury, was chartered in 1791, apparently as a Scottish Rite lodge, though there is some evidence of its existence as a Royal Arch lodge or chapter at least by 1787. It petitioned for and received new charter issued by the Grand Lodge of Massachusetts in 1797. Whether these were several lodges or one lodge under three names cannot now be documented with certainty. It is evident that the members had difficulty meeting regularly, very probably due to members being away on sea voyages, and their financial arrears and the insubordinate retention of their original charter surely taxed the patience of Grand Lodge officers and of their Proxy to Grand Lodge, M.W. Paul Revere.
In 1820, Grand Lodge granted the petition of eight Master Masons to erect Seven Stars Lodge in Edgartown. A portrait of the Worshipful Master, Thomas Melville Vincent, with his hand in his half-buttoned jacket in the manner of Napoleon, hangs beside the entrance to our Lodge Room. They, too, had difficulty sustaining their lodge, and returned their charter in 1824.
Twenty-eight years later, in 1852, a washashore named Joseph T. James arrived in Holmes' Hole with a warm interest in Freemasonry. He could find only three elderly surviving members of the old lodges, and, perhaps understandably, they declined to join in a new petition to Grand Lodge. Undiscouraged, over the next seven years he gathered to him six other men, who were made Masons at Marine Lodge in Falmouth in 1859. In August of that year Grand Lodge granted them dispensation to commence working. Two of the six left the Island, but were replaced by two others in time for Martha's Vineyard Lodge to be formally chartered a little over a year later on September 18, 1860 in an impressive ceremony in Tisbury, described in the issue of the Vineyard Gazette that was published on that date.
A few weeks before that ceremony, these brethren had provided shelter and generous hospitality to a sailing party of eight gentlemen from Boston, seven of whom were Masons. In gratitude, during the Charter ceremony they gave the new lodge a beautiful large Bible which still today is the Great Light on the altar at the center of our lodge.
Over the next three years under the leadership of Joseph James another 61 members were admitted, they retired their debt of $1000 for outfitting the Lodge room, and established a charitable fund of $1000. That may not sound impressive, but $1000 in 1863 is the equivalent of nearly $20,000 in today's dollars.
This renewal of Freemasonry on our Island met with such success that just six years later twenty members of Martha's Vineyard Lodge, with the support and recommendation of the Master, Wardens, and brethren of the lodge, petitioned Grand Lodge to form a new lodge in Edgartown. Their petition was granted in 1866. The first Master of Oriental Lodge was Dr. John Pierce, head of the Marine Hospital here. The Senior Warden, Bro. Grafton Collins, was a wealthy whaling captain, and the Junior Warden, Bro. James Madison Coombs, Jr., was owner and editor of the Vineyard Gazette.
Vineyard Royal Arch Chapter, organized in 1918, held their meetings in the quarters of Martha's Vineyard Lodge until 1950, when they moved to Edgartown.
In their early years our lodges met in rooms above commercial establishments. Martha's Vineyard Lodge had just moved to new quarters over the Luce Brothers' Store when the great fire of 1883 destroyed all of the business portion of the village. The brethren managed to save their regalia and the above-mentioned Bible, but lost all their furniture and the Secretary's records prior to 1868. The charter was re-issued by Grand Lodge in November. For eight years Martha's Vineyard Lodge met in a hall over Swift Brothers store, until in 1895 they acquired the building on Church Street which is now the Vineyard Playhouse. The purchase debt was paid off by many fund-raising events over the years, with particular involvement by Celestia Chapter, Order of the Eastern Star. In our archives we possess today a publication celebrating the burning of the mortgage in March of 1916.
In 1948, when the Baptists joined with the Congregationalists to form the Federated Church, Oriental Lodge obtained their impressive, white-pillared building on School Street, just south of Main Street in Edgartown. In the history of Freemasonry are many cycles of expansion and consolidation. In 1984, after a protracted period of declining membership, the two lodges sold their respective buildings to relieve themselves of the increasingly onerous financial burden of maintaining and heating them, and pooled their resources to purchase land and erect the present lodge building. Martha's Vineyard Lodge met on the second Monday and Oriental Lodge on the fourth. Ten years later, the two lodges merged in 1994 as Oriental-Martha's Vineyard Lodge, setting aside a proposal to revive the Seven Stars name. For various internal reasons, the pre-Civil War charter of Martha's Vineyard lodge was returned to Grand Lodge, so that the official charter date that we celebrate for Oriental-Martha's Vineyard Lodge is 1866. Wor. Leonard P. Reid, the 66th and last Master of Martha's Vineyard Lodge, effected the Solomonic conciliation with Mark C. Luce, the 73rd and last Master of Oriental Lodge, and Wor. Frank G. Gibson was elected the first Master of Oriental-Martha's Vineyard Lodge, serving in the East for the 1994-1995 Masonic year. Between then and this sesquicentennial year of 2016, eighteen men have served as Master of Oriental-Martha's Vineyard Lodge. The names of all Past Masters are posted in the foyer of the lodge building.
The contributions of Freemasonry to our community are easy to overlook. We do not publicize our charities. More fundamentally, the aim of Freemasonry is to take good men and make them better. This has had a subtle and pervasive effect through history, fostering civil discourse in democratic institutions wheresoever Masonry has spread. Men of every background and persuasion, who would otherwise remain ignorant of one another, or even prejudiced against one another, establish strong bonds of esteem and real affection. We begin as consumers of Masonry, and advance more and more as creators of Masonry in the Lodge and in our lives. In the 21st Century, new members responding to precept and example are strengthening our Lodge and renewing the contribution of Freemasonry in our community and beyond.
---
GRAND LODGE OFFICERS
Robert C. Corr, DDGM, District 31 (Nantucket), 1993, 1994; Senior Grand Warden 2003
S(idney). David Cronig, DDGM, District 31 (Nantucket), 1971, 1972; N
James T. Morse, DDGM, District 20, 2010, 2011; Deputy Grand Master 2013
DISTRICTS
---
LINKS