Noquochoke
From MasonicGenealogy
NOQUOCHOKE LODGE
Location: Westport
Chartered By: Charles A. Welch
Charter Date: 09/10/1879 1879-72
Precedence Date: 09/11/1878
Current Status: Active
---
NOTES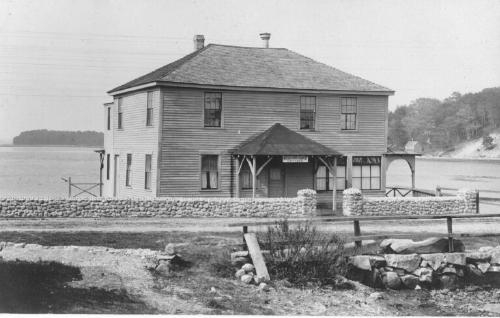 According to this site, the first Noquochoke Masonic Lodge {hall} was on the second floor of this building located at the west end of Hix Bridge. Brownell's General Store was housed on the first floor. Wor. Stephen A. Brownell (1844-1898), the sixth Master, was a "cattle broker and meat dealer" in Westport; at least a half dozen other Brownells were raised or were affiliated with this Lodge.)
---
PAST MASTERS
Laurance S. Smith, 1878-1881
Theodore J. Tripp, 1882
Cortez Allen, 1883-1885
Albert M. Allen, 1886, 1887
Holder D. Crapo, 1888
Stephen A. Brownell, 1889, 1890
James E. Allen, 1891, 1892
James Allen, II, 1893, 1894
Henry T. Allen, 1895, 1896
Joseph C. Allen, 1897, 1898
Nahum F. Nickerson, 1899
Walter C. Slocum, 1900, 1901
George E. Handy, 1902-1904
Eugene B. Gifford, 1905
John D. Tupper, 1906, 1907
Joseph M. Shorrock, 1908, 1909
Charles R. Wood, 1910
Harry L. Potter, 1911, 1912
Arthur T. Potter, 1913, 1914
Frank R. Slocum, 1915, 1916
George P. Brownell, 1917, 1918
Richard J. Shorrock, 1919
George E. Borden, 1920
Edward B. Francis, 1921
Norman B. Hopkinson, 1922
E. Raymond Manchester, 1923; N
Erwin M. Little, 1924
Mark C. Gifford, 1925
John A. Smith, 1926
Frank A. Potter, 1927
Leslie J. Tripp, 1928
Arthur J. Manchester, Jr., 1929
William C. T. Lewis, 1930
Walter G. Manchester, Jr., 1931
Chauncey R. Mosher, 1932; SN
David D. Morrison, 1933
Omar D. Brightman, 1934
William J. Smith, 1935
David W. Allen, 1936
Robert F. Chace, 1937
Andrew Colgan, 1938
Norman L. Gifford, 1939
William G. Johnson, 1940
Henry W. Brightman, 1941
Oliver T. Brightman, 1942
Elmer B. Manchester, 1943
John Marland, 1944
Alston J. Potter, 1945
Albert L. Simmons, 1946
Edwin C. Webb, 1947
Stephen H. Kirby, 1948
Elliot H. White, 1949
Harvey W. Wescott, 1950
Wilfred G. Morrison, 1951
Clifford H. Kirby, 1952
Donald B. Carr, 1953; N
Howard C. Mosher, 1954
Milton B. Wood, 1955
Frank C. Butts, 1956; N
Gilbert G. Stiles, 1957
Harold S. Bosworth, 1958
Donald L. Potter, 1959
Matthew C. Howland, 1960
Uel P. Whittaker, 1961
Stewart A. Hunt, 1962
Allan R. Turner, 1963
George F. Dean, 1964
Gerald G. Delano, Sr., 1965; N Mem
Robert J. Smith, 1966
Manuel G. Arruda, 1967
Stanley L. Reed, 1968
Donald F. Mantigny, 1969
Russell M. Tripp, 1970
Arnold R. Buckley, 1971
Donald W. France, 1972
Thomas D. Pacheco, 1973
Clifford A. Brightman, 1974, 1990, 1991; PDDGM
William H. Wilbour, 1975; PDDGM
Stanley Smeaton, 1976, 1987-1989
William C. Hegarty, 1977
Robert A. Young, 1978
Howard B. Clifford, 1979
Kenneth C. Russell, 1980
Richard M. Hughes, 1981
John D. Assad, 1982
Alden T. Pierce, III, 1983
Brad C. Brightman, 1984; DDGM
Robert E. Reynolds, 1985
Robert A. Young, 1986
Sylvester R. Jordan, Jr., 1992, 1993
Jaime da Silva Medeiros, 1994-1996
Kenneth W. Froment, 1997
Robert E. Reynolds, III, 1999, 2000, 2005
G. Paul Cannan, 2001, 2002; N
Thomas M. Owen, 2003, 2004
John R. Gifford, 2006
Walter G. Stiles, 2007-2010
David J. DeMello, 2011, 2012
---
REFERENCES IN GRAND LODGE PROCEEDINGS
ANNIVERSARIES
VISITS BY GRAND MASTER
BY-LAW CHANGES
1878 1879 1888 1918 1921 1932 1949 1956 1961 1969 1977 1980 1989 1991 2010
HISTORY
75TH ANNIVERSARY HISTORY, OCTOBER 1953
From Proceedings, Page 1953-289:
By Worshipful John A. Smith and Worshipful Donald P. Carr.
In the early part of the year 1878 a meeting was held by a group of Masons living in Westport to see what could be done about organizing a local Lodge. These Brothers were members of either Star in the East Lodge or Eureka Lodge of New Bedford. They were convinced that a Lodge should be located nearer for their convenience. New Bedford, in those days of the horse and buggy, was quite a journey, especially in bad weather.
A petition to the Most Worshipful Grand Master of the Grand Lodge of Massachusetts asking for a dispensation for a new Lodge to be known as Noquochoke Lodge was drawn up at this meeting and signed by the following:
Albert M. Allen
Cortez Allen
James Allen 2nd
James E. Allen
Zolotes L. Almy
Stephen A. Brownell
Charles H. Brownell
William C. Brownell
Alexander Cory
Holder D. Crapo
John B. Parris
George Potter
Laurence S. Smith
A. R. Trafford
Theodore J. Tripp
William Valentine
This petition had the approval of the Masters and Wardens of the two Lodges then located in New Bedford: namely, Star in the East and Eureka. A dispensation was granted by Most Worshipful Charles A. Welch, Grand Master of Masons in Massachusetts, for Noquochoke Lodge to be instituted on September 11, 1878, and the first regular meeting was held on October 5, 1878. Two of the signers of the petition for the institution of the Lodge lived to see it celebrate its 50th anniversary. There are none, however, alive today.
One of the strongest supporters of Noquochoke Lodge in those early days was R.W. Abraham H. Howland, Jr., of New Bedford, who was then District Deputy Grand Master for this District, and who was later to become Grand Master.
The first officers to occupy the chairs in Noquochoke Lodge were as follows:
Laurence S. Smith, Master
Theodore J. Tripp, Senior Warden
James Allen 2nd, Junior Warden
Zolotes L. Almy, Treasurer
Stephen A. Brownell, Secretary
Gortez Allen, Senior Deacon
Albert M. Allen, Junior Deacon
James E. Allen, Senior Steward
William C. Brownell, Junior Steward
Charles H. Brownell, Marshal
John B. Parris, Chaplain
Holder D. Crapo, Sentinel
George Potter, Tyler
The first meeting place of the Lodge was in the building located at the west end of Hix Bridge, then known as Noquochoke Hall. This building is now no longer in existence. (Ed. Note: it is pictured above on this page.)
The enthusiasm and zeal of the Brothers of those days can best be revealed by the records which show that the lodge-room was hired and furnished ready for occupancy in the June previous, or four months prior to the granting of the dispensation.
The first petition for degrees was received by the Lodge from William Henry Allen, who was raised to the sublime degree of Master Mason on January 4, 1879, and who lived a very long Masonic life. Brother Allen passed away in May of 1951 in his ninety-sixth year. This shows that Brother Allen was a Master Mason for more than seventy-two years. No other Brother of this Lodge has equalled it as yet. It was our fondest hope that Brother Allen would live to see this anniversary, but the all devouring scythe of time did not so permit.
Noquochoke Lodge worked under dispensation for one year and was duly constituted October 17, 1879, by the officers of the Grand Lodge in ample form. After the installation, Most Worshipful Grand Master Charles A. Welch addressed the members of the new Lodge, reminding them of their duties and responsibilities to the Fraternity and the necessary fidelity and zeal requisite to success in their undertaking. Then R.W. George H. Taber presented an elaborate, bound copy of the Holy Scriptures to Noquochoke Lodge, on behalf of the Brethren of Star in the East Lodge of New Bedford.
The records of a meeting held seventy-four years ago, on November 6, 1879, read as follows: "After the Lodge closed the brethren availed themselves of the opportunity for social intercourse which was enjoyed until the lateness of the hour suggested a separation." Seventy-four years may have changed a great many things, and an entire new generation of Brethren are here, but this paragraph could close a meeting today as well as then.
A history of the early days of the Lodge would not be complete without the mention of a Worthy Matron who was known affectionately by all as Aunt Betsy Allen. Aunt Betsy kept an Inn across the way from the lodge-hall, and was noted far and wide for the eats and good cheer that abounded there. She catered for the Masonic Brethren from time to time, and the many bountiful repasts enjoyed at her tables have left a mark for the caterers of our modern banquets to equal. Among the many interesting items appearing in the early records is a bill for a half ton of coal, amounting to $3.00. This was in 1882. At today's prices, that would be about one good-sized lump. Also in that same year one of the evening's records is closed by the words: "A violent snowstorm is raging."
As we have noted before, the zeal which our Brethren of those early days showed in the support of the Lodge could well be a goal for us'of today to aim for. One such instance which might well be cited at this time is that of our late Brother Joseph R. Gidley. Brother Gidley worked at Clarks Cove in New Bedford. On Lodge nights, he would leave his work at five o'clock and walk to his home in Padanaram, a distance of four or five miles, change his clothes and then walk to Noquochoke Hall, another nine miles or so, and arrive in time for the meeting at eight o'clock. This is an example of devotion and loyalty to the Fraternity which could well be a guiding light for us of today when with all of the comforts of traveling and so forth with which modern science has provided us, we are not so zealous in our attendance as this Brother was. Many of the pictures which are in our lodge-room were framed by Brother Gidley.
The picture of George Washington was presented to the Lodge by Bro. Jonathan Chace on October 1, 1892. A grandson of Brother Chace was later to become Worshipful Master of Noquochoke Lodge. He was Wor. Robert F. Chace, who was Master in 1937, and who was taken from us in the midst of his usefulness in August of 1951 at the age of forty-eight. Wor. Bob Chace was one of the most beloved and respected Brothers of Noquochoke Lodge and with all others with whom he associated.
Up until June 3, 1882, it was the custom of the Lodge to meet on the first Saturday of each month. The by-laws were then changed to have the meeting on the Saturday night on or before the full of the moon. The apparent reason for this was that as most of the members were farmers and worked hard all week, they chose Saturday night so that they could catch up on their rest on Sunday, and as some had quite a distance to come, either by horse and buggy or walk, they chose the Saturday night on or before the full of the moon so that they might have as much light to travel by as possible.
The Brethren decided that the building which they had at the west end of Hix Bridge was not adequate and that a new hall should be erected. After much time was spent and a number of building committees appointed and discharged, a new hall was finally erected on the top of the hill at the eastern end of Hix Bridge, and is still in use today. This hall was completed in 1901 and was dedicated on May 23 of that same year. Previous to the dedication, a clambake was enjoyed with the Grand Officers and wives and lady-friends of the Brothers present. The Grand Master at that time was Most Worshipful Charles T. Gallagher. The dedication was featured by a Masonic ball at the close of the Lodge.
The Masonic chairs which are in our lodge-room were gifts from George H. Taber Lodge of Fairhaven. The rough and perfect ashlers were gifts of a Brother of Fairhaven.
The old lodge-hall was sold back to Aunt Betsy Allen, from whom it had been purchased some years before, for $230.
After the Lodge moved to its new quarters, the next few years went by without much incident. It was growing steadily, and with growth, demanded new things. The Brothers were getting tired of bringing water for use at the Lodge; so it was voted in the late teens to drill a well on the south side of the hall. This proved a more expensive project than was anticipated, and before it was completed, it was necessary to go down 255 feet, and at a cost of nearly $2000.
The greatest growth in membership which the Lodge enjoyed was in 1921 when twenty-five signed the by-laws. Wor. Edward B. Francis was the Master at that time. The following year, under Wor. Norman B. Hopkinson, was our second highest, with twenty-one signing the by-laws. The third highest year for growth is this, our 75th or present year, when nineteen signed the by-laws, the Worshipful Master being Donald B. Carr.
On May 26, 1923, Noquochoke Lodge came into possession of a unique relic, it being a lock of George Washington's hair. It was presented to the Lodge by Wor. Cameron E. Wood of Barre Plains, Massachusetts, an Honorary Member of Noquochoke Lodge, in token of the long friendship that existed between his father, Josiah Wood, and Wor. Cortez Align. Josiah Wood's sister married John Cameron Bingham, who was a direct descendant of the Cameron family of Philadelphia, who were very intimate with George Washington when he was President. This lock of hair came into possession of the Cameron family and was handed down for generations. This particular lock came down to John Cameron Bingham, but he having no children, presented it to his nephew, Wor. Cameron E. Wood, who, as stated before, presented it to Noquochoke Lodge. It still hangs in an appropriate place in the Lodge.
The fiftieth anniversary of Noquochoke Lodge was celebrated on September 11, 1928. It was preceded by a clambake held at Bro. A. E. Remington's, at which over 300 Brethren and their ladies attended. While the Brethren celebrated their anniversary in the lodge-room, the ladies played whist in the hall below. The R.W. Horace L. Humphrey, accompanied by a large body of distinguished Masons, was received in form. Wor. John A. Smith was introduced as the Historian and read the history of the Lodge. It was a wonderful piece of work and made the writing of this history for the 75th anniversary very easy.
In 1937, Noquochoke Lodge was honored by the appointment of one of its members to be the District Deputy Grand Master for the New Bedford 30th Masonic District. He was Wor. Chauncey R. Mosher. This was the first time that the Lodge had been so honored. R.W. Brother Mosher chose as his Marshal Wor. David D. Morrison, and as his Secretary, Wor. E. Raymond Manchester. Wor. Brother Manchester was later to become our second Brother to be honored by being made a District Deputy Grand Master. This was in 1949 and 1950. Both men were an honor and credit to Noquochoke Lodge in the performance of their duties.
Wor. David D. Morrison was, like Wor. Robert F. Chace, taken from us very suddenly, and with great loss to the Lodge, at the age of fifty-nine. We were all very pleased that the Great Creator spared Brother Morrison's life long enough for him to install his son, Wor. Wilfred Morrison, as Master of this Lodge. This is perhaps the greatest pleasure that can come to any father.
The last seventy-five years have been rich and regarding to Noquochoke Lodge. The Lodge has grown in both membership and stature since its institution back in 1878, but it has not achieved this without the hard work and great concern and love of the Brethren for the Lodge. Let us keep moving forward as we have in the past, and let our 100th anniversary be greater and more richly rewarding by our continued hard work and devotion for this, our Lodge.
CENTENARY HISTORICAL COMMENTS, NOVEMBER 1978
From Proceedings, Page 1978-138:
By Right Worshipful Donald B. Carr.
(For the history of Noquochoke Lodge for the period from 1873 to 1953, please refer to 1953 Mass. 289-294).
After fifty-nine years of existence, Noquochoke Lodge was honored by the appointment of its first District Deputy Grand Master, Right Worshipful Chauncey Mosher, 1937-1938. In the following forty-one years, other honors were bestowed upon our Lodge by the appointments of the following members as District Deputies; Right Worshipful E. Raymond Manchester, 1949-1950; Right Worshipful Donald B. Carr, 1957-1958; Right Worshipful Frank C. Butts, 1969-1970; Right Worshipful Gerald G. Delano, 1973-1974. Right Worshipful Brother Delano has held the office of Grand Pursuivant and is now Education Committeeman for the 26th Lodge of Instruction. These men were and still are great Masons, dedicated and serving Noquochoke Lodge and the whole Masonic Fraternity with honor.
During the recent years, membership in the Lodge has not necessarily increased; but pride, dedication and interest has grown tremendously with new young blood taking part and carrying on great work, as those fine Masons have done before us. This great work we speak about is that of our Past Masters. Their sustained interest over the years is worthy of frequent comment. This is one reason why Noquochoke Lodge has maintained the reputation, for being rich in friendship and brotherly love. Because of that reputation, the monies for this evenings festivities, new officers' aprons, and refurbishing of the jewels, were realized through the efforts and hard work of the Auction Committee and those who supported them.
The last one hundred years have been richly rewarding for Noquochoke Lodge and the membership. We have grown in stature and in wisdom since the year 1878, but we have not achieved this without hard work, great concern, and the friendship and brotherly love of the Brethren for the Lodge. So, let us continue to move forward and let this, our one-hundredth anniversary celebration, the years gone by, and the memories be locked in our hearts till time shall be no more.
---
EVENTS
CONSTITUTION OF LODGE, OCTOBER 1879
From Liberal Freemason, Vol. III, No. 8, November 1879, Page 250:
On the evening of October 17th, the rooms of the Masonic Fraternity, in the city of New Bedford, were the scene of one of the largest gatherings since they were dedicated in 1860, to witness the constitution of Noquoclioke Lodge of Masons, which meets at Central Village, Westport. There were 14 charter members of the new Lodge, and the following officers were installed : Lawrence S. Smith, W. M.; Theodore J. Tripp, S. W.; Cortez Allen, J. W.; Zelotes L. Almy, Treasurer; Stephen A. Brownell, Secretary; John B. Parris, Chaplain; Charles H. Brownell, Marshal; Albert M. Allen, S. S.; George Potter, J. S.; James E. Allen, I. S.
The Grand Lodge was represented by the M. W. Grand Master Charles A. Welch, and the following brethren in office, as named A. H. Howland, Jr., D. G. M.; Solon W. Stevens, S. G. W.; L. W. Lovell as J. G. W.; Samuel P. Oliver, as Grand Treasurer: S. D. Nickerson as Grand Secretary; Rev. O. A. Roberts as Grand Chaplain; George H. Taber as S. G. D.; A. H. W. Carpenter as J. G. D.; F. L. Winship, Grand Marshal; H. M. Fisher, S. G. S.; H. J. Parker, J. G. S.; Frank E. Jones, Grand Tyler.
The Mew Bedford Masonic Quartette, E. Boden, Jr., organist, was present, and a new cabinet organ obtained from Mr. Boden was used. A magnificent Bible was presented to Noquochoke Lodge by Star the East Lodge of this city, Rev. O. A. Roberts making the presentation speech, and Lawrence S. Smith appropriately responding. The Grand officers were the guests of R. W. A. H. Rowland, Jr.
---
GRAND LODGE OFFICERS
---
DISTRICTS
1878: District 14 (New Bedford)
1883: District 26 (Fall River)
1911: District 30 (Fall River)
1927: District 30 (New Bedford)
---
LINKS