MAGLSStevens
From MasonicGenealogy
SOLON WHITHED STEVENS 1836-1918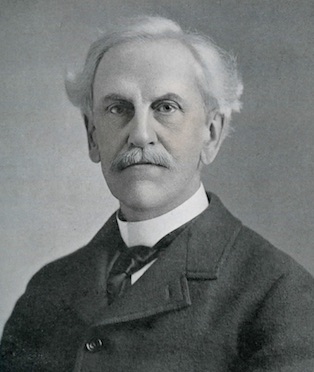 Senior Grand Warden, 1879
MEMORIAL
FROM PROCEEDINGS, 1918
From Proceedings, Page 1918-137:
Born in Lowell, August first, 1836.
Died in New York City, March thirty-first, 1918.
Age 81 years, 7 months, 30 days.
All hearts grew warmer in the presence
Of one, who, seeking not his own
Gave freely for the love of giving,
Nor reaped for self the harvest sown.
Although Brother Stevens had been in failing health for several years, the news of his death came to those with whom he had been associated. in our Fraternity as a distinct shock, coupled with a deep sense of the loss we have sustained. His lovable disposition, his, loyalty to our Order, and his high courage under stress had endeared him to all, and his passing leaves a void in our lives impossible to fill.
He was the son of Solon and Harriet Whithed Stevens. His early education was gained in the public schools of Lowell and he received his Master of Arts degree at Brown University in 1858. It was here he formed a friendship with John Hay, one of his classmates, who afterward became Secretary of State: an attachment in which Brother Stevens took the greatest pleasure and satisfaction and which lasted until death came to Mr. Hay. He was married in Lowell, October 12, 1870, to Mary Price Savory, who died in 1908. This union was blessed with three daughters, all of whom are married and survive their father.
Although engaged in the practice of law, he found the time to give his unusual musical talent opportunity for development and he was for many years a leader in the musical circles of Lowell. His great ability as an orator made great demands upon his time, and his reputation as a speaker of note went far beyond the limits of his home city. He served five years as a member of the School Board of Lowell and was for two years a member of the Massachusetts House of Representatives. Always a public-spirited citizen, he interested himself in many of the social and charitable organizations of the city, occupying responsible positions in many of them.
It was, however, as a member of the Masonic Fraternitv that we knew him best. He was Raised in Pentucket Lodge, of Lowell, January 7, 1864: joined Kilwinning Lodge as a charter member in 1866, and was its Worshipful Master in 1873 and 1874; served the Grand Lodge as District Deputy Grand. Master of the Seventh Masonic District in 1875, 1876, 1877, and 1878, and was elected Senior Grand Warden in 1879. He was an honorary member of Pentucket Lodge, of Lowell, and William Parkman Lodge, of Winchester, and bt the time of his death the Senior Past Master of Kilwinning Lodge, of Lowell.
He was Exalted in Mount Horeb Royal Arch Chapter, June 23, 1864: received the Cryptic Degrees in 1865, and was Knighted in Pilgrim Commandery, No. 9, Knights Templars, April 25, 1865, becoming its Eminent Commander in 1881 and 1882. He received all of the grades in the Ancient Acceptecl Scottish Rite, Fourth to Thirty-second, in 1897, and was a member of Lowell Lodge of Perfection, Lowell Council, Princes of Jerusalem, Mount Calvary Chapter of Rose Croix, and Massachusetts Consistory. He served as Most Wise Master of Mount Calvary Chapter for five years and was crowned an Honorary Member of the Supreme Council, Thirty-third Degree, in September, 1895 and, until his health failed him, served the Supreme Council as organist.
Solon Stevens belonged to a generation of Masons which is fast passing away. Contemporary with such eminent craftsmen as Gardner, Salmon, Hutchinson, and Seward, he never failed to impress the younger generation with their high standards of Freemasonry. A marked characteristic was his kindly encouragement to those who are working in the quarries today, in whom he tried to instill an ambition to emulate the skill of their fathers.
Long will the memory of his patrician face, crowned by its halo of snow-white hair, remain with us, calling to mind a pure type of the Christian gentleman, who with gentle courtesy and sympathetic manner lived his span among us not in vain, for those who were privileged to come under his influence bear lives that are fuller, better, and richer therefor.
Sleep on, dear brother, such lives as thine
Have not been lived in vain,
But shed an influence, sure, divine,
on lives that here remain.
Arthur D. Prince,
Charles E. Cooke,
George B. Hayward,
Committee.
FROM NEW ENGLAND CRAFTSMAN, 1918
From New England Craftsman, Vol. XIII, No. 7, April 1918, Page 222:
Solon W. Stevens, a prominent citizen of Lowell, Mass., died suddenly in New York, Sunday, March 31, at the age of eighty-six. He received his early education in the public schools of Lowell and for a few months was a student at Newton Theological Institute. He attained his degree of Master of Arts in 1858 at Brown University where he was a classmate of the late John Hay, Secretary of State. He began the practice of law at Lowell in 1888, and prior to that time was an organist, pianist and teacher of music in that city. For nearly 60 years he was the organist of the First Congregational church, and took part in all the great musical events in which Lowell residents have been interested during that period.
He was a member of the Lowell school committee from 1879 to 1885; a member of the Massachusetts House of Representatives in 1885-86; was deputy collector of internal revenue from 1889 to 1893. He also served as president of the Lowell Children's Home and was a member of the Lowell Historical Society and the Sons of the American Revolution, as well as being affiliated with all the Masonic bodies up to and including that of the 33d degree. He was Senior Grand Warden of the Grand Lodge in 1879. For many years he was the organist of the supreme council, 33d degree, and Sept. 22, 1910, was made Grand Organist emeritus at the annual meeting of the Supreme Council, held at Pittsburgh.
His funeral was held at the First Congregational Church, Lowell, on Tuesday, April 2, at 2 o'clock in the afternoon.
---