MAGLMPlummer
From MasonicGenealogy
MOSES CAWLEY PLUMMER 1849-1917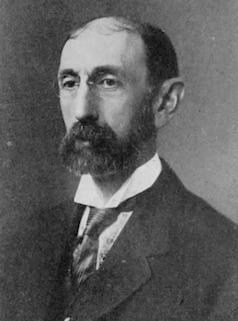 Deputy Grand Master, 1917 (died in office)
MEMORIAL
FROM PROCEEDINGS, 1917
From Proceedings, Page 1917-276:
The Grand Master called attention to the vacant chair of the Deputy Grand. Master on which were displayed the apron, collar, and jewel of the late occupant, and reminded the Grand Lodge that since its last Communication the Deputy Grand Master, one of the best loved Brethren in the jurisdiction, had joined the Celestial Lodge above. After referring in touching and affectionate terms to the loss sustained by the Grand Lodge, and by himself personally in the loss of a dear and valued friend whose Masonic career had been very closely linked with his own, he called, upon the Committee which had been appointed to bring in a Memorial.
"O gracious friend - lover of men - who yesterday, at peace
With all the world, awaited patiently the great release,
And crossed the boundary-line, to come back no more, save in dreams -
Yet, dreams are much - without you, oh how strange the whole world seems!
The passing from earth of R.W. Brother Moses Cawley Plummer on the eighth day of October brought to us a sorrow as keen as his death was unexpected; he had always been so active and ready with the many matters already in his hands for attention and service among the Brethren and in the many Masonic bodies with which he was,connected, that we could not reconcile ourselves to the fact that he was gone - we somehow felt that he would always be here to do his good work, as long as we were at least, and that somehow, in some way, he would arrange the details of that last office that friendly hands and loving hearts were called upon to perform for him.
We are weaving this chaplet,to his memory to be placed with our records principally because he was at the time of his death our Deputy Grand Master, a position which he has filled with signal ability and in which he has been an ideal Deputy and assistant to his personal friend and Lodge associate during many years, our M. W. Grand Master. In his position he employed, the same valuable and useful methods for help and assistance that have characterized his life since we have known him actively in Masonry.
The great work for which Brother Plummer will be remembered is broader and larger than that of any one office or position, for in all the numerous bodies with which he was connected he was the one selected instinctively to assist in the details of administration and especially to answer appeals for charity wherever any one, outside of one in official position, was needed. In this work, too, while his heart was expanded by benevolence, he was most careful and discriminating in his treatment of applications; and while no meritorious case failed of his fostering care the unworthy were never able to impose on any body which he represented.
Retiring with a competence from active commercial life where he had made a success, and having no ties of family or kindred requiring his attention, he devoted his life to Masonry and the cause of his fellow men. Ordinarily a record of the offices held by a Brother is an indication of his activities and value, but in this case these would be a mere incident, for his Masonry was a busy, active, Masonic life in which he employed the best of his talents to the benefit of his Brethren. Many hold official positions and devote themselves with credit and zeal to their duties and to our Institution while in office, but lose interest on their retirement. Not so Brother Plummer; his daily life consisted largely in a change of activities from one form of Masonic work to another and his work was most valuable and efficient.
Our Institution and, its objects were dear to his heart. He saw in the organization great forces for developing true benevolence and uplifting mankind. He was happy when helping others whether on charity committees or as an individual. With painstaking zeal and in a kindly manner he gave of his time and experience to the benefit of the Brethren and the advancement of Freemasonry, and if he were asked. why he did it he would answer, "Because I love the Craft."
"Be comforted, indeed, remembering the life well spent;
The lofty purpose of each hour, how task and pleasure blent,
Till joy were stronger of the twain; the constant aim to make
Life gladder, sweeter, better, everywhere, for someone's sake."
Brother Plummer was born in Sanbornton, New Hampshire, May 24, 1849, and after attending the public schools and the New Hampton Literary Institution entered into business at Lakeport, New Hampshire, from which place he came to Boston in 1873. After experience as a salesman he became connected. with the firm of J. B. Plummer & Co., wholesale woodenware, which in 1893 became his own business and in which he continued until 1905, when he retired.
Outside of Masonry he was an active member and frequent visitor of the Boston City Club.
He was a member of the following Masonic bodies:
Columbian Lodge, A.F. and A.M., December, 1886.
St. Paul's Royal Arch Chapter, November, 1888.
Boston Council, June, 1889.
Saint Bernard Commandery, October, 1904 (by affiliation).
Lafayette Lodge of Perfection, December, 1886.
Giles F. Yates Council, P. of J., February, 1887:
Mount Olivet Chapter of Rose Croix, April, 1887.
Massachusetts Consistory, April, 1887.
Supreme Council 33°, September, 1896.
and in these bodies he was
Worshipful Master of Columbian Lodge, 1900-1902.
Thrice Potent Master Boston Lafayette Lodge of Perfection, 1895, 1896, and 1897.
Grand Master of Ceremonies Massachusetts Council of Deliberation from 1909 to the time of his death.
Those of us who are connected with the Scottish Rite bodies know what zeal and devotion he showed in the last named position where, as Marshal to the Deputy for the State, he not only performed the duties assigned to him, but anticipated the wants and desires of others, both individuals as well as bodies of the Rite, ever ready and willing to give of his time and attention to relieve others of the care and details of work. Probably no man outside of some present officials in Masonry in our jurisdiction will be missed from so many different forms of activity as Brother Plummer.
Funeral services were held at the Church of the Good Shepherd, of which Rev. George J. Prescott, a Past Master of Columbian Lodge, is Rector. The full ritual service of the Episcopal Church for the burial of the dead was presented by W. Brother Prescott, while our Brother BeaI, a Grand Chaplain of our Grand Lodge, paid a fitting and eloquent tribute to the memory of our good Brother Plummer. The church was filled with people; the larger portion being Masonic friends who thus by their presence testified appreciation of his life and work. Besides our Most Worshipful [http://masonicgenealogy.com/MediaWiki/index.php?title=GMLAbbott Grand Master[ with his Wardens and Officers of the Grand Lodge there were from the Permanent Members the following Brethren, all of whom were in addition of the 33° of the Scottish Rite: Edwin B. Holmes, P.G.M., Rrookline; John Albert Blake, P.G.M., Malden; James M. Gleason, P.G.W., Boston; Charles H. Ramsay, Grand Treasurer, Weymouth; Rev. Edward A. Horton, Grand Chaplain, Boston; George W. Chester, Grand Tyler, Boston; Benjamin B. Gilman, District Deputy Grand Master, Haverhill; Melvin M. Johnson, P.G.M., Cambridge; Charles W. Schuler, P.G.W., Greenfield; Charles T. Gallagher, P.G.M., Boston; and Frederick W. Hamilton, Grand Secretary, Cambridge.
The selections on the organ were most impressively rendered, consisting of Handel's Largo, Chopin's Funeral March, O Rest in the Lord, from Mendelssohn's Elijah, and I Know that my Redeemer Liveth, from the Messiah.
The pallbearers were M.W. Charles T. Gallagher, R.W. William M. Farrington, and W. Brothers Samuel F. Hubbard, Franklin C. Jillson, Wilson A. Spiers, and Frank C. Fox.
Our late Brother Plummer is survived by a brother at North Sanbornton, who was prevented by illness from attending the funeral. Two nephews of Brother Plummer were present and took charge of the remains after the service for burial in the family lot at North Sanbornton, New Hampshire.
"Passing out of the shadow
Into a purer light,
Stepping behind the curtain,
Getting a clearer sight;

Passing out of the shadow
Into eternal day.
'Why do we call it dying,
This sweet going away?
""We shall meet but we shall miss him."
Charles T. Gallagher,
George J. Prescott,
Franklin C. Jillson,
Committee.
FROM NEW ENGLAND CRAFTSMAN, 1917
From New England Craftsman, Vol. XIII, No. 1, October 1917, Page 423:
A well-known and greatly respected Mason of Massachusetts, died Monday, October 8, after a brief illness. He was deputy grand master of the Grand Lodge of Massachusetts, a 33° Mason 0f the Scottish Rite and a past officer of many other Masonic bodies.
Above all the honors of Freemasonry which his merits had won was the place he filled in the hearts of his associates. His ready and willing service of his friends and of Freemasonry never failed. His generous heart and amiable personality leave an unfailing impression on the memory of all who knew him.
Brother Plummer was born in North Sanbornton, N. H., 67 years ago, and up to his retirement from business was well known in the woodenware trade of Boston.
He was Past Master of Columbian Lodge of Boston, past thrice potent master of Boston Lafayette Lodge of Perfection, 14th degree; a member of St. Paul's Royal Arch Chapter, Boston Council, R. & S. M., and St. Bernard Commandery, K. T. He was also master of ceremonies in the Massachusetts Council of Deliberation of the Scottish Rite.
He became a member of the 33d degree Sept. 15, 1896.
The funeral of Brother Plummer was conducted Thursday, October 11, at the Church of the Good Shepherd, Rev. George J. Prescott, a member of his own lodge, and Rev. Francis L. Beal, D. D., who paid the following tribute to the memory of Brother Plummer:
"To the true lover of his fellow-men; to the heart attuned to the note bv self-sacrificing service as sounded by the Great Master of the hearts of men, when He said —

"'Greater love hath no man than this, that a man lay down his life for his friends'; to such, the world pays glad tribute of esteem and affection.

"Brethren, when you find a man whose life is an exponent of that spirit, grapple him to thy soul with hooks of steel.

"Our Brother had caught this high, resonant note, and having brought his soul into harmony with it, it became a dominant, an impelling force in his life.

"It was his joy, as many of you know, to spend and be spent, in the service of his brethren.

"Quietly, without ostentation, he gave his whole time to unselfish ministry.

"Our great Institution was very dear to his heart, because he saw in its sublime teachings great possibilities for the uplift of mankind: and in its organization great potential forces for disseminating light, and truth, and true benevolence.

"He was never happier than when serving on the Charities Committee, thinking and planning to help others.

"In his work and official duties studious, painstaking, reliable, and affable.

"His associates recognized these qualities and advanced him to high station in all our Rites and Bodies. And modestly and unassumingly, he wore his high honors.

"My Brethren—when to such an one comes the Great Call; I think it must with sweetly melodious insistence, open the portals to grander scenes and wider usefulness.

"And to us—if we look closely—we shall see them pass over the sunlit summit of life, stepping firm and erect into large achievement."
---