MAGLBGilman
From MasonicGenealogy
BENJAMIN BUTLER GILMAN 1861-1921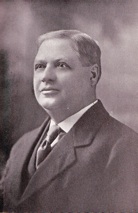 Senior Grand Warden, 1919
MEMORIAL
FROM PROCEEDINGS, 1922
From Proceedings, Page 1922-46:
Benjamin Butler Gilman passed away December 5, 1921, after a lingering illness of more than a year, though the end, when it came, was sudden and unexpected. The funeral services were held at his home, R. W. Brother Hamilton officiating. The large delegations from the Masonic organizations of which he was a member, as well as many other friends that filled the house to overflowing betokened the esteem and regard in which he was held.
Brother Gilman was born in Exeter, N. H., August 21, 1861, but lived the larger part of his life in Haverhill, Mass., where he settled when about twenty years of age. During the early years of his residence in Haverhill he was bookkeeper and cashier for the Carter-Russell Express Company. In 1900 he went into business for himself as a cut straw and leather board manufacturer under the title of B. B. Gilman & Co., and continued in this business up to the time of his death.
He was married September 10, 1914, to Bertha Lord Merchant, who survives him. There were no children.
His Masonic eareer began in Saggahew Lodge where he was raised October 20, 1890. He received the Royal Arch in Pentueket Chapter, January 9, 1891, the Super Excellent in Haverhill Council April 30, 1891, and was Knighted in Haverhill Commandery May 12, 1891. He was Worshipful Master of Saggahew Lodge in 1905 and 1906, District Deputy Grand Master for the Tenth Masonic District in 1916 and 1917, and Senior Grand Warden in 1919.
In the Scottish Rite he received the fourteenth degree in Merrimack Valley Lodge of Perfection, March 28, 1903, and the subsequent degrees in Giles F. Yates Council, Princes of Jerusalem, 1906, Mt. Olivet Chapter of Rose Croix, 1906, and Massachusetts Consistory, February 22, 1907. He was made a Sovereign Grand Inspector General, 33rd degree, and enrolled an. Honorary Member of the Supreme Council at Chicago September 15, 1974. He was also a member of the Royal Order of Scotland and the Shrine.
For many years he held the Secretaryship of many of the Masonic bodies in Haverhill, but after marriage he gave up these positions in order to have more time for his family. He retained the Treasurership of the Commandery, which he had held for many years, up to the time of his death.
In all his Masonic relations R.W. Brother Gilman always sought opportunity for service rather than honor and preferment. The honors which came to him came unsought as the rewards of long and faithful service which was none the less important because rendered. in the less conspicuous posts.
Brother Gilman's religious affiliations were with the Universalist Church and he was for a long time Secretary-Treasurer of the Men's Club of the First Universalist Church in Haverhill. Eminently social by nature, he was a member of the Pentucket Club, of Haverhill, the Boston City Club, the Rotary Club, and the New England Historical Genealogical Society. He was at the time of his death a Director of the Essex National Bank. At an earlier period he was a Director in the Merchants National Bank of Haverhill until its merger with the Haverhill National Bank. He was a member of the Haverhill Water Board at the time of his death, also one of the Commissioners of Essex County.
Brother Gilman occupied. a unique place in the community life of Haverhill. 'While he took an active part in giving attention to certain details of administration of the several Masonic bodies, these activities by no means determined the full measure of his services. Everybody knew him, and knew him to be kindly, sympathetic, and ever ready to lend a hand, with the result that he became a sort of Father Confessor, into whose attentive ear were poured troubles of many kinds, to which he responded with sane counsel, helpful service, or material assistance.
An intimate associate of many years spoke of him as "giving up everything, at any time, night or day, rain or shine, to attend any matters Masonic needing attention, not only for the benefit of the local bodies, but for the State, or in general." All this was done without ostentation, with never a thought of the approbation or commendations of his associates.
His passing leaves a void which we can best compensate by drawing closer the circle of our friendships, making them more real and kindly.
Again a parting sail we see;
Another boat has left the shore;
A kinder soul on board has she
Than ever left the land before.
And as her outward course she bends,
Sit closer, friends.
Fraternally submitted,
Leon M. Abbott,
Horace A. Carter.
Edmund C. Wentworth,
Committee.
FROM NEW ENGLAND CRAFTSMAN, 1922
From New England Craftsman, Vol. XVII, No. 3, December 1921, Page 89:
Funeral services for Benjamin Butler Gilman, county commissioner, retired leather merchant, 33d degree Mason and past grand warden of the Grand Lodge of Massachusetts were held Dec. 8 from his home at 513 Salem street, Bradford, Haverhill. Rev. Dr. Frederick W. Hamilton of Boston, secretary of the Grand Lodge and formerly its chaplain, conducted Masonic services. Members of the board of county commissioners and many other public officials attended.
---