MAGLADame
From MasonicGenealogy
ABRAHAM A. DAME 1792-1878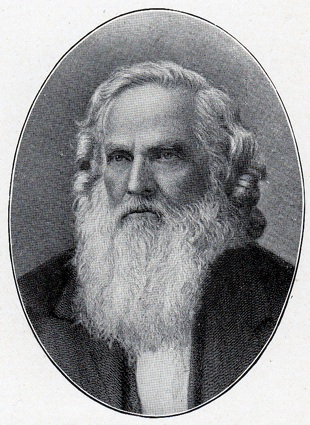 Junior Grand Warden, 1829;
Senior Grand Warden, 1830-1832;
Deputy Grand Master, 1833-1834
NOTES
COMMEMORATION, JUNE 1878
From Liberal Freemason, Vol. II, No. 4, July 1878, Page 126:
The last communication of this Lodge, prior to the usual summer vacation, was held in the Masonic Temple in Boston on June 17th, after the necessary business was transacted, W. Brother S. W. Creech, Jr., called attention to the fact thai that evening was the Sixtieth Anniversary of the connection of the venerable and esteemed Wor. Brother Abraham Annis Dame with the lodge, and in noticing it, a committee was appointed, who hail caused to be prepared a choice basket of flowers, to which a suitable inscription was attached, and the whole was dispatched to Brother Dame at his residence, with a special messenger, who was also charged to convey to him the kind regards of the Lodge, with their regrets at his inability to be present, because of his physical infirmity. On the return of the messenger, the Lodge was at refreshment in the banquet hall, where he announced to the brethren the extreme satisfaction with which Brother Dame received the token of the fraternal remembrance sent to him by the Lodge. Brother Dame became a member in 1818, and Brother Wm. Palfrey in 1819, and these two are the only members living, who were admitted prior to 1850. The health of these two is now infirm by reason of age, but their interest Masonry is as active as ever, and though the years of their lives even more than four score years, yet among their greatest pleasures is the happy reflection consequent on their being made Masons.
MEMORIAL
FROM PROCEEDINGS, 1878
From Proceedings, Page 1878-167:
The busy hand of death has removed another of our prominent members and wise councillors. R.W. Brother Abraham Annis Dame was born at Orford, N.H., August 27, 1792, and died November 14, 1878, aged eighty-six years, two months, and eighteen days. At the time of his death he was senior member of this Grand Lodge.
He came to Boston in 1814, was admitted to the bar in Middlesex County in 1816, also in Suffolk County Dec. 23, 1818, and continued in practice over sixty years. He was thrice married, at his death leaving a widow and one daughter to mourn his loss.
Brother Dame received his Masonic Degrees in The Massachusetts Lodge, in Boston ; was initiated, March 27; crafted, April 8; raised, April 24, 1818; was made a member, June 29, 1818, continuing his membership to the time of his death, — sixty years, four months, and fifteen days. He was elected Senior Deacon, Dec. 1, 1820; Junior Warden, Dec. 7, 1821; Senior Warden, Dec. 6, 1822; Worshipful Master, Dec. 5, 1823; was installed 26th of same month, served two years, declining a renomination at that time; but was again Master in 1844 and 1845; was elected trustee of the Charity Fund in 1834, and held that office over forty years. In Grand Lodge he was elected R.W. Junior Grand Warden, in 1828; Senior Grand Warden, in 1829-31; Deputy Grand Master, in 1832-33; and was a permanent member thereof.
He was exalted to the Degree of Royal Arch Mason, in St. Paul's Chapter, Boston, Feb. 17, 1819, and was admitted to membership in Feb., 1819. He served the Chapter as Scribe, in 1820; again in 1840, and again in 1853; as King, in 1821, and again in 1841; was High Priest, in 1822-23, and also in 1842-43, and became an Honorary Member of that Body. In Grand Chapter he became Grand R.A. Captain, June 24, 1823; was elected Grand Treasurer, Sept. 9, the same year; which office he continued to hold until Sept., 1844; was elected Grand Scribe in 1855, and became a permanent member. He received the Degrees, and was admitted to membership in Boston Council of R. and S. Masters, July 27, 1819; and to Honorary Membership, March 15, 1855; was elected Right Ill. Master, Nov. 13, 1821, serving three years; was Corresponding Secretary in 1824; and elected Most Ill. Master, Jan. 25, 1825, serving four years. Brother Dame was elected Most Ill. Grand Master of the Grand Council of R. and S. Masters in 1826, and served with ability during the so called Anti-Masonic period. He was created a Knight Templar in Boston Commandery, Feb. 13, 1822; admitted to membership, March 12, same year; served as Junior Warden, and was elected E. Commander, October, 1827, and presided three years; was elected Honorary Member, Sept. 19, 1855. He served the Grand Encampment of Massachusetts and R.I. as Grand Captain General, one year; Deputy Grand Master, two years; and Grand Master in 1835-36. In the Ancient and Accepted Scottish Rite he received all of the degrees, and held many positions of responsibility and trust, and was an Honorary Member of Massachusetts Consistory. On the 6th of January, 1863, he was made an Illustrious Inspector General 33°, of the Ancient and Accepted Scottish Rite; thereby becoming an Honorary Member of the Supreme Council of the 33rd and last degree.
Brother A. A. Dame was a zealous Mason; was one of the most reliable ritualists of his day. He delivered an address to his Lodge in 1819 and in 1829; he twice delivered a dissertation on The principles of Masonry and its moral virtues. He was firm, outspoken, and fearless; was one of the signers of the famous Masonic Declaration which was issued during the so-called Anti-Masonic excitement, and manfully defended our principles. He was much respected by his compeers, loved by his family, and regarded by his intimate friends with affection and veneration.
He was buried with knightly honors, Boston Commandery conducting the ceremony. He was interred at Mount Auburn, where he quietly rests. Peace to his ashes. Amen.
Whereas, It pleased the Great Mover of all life to take from us, by death, one of our prominent members and highly esteemed friends, R.W. Brother Abraham Annis Dame; therefore
Resolved, That in this event, so full of sadness, we recognize the power of that Great Law which doeth all things well, and bow submissively to His will.
Resolved, That in the life and character of our departed Brother we realize and appreciate more highly those noble traits of character which secured to him the friendship and respect of those most intimately associated with him.
Resolved, That the Masonic Institution, in whose welfare and prosperity he always maintained a great interest, has lost a valued co-laborer, nvise counsellor, and devoted friend.
Resolved, That we tender to the family of our deceased Brother, our deep condolence and warmest sympathy in this their hour of bereavement and great affliction.
Resolved, That, as an appropriate token of our appreciation of his life and usefulness, these resolutions be entered on the records of this Grand Lodge, and a copy forwarded to the family of the deceased.
WILLIAM PARKMAN,
WM. D. COOLIDGE,
WYZEMAN MARSHALL,
SAMUEL W. CREECH, JR.,
Committee.
FROM LIBERAL FREEMASON, 1878
From Liberal Freemason, Vol. II, No. 9, December 1878, Page 271:
Born in Orford, New Hampshire, on the 27th day of August, 1792, Abraham Annis Dame grew into a well proportioned manhood, of conspicuous and impressive figure, fully six feet in height, whose head was covered by a wealth of hair, which in his extreme age became to him "a crown of glory," whose thickness was as exceptional, as was its silky fineness, and the purity of its clear and snowy color.
Of respectable parentage and good natural abilities, he acquired a liberal education, and early inclined to the profession of the law. After a year's reading in his native State, he removed to Boston, Mass. in Feb. 1S14, where he read two years with Timothy Bigelow, afterwards (band Master of Masons in Massachusetts, and from whose office he was admitted to the bar in Concord, Mass. in March. 1816. It was Mr. Bigelow's choice that nil his students should be admitted in Middlesex County, because of some real or fancied slight put upon him by certain leaders at the Suffolk Bar, and this he adhered to in the case of Mr. Dame, of whom he entertained a high opinion, and whom he frequently took occasion to advise and befriend.
Following the admission of his Student with his favor, Mr. Bigelow at once recommended him as a proper person to be qualified as a Justice of the Peace, and in May 1816 Abraham A. Dame, Esq., was enrolled as one of the Justices of the Vommonwealth, and the functions belonging thereto he exercised through life.
It may here be noted that a Son of Timothy Bigelow, the Hon. John Bigelow, afterwards Mayor of the City of Boston, read law in the office of his father's pupil.
It is possible that his associations with Mr. Bigelow inclined him ■o think favorably of Freemasonry — certain it is that he early applied for the degrees and received them in Massachusetts Lodge in Boston, on the evenings of March 27th, April 8th and 24th, 1818 respcctively; and from this time forward he was distinguished among the Craft. On the 3d day of Dec. 1823, he was elected Worshipful Master of the Lodge, and re-elected to the office, Dec. 4th, 1824.—and was always remarkable for his accuracy in the ritual, it being known as the Old York, or York Ritual, and quite different in its construction from the later or present one. Adhering to the Lodge, and always jealous of its interests, he experienced the fury of anti-masonry, felt its spite, but turning away from its wrath, he again stepped into line and served the Lodge For a second term of two years, as Master commencing with Dec. 3d, 1843. In this Lodge, too, he maybe regarded as one of the founders of its Charity Fund, and was for many years a Trustee. His last public appearance in the Lodge for official purpose was on May 12th, 1870, when he read the Charter at its Centennial Celebration.
In the M. W. Grand Lodge, he was Junior Grand Warden in 1828, Senior Grand Warden in 1829-31, and Deputy Grand Master in 1832-33.
He was exalted to the Sublime Degree of Royal Arch Mason in St. Paul's Chapter in Boston Feb. 17th 1819, two months after that body was organized, served il as Scribe in 1820, again in 1840, and again in 1853. In 1821 and again in 1841 he was King, and was High Priest in 1822-23, and also in 1842-43. He became an Honorary Member by operation of the By-Laws, a reward bestowed for twenty-five years continuous membership. At the time of his death he was the oldest living member of the Chapter.
He first appeared in the list of officers in the Grand Chapter, as Grand R. A. Captain June 24th, 1823. and was elected Grand Treasurer, Sept. 9th of that year; which office he continued to hold until Sept. 1844, and was elected subsequently to permanent membership.
lie was admitted to Boston Council, of R. and S. Masters, July 27th 1819, and to Honorary Membership, March 15th 1855, and was, by seven years, its oldest living member. He also presided over it from 1825 to 1829.
He was chosen Chairman of the Second Meeting or Convention. held in boston, June 15th, 1826, which adopted a Constitution, and organized the Grand Council of R. and S. Masters — he was also elected Most Illustrious Grand Master, served with ability, and notably so in the Antimasonic period — when he, as well as the head of other Masonic Grand Bodies were catechised without effect, by that party.
The Orders of Knighthood in Templar Masonry were conferred upon him in Boston Encampment, he being created and dubbed a Knight Templar February 13th, 1822, served as Junior Warden under Henry Fowle and was elected Eminent Commander, 1827-30. He was elected an Honorary Member of that Body in Sept. 1855.
In the Grand Encampment of Massachusetts and Rhode Island he was Grand Captain General one year, Deputy Grand Master two years. and M. E. Grand Master in 1835-36.
His interest in Masonry seemed to be as broad as the institution itself. It appears that on February 16th, 1825, the Southern Supreme Council granted a Charter to Abraham A. Dame and eight others, all of Boston, to form a "Grand Council of Princes of Jerusalem", and for the Consistory of S. P. R. S. at Boston" (the jurisdiction of the Northern and Southern Councils does not appear to have been defined until March 1828,) and from that organization sprang Boston Grand Lodge of Perfection.
The name of Abraham A, Dame was on the original Charter granted by the Grand Council referred to, and dated January 21st, 1842 ; this charter was signed by him as Most Equitable Grand Sovcrcign Rose + K. H. Sovereign Prince of the Royal Secret, and and duly attested.

After the Lodge became dormant in 1856, Ill. Bro. Dame was Bfcot associated actively with it, but after the union of the two Councils in the Northern jurisdiction in 1869, he renewed his oath of fealty to the Supreme Council as reported in proceedings of that year, and in 1870 was gazetted in the Balustre of Honorary 33°. 
Under date of June 2, 1830, certain resolutions adopted by the Anti-Masonic Convention held in Fanueil Hall in January of that year, were enclosed to Joseph Jenkins, Samuel Clark, Abraham A. Dame and John J. Loring, then presiding over the Grand Lodge, Grand Chapter, Grand Council and Grand Encampment, respectively, making certain charges, and asking, among other things, that they disfellowship the Grand Lodge, the Grand Chapter, and the Grand Kncampment of New York — "because of the alleged truth of those charges," and it was reported by the Assistant Secretary of the Anti-Masonic State Committee, "but from neither of these has any answer been received." It may be that the answer suggested to the minds of these brethren was embraced in a statement made to Brother Dame some years after by an honorary member of that Convention, and one who was conspicuous in Massachusetts, as well as in Rhode Island for his Anti-Masonic conduct.
On the Saturday preceding his death, Brother Dame told the maker of this sketch that Benjamin F. Hallett desired to be made a Mason, and said that he "was satisfied of his folly," and asked if he could get the Degrees. As might be expected, the answer given was "No." and that settled it.
Brother Dame was a life-long resident of the "West End," Boston; he resided for a time on Allen St., but on May 5, 1824, he purchased a commodious house on Poplar St., in which he ever after remained except, for a period of three years, when he had a son (since deceased1) in Harvard College, and during that time be lived in Cambridge though by his wife's request, he maintained his house in Boston, in the care of a housekeeper.
During all this period of over sixty years, he was actively engaged in the practice of the law, was familiar with its details, and cognizant of the decisions of courts, which he readily distinguished from the dictums of judges. He had varying financial success, but acquired sufficient to relieve him from any pecuniary need in his declining years.
His business interests were frequently subordinated to those of Masonry, in which, for over sixty years, he made friends, exhibited fidelity, adhered to principle, and though he outlived his generation, dying on Nov. 14, 1878, yet that which succeeds him has respected and honored him, as was sufficiently attested at the ceremonies attending his funeral, and by the many Masonic and other friends who followed his remains to their rest in Mount Auburn.
---