MAGLJLoring
From MasonicGenealogy
JOHN J. LORING 1789-1856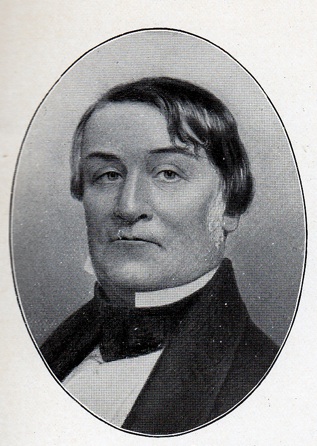 MM 1811, WM 1818, Lodge of St. Andrew
Corresponding Grand Secretary, 1825-1827
Grand Treasurer, 1828-1848
Senior Grand Warden, 1849
MEMORIAL
From Proceedings, Page VI-87, 12/30/1856
"Whereas, during the past Autumn, our beloved Bro. J. J. Loring, Past Senior Gd. Warden of the M. W. Gd Lodge of Massachusetts has passed from among us to the Celestial Lodge above where the Supreme Architect of the Universe presides: passing from an extended career of usefulness & honor, and an entire manhood devoted to the sincere profession and punctilious performance of Masonic duty, and leaving behind him as a legacy to his brethren a memory alike amiable distinguished, and exemplary:—
"Therefore, Resolved —That this Gd Lodge receive with deep sorrow the announcement of the death of our R. W. Bro Loring, and mourns the loss of that companionship which for so many years shed the light of brotherly love and social enjoyment upon our fraternal circle and by precept and example, through good report and through evil report, firmly upheld the reputation of Institution.
"Resolved. That in the various responsible offices which for a period of twenty-five years he filled in this Gd. Lodge: in his Masonic relations with his brethren and in his public walk and conversation with the world, he won the love and confidence, the respect and approbation of all, approved himself a zealous, faithful and valuable member of the Order, and evinced that his susceptible and noble nature found a genial and happy home within the precincts of the Lodge.
"Resolved. That it was fitting that the G. Lodge, should honor him by confidence and preferment who ever honored Masonry by his word and deed; and as his memory is now one of the bright jewels in the casket of our past history, so will we ever cherish his name with love and honor.
"Resolved. That a copy of these Resolutions be presented to the bereaved family of the departed, in token of our heart felt sympathy with them in this their time of deep affliction."
From Moore's Freemason's Monthly, Vol. XVI, No. 1, October 1856, Page 7.
John James Loring was born in Boston on the 23d of September, 1789, and died at Kingston, Mass. on the 6th of October, 1856, aged 67 years. He received his education in the common Schools of his native city, and at an early age was apprenticed to the mercantile profession. On attaining to his majority, he commenced business as a merchant ; but not meeting with success, he accepted an appointment as clerk in the United States Loan Office, which place he continued to fill, with marked ability, until the office was abolished ; when he was transferred to the Pension Office. On the removal of the business of this office to Washington, he was appointed Cashier of the South Bank, in Boston; which appointment he held until the Bank was broken up. He was then appointed Cashier of the North Bank. Here he continued until the year 1850, when, on account of ill-health, he resigned and went to Europe. After his return he did not engage in any active pursuits, but lived in comparative retirement. In his business relations he was eminently skillful, scrupulously honest, and rigidly exact. As a Bank officer, he enjoyed the highest respect and confidence of the business community, and the love of his associates.
But it is more particularly of his character and relations as a Mason, that we design here to speak. He was initiated in St. Andrew's Lodge, Boston, March, 1811, and in June following was made a Master Mason. In November of the same year, he was admitted a member, and immediately after elected Secretary of the Lodge ; which office he held until November, 1815, when he was elected Senior Warden. In November, 1817, be was elected Master — served one year, and declined a re-election. In 1820, he was made Treasurer of the Lodge; in which office he continued for thirty consecutive years, discharging its responsible duties with great punctuality and faithfulness. It was our happiness to have been associated with him as a member and officer of the Lodge, during nearly the whole of this long period, and we have no recollection that a negative vote was ever cast against him when a candidate for re-election. Such was the confidence his Brethren reposed in his integrity, and such their love for him as a kind Brother and faithful officer.
In Dec. 1824, our Brother was appointed by the M. W. John Abbot, Corresponding Secretary of the Grand Lodge of the Commonwealth; which office he held until Dec. 1827, when he was elected to the more responsible place of Grand Treasurer. In this capacity he continued to serve the Grand Lodge until Dec. 1848 — a period of twenty-one years — when, to the regret of his Brethren, he resigned. He was then by a unanimous vote, elected Senior Grand Warden. This office he held but one year, though strongly urged by his Brethren to accept a reappointment, or to allow them to place him in the Chair of the Grand Lodge. Fie declined both,—partly on account of ill-health, and partly from a timid distrust of his ability to discharge the important duties of the office to his own satisfaction, or to the advantage of the Institution. We say timid distrust, for his long experience and thorough acquaintance with the business of the Grand Lodge, and his genera! attainments as a Mason, eminently fitted him for the place.
During the long period our Brother was holding the office of Grand Treasurer, he was also Treasurer of the Board of Trustees of the Grand Charity Fund, — a permanent Charity, in the careful preservation and prosperity of which he always manifested a deep solicitude ; and it. was a source of high satisfaction to him in the decline of life, that he had been permitted to witness the realization of his fondest hopes in its increase and secure establishment. He was also one of the original Trustees of the Masonic Temple, of which Board he continued a member until his death.
He was initiated into Royal Arch Masonry in St. Andrew's Chapter, Boston, in the year lSl2,and was soon after admitted to membership. Having filled many of the subordinate offices in the Chapter, he was elected High Priest in 1826, and held the office one year, and in 1827 he was elected Treasurer, which office he held for twenty years. In 1814 he was elected Grand Secretary of the Grand Chapter of the Stale, and continued in that office until 1824. In 1824 and 1825 he held the office of Grand Scribe, but declined to allow his name to be used for any higher place.
In 1815. he was admitted to the Orders of Knighthood, in the Boston Encampment; a body to which he was ever warmly attached, and in which, surrounded by early and dear friends, he spent many of the most happy years of his Masonic life. He was nine years its Recorder, and presided as its Grand Commander in the years 5826—7. In 1848, he united with several of his Companions, in forming the De Molay Encampment in Boston, of which he was elected the first Generalissimo. In 1816, he was the Recorder of the General Grand Encampment of the United States, and subsequently filled the office of Gen. G. Capt. General.
He was also a Member of the Boston Council of Royal and Select Masters, and of the Boston Grand Lodge of Perfection.
In fine, wherever there were active Masonic duties to be performed, there has our Brother left the evidences of his presence and his labors. With characteristic punctuality, he was always among the first at our meetings, the readiest to work, and the last to leave. In the "dark day" of Masonry he was one among the truest, the most steadfast, and reliable.
His services, his counsel, and his means were ever at the command of his Brethren, when needed for the protection or the support of the Institution. He was a Brother in whom there was no guile. With a heart overflowing with human kindness, his hand was ever ready for the relief of human suffering. No poor Brother ever turned from, him with a sad countenance or a heavy heart.
But he is gone! The places which once knew him shall know him no more forever! Alas! what is human life but a vapor, that soon dissolves in air! — "a transitory ray upon the bosom of a summer's cloud — fleeting as the meteor of evening, evanescent as the dew of the morning!" What, in the retrospect, are "three score years and ten!" Are they not as yesterday, and as a watch of the night? Time is on the wing. Our years come and go in quick succession. Each has its fixed limits — each is distinguished by its peculiar events. Man fulfills the mission of his appointed day, and then is gone forever. Friend after friend departs — link after link in the chain of our Brotherhood is dissolved — may we not hope, only to be hereafter renewed "in undecaying strength and immortal beauty?" Our Brother is gone! We who have been permitted to survive him, reverently and submissively bow to that decree of Almighty God which has released him from the pains of his enfeebled body, and called him, as we trust, to the rewards of the faithful. He has pierced the veil which separates us from the Spirit World, has passed beyond the boundary of mortal things, and entered upon that state of being, which, to us, is "the unsolved mystery of death!"
His body was brought to the city on the morning of the 5th of October, and immediately taken to the church of the Messiah. At three o'clock in the. afternoon, the beautiful and impressive funeral service of the Episcopal church was read, (in the absence of the Rector, the Rev. Dr. Randall by the Rev. Dr. Wells, assisted by the Rev. Dr. [Eaton, and Rev. Messrs. Lambert and Burrill, — all of the Episcopal Church, and active members of the Masonic Fraternity. A large assembly of the Brethren were present, wearing an appropriate Badge, but without other regalia. Among the bodies represented, were the Grand Lodge, St. Andrew's Lodge, St. Andrew's R. A. Chapter, and the De Molay Encampment, of all of which the deceased was a member. After the services at the church, which were eminently solemn and impressive, the body was conveyed to the Granary Burial Ground in Tremont Street. On arriving at the grave, and before the remains were deposited, portions of the Masonic burial service were read by the Rev. Brothers Wells and Lambert. The body was then consigned to its final resting place, — the sprig of acacia was deposited, — and the "mourners went about the streets." "As the waters fail from the sea, and the flood decayeth and dryeth up, so man lieth down, and riseth not up till the heavens shall be no more!"
GRAND MASTER LEWIS' ADDRESS
In the evening, the Grand Encampment of the State being in session for the transaction of its annual business, Dr. Lewis, the M, W. Grand Master of the Grand Lodge, at the conclusion of an exemplification of the solemn rites of the Templar's degree, rose and addressed the Sir Knights present in the following touchingly beautiful and eloquent terms :—
This day we have been with the dead, and committed one of our numbers to the silent tomb.

Let us pause after our solemn ceremonies, symbolical of death and its contingencies, to dwell on the stern and awful reality which has been recently brought before us. The lessons here taught, the doctrines here enforced, whether of life, death or immortality, are now for our friend, no longer to be taught or enforced, for probation's hour has passed with him. He has gone, and the realities of another and, we humbly trust, a belter world, are now to him unfolded and enjoyed. John J. Loring is gone — forever! How many the hearts that will be lacerated ! how many those who will feel that a golden link in friendship's chain is broken — can be told but by the enumeration of all who have known him; who have known his warm social heart, his friendship, his honesty, his truth, — those only who can recur to the olden time, to those whiter hours of life, when life was younger. Especially to the older members of the Boston Encampment, will visions of the happy bygones rise up — alas ! never more to greet them again! — to them

Of joys departed never to return,
How mournful the remembrance!


But to life's pilgrimage there must be an end, — sooner or later it must be accomplished, — and may we all, when as poor weary travelers we seek our last asylum, from our Great Commander receive the remission which shall ensure us rest everlasting, — rest from this world's weary travel, — rest from its continued warfare, and rest from that penance exacted of all our fallen race.

Whether in the Grand Encampment of Massachusetts and Rhode Island; or where the Sir Knights of the Boston and De Molay Encampments are met together, it is appropriate to speak of our buried friend and fellow soldier. Oi these institutions he had been a member, and to them his memory peculiarly belongs.

He received the Degrees in ihe Boston Encampment May 24, 1815 — 41 years since, — was nine years Recorder — Grand Commander in 1826-7, and Grand Master of the Grand Encampment; and always a regular and constant attendant at the meetings. When our now flourishing sister Encampment was organized, he took a deep interest in its success, though only for a brief period was he able to lend it his influence or attendance. But in the hey-day of life, when social enjoyments were most relished, and friends most prized, he found them in the Encampment, — in that Institution whose boast will ever be that in the dark hour there was kept alive Freemasonry. For this the Boston Encampment will ever stand preeminent and conspicuous, primus inter primos.

John J. Loring wag a man of many excellencies. He loved his friend with devotion, and never deserted him. He was kind and generous, — of a warm heart, endowed richly with the keenest susceptibilities for the highest friendships. Every act of his Masonic life was predicated on the loftiest principle. He and mealiness were antipodes. They never shook hands or ever met together. In pecuniary transactions, in his commercial dealings, he was almost morbidly just, nervously accurate, and painfully exact. His mind was peculiarly constituted; for with his love and strong interest in social actions, he was always anticipating evil—took a dark view ol both present and future — in his sunshine, would talk of darkness, would turn rather to the gloom of night than to the brilliancy of day; and when all was well, would forbode a change. When alone and isolated, this harrowed his joys, and circumscribed his happiness. But with us, he could rapidly shake off this incubus, and pass to the transition of enjoyment. Masonry was the Institution for him, and he for the Institution. It filled up what otherwise for him would have been a long dreary blank. It was the resort of fraternal love and peace and joy, where possessing and possessed, kindest friends and dearest Brothers, mingled into bliss. Outside of his family circle, all else of attachment was confined to his Masonic Brethren. With them, he almost lived, moved and had his being ; and they all in return, gave him their hearts to their very center. He was loved by all, and by all was greeted with affection. Still he was not a man of words, or of ardent professions. His soul was in his face, in his manners, in his grasp. It radiated good will and attachment, which bound him, while living, to his Brothers; and now dead, will sacredly embalm his memory. 1 dare not trust myself to speak of my personal loss, Hand in hand we have been together for more than a third of my life, and he whitened that period of my existence ; but thank God, his departure has not left my heart desolate. There are still a few of my older Brothers spared, and I trust many of the younger, on whom I can recline with confidence, with whom to share the burdens of a downward career.

He is forever lost to our sight; but such a one cannot be to our memories. To his body an eternal farewell ! but from his spirit we cannot part. His memory is not traced on a cold surface.


"For we've a page more glowing and more bright,

On which our friendship, and our love to write,—
That these may never from the soul depart,
We trust them to the memory of the heart.

There is no dimming — no effacement here;
Each new pulsation keeps the record clear;
Warm golden letters all the tablet fill,
Nor lose their lustre till our hearts are still."
The M. W. Brother concluded his remarks by offering the following Resolutions :—
Resolved, That with no ordinary emotion we are forever parted by death, which alone could divide us, from our dearly beloved Br. Sir Knight John J. Loring.
Resolved, That by this bereavement, the Order have lost one of their oldest, most devoted, and best members, — one, whom they ever honored and cherished for his goodness of heart, social excellence, and strict conscientiousness; and any, of whom they will even retain the memory, so long as a just and upright Mason shall be respected.
Resolved, That with his family we deeply sympathize, and with them mingle our sorrows — but rejoicing as those not without hope, that being released from this life's sufferings, he has but passed on to a more happy existence beyond the grave.
The resolutions were adopted and ordered to be spread upon the record, and a copy forwarded to the family of the deceased.
X1
X2
---