IndianOrchardShawmont
From MasonicGenealogy
INDIAN ORCHARD - SHAWMONT LODGE
Location: Springfield
Chartered By: J. Philip Berquist
Charter Date: 09/09/1982 1982-117
Precedence Date: 05/20/1911
Current Status: in Grand Lodge Vault; merged with Roswell Lee-Samuel Osgood Lodge to form Roswell Lee-Indian Orchard Lodge on 03/24/1997.
---
PAST MASTERS
Frank G. Carzello, 1982
William P. Faudree, 1983
Andrew A. Johnson, 1984
Leroy H. Chant, 1985
James M. Marceau, 1986, 1989
Roland A. Pardee, 1987, 1990, 1991
James T. Harrelson, 1988
Jared T. Hastings, 1992
James P. Wright, 1993, 1994, 1997
Jeffery M. Lowe, 1995, 1996; PDDGM
---
REFERENCES IN GRAND LODGE PROCEEDINGS
ANNIVERSARIES
VISITS BY GRAND MASTER
BY-LAW CHANGES
HISTORY
1986 (75th Anniversary History (Indian Orchard), 1986-50)
75TH ANNIVERSARY HISTORY, MAY 1986
FOREWORD
To comprehend the history of Masonry in Indian Orchard, one must almost become a believer in miracles, for the progress of the institution in this town has been little short of miraculous.
THE MASONIC CLUB
Seventy-one years ago, there was no definite Masonic organization in Indian Orchard. Masonry has always appealed to the men of this community, as it has to men everywhere, and during the years preceding the formation of a Lodge here, various lodges in Springfield and Ludlow drew membership from Indian Orchard. It was 10 be expected that this relatively large number of Masons would, sooner or later, make their presence in the place definitely known. How well they have succeeded must be judged by their accomplishments thus far.
Early in the fall of 1910, there was manifested in the town a strong desire for a club of some kind for the Masonic element of the village. This feeling grew until finally, on the evening of December 19, 1910. twelve Masons met and the Masonic-club was organized. Worshipful Brother George W. Miller was chairman and Worshipful Brother Valentine B. Morse was secretary for the meeting. The club chose as its first officers the following Masons:
President: Bro. Lawrence J. Walsh
Vice President: Bro. Dr. A. W. Slate
Secretary: Wor. Valentine B. Morse
Treasurer: Bro. Herman Gelb
The charter of the Club was left open for a few weeks, and when it was finally closed, 33 members had been included. Club rooms were leased in a building owned by the Chapman Valve Manufacturing Co., known as Red Men's Hall, and these were equipped with suitable furniture for a club.
President Walsh had served but two months of his term when he accepted a position in Wallingford. Connecticut, and was obliged to resign his office. He was succeeded by Worshipful Henry S. Keyes. one of the outstanding figures in the early years of Indian Orchard Lodge. A forceful, energetic leader, his personality was soon reflected in the affairs of the new Club, and it enjoyed a healthy growth. Many things were accomplished under his administration which expired nearly two years later on December 1. 1912. It was during the early years of his term that the furniture mortgage of the Club was burned.
It was only natural that with Masons brought into closer contact through the Club, that a desire for a Lodge should have become manifest. It was during the first two weeks of Worshipful Brother Keyes' presidency that this matter came before the Club for action. Worshipful Brother Merrill E. Streeter. Worshipful Brother Henry S. Keyes and Brother James MacGowan were appointed on February 24. 1911, to begin the formation of a Lodge.
Worshipful Brother Keyes relinquished the presidency of the Club on December 1, 1912. as he was commencing his year as Master of (he Lodge. He was succeeded at the Club by Brother George H. Gibb. President Gibb also had a successful year.
At the first annual meeting on December 1, 1913, Brother William A. Johnson was elected Club president. Brother Johnson took hold of the Club at a critical time of its existence. The members had somehow lost interest in it and the remote quarters appealed to them less as lime went on. Brother Johnson's personal popularity, combined with hard work and close attention to the myriad details and requirements of his office, and the loyalty of (he officers by whom he was assisted did, however, overcome all obstacles.
THE FORMATION OF THE LODGE
The matter of forming a Lodge here was thus undertaken while Worshipful Brother Keyes was president of the Club, and required a number of preliminary meetings at which Brother Merrill F. Streeter was a leading figure. To Brother Streeter must go the credit of originally conceiving the idea of a lodge in Indian Orchard, and his efforts were noteworthy during the preliminary work.
As a result of the various preliminary meetings. Worshipful Brother George W, Miller, Worshipful Brother Henry S. Keyes. Worshipful Brother Charles Bromage, Brother Ralph W. Wright. Brother Henry C. Spense, Brother George H. Gibbs, Brother William L. Wadleigh, Brother Merrill E. Streeter, and Brother Frank O. Lovejoy petitioned the Grand Lodge for a dispensation.
This was granted May 20. 1911. On May 23, 1912. the Grand Lodge constituted Indian Orchard Lodge. The event occurred in Red Men's Hall where the Lodge had its quarters and in the presence of 300 Masons. Indian Orchard Lodge received its charter from the hands of Most Worshipful Everett C. Benton who. at the time, was Grand Master of Masons in Massachusetts.
Worshipful Brother George W. Miller, who was a Past Master of Brigham Lodge of Ludlow, was the first Master of the new Lodge. He served while the Lodge was under dispensation, and also in the first year under its charter.
NOTEWORTHY GIFTS
During its existence, the Lodge has received many gifts from various members. Among those of particular interest:
A fine framed picture of our first Worshipful Master, Worshipful Brother George W. Miller. It will always be cherished In the members of the Lodge and it is sure to occupy a place of honor in our Lodge room;
The Holy Bible which we use in our work. The Bible was presented by Brother Frank O. Lovejoy. who was the first Junior Warden of the Lodge. The gift was the family Bible of the Lovejoys and has been the property of Masons for many years.
The Letter "G", presented in October, 1911, by Brother William H. Mason.
The Altar and Cushions, donated in June, 1917, by Brother F. A. Bragg.
The Square and Compasses, given in March, 1919, by Brother Frederick A. Miller:
On May 23, 1912, Most Worshipful Everett C. Benton, Grand Master, presented Worshipful Brother George W. Miller with a gavel in lieu of a second Past Master's diploma. He, in turn, presented it to the Lodge in 1918. The gavel is a relic worthy of preservation. Not only from the history it has made in Indian Orchard Lodge, but the fact that the material of which it is composed came from the Cedars brought down from the forests of Lebanon. The Cedars from which this gavel was made were cut by Masons, in Beirut, the nearest city to Mt. Lebanon, conveyed by them to a ship sailing for America, and handled through every stage up to the presentation by Masons, without charge for services, transportation or customs duty;
On November 1, 1929, a "Mosaic Club Night" was held. The club presented a State and a National Flag, and
On June 12, 1961, a new American Flag was presented by Brother Joseph H. Rothenberg.
OUR PRESENT TEMPLE
On March 6, 1914, the "Indian Orchard Masonic Building Association" was formed for the purpose of raising funds to purchase a suitable building for Lodge and Club purposes. This was duly accomplished with many Lodge members purchasing stock ownership in the building.
On June 26, 1914. the Harris homestead, our present Temple, was purchased and plans formulated for reconstruction of the building. Worshipful Brother E. Raymond Harris was the son of the elder Mr. Harris.
On October 24, 1914. the 103rd Special Communication was held for the purpose of dedicating the Temple. The ceremony was performed by Most Worshipful Mclvin M. Johnson, Grand Master of Masons in Massachusetts and his suite.
The first Special Communication in the newly dedicated Temple was held on October 26, 1914. the work of the evening being the initiation of an Entered Apprentice. The first Regular Communication, November 2. 1914, was the 41st and annual, at which time Worshipful Brother Arthur L. Lanekton was elected Master. Indian Orchard Lodge nourished and enjoyed phenomenal growth. The membership expanded rapidly and the social functions of the Lodge added to the prestige of the organization and the enhancement of the community.
Our First District Deputy after 20 years of existence as a successful institution, the Most Worshipful Grand Lodge discovered in our membership one who was qualified to wear the Royal Purple, and thus the first District Deputy, from the membership of Indian Orchard Lodge. Rt. Worshipful Brother Gilbert N. Leete was chosen. Since that time, our Lodge has been so honored three additional times by having Right Worshipful Brothers Harold S. Streeter, James Matthew and Frederick H. Greensmith, Jr. chosen to wear the Royal Purple. Our Lodge is indebted to these men. not only for the honor they have brought to Indian Orchard Lodge, but for their dedication in behalf of our Lodge and Masonry.
THE GROWTH AND HISTORY OF OUR LODGE
The growth of Indian Orchard Lodge from those early days to the present is u noteworthy one. It is to he found in the routine working and attendance within the Lodge. It is a living history reflected in the hearts and lives of the hundreds of men who have passed through the West Gale since 1911. The banner years of 1920 through 1925 swelled our membership to over 500. The year of 1922 saw 59 new members admitted to our Lodge. Indian Orchard's growth and decline, its ups and downs, are no different than any other Lodge, in (hat times of stress, danger, and hardship draw membership whereas prosperous limes seem to indicate a lack of interest and fewer members seeking admission.
Tragedy struck Indian Orchard Lodge in 1924. when a fire of undetermined origin destroyed much of the east end of the interior, necessitating remodeling of the structure, Many needed improvements were made to update the plumbing and healing systems and improve the Lodge room.
In the fall of 1928. our membership was solicited and supported the then "new Masonic Hospital. Juniper Hall" The "response from the Brethren was not as great as anticipated." During the year of 1974. our Lodge participated actively and fully in the Masonic Home Expansion Program for building two new wings at the home and reached 200% of the goal set by our Grand Lodge.
On Saturday, June 21. 1930. our Lodge visited the Masonic Home ai Charlton. A Minstrel Show was put on by the boys of the Mosaic and Young Men's Club, lunch was served, and an informational meeting about and tour of the Home was conducted. This was the first known trip the Lodge made to the Masonic Home and started a trend that has lasted for years.
On Wednesday, May 20. 1931, the Lodge's 20th Anniversary and Past Masters' Night was held. A third degree was conferred on Brother John Henry Becker and a presentation of the history of Indian Orchard Lodge for its first 20 years was given.
On October 17. 1932. the District Deputy Grand Master of the Springfield 33rd Masonic District. R. W. James Matthew, made his Fraternal Visitation to Indian Orchard Lodge. The calendar stated: "This is the first lime that our Lodge has had the honor to officially receive a Grand Lodge officer and one who has been raised by our own Lodge."
Friday, May 15. 1936 was the 25th Anniversary and Charter Members Night for Indian Orchard Lodge. The festivities were held at the Evangelical Church of Indian Orchard. Rev. Brother Herman Lohman. Pastor, with dinners served at 5:45 and 6:45 p.m. The Grand Master and Grand Lodge officers were present (1936 Mass. 70-78).
During some of the slower new member years in our Lodge, a great deal of ingenuity was used to maintain interest such as bridge games, spelling bees, question bees, and attendance competition between Lodges, for example, on December 15, 1938, an Interclub Card Party was held. Mention was made that a silver cup had been gained possession of by Brigham Lodge for bridge game competition. This carried on into 1940.
Al the Past Masters' Night on March 25. 1940. it is noted: "After the degree work, a collation was served and an appropriate ceremony was conducted to witness the burning of the mortgage."
On February 22. 1941. the first "Family Night" for the Lodge was held. On May 19, 1941. a special program was held for the 30th Anniversary of the Lodge. On May 10. 1943. the Lodge celebrated the fact that it passed the 1000th Special Communication.
A reception was held at the Masonic Temple in Springfield on January 23. 1950, to honor R. W. James Matthew on his election and installation as Junior Grand Warden of the Grand Lodge of Masons in Massachusetts. R. W, Harold S. Streeter was also honored for becoming our Lodge's third District Deputy Grand Master. M. W. Roger Keith, Grand Master, and other Grand Lodge officers were present.
Three Entered Apprentice degrees were conferred on candidates on June 8. 1953, by "Worshipful Alfred L. Davis and the Famous Seven." (The Famous Seven or Terrible Seven were the District's presiding Masters of 1950.) On May 9. 1955, three Fellow Craft degrees were conferred by "The Terrible Seven".
The Lodge Calendars of March, April, May and June of 1961 contained very special messages regarding our Lodge's 50th Anniversary celebration. The ceremony was held at the Masonic Temple in Springfield, with the Grand Master. M. W. Laurence E. Eaton, and many members of Grand Lodge present. A dinner was served and festivities followed. About 21% of the membership made contributions to help defray the expenses of the celebration. A Lodge history was presented. The June 1961 calendar records "the 50th Anniversary a total success." Worshipful Brother Wallace R. Edwards was the presiding Master of Indian Orchard Lodge during 1961.
The growth of and continued leadership role that Indian Orchard Lodge has played has been through the combined efforts of all. Each particular corps of officers have strived to equal or surpass their predecessors, but they have always sought to maintain and add to the quality of ritual, promote harmony and good fellowship and. most of all. instill in the hearts of newly-admitted members, the full impact of their duties, obligations, and the proud Lodge heritage they share.
THE FOUNDATION OF SHAWMONT LODGE
By Wor. Emerson H. Johnson.
The formation of Shawmont Lodge had its beginning in the Monsanto Square Club, by a group of Masons in the employ of Monsanto Chemical Company and Shawnigan Resin Corporation of Indian Orchard. Massachusetts.
At a meeting of the Monsanto Square Club, November 1951, Wor. Frank F. Jackson reported that at a Past Masters' meeting of Indian Orchard Lodge, a discussion had ensued concerning the backlog of candidates. Remarks were made that possibly a new Lodge would help. He offered it as a possibility that the Square Club might like to establish a new Lodge. Interest was clearly indicated but no real steps were taken at that lime.
In the early part of January 1952. Bro. Emerson H. Johnson, then president of the Square Club, appointed Wor. Jacob L. Suydan and Wor. Frank F. Jackson co-chairmen of a committee to organize a new lodge, with the following men serving: Wor. M. Joseph Glancey. Wor. Donald Moncreif, Bro. Lincoln B. Crosby, and Bro. Emerson H. Johnson.
The first committee meeting of the proposed new lodge was held January 28, 1952. at the home of Wor. Brother Suydan, to determine what steps were to be taken and how to go about forming a lodge.
Immediately following this meeting, petitions were circulated for signatures of those desiring to join the proposed Lodge. In conjunction with this effort, a committee meeting was held on February 14, 1952. and it was decided that 5% of the signatures should be of brothers who did not work at either Monsanto or Shawnigan, as we did not wish to be known as a closed lodge of these companies.
On March 4. 1952, a meeting of the signers of the petition was held at the Indian Orchard Temple to fulfill the requirements as stated in the Constitutions of the Grand Lodge of Massachusetts, to name the proposed lodge and to elect the first Master, Senior and Junior Wardens. The petitioners chose "Shawmont Lodge" for [he name, Wor. Jacob L. Suydan to be Master, Wor. Frank F. Jackson as Senior Warden and Bro. Lincoln B. Crosby as Junior Warden. Committees were appointed by Wor. Suydan to select a Secretary and a Treasurer, to establish by-laws, finance and membership.
On May 6. 1952, a petition with 47 signatures was forwarded to the Grand Lodge. On June 9th Grand Lodge sent to R. W. Lester W. Simmons. District Deputy Grand Master of the Springfield 18th Masonic District, a dispensation for Shawmont Lodge and directed him to institute the Lodge at a time agreeable to himself and the brethren of Shawmont Lodge. R.W. Brother Simmons and Wor. Willard Pease met with the original committee and elected officers at the home of Wor. Brother Suydan on July 25. and laid plans for the institution of Shawmont Lodge.
A short business meeting of the petitioners took place on August II. 1952, and elected Bro. Alton G. Eisold Secretary and Wor. M. Joseph Glancey Treasurer. Following this meeting. R. W. Lester W. Simmons. D. D. G. M., and his suite of officers instituted Shawmont Lodge. U. D. as a member lodge of the Springfield 18th Masonic District.
The timetable of events had gone as planned and on September 4, 1952, Shawmont Lodge U. D. held its first staled communication. The applications of four candidates. Jose Abajo Abajo, Stanley Edward Palmer, John Herbert Riffelmacher, and Albert Currean York were read. These four candidates received their first degree on October 16, 1952. their second degree on December 4, and their third degree on January 8, 1953. with Jose Abajo Abajo being the first candidate raised in Shawmont Lodge U .D.
On February 16, 1953. a letter from the Grand Master of Masons in Massachusetts stated that the request for a charter had been received, and referred the Lodge to the Grand Secretary for procedure and suggested that the Lodge arrange a date to be constituted.
On March 9, 1953. Grand Lodge notified Shawmont Lodge U. D. that the Grand Lodge Committee on Charters and By-Laws had duly certified and approved the by-laws submitted.
Ai long last the lime had arrived and on May 8, 1953, on its 12th special communication. Shawmont Lodge U. D. was constituted as a regular lodge in the Masonic Temple, Springfield. The Lodge was constituted by the Grand Master of Masons in Massachusetts, Most Worshipful Thomas Sherrard Roy and his suite of Grand Lodge officers. Thirty Grand Officers. 54 Shawmont Lodge members and 236 visiting brethren were present.
---
EVENTS
75TH ANNIVERSARY CELEBRATION, MAY 1986
From TROWEL, Winter 1986, Page 31:
Indian Orchard-Shawmont Lodge of Indian Orchard recently observed its 75th anniversary, enjoying a roast beef dinner in the banquet hall and afterwards receiving the Grand Master of Masons, M. W. David B. Richardson, accompanied by a distinguished suite.
A 35-year lapel pin was presented to Wor. Raymond S. Chant by his son, Wor. Leroy H. Chant, Chairman of the anniversary committee. In addition, one 30-year pin and three 25-year pins were presented by the Master of the Lodge, Wor. James A. Marceau.
Several of the Brethren in attendance had been present at the 50th anniversary of the Lodge, prominent among whom being Wor. Wallace R. Edwards, who was Master at that time.
One member, Wor. Frederick N. Bromage, was the lone standee when the members who had attended the 25th anniversary were asked to stand.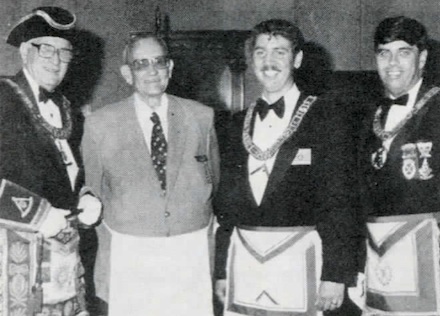 The Grand Master, Wor. Wallace R. Edwards, Wor. James A. Marceau, the present Master, and R. W. Robert E. Godbout, Jr., Grand Marshal.
---
GRAND LODGE OFFICERS
Edwin H. Carpenter, Jr., DDGM, District 33 (Springfield), 1985, 1986; N
Neil C. Hansen, DDGM, District 33 (Springfield), 1999, 2000; SN
Jeffery M. Lowe, DDGM, District 28, 2006, 2007
DISTRICTS
1982: District 33 (Springfield)
---
LINKS