MAGLRGodbout
From MasonicGenealogy
ROBERT E. GODBOUT, JR. 1946-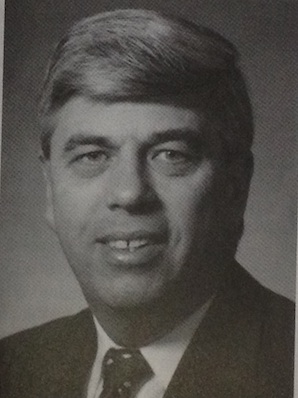 MM 1971, WM 1977, Puritan
Junior Grand Steward 1982-1983
Grand Marshal, 1984-1986
Senior Grand Warden, 1987
BIOGRAPHY
FROM TROWEL, 1984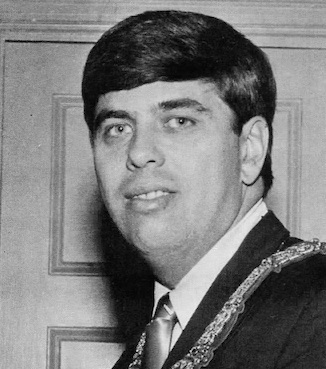 From TROWEL, August 1984, Page 11:
Installed into the busy and responsible office of Grand Marshal in December was R.W. Robert E. Godbout, Jr. He was pointed by Most Worshipful David B. Richardson, Grand Master of Masons in Massachusetts.
A native of Whitman, MA, Bro. Godbout was Raised in Puritan Lodge in 1971. He presided as Worshipful Master of his Lodge in 1977 and served as Grand Steward of our Grand Lodge in 1982. He holds membership in St. Andrew's Royal Arch Chapter, Boston Council, Royal and Select Masters, and in the Scottish Rite Bodies, Valley of Boston, where he is Assistant Master of Ceremonies.
A member of Aleppo Temple, A.A.O.N.M.S., he is a Past President of the South Shore Shrine Club. He also holds membership in the South Shore Past Masters Association, the Royal Order of Jesters #103, and Pilgrim Chapter, Order of the Eastern Star.
A graduate of Susson College, Bangor, ME, and Burdett College, Boston, Bro. Godbout is the Sales Manager of Dole and Bailey, Inc., of Woburn, distributors of food products, specializing in fresh and frozen meats and fish. He is also in partnership with his father, Bro. Robert E. Godbout, in the manufacture of trophies, plaques, and awards.
Married to the former Judy Gordon of Hanover, the couple are the parents of a son, Scott, age 13, and a daughter, Stephanie, age 10.
FROM TROWEL, 1987
From TROWEL, Spring 1987, Page 4:
The reward given a Grand Marshal in the Grand Lodge is his election, without opposition, to the office of Senior Grand Warden. R.W Robert E. Godbout, Jr., had capably performed the duties of Grand Marshal with distinction for three years and his personality gained him many new friends in and outside the Craft. What does he think of the Order of DeMolay? "I would not be sitting here for an interview had I not been a DeMolay. It opened a way of life for me."
A native of Whitman where he and his dad are involved in a trophy and plaque business, Bob Godbout, Jr., was a member of Manamooskeag DeMolay Chapter of Abington and he is a graduate of Whitman High School. Did he ever play in school sports? "Never had time, I've been working since I was a youngster and I have no regrets." He graduated from Burdette College, Boston, in 1966 and received a B.S. degree in business from Husson College of Bangor, ME, in 1968. He is a sales manager for a food service distributor in Woburn.
The son of Robert E. Godbout, Sr., and Dorrace (Leighton), he was Raised in Puritan Lodge, Whitman, in 1971 and six years later was Master. In York Rite Masonry he holds membership with St. Andrew's R.A. Chapter of Boston and Boston Council, R. and S. Masters, St. Bernard Commandery No. 12 and the Royal Order of Scotland. His Scottish Rite membership is in the Valley of Boston. A member of Aleppo Temple, A.A.O.N.M.S., he is an Honorary Member of Melha Temple of Springfield. An affiliate with The DeMolay Lodge of Boston and Honorary Member of Mt. Holyoke Lodge of South Hadley Falls, Bob is the Grand Representative of the Grand Lodge of Iceland at the Grand Lodge of Massachusetts.
Married to the former Judy Garden of Hanover and the father of Scott, 16, and Stephanie, 13, he first served Grand Lodge as a steward in 1982 and has completed three years as the Grand Marshal to M.W. David B. Richardson. Bob's election as Senior Grand Warden gives the official line a father-son team as Bob, Sr., is his son's Grand Pursuivant.
---