Federal2
From MasonicGenealogy
FEDERAL LODGE
Originally named John Albert Blake Lodge
Location: Chester
Chartered By: Melvin M. Johnson
Charter Date: 12/09/1914 1914-387
Precedence Date: 09/15/1913
Current Status: merged with Huntington Lodge to form Huntington-Federal Lodge, 09/27/1995.
---
PAST MASTERS
Richard H. Cook, 1913-1915
Frank Fay, 1916, 1917
Harry E. Willcutt, 1918
William H. Sanderson, 1919
Charles F. Pease, 1920
Thomas Rose, 1921, 1922
John E. Cooney, 1923
George M. Leikam, 1924
Guy J. Clark, 1925
Charles D. Williams, 1926
John B. Ripley, 1927
Percival H. Meyer, 1928
Frank M. Lee, 1929
Elmer M. Williams, 1930
Elwin M. Green, 1931
Livingston M. Smith, 1932
Harry B. Springer, 1933
Willard A. Pease, 1934
Lyman R. Cooney, 1935
Silas Percy Morrow, 1936
Frank Niskanen, 1937
Burton F. Baer, Sr., 1938
Albert R. Palmer, 1939
Edward D. Rogers, 1940
Samuel D. Barton, 1941, 1942
Burton F. Baer, Sr., 1943, 1945
John E. Jacobson, 1944
Torsti R. Welin, 1946
Lester W. Simmons, 1947; N
Alexander G. Gifford, 1948
Elmer O. Olds, 1949
Philip J. Pease, 1950
Woodrow W. Black, 1951
Edwin M. Dyer, 1952, 1953
George R. Barton, 1954
Edward E. Hemphill, Sr., 1955
Donald R. Tufts, 1956
Arthur O. Wilander, 1957
Emerson E. Pease, 1958
Arthur L. Johnson, Sr., 1959
Howard E. Olds, 1960
George W. Olds, 1961
Maurice H. Pease, 1962
Mark S. Kabatchnick, 1963
Aldo J. Bizzozero, 1964
Burt Rod, 1965
William R. Morrissey, 1966
Christopher C. Rocke, 1967
Israel B. Pill, 1968
John R. Bartsch, 1969
Elton M. Carrington, 1970
Richard J. Nobbe, 1971
Robert A. Goewey, III, 1972; PDDGM
John E. Moore, 1973
Richard E. Wilander, 1974
William J. Spradlin, 1975, 1976
Donald H. Patterson, 1977, 1984
George K. Wheeler, 1978, 1980
William J. Spradlin, 1979
Norman J. Gelinas, 1981
Joseph E. Miousse, 1982, 1986
Arthur L. Johnson, Jr., 1983, 1985
Mark W. Doane, 1987, 1992; PDDGM
Frank J. Butler, 1988, 1990, 1993, 1994
Kenneth V. Ellsworth, 1989
Eugene H. Pike, Jr., 1991
Eric R. Engstrom, 1995
Continued with Huntington-Federal Lodge.
---
REFERENCES IN GRAND LODGE PROCEEDINGS
Petition for Dispensation: 1914

Original dispensation as John Albert Blake Lodge.
Quoted: "Blake's name was placed in the Dispensation . . . against his expressed desires."

Petition for Charter: 1914
Petition for Consolidation (with Huntington Lodge): 1995
ANNIVERSARIES
VISITS BY GRAND MASTER
BY-LAW CHANGES
HISTORY
1938 (25th Anniversary History, 1938-99; see below)
25TH ANNIVERSARY HISTORY, OCTOBER 1938
Historical Sketch of Old Federal Lodge, 1792; New Federal Lodge, 1913
The Twenty-Fifth Anniversary of the Instituting of John Albert Blake Lodge, A.F. & A.M.
By Wor. Frank Fay
From Proceedings, Page 1938-410:
When I was asked to prepare this little historical sketch for this evening, considering the matter, there came to mind the remembrance of a little auction I once attended.
Many of you know that our present Lodge-room accommodations are in the old Methodist Church building. Seventy-five years ago both the Methodist and Congregational Churches of this town were equipped with the old-fashioned box pews. The Methodists decided to sell their pews and put in chairs.
These pews were made of wide pine boards, free of knots, and were really good lumber and the auctioneer in selling them guaranteed them to be both "bone dry" and "sermon dry." In my consideration I could think of only one thing dryer than "bone dry" and "sermon dry," and that was an historical paper.
Speaking of box pews, I am reminded that it was the custom seventy-five vears ago for many of them to be equipped on the floor with a small red box, having slanting sides and partly filled with sawdust. It was only the tobacco consuming church goer that had them.
Now notice what happened to him! When his tobacco hungry soul got warmed up with excessive devotion, he often had to expectorate a mouthful of rich tobacco juice, before being able to ejaculate a fervent, "Amen!" The little red box served its purpose.
I have a little story, not new, for it was uttered in our Grand Masonic Lodge twenty-five years ago. (You know this is a twenty-fifth anniversary.) I will give you a version of the story.
An old time minister, probably one of the "sermon dry" type, was in the habit of concluding his funeral services with a remark of this riature, as the friends were about to take farewell. "You may now pass and view the remains."
Some of his parishioners tired of it and asked him if he could not make a change. He thought he might. So at the next funeral when that point of the services was reached, he solemnly announced, "You may now pass the bier."
In sketching the history of Federal Lodge, frequent reference to the Old Federal Lodge, suggests a moment's attention to its origin, and to the four names recorded in connection therewith.
In 1762 The Massachusetts Bay Colony, being short of funds, appointed a committee to sell at auction at Boston, ten townships in the western part of the State, which was done June2, 1762. Townships were usually sold to a group of men called proprietors who surveyed and laid out the tract. The proprietors in turn admitted settlers to a drawing of the lots, upon their accepting and fulfilling certain imposed conditions, for a term of three years, after which the lots were confirmed to them, their heirs and assigns forever.
Township No. 9 was bounded on the north by the present towns of Chesterfield and Worthington; on the east by North and South Hampton; on the west by Becket, and on the South by Blandford and Westfield, and embraced the original town of Murrayfield, later called Chester. The first drawing of lots took place January 5, 1763. There were nineteen squatters settled in this territory prior to the drawing, in which drawing only thirteen were permitted to participate, and among them was one David Scott.
It is uncertain where Scott came from but his public record shows him to have been a progressive man and active in town government. He drew lot No. 32 which was situated near where the Chester Center Church now stands. He later exchanged it for lot No. 73 further south near Moose Mountain, in what is now Huntington. In the first town valuation, of 68 returns, he stood eighth, having a valuation of £37, 5s, £20 being necessary to qualify as a voter. When the town of Norwich was set off from Murrayfield, the result of a church quarrel, Scott was a land owner in both sections, and chose to throw his fortunes with the town of Norwich.
Another early settler was Capt. Wm. Toogood, born in Wellington, Somersetshire, England, in 1748, a former British officer but living in Murrayfield before the Revolution. He was hired by the American Government as an "Officer of Instruction" to train and drill recruits. He lived about one mile north of the Chester Center Church, of which he was a member. He died in 1818, age 70, and lies buried in the Chester Center Cemetery. His grave is marked by a headstone emblazoned with Masonic emblems.
The thiril name preserved is that of Capt. Wm Sizer, who was Master of old Federal Lodge in 1794. I do not know where he resided or was buried. By the old church records at Chester Center he died December 1, 1826, age 80. As indicative of his standing I will mention that in the seating of the church by "dignities," both he and Capt. Toogood were placed in "Dignity Second."
The fourth member of this interesting quartet, in 1777, was living in a small hamlet on the Hudson about 45 miles north of Albany. Upon the approach of the British army under Burgoyne, the inhabitants, including Justus Ashmun, fled. Ashmun settled in Blandford taking over the Levi Pease Tavern, the prestige of which he greatly increased, and acquired for himself the title of "Esquire." His progeny were men of distinction and his grandson George, (I quote) "was the dignified chairman" who presided at the Republican National Convention in Chicago, which nominated Abraham Lincoln for the presidency.
Such were the forefathers of Federal Lodge!
Our present Grand Lodge A. F. & A. M. was formed in 1792 by the union of Old Massachuserts Grand Lodge and the Old St. John's Grand Lodge. That year the afore-mentioned David Scott and Capt. Wm. Toogood presented the Grand Lodge a petition for forming a new Lodge, which was granted and the Charter was given to the town of Blandford, under the name of Federal Lodge. Two years later Capt. Wm. Sizer, Master, and Justus Ashmun, Senior Warden, of the Lodge, forwarded a request for permission to hold meetings alternately in Blandford and Chester, which was granted."
The names of these four men are the only names in existence recorded in connection with the organization of old Federal Lodge, so far as I have ever learned.
I think I have shown that three of these men, broadly speaking, were Chester men, and I feel that I am privileged to remark that "Tho' Blandford had the Charter, Chester had the men."
Twenty-five years ago the majority of Masons in Chester were members of Huntington Lodge. This was in the "horse and buggy" days, and to attend Lodge in Huntington we either drove or went down in the cars and took our chance in getting back on a freight train. And this led to some interesting experiences, like coming home in a box car, which experiences fostered the idea which had been growing, that we should have a Lodge at Chester.
The late Rt. Wor. Bro. William E. Gibbs, of Westfield, was District Deputy for this district. He came to Chester and met a gathering of the Brothers and an association was formed with Brother James H. Keefe, chairman, to make a definite move to petition for a Dispensation. Through the influence of our Deputy the name "John Albert Blake" of Masonic Home reputation, was chosen.
Huntington Lodge surrendered its jurisdiction over the territory. As the knowledge of our effort became known to some of the members of the old Federal Lodge, living in Blandford, the way opened for us to come into possession of the square and compasses of the old Lodge, implements which had been so carefully preserved by the Blandford Brothers. Huntington Lodge also presented us with a full set of collars, each having a pendant monogram JAB. Dr. James Monroe Fay, of Jerusalem Lodge, Northampton, presented us the Altar Bible.
The Institution of John Albert Blake Lodge was held in our Town Hall November 19, 1913 under the direction of Rt. Wor. Wm. E. Gibbs, D.D.G.M., assisted by Wor. C. H. Clark, acting as Grand Marshal. The following Grand Officers were present:
R. W. Allan T. Treadway, P. Jr. G. W.
R. W. Eugene L. Sheldon, D. D. G. M., 17th Dist.
R. W. Carl Wurtbach, D. D. G. M., 16th Dist.
R. W. Arthur P. Dellabarre, D. D. G. M., 14th Dist.
R. W. Rev. Frank Merrick, Grand Chaplain
R. W. Wm. E. Gibbs, D. D. G.M., 18th Dist.
Wor. C. H. Clark, Acting Grand Marshal
There were also present members from the Lodges of Lee, Hinsdale, Huntington, Westfield, and Springfield to ihe number of 250.
The following were the officers of John Albert Blake Lodge:
W. M. Richard H. Cook, Past Master of Morning Sun Lodge, Conway.
S. W. Frank Fay
J. W. Harry E. Willcutt
Treas. Dr. O. J. Shepardson
Sec. C. H. Rivenburg
Chap. Chas. R. Fletcher
Mar. J. E. Cooney
S. D. Wm. H. Sanderson
J. D. Chas. F. Pease
S. S. Thomas Rose
J. S. C. B. Cone
I. S. Fred Moulton
O. C. H. Biggs
T. Homer H. Smith
The instituting of John Albert Blake Lodge proceeded according to Masonic formula and at the close the Rt. Wor. D.D. Grand Master Wm. E. Gibbs presented the Document of Dispensation to the W.M. Richard H. Cook and John Albert Blake Lodge was instituted.
The following is off the record. With the exception of the W.M. and Chaplain no officer of the organization had had any experience whatever in filling a Masonic chair. Our first act was a massacre of the ritual. The charge was fierce and the casualties many. But with R.W. Edwin L. Davis, of Chicopee Falls, Grand Lecturer, on hand to repair damages, there were no fatalities, and the Brothers have a most kind and grateful feeling towards Brother Davis for the patience and interest he showed towards them.
The routine work of a Lodge under Dispensation was now commenced, and continued quietly till about 1915 when the matter of constituting the Lodge came up. There then appeared objections on the part of the Grand Lodge to the use of the name, "John Albert Blake." Our District Deputy proved very insistent in the matter so we got the name of being a bit rebellious, and were invited to send down a committee to meet the Grand Master, which was done.
We were most graciously received. The situation gone over, the objections to the name stated, the principal one being the personal objection of Mr. Blake himself, to having his name so used. The session was very harmonious, and the committee returned in full accord with the wishes of the Grand Master and the conviction that he was "one fine fellow."
At a subsequent meeting the name of "Federal Lodge" was chosen, thus harking back to the days of the Federal Lodge of years ago, which name was very acceptable to all concerned. Federal Lodge was Constituted February 17, 1915, in the Town Hall, Chester, in conjunction with its Lodge-room below it, by the Most Worshipful Grand Master Melvin M. Johnson assisted by sixteen other Grand Lodge officers of exalted station, and that impressive rite was performed by them in due and ancient form.
The list of the Grand Officers present is as follows:
M. W. Melvin M. Johnson, Grand Master
Rt. W. Frederick W. Hamilton, Deputy Grand Master
Rt. W. George C. Thacher, Senior Grand Warden
Rt. W. Thomas T. Booth, Junior Grand Warden
M. W. John Albert Blake, Past Grand Master
Rt. W. Edwin A. Blodgett, Past Dep. Grand Master
Rt. W. Chas. C. Spellman, Past Jr. Grand Warden
Rt. W. Clarence A. Brodeur, Past Sr. Grand Warden
Rt. W. Charles H. Ramsey, Grand Treasurer
Rt. W. Frank Vogel, Rec. Gr. Sec'y Pro Tem.
Rt. W. Gurdon W. Gordon, D. D. G. M., 18th Dist.
Rt. W. Jas. B. Paige, D. D. G. M., 17th Dist.
W. William M. Farrington, Grand Marshal
W. Edwin L. Davis, Grand Lecturer
W. Howard M. North, Senior Grand Steward
W. George W. Chester, Grand Tyler
Rt. W. Eugene L. Sheldon, Past D. D. G. M., 17th Dist.
After the Constituting of the Lodge the new officers were installed in their respective stations by the various members of the Grand Lodge.
After the proclamation of the installation, we listened to a very interesting historical address by the Most Worshipful Grand Master, who gracefully tied the New Federal Lodge with the history of the Old. At the conclusion of his address - (I now quote from the records of Federal Lodge.)
"Bro. Richard Henry Cook, W.M.; Bro. Frank Fay, Sr. W.; and Bro. Harry Earle Willcutt, Jr. W., were presented to the Most Worshipful Grand Master by the Rt. Wor. Grand Marshal, and Most Worshipful Melvin M. Johnson was pleased to confer upon them the Henry Price Medal in commemoration of the event, and in token of their efforts in the interest of the craft."
I think I will stop here and refer to the medals again.
Wor. Bro. Richard Henry Cook was a Past Master of Morning Sun Lodge, of Conway. He was a fine type of Christian Gentleman and an ardent Mason. He served two years in the East and was of great help in starting the new Lodge. He later moved to Conway where he died, and a large delegation from Federal Lodge attended his funeral.
Brother Harry Earle Willcutt was one of our town boys, whose early educational advantages were received in our public schools. He served several years as our town clerk, became manager of the Ashland Emery Co., and served Federal Lodge two years in the East. He later moved to Westfield as manager of the American Abrasive Co. His residence in that town was a most trying one. He buried his mother on a Monday, and on Friday of the same week he buried his wife, leaving two small daughters. Later he was sticken with a fatal malady, and from then on he gave a wonderful exhibition of courage and bravery in fighting his disease. He lies buried in Pine Hill Cemetery, Westfield.
There is nothing in the lives of either of these men that leaves the slightest stain upon their records, either as men) or Masons. We honor their memory.
Now referring again to the Henry Price Medals. When I was once heard to remark at home that I had a Henry Price medal, I heard this: "Yes you have got one but you don't know why you got it!" to which I replied, "Certainly. To beautifully illustrate the true spirit of Masonic Brotherly Love."
Two members of Federal Lodge have received Veterans' Medals for 50 years Masonic Membership:
John Harvey Ranville. Born, Hinsdale, 1844; Died, Chester, 1930. Age 86 years. Raised in Globe Lodge, Hinsdale
Homer Hixon Smith. Born, Chester, 1851; Still Living, Age 87 years Raised in Huntington Lodge
Federal Lodge has at present a membership of 106. We have had 21 Past Masters of whom 17 are living. I puy tribute to the loyal Brothers who year after year have so faithfully and harmoniously carried on the work, and especially to two I will mention by name.
Dr. Oscar Jerome Shepardson, a man of brusque exterior, concealing a most kind heart. He was intensely interested in the organizing and housing of the new Lodge, gave much of his time to it, was our Treasurer and held a position on the third degree which he much enjoyed. He gave service which I later learned meant physical sacrifice. He lived only about a year and a half after the formation of the Lodge and was buried in Pine Hill Cemetery, Chester, with Masonic Honors.
Another Brother through some twenty-three years, has given the charge of the third degree upon all except three occasions. Many of us have listened to the closing of the third-degree and the charge following it, delivered in a manner to which the "linked sweetness long drawn out" of Ichabod Crane was preferable, and I have squirmed in my seat and groaned, "Give me Ichabod." On the other hand, many of you have seen and heard the grace and eloquence with which that charge, as a fitting climax to the ceremony, can be rendered, and has repeatedly been rendered, by Bro. James H. Keefe.
May 24, 1923, was the date of a most pleasing occasion - a visit of Mt. Moriah Lodge, of Westfield, for the purpose of presenting to Federal Lodge the ancient gavel of old Federal Lodge. The presentation speech was made by Bro. Frank Merrill, Past Master of Mt. Moriah, who stated Brother William Maxim Lewis, of Mt. Moriah, had presented the gavel to that Lodge shortly after being there made a Mason. ' Brother Lewis gave the following history:
The gavel came into the possession of Wor. Bro. Patrick Boise, the first Master of Mt. Moriah, who passed it on to his cousin Enos W. Boise, of Blandford, in whose safe it reposed for years. Attached to it is the following label:

"Gavel used by W.M. of Federal Lodge F. A. M. and disbanded at Morgan times. Owned by E. W. Boise."

From Mr. Boise it passed into the hands of his grandson, the previously mentioned Brother Lewis.
The gift was a most thoughtful and generous one and is deeply appreciated by the members of Federal Lodge.
We are working to-night with the square, compasses and gavel, of the old Lodge and for this evening's occasion we have an apron loaned by Miss Lena B. Knox, Director of the Lenox Concert Co., Boston, and a native of Blandford. This apron is an heirloom of the Knox family and, was undoubtedly worn by Capt. Wm. Knox, who is historically mentioned as contemporary with Justus Ashmun, and is probably the Wm. Knox mentioned as Treasurer of Federal Lodge in 1805 in a return made October third by D.D.G.M. Daniel Stebbins. Capt. Knox served in the French and Indian War and in the Revolution, and died in 1808.
Picture to yourselves the service of these old Masons. Imagine holding Lodge on the hill top of Chester Center, in old Federal Hall long since destroyed, descending by horse, down rudimentary roads, through this valley, and for the next meeting climbing to the hill tops of Blandford Center there to hold Lodge in Ashmun's Hall. There is displayed Masonic zeal. Zeal, My Brothers, comparable to which the zeal displayed by coming home from Huntington in a box car, sinks into oblivion.
And now, my Brothers, in closing I offer you, with apologies for my humble effort, the following lines:
Life is a road we ali must travel,
Be the journey long or brief,
'Tho its end we can't unravel,
We'll press lorward with belief.

Step by step, the distance lessens.
Day by day, our lives unfold.
Shall we reveal a weak quiescence,
Or a spirit strong and bold?

Chance, may make our lives historic,
We alone, can make them great.
And the duty rests upon us,
To be the Captains of our fate.

To us, the strife is present,
The challenge we'll accept,
To fabricate a pattern,
Which all can emulate.

And may each life, completed,
Prove honest, true, and fair,
When that life is measured,
By the compasses and square.
---
EVENTS
GRAND MASTER VISIT, JULY 1990
From TROWEL, Fall 1991, Page 27: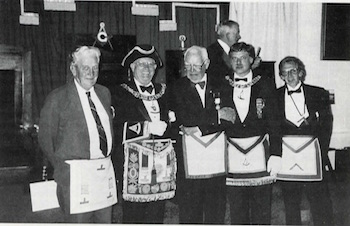 Left to right: Wor. Albert Palmer: Most Wor. Edgar W. Darling; Wor. Alexander Gibbs Gifford;
R.W. Robert A. Goewey, III, D. D. G. M., Springfield 18th District; and Wor. Frank Butler, Master of the Lodge.
(Photo and text: Wor. Kenneth V. Ellsworth)
The first Grand Master to visit Federal Lodge, Chester, in the Springfield 18th Masonic District, in 57 years Most Worshipful Edgar W. Darling and a distinguished suite journeyed to the Town of Chester in July to present a 50-year Veteran's Medal to Wor. Alexander Gibbs Gifford. Bro. Gifford presided in the East of Federal Lodge in the late 1940s.
Wor. Bro. Gifford had moved to Darien, CT while in the East, and travelled from Darien to Chester each month to attend meetings. Still living in Darien, he commutes two or three times each year to attend his Lodge. He has also served as Master of a Lodge in Darien. and regularly visits a Lodge in Lordsberg, New Mexico where he spends winters.
Chairman of the committee to receive the Grand Master was Wor. Albert R. Palmer, himself a 50-year Veteran's Medal holder, who was serving as Senior Warden of the Lodge 57 years ago when a Grand Master last visited Federal Lodge.
The meeting of the Lodge, which was open to the public, was preceded by a dinner held at the Congregational Church in town and enjoyed by all in attendance. Following the Lodge affair, a collation and social hour was held in the dining hall.
---
GRAND LODGE OFFICERS
Mark W. Doane, DDGM, District 18 (Springfield), 2002; District 29, 2003-2004
Robert A. Goewey, III, DDGM, District 18 (Springfield), 1990, 1991
Lester W. Simmons, DDGM, District 18 (Springfield), 1952, 1953; N
---
DISTRICTS
LINKS