MAGLTBooth
From MasonicGenealogy
THOMAS THORNLY BOOTH 1857-1920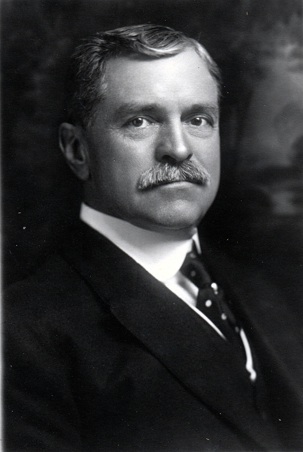 BIOGRAPHY
FROM NEW ENGLAND CRAFTSMAN, 1915
From New England Craftsman, Vol. X, No. 4, January 1915, Page 114:
Thomas T. Booth, the Junior Grand Warden of the Grand Lodge, is one of the active business men of Worcester. He was born in England 58 years ago. He came to Worcester in early life. He is Purchasing Agent of the Crompton and Knowles Loom Works at Worcester; Treasurer of the Standard Foundry Company t Worcester; President of the Universal Safety Tread Company of Waltham, Mass., and Groton, New York.
He was made a Mason in Quinsigamond Lodge in 1893, and was Worshipful Master 1900 and 1901. He was District Deputy of the Grand Lodge in 1904 and 1905. He is a member of Eureka R. A. Chapter, Hiram Council R. and S. Masters, and Worcester County Commandery, K. T. He is also a 32° Mason of the Scottish Rite.
FROM HISTORY OF WORCESTER
From History of Worcester and its People, by Charles Nutt, Vol. 3, P. 83:
THOMAS THORNLY BOOTH, Purchasing agent of the Crompton & Knowles Loom Works, was born in Hyde, England, January 8, 1857, son of George and Margaret (Simister) Booth. His father was a contractor and builder. The family came to this country at the close of the Civil War and located in New Jersey where the father followed his trade to the end of his life.
Thomas T. Booth had a common school education, leaving the high school in Paterson, New Jersey, to work in a hardware store. The eight years he spent as clerk in this store gave him excellent training for the position he has filled so well in the loom works. When he left the hardware business he entered the employ of Benjamin Eastwood, a loom manufacturer at Paterson, and while with this concern was clerk, then bookkeeper and salesman, besides having a somewhat extensive experience in the factory. In March, 1890. Mr. Booth came to Worcester to become purchasing agent for the Crompton & Knowles Loom Works, a position he has filled with ability and discretion to the present time. Year by year, however, the variety and volume of his purchases have increased, trebling and quadrupling in some departments. Since February 26, 1913. he has been a director of the corporation. He was associated with Frank Williams, the late superintendent of the foundry at the loom works, in establishing the Standard Foundry, of which he is now president. Mr. Booth holds a position in which the strictest integrity as well as sound judgment, foresight, insight into character, a knowledge of many lines of commerce, constant research and study of markets, and no little native shrewdness in bargaining for his house are essential. That he has all the natural gifts to qualify him for his position as well as a very varied training and extended experience are very evident to every man having a knowledge of this great business.
Mr. Booth is a member of Quinsigamond Lodge, Ancient Free and Accepted Masons ; Eureka Chapter, Royal Arch Masons ; Hiram Council, Royal and Select Masters; Worcester County Commandery, Knights Templar; the Massachusetts Consistory ; the Worcester Country Club; the Leicester Country Club ; the Commonwealth Club; the Chamber of Commerce. Mr. Booth is well known in Masonic circles throughout the State. He is past master of his lodge; in 1914-15 and 1915-16 he was District Deputy, and is a Past Junior Grand Warden of the Grand Lodge of Massachusetts. In politics he is a staunch Republican.
Mr. Booth married, April 22, 1880, Mary Douglas, daughter of David Douglas, of Boonton, New Jersey. Their only daughter. Vera, graduated from the South High School, and from Smith College, class of 1909, with high honors; married Halsey Raymond Philbrick; has two daughters, Constance and Vera Annette.
MEMORIAL
From the Iron Trade Review, Vol. 67, No. 2, 1920:
Thomas Thornly Booth, for 30 years purchasing agent of the Crompton & Knowles Loom Works, Worcester, Mass., president of the Standard Foundry Co., Hartford, Conn., died unexpectedly at his home in Worcester, Dec. 20, aged 63 years. Mr. Booth was about his work until a week before his death, which was caused by diabetes. Since Feb. 26, 1913, he had been a director of the Crompton & Knowles corporation. His son-in-law, Halsey R. Philbrick, has charge of the Hartford foundry.
---