MAGLGThacher
From MasonicGenealogy
GEORGE CHURCHILL THACHER 1862-1917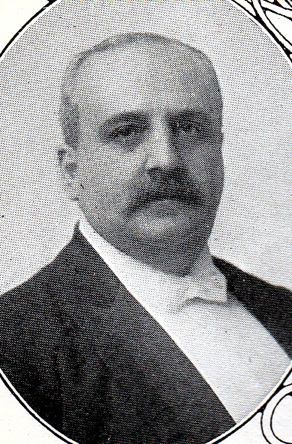 MM 1901, WM 1911, Rabboni
Grand Marshal, 1912-1913
Senior Grand Warden 1915
MEMORIAL
FROM PROCEEDINGS, 1917
From Proceedings, Page 1917-237:
GEORGE CHURCHILL THACHER was born in the town of Dorchester, Mass., on June 3, 1862, and retained his residence there during the whole of his fifty-five years of life. Of sturdy American parentage, educated in the public schools of his native town, which about ten years after his birth became a part of the city of Boston, he himself grew to be one of that sturdy, upright, straightforward. type of American citizens and business men whose word is as good. as their bond and whose abilities have made this country what it is. Trained' in several different lines of business, he came at last to find the greatest scope for his activities in the business of manufacturing paints, being a partner in the house of Means and Thacher, a business which he developed from small beginnings to one of considerable size.
He was never married, but,was a most devoted son and brother to the mother and two sisters who now mourn his loss.
Outside of his home and his business life, R. W. Brother Thacher gave practically his whole time and attention to the service of Freemasonry after his initiation in Rabboni Lodge on October 18, 1900. It was the continual wonder of many of us who knew him well how he could continue to serve so many bodies at the same time as efficiently as he did. Probably no man of his day and generation contributed more largely of his time and strength to the service of the Craft and no matter what body we consider, we shall find the record the same: that he was continually serving the best interests of each body as he saw it. The record of official positions held by him is a long one:
He was Initiated in Rabboni Lodge October 18, 1900; Crafted November 15, 1900; Raised December 12, 1900; served as Worshipful Master in 1911.
He was Exalted in St. Paul's Chapter, June 17, 1902. and was High Priest in 1912.
He became a member of Boston Council in 1902, and was Thrice lllustrious Master in 1909 and 1910.
He was Knighted in DeMolay Commandery June 23, 1903, dimitted and joined Saint Bernard in 1905, and became its eminent Commander in 1911.
He was admitted,to Boston-Lafayette Lodge of Perfection December 5, 1902; to Giles Fonda Yates Council of Princes of Jerusalem December 12; to Mount Olivet Chapter Rose Croix December 19 the same year, and to Massachusetts Consistory April 24, 1903, becoming Commander- in-Chief in 1914, and being Crowned a Sovereign Grand Inspector-General of the 33d and last Degree on September 21 , 1915.
He was Grand Marshal of the Grand Lodge in 1912-13 and Senior Grand Warden in 1915.
In the Grand Chapter he was Grand Captain of the Host in 1914-15 and Deputy Grand High Priest in 1916.
In the Grand Council he was Deputy Grand Master in 1912.
He was elected to Honorary Membership in his own Lodge (Rabboni); in Corner Stone Lodge, of Duxbury; Pythagorean, of Marion, and Shawmut of Boston; also in Wareham Chapter and Cambridge Council.
His last illness was long and painful, but was sustained with the fortitude characteristic of the man, and he passed away on Wednesday, August 8, like a good soldier, steadfast to the end, who has been summoned to the Presence of the Supreme Ruler of us all.
His funeral service was held at his late home on the succeeding Friday, and was largely attended by representatives of the Craft. It was conducted. by Rev. Roger S. Forbes and Rev. Frederick W. Hamilton, D.D., LL.D. The Shawmut Quartette sang three beautiful selections, The Eternal Goodness, Passing Out of the Shadow, and At the Close of the Day. The body was cremated and the ashes wilt be deposited in the family lot in the old. Dorchester Cemetery at Uphams Corner.
It is not easy to summarize in a word. the characteristics of so strong a man as R.W. Brother Thacher, but if we were to point out three of his attributes which stand out more than any others, we should. mention his loyalty to his friends, his determined persistence in doing what he thought was for the best interests of the organization for which he was working, and his untiring energy and zeal. Add to these the crowning blessing of a great fund of common sense, and you have a combination that could not fail to produce a man as successful as he was-successful in the best sense of the word, not in money alone but in the higher, better things of life; successful in promoting the best interests of society in general.
And shall we say that such a man is gone? Shall we not rather say that he has preceded us into that blest land of life and light eternal, there to pursue the efforts started here with larger, fuller powers g May we not hope, moreover, that from somewhere up above his influence will help us on, as his bodily presence used to do, in the work in which he so delighted that is left for us to carry out?
Fraternally submitted,
F. M. Weymouth,
Everett C. Benton,
J. Rudolph Bartelt,
Committee.
FROM NEW ENGLAND CRAFTSMAN, 1917
From New England Craftsman, Vol. XII, No. 11, August 1917, Page 374: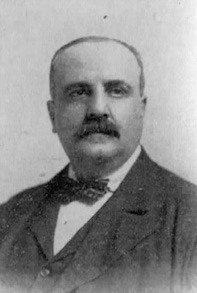 George Churchill Thacher, one of the most prominent Freemasons of Massachusetts, died at his home, Dorchester, Mass., Wednesday, August 8th, after an illness that had extended over several months. He had undergone several surgical operations in a hospital, returning to his home after each. Brother Thacher was in the prime of life, having been born June 3, 1862. He was large and powerful in appearance and until overtaken with his fatal ailment promised a long and active life.
Brother Thacher was deeply interested in Freemasonry and worked with zealous affection in its service. Possessed of superior administrative abilities, he won a high degree of success in directing the affairs of the several bodies over which he presided. His death means a decided loss to the Masonic fraternity, especially in greater Boston.
His connection with Freemasonry began in Rabboni Lodge of Dorchester in which he was initiated in 1901. Since that time he had filled various important offices in the order. He had served as master of Rabboni Lodge, Dorchester. He was exalted in St. Paul's R. A. Chapter on June 17, 190:i and presided in 1912; was thrice illustrious master of Boston Council, R. & S. M., in 1909, and held the position two terms; was knighted in De Molay Commandery on June 23, 1903, waV demitted to St. Bernard in 1905, was warden in 1906 and commander in 1911.
In the Grand Lodge he was Marshal in 1912-13 and Senior Grand Warden in 1915; in the Grand Chapter he was captain of the host in 1914-15 and deputy grand high priest in 1916; in the Grand Council of the Cryptic Rite he was deputy grand master in 1912. He was vice-president of the Order of High Priesthood last year, and was connected with Aleppo Temple of the Mystic Shrine.
Honorary membership was conferred on him by Rabboni Lodge last May, and previously by Corner Stone Lodge of Duxbury, Pythagorean of Marion and Shawmut of Boston; similar distinction was given him by Wareham R. A. Chapter and Cambridge Council, R. & S. M.
In no branch of Masonic work was his interest and ability more evident than in the Scottish Rite with which he was first associated in 1902. Advancing from one station to another he was made Commander-in-Chief oi Massachusetts Consistory, holding the office 1914-15-16. The requirements of this position are exacting-demanding for a successful administration, a high standard of intelligent executive ability. Two motives appear to have governed him in directing the affairs of the bodies over which he presided — First, that all work should be well done and the finances of the body administered according to business principles. Second, that sociability should be promoted. He was eminently successful in both directions.
His work was of a high class and in a marked degree he had the co-operation of a membership of brethren united in fraternal fellowship.
Brother Thacher was crowned a sovereign inspector general of the 33d and last degree of the Scottish Rite, September 21, 1915.
FROM COUNCIL OF DELIBERATION, 1918
From Proceedings of the Massachusetts Council of Deliberation AASR NMJ 1918, Page 59:
Illustrious Brother George Churchill Thacher, 33°, was born at Dorchester, Massachusetts, June 3, 1862. Died at his home in Dorchester, August 8,1917.
Brother Thacher was never married and is survived by a widowed mother and two sisters, who were untiring in their devotion to him in his last illness.He was educated in the Dorchester schools and in early life followed the sea, afterwards engaging in the milk business, being manager of the Hingham Dairy Association. Later he entered into the business of paints and oils, under the firm name of Means & Thacher, in which he was successful, and a short time before his illness had built a large factory at Norfolk Downs.
He was a member of Boston Chamber of Commerce and Quincy Board of Trade.His Masonic career was most successful and phenomenal. He became interested in Masonry in 1900 and was raised in Rabboni Lodge December 12th of that year and was immediately appointed to a minor office, and he has said many times that he had no idea of advancing, doubting his ability to do so, but his talents were early recognized and he was elected Worshipful Master in 1907.
He was exalted in St. Paul's Chapter of Royal Arch Masons in 1902 and was elected Excellent High Priest in 1912. Admitted to Boston Council Royal and Select Masters in 1902 and was Thrice Illustrious Master in 1909 and 1910. Knighted in De Molay Commandery in 1903, he demitted and joined St. Bernard Commandery in 1905 and was its Eminent Commander in 1912.
He was elected Senior Grand Warden in the Grand Lodge in 1915, Deputy Grand Master of the Grand Council of Royal and Select Masters 1912, and R. E. Deputy Grand High Priest of the Grand Royal Arch Chapter in 1916, and other honors were in store for him.
Among all his Masonic affiliations none appealed to him so strongly as those of the Ancient Accepted Scottish Rite. He was admitted to Boston Lafayette Lodge of Perfection, Giles F. Yates Council, Princes of Jerusalem and Mount Olivet Chapter of Rose Croix in 1902, and to Massachusetts Consistory in 1903 and was its Commander-in-Chief in 1914, 1915 and 1916. Here his talents were shown at their best.
Possessed of great executive, ritualistic, and dramatic ability, of strong character and commanding presence, and a keen judge of men, he surrounded himself with officers and assistants that made his administration one of the most successful.
Illustrious Brother Thacher was First Lieutenant Commander of Massachusetts Council of Deliberation in 1916 and was crowned an Honorary Member of the Supreme Council, 33°, at Boston in 1915.
Brother Thacher had many friends and none valued a true one more than he; kind and courteous, but a strict disciplinarian, he demanded the best efforts of those that served him.
He was cheerful and optimistic to the last, and it is with the keenest sorrow we miss his manly form and hearty greeting.
"Reach me your hand. O steadfast friend of mine!
I feel its strength run through my veins like wine.
My sinking courage starts to rise and flow,
Bidding me dare to conquer every foe
And laugh at all things dread, all things malign.

"Your hand, my friend, about mine own entwine;
Its warmth was like the warmth of spring sunshine.
And. oh, sometimes, sometimes I need it so!
Reach me your hand.

"Your friendship was so vast, so superfine,
This little earth could never quite confine
Its limits; and I feel that as you go
Before, and I must wait, you will, I know,
Across the space, from your home Divine,
Reach me your hand."
Eugene A. Holton,
Edward J. Benedict,
J. A. Bryant,
Committee.
---