RIGMField
From MasonicGenealogy
WILLIAM FIELD 1797-1869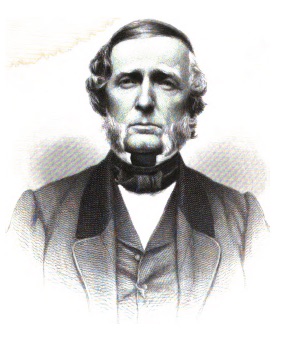 Picture from History of Freemasonry in Rhode Island, 1895, by Henry W. Rugg.
Grand Master 1848-1852
BIOGRAPHY
From History of Freemasonry in Rhode Island, 1895, Page 308:
William Field was a power in the Masonic Fraternity of Rhode Island during his day and generation. Nor was his influence and reputation limited to the jurisdiction within whose boundaries he resided. By his attendance upon Masonic meetings held in different parts of the country, by his participation in the activities of General Grand Bodies, and by his extensive correspondence, he became widely and favorably known. He was a representative Craftsman of his times.
His love for Freemasonry was strong, while his understanding of its principles and purposes, in all its branches, was excelled by but few of his contemporaries. He was an accomplished ritualist, most proficient in all matters pertaining to the ceremonies of the different degrees and orders. He devoted no inconsiderable part of his time to a mastery of Masonic work and lectures, and to efforts to secure what he believed to be the most intelligent and correct system. His efforts were largely directed to the securing of uniformity in the expression of the lessons of each and every section of Masonic teaching.
He was also favored by qualities and powers which gave him a hold on men, and thus was of right a leader. He had administrative talents by the exercise of which he proved his fitness for the numerous positions of Masonic rule and guidance to which he was called. He was conservative in most respects, yet he was not infrequently found leading an advance movement among the Craft.
Bro. Field was born in Pawtucket, R. I., September 13, 1797. His parents were John and Lucy Field. His death took place December 27, 1869.
In his early life he resided at Dover, N. H. It was in Stafford Lodge, No. 29, located in that town, that the subject of this sketch was initiated into Freemasonry, July 15, 1818, some two months before he attained his majority. He was made a Master Mason in the same Lodge, August 12, 1818. For some cause he asked and received " honorable dismissal" from the Lodge on May 5th of the following year. He was admitted a member of Union Lodge, No. 10, Pawtucket, R. I., January 22, 1834, but did not sign the By-Laws until June 19, 1839. He was elected Senior Warden of the Lodge in December of the same year, and was elected Wor. Master Nov. 17, 1840, and served in the last named office two years.
In the Grand Lodge of Rhode Island he soon became prominent, holding various offices and serving on important committees. He was specially helpful in the reviving of Freemasonry in Rhode Island and adapting the system to some changed conditions. At the Quarterly session of Grand Lodge, held September 27, 1841, he was appointed a representative of the Grand body to attend a convention called to meet in Washington, D. C., for the purpose of preparing a code of work and instituting measures for the establishment of a National Grand Lodge.
Bro. Field served the Grand Lodge of Rhode Island as Junior Grand Warden, Senior Grand Warden, Deputy Grand Master, and in 1848 was called to fill the highest office. He served as Grand Master from 1848 to 1852—four years. His administration was characterized by energy and ability, and the brethren realized that in him they had a leader worthy of their confidence.
In Capitular Masonry he was also active and influential. Admitted to membership in Pawtucket Royal Arch Chapter on the 2d of February, 1820, he soon was made an office bearer in that body, and, after passing from one post of honorable service to another, he was elected High Priest, December 7, 1831, being continued in the same position for three years. In the Grand Chapter he was elected Grand King in 1832, held the office of Deputy Grand High Priest during the years 1833-34 and 35, was elected Grand High Priest in 1844, and re-elected in 1845.
He was created a Knight Templar in St. John's Commandery, No. 1, Providence, June 24, 1826. After filling other offices in that organization he was chosen Eminent Commander, serving in that capacity two years, 1845-46. He dimitted from St. John's to aid in the formation of Holy Sepulchre Comntandery, Pawtucket, and was one of the Charter members of that organization. He was its Eminent Commander in 1848-49-50 and 51, and was again called to serve in the same office in 1854-55 and 56. He was frequently elected to honorable positions in the Grand Commandery (Encampment) of Massachusetts and Rhode Island, and in i860, was chosen to fill the highest place. He served as Grand Commander during the years 1860 and 1861.
Bro. Field had taken the degrees of Cryptic Masonry and those of the Scottish Rite. In the last named organization he was honored by being advanced to the thirty-third and highest degree.
The funeral of this distinguished Mason and Templar was solemnized at Pawtucket, Dec. 31, 1869, under the immediate direction of the Grand Lodge of Rhode Island, Grand Master Thomas A. Doyle, presiding. The Grand Commandery of Massachusetts and Rhode Island was also represented by Grand Commander Benjamin Dean and other Grand Officers. Three Commanderies, St. John's, Holy Sepulchre, and Calvary, appeared in full costume to perform escort duty. The large attendance of Templars, Masons, and citizens, testified to the high estimation in which the departed brother was deservedly held. The services at the Church of the Saviour included the burial service of the Episcopal Church, and a portion of the Templar Ritual appropriate for such an occasion. The interment of the body at the North Burial Ground was attended by Masonic ceremonies.
Thus passed on to greater light and to the rewards of the faithful, a brother who had borne the heat and the burden of the day and made testimony of many of those qualities which properly merit distinctions. He was proficient in ritualistic knowledge ; he united constancy with zeal, and consequently he rendered important services to the Masonic Institution. Fortunate is the organization that calls to its support men of such a stamp, men who are gratefully remembered because of their wise and abundant labors.
---