RIGMDoyle
From MasonicGenealogy
THOMAS A. DOYLE 1827-1886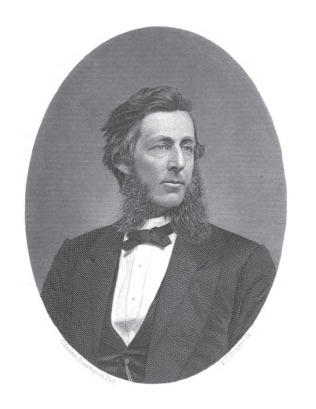 Grand Master 1865-1871
BIOGRAPHY
From History of Freemasonry in Rhode Island, 1895, Page 325:
After the name of Thomas Smith Webb there is scarcely another name to be found on the pages of Rhode Island Masonic records, which represents so much of zeal, interest, and service in behalf of Freemasonry, as does the name of that illustrious brother placed at the head of this paper.
Thomas Arthur Doyle, son of Thomas and Martha (Jones) Doyle, was born in Providence, March 15, 1827. He died in the city where his whole life had been spent, June 9, 1886. He was educated in the public schools of Providence, leaving which, at the early age of fourteen years, he entered the counting room of Benjamin Cozzens, where he laid the foundation of a good business training. In 1853 he was induced to take the place of cashier in the Grocers and Producers Bank, of Providence, organized about that time. Two or three years later he resigned the office of cashier and entered into business as a stock broker and dealer in real estate. His business career was somewhat interfered with by the inclination he had for public affairs. He was first elected to a civic office when he had but just arrived at legal age, and from that time forward he was almost always occupied, to a greater or less extent, in the duties of official station.
In 1864 he was elected Mayor of Providence, an office which he held by repeated elections for nearly eighteen years, meeting its demands and fulfilling its duties in a manner which justified the confidence always reposed in his ability, integrity and public spirit. As the Chief Executive of the city he rendered important aid to many material improvements, being always the friend of true progress, and ready to help foward the various movements which he believed to be conducive to the general welfare. He was a strong supporter of the public school system, ever ready to advocate a liberal policy in carrying on the work of the schools, whose efficiency he sought to promote." Under his progressive administration, Providence made notable advances in ways alike honorable and attractive, attaining a rank among sister cities not previously gained. It seemed that Mayor Doyle was the right man in the right place, and there can be no question that in this position he rendered a varied and abundant service for the people's welfare—a service that will long be remembered to his praise.
At the dedication of the bronze statue erected by the citizens of Providence to his memory, June 3, 1889, an address, suitable to the occasion, was delivered by an eminent Mason and citizen, Col. Nicholas Van Slyck. Two paragraphs of the address are here appended:
"For thirty-four years Thomas A. Doyle was in various ways and capacities the servant of the people of this city, walking daily in their midst, doing his work openly and in the light and in the presence of this people, criticised and criticising, boldly asserting his views, vigorously pushing his policies, yet so conducting himself that in recognition of the value of his work, and as a tribute to> him as a man, and a faithful and enlightened official, this monument has been erected and dedicated. Its erection and dedication is worthy of our city and he is worthy of the tribute. It is beautiful and artistic, reproducing in heroic size his form and features. It is a concrete expression and acknowledgment of his-many and varied acts of devotion and beneficence, that have enured to our advantage, and that have enshrined his memory in our hearts with a warm and lasting love, such love being based upon our esteem for his virtues. It will remain a continual reminder that the faithful discharge of official duty, unselfish devotion to the public interest, a fearless upholding and enforcement of well-grounded convictions, united with a love for humanity, will receive due appreciation, compelling the plaudits of praise from posterity and proving an incentive to others to imitate his example.

"This is not, however, his best monument. Its value is that it perpetuates the memory of his deeds and character, emphasizing what we know, and in perpetuating such knowledge to future generations. His highest praise and worthiest honor, is, however, found in other visible memorials, in the improvements in our highways, in the introduction and presence of a bountiful supply of pure water, in the condition of our sewerage, in an efficient uniformed police, in the existence of advanced facilities for the extinguishment of tires and for their prevention, in our present methods for the relief of the poor, and in our beautiful and convenient school and other public buildings. All these remind us of his power and influence exercised for the public weal, and all have contributed their part in the making and upbuilding of this, in size and wealth, the second city in New England, but second to none in the enterprise, intelligence, and morality of its people, and in its beauty and good government. He was not content with the past, but looked forward to greater progress in those matters he deemed necessary to the continuance and betterment of our then improved conditions ; but alas ! his course was all too suddenly ended, and to other hands has been left the performance of the duties that were allowed to rest upon him."
Bro. Doyle was made a Mason in St. John's Lodge, Providence, October 28, 1857. He filled several subordinate offices in the Lodge, and was its Worshipful Master in 1859-60. He was Grand Secretary of the Grand Lodge of Rhode Island, in the years 1860-61, 62 and 63. In May, 1865, he was elected Grand Master of Masons in Rhode Island, and held the office for seven years. His keen insight, his knowledge of Masonic history and the general workings of the Craft, and his exceptional administrative gifts, together with his earnestness and zeal, ever manifest, made his administration as Grand Master most successful.
In 1859 he received the Chapter degrees in Providence Royal Arch Chapter. The year following he became High Priest of the Chapter, retaining the position for four years. In 1865 he was elected Grand High Priest, and annually re-elected for the next six years.
In 1859 he became a member of St. John's Commandery, Providence, the Order of the Temple being conferred on him May 9th, of that year. He dimitted from the parent body to join Calvary Commandery, in Providence, and held several important offices in that organization, among others that of Em. Commander. He returned to St. John's Commandery in 1870, and was the Em. Commander of that body in 1876-77. He was called to fill the offices of Grand Prelate and Grand Generalissimo in the Grand Commandery of Massachusetts and Rhode Island.
Bro. Doyle had taken the degrees of the Cryptic Rite though he was never active in this department. In the Scottish Rite he was especially interested. He was advanced to the Thirty-third and last degree, and at the time of his death he was an active member of the Supreme Council for the Northern jurisdiction.
In all this broad range of Masonic duty and engagement our illustrious brother made proof of manifold graces and acquirements which gained for him the deserved esteem of brethren both at home and abroad. He was a reading Mason and had good knowledge of the history and jurisprudence of the Craft. He was well versed in the work and ceremonies of the Fraternity, although not an accomplished ritualist. He had exceptional grace and dignity as a presiding officer, and his intelligent methods of illustration, and the earnestness always manifest in his reading of any official service, gave impressiveness to Masonic instructions as they came from his lips. In the Grand Lodge, as in other Masonic Bodies, both Grand and Subordinate, he generally took an active part in the transaction of business, and gave important help to the legislation of these organizations. He always held decided opinions and was able to give forcible expression to his views. He was quick to detect the weak point of another's argument, and equally quick and happy in reinforcing his arguments from new sources which he made available.
He was a man of ideas, fertile in expedients, quick in responding to the touch of human sympathy, and always ready with voice and pen, and other offerings, to aid the interests of Freemasonry which were so near and dear to his heart.
The funeral of the brother so much loved, and so greatly mourned by the Masons of Rhode Island and of other localities, was solemnized on June 14, 1886.
The procession was composed of civic societies and representative bodies of Masons, the Grand Lodge having been convened, with Grand Master Newton D. Arnold presiding. The religious services were held at the First Congregational Church, on Benefit street, the church in which the deceased was a regular attendant, and were of a deeply impressive character. Rev. Augustus Woodbury, D.D., formerly Grand Chaplain of the Grand Lodge, and Rev. Thomas Slicer, pastor, officiated, the service being in accordance with the King's Chapel Liturgy. When the benediction was pronounced Grand Master Arnold placed the swords and apron upon the casket, signifying that the services were henceforth in charge of the Masons, and the Grand Marshal took charge. The procession filed out of church, the Grand Lodge going first, followed by the casket and the immediate family of the deceased.
The burial was at Swan Point Cemetery. The burial office sanctioned by the Grand Lodge of Rhode Island was recited by the Grand Master, Grand Chaplain and brethren assembled ; and the body was committed to the enfolding of sweet flowers in mother earth. Thus were Masonic honors deservedly paid to a worthy Craftsman whose virtues abide in the loving remembrance of many faithful hearts.
MEMORIAL
From Liberal Freemason, Vol. X, No. 5, August 1886, Page 152:
Among the Freemasons of New England, none was better than Thomas A. Doyle, who received the highest honors the brethren of Rhode Island could bestow.
Of a highly nervous temperament, much force of character, and strong perceptive qualities, his presence at masonic meetings was always felt, and if occasion offered, his voice was as certain to be heard. While yet a young man he was elected mayor of the city of Providence in 1864, and was its mayor at the time of his death — this long term was broken by two brief intermissions, but evidently the voters preferred him.
We quote from a memorial sent out by Henry L. Palmer, 33°, Sov. Gr. Com., of the Supreme Council of the Northern jurisdiction:
"The solemn tolling of bells, a city swathed in mourning, its inhabitants bowed beneath a great sorrow, accompany the tidings of the death of a Chief Magistrate, our lamented Brother, Ill. Thomas Arthur Doyle, 33°, Mayor of the City of Providence, and for many years an active member of the Supreme Council.

Energetic in all the affairs of life his efforts had raised the village of his nativity to be a city which for nearly a quarter of a century had its pride in making him its chief ruler, and willingly obeyed his wise counsel in directing its onward progress.


"He died with his armor on, full Knightly."
As a Mason, he was Past Grand Master, and Past Grand High Priest of Rhode Island, and a prominent member in the Council of the Grand Commandery of Massachusetts and Rhode Island, and it is little to say that in each station he discharged all his duties with freedom, fervency and zeal. Suddenly and scarcely in the ripeness of age, being yet at the entrance of his sixtieth year, the destroying angel halted at his tent and he has passed to the life beyond, worthily and obediently as becomes a man, conscious of duty fulfilled, and ever ready to obey the summons that will surely come to us all.
Socially, few men had greater personal attractions than Ill. Bro. Doyle; cheerful to a degree, his presence was like sunshine, dispersing the gloom of this weary life, and those admitted to his intimacy held him in such esteem as kings might envy. Strong in his convictions, and ever ready to maintain them, no untoward words marked his arguments, and even those most opposed felt and acknowledged the uprightness of his purpose ajid that he desired only the greatest good of the Craft and of our Rite, in which he was so ardent a workman.
Like the community in which he lived and labored, thousands of the Craftsmen would willingly have participated in the last honors paid to his memory, but distance and the demands of active life made that impossible; but I venture to believe that we all joined in spirit with those privileged to surround the last resting place, and united with them in inexpressible regret that his place among us must henceforth be vacant.
Let our warmest sympathy go out to the one most afflicted by his departure, and let his memory be kept as that of one upon whose like we may not look again."
---