MAGLWSalmon
From MasonicGenealogy
WILLIAM F. SALMON 1831-1890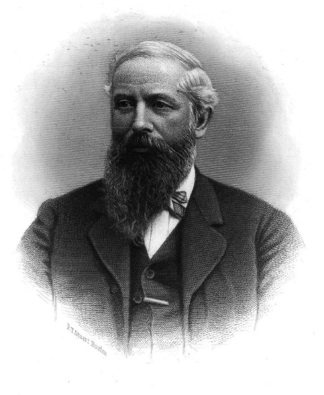 Senior Grand Warden, 1868
MEMORIAL
FROM PROCEEDINGS, 1890
From Proceedings, Page 1890-42:
The Grand Master reminded the Grand Lodge of its action at the Quarterly Communication in March last, directing that the Recording Grand Secretary communicate by telegraph to R W. William F. Salmon our sincere sympathy for him in the serious sickness under which he was then suffering, and our earnest hope for his recovery. The order was duly executed, as appeared by the printed Proceedings of our March Communication. But our hopes were doomed to disappointment. Brother Salmon died on the twenty-eighth of the same month.
For nearly thirty years he has been active in the counsels and other service of this Grand Lodge. His devotion, zeal and efficiency are known to us all, but especially to the Brethren of the city of Lowell. To R.W. Brothers Solon W. Stevens and Elisha H. Shaw, and W. Brother Frank L. Weaver, has been assigned the duty of recalling to our recollection the various services and the characteristic traits of our departed Brother.
R.W. Solon W. Stevens presented the following:—
IN MEMORIAM: WILLIAM FRANCIS SALMON, Born, Oct. 13, 1831. Died, March 28, 1890.
The period of a little more than fifty-eight years computed between these dates covers the life of a highly respected citizen, an influential man, and a most proficient and zealous Mason. R.W. William F. Salmon was born in Roxbury, Mass.; after leaving school he went into the Boston office of the Lowell Carpet Company ; in 1848 he was transferred to the Lowell office of the same. Company, and served in the capacity of paymaster and assistant superintendent successively for a number of years. He was afterward appointed agent of the Lawrence Manufacturing Company, and after a few years of service in this position he organized the Lowell Hosiery Company, became its manager, and continued in the faithful discharge of the duties of this office until his resignation a few weeks previously to his death.
He rendered efficient service as member and as President of the Lowell Common Council, as Alderman, as State Senator, as a member of the Lowell Water Board, and as a member of the Lowell Board of Trade. In addition to these posts of responsibility he was connected with various charitable and philanthropic organizations, and in all these different positions of trust his capacity and his,fidelity made him prominent in the community as an influential .citizen and an enterprising business man.
He became interested in Freemasonry in 1853, and maintained an intimate connection with the various departments of the Institution throughout the whole of his busy life. He was made a Master Mason in Ancient York Lodge in 1854, and after service, as Senior Deacon and Senior Warden was elected for three successive years to the position of Worshipful Master, and in 1867 was elected an honorary member of that Lodge. In February, 1867, he took his dimit from Ancient York and became a charter member of Kilwinning Lodge, served as Senior Deacon during the first two years of its existence, and was also Worshipful Master of this Lodge from Nov. 30, 1880, until Nov. 30, 1882. He was elected Senior Grand Warden of the Grand Lodge of Massachusetts in 1867, and in the succeeding year was elected a member of the Board of Directors, which position he held by repeated elections until the day of his death. In 1872 he was appointed chairman of the Committee on By-Laws and Charters, which position he held until 1888, when he declined a re-appointment.
In 1855 he received his degrees in Capitular Masonry in Mount Horeb R.A. Chapter and served as Secretary of that Chapter for three years. In 1857 he received his Council degrees in Ahasuerus Council and for many years held important positions ih that Body. He received the Orders as a Knight Templar in 1855 in Pilgrim Commandery, held various official positions therein from 1856 to 1864, when he was elected for two years consecutively to the office of Commander; and, during the years 1863-4-5, was Grand Warden of the Grand Encampment of Massachusetts and Rhode Island. In 1862 he was elected to the Board of Trustees of the Lowell Masonic Association, and in 1872 he was elected to the Presidency of the Board, which office, by repeated elections, he held until the time of his death. He received the degrees conferred in Massachusetts Consistory from the fourth to the thirty-second, inclusive, in 1861, and in 1865 was the recipient of the honors of the thirty-third and last degree. He was Master of Ceremonies in Lowell Lodge of Perfection from 1862 until 1877, Senior Warden of Mt. Calvary Chapter Rose Croix in 1862 and 1863, and M.AV. and Perfect; Master from 1863 to 1887. He was the prime mover in the organization of the Lowell Masonic Relief Association ih 1873, and was its first President, which position he held until the day of his death. In this way our Brother was more or less actively engaged in Masonic work for the last thirty-six years of his life. He was by far the most proficient Mason in the Community in which he lived, and in the general attainments of Ritualistic requirements and Masonic jurisprudence he had but few equals in the Commonwealth.
The record indicated above is merely an outline of the work he accomplished. As the narrow spaces between the annual rings on some ancient trees convey to the thoughtless observer but little idea of the great events which have revolutionized the customs of the world while these lines were marked, so the intervals between these statistical data afford the casual reader but little conception of the mental application, the patience, the perseverance, and the expenditure of nervous force, implied thereby when considered in their complete significance. His experience embraced every step and degree recognized in legitimate Freemasonry. The Ritual, the symbolism, and the jurisprudence of the Craft, were to him matters for profound and critical study in his hours of freedom from business pursuits. Skill in verbal accuracy, the best mode for the observance, of proprieties, the comprehension of symbolic suggestions, and the perfection of ceremonial details, were to him a life-long and fascinating avocation. He understood better than most men the philosophy concealed beneath that ingenious and labyrinthine system of hieroglyphic device and symbolic nomenclature, which is characteristic of our various rites. The same mental habit, which made him an expert in tracing out the "missing links" amid the perplexities of mixed and unbalanced accounts, led him to explore the meaning of cipher, symbol, and technical device, and to fix their interpretations in his remarkably retentive memory.
He also gave much time to the study of that department of Masonic jurisprudence which relates to the government of the different Bodies and their relations to each other, and the proper mode of framing By-Laws under which the different Lodges might harmoniously carry on their special work with the spirit of emulation rather than rivalry. Hence his expressed opinion was heeded as authority. Men felt and believed that his judgments in these matters were the result of superior attainments, wide experience, and preeminent capacity.
Brother Salmon was a man of strong convictions, self reliant in judgment; he did his own thinking, and in matters social, political, and religious he drew his own conclusions. Tolerant of different opinions in others, he was the personification of honesty and candor. In the maintenance of his convictions he never forfeited the respect of his opponents. He was also a generous and public-spirited man. Who of us will soon forget his genial, pleasant manner, and the cordial grasp of his hand? Who of us will forget his willingness to render assistance when needed, and to assume burdens which belonged to others to bear? He seemed always anxious for the improvement of the condition of his fellows. He lived in sympathy with every enterprise calculated to promote the public good; and, on account of his great executive ability, was often placed at the head of committees and organizations charged with specific duties because of his aptitude as a leader. These traits made him prominent in his large circle of acquaintances, and thus the little section of the great world in which he moved has been made the better because he has lived. He was an able, honest, public-spirited citizen. He had his faults, because he was mortal; he had his weaknesses, because he was human. But he will be remembered for his unselfishness, for his sensibility, for his honesty, and. for his moral worth as a man and as a citizen; and memory will often recall to us, when engrossed in the perplexing pursuits of the busy world, many delightful occasions when his presence brought new elements of gladness, and added new zest to the pleasures of the quickly passing hours.
He has passed from his place in this visible Grand Lodge to his station in the celestial Lodge beyond. He has laid aside the working tools, and is now at rest. It is difficult to realize that his absence from this chamber will be permanent. He has joined that goodly company of chosen friends, Gardner, Cheever, Titus, Howland, Spaulding, and others, whose shadowy forms were doubtless often seen during the lingering hours of his illness beckoning him on to the delights of renewed companionship in the realms of perennial joy. From beyond the veil of infinite mystery their spirits answer to ours, and somewhere in the great empyrean they are waiting for us.
"Happy is he who heareth
The signal of his release
In the bells of the Holy City,
The chimes of eternal peace."
Respectfully submitted,
SOLON W. STEVENS,
ELISHA H. SHAW,
FRANK L. WEAVER,
Committee.
FROM LIBERAL FREEMASON, 1890
From Liberal Freemason, Vol. XIV, No. 1, April 1890, Page 26:
What a frank, impulsive, almost headstrong, Freemason, William F. Salmon was! The ring of his voice, the confidence of his manner, the air of complete and thorough conviction of right, that characterized him in causes which he advocated, are all so familiar, that it does not seem to be the unwelcome fact it is, that William F. Salmon, is dead.
Our brother was born in Roxbury, Mass., in 1831, and while yet in early boyhood he entered the Boston office of the Lowell Manufacturing Company, from which he was transferred in 1845, to the Lowell office as assistant paymaster, and later, as paymaster. He remained with this company twenty years, and became known as an expert accountant. During the next three years he was agent of the hosiery department of the Lawrence Mills. In 1869, he was active in organizing the Lowell Hosiery Company, of which he became manager and treasurer; a business position he continued to hold until he resigned, because of ill-health, shortly before his death, which occurred March 28, 1890. We quote from the Lowell Morning Times:
Outside of his direct business connection, Mr. Salmon has been identified with many enterprises and popular movements which have come up from time to time. During the war he was active in any movement for helping forward the work of aid and comfort to the soldiers in the field. One of the last popular movements with which Mr. Salmon was identified, was that for the relief of the Johnstown flood sufferers. He was prominent in the initial steps of the movement, and was an active member of the executive committee.

He was also the leading spirit in the reception to the Ancient and Honorable Artillery of London, when they came here under escort of the Ancient and Honorables of Boston, of which body he was an esteemed member. He served in the common councils of 1858, 1859 and i860, the latter year being its president. In 1871, he was a member of the board of aldermen ; and in 1874, was the State senator from this district.

Outside of business relations, Mr. Salmon was probably most widely known and esteemed in his Masonic connection. Among the local fraternity, he was regarded as a father, and as his active business career forms a page in the history of Lowell, so his Masonic connection forms a page, and an honorable one, in the history of the fraternity in the city and State. His Masonry was a combination of enthusiasm and conservatism. Early and readily imbibing the beauties and teachings of the work and ritual, he was to the last degree ambitious for their advancement, enthusiastic in all that pertained to the work, a master in the delivery of its lectures, and an expert in the exemplification of its mystic rites and symbols.

At the same time he was conservative in holding fast to ancient landmarks, frowned upon anything not plainly bearing the sign manual of authority, and was sternly tenacious of the most rigid secrecy even in matters which would not ordinarily be considered of a secret nature. To him all that pertained to Masonry was mystic, to be preserved inviolate, while within the guarded portals his genial social nature was at its best.

He was made a Master Mason in Ancient York Lodge March 22, 1854, and was Worshipful Master in 1858-59-60. He remained an honored member of this Lodge till 1867, when he became a charter member of Kilwinning Lodge, and continued a member there up to the time of his death, serving as Senior Warden two terms in the first years of the Lodge. He became a member of Mount Horeb Royal Arch Chapter February 12, 1855, and was Secretary in 1865—67-68. In 1857, he was received into Ahasuerus Council Royal and Select Masters; and December 14, 1855, entered Pilgrim Com-mandery, Knights Templars, of which he was Eminent Commander in 64-5. November 27, 1861, he received the Scottish Rite degrees to the thirty-second, and May 18, 1865, was Sovereign Grand Inspector General, thirty third degree. In all these bodies, he, at one time and another, held official positions, and was M. W. and P. Master of Mount Calvary Chapter of Rose Croix from 1863 to 1888. He was Deputy Grand Master of the Third Masonic District from 1862 to 1865, and Senior Grand Warden of the Grand Lodge in 1867. By virtue of that office, he became one of the Directors of the Grand Lodge, and held the position by regular election till his death. From 1863 to 1865 he was Grand Warder of the Grand Commandery, Knights Templars. He became one of the Trustees of the Lowell Masonic Association in 1862, and continued such till his death, having been President since 1873, and had been President of the Masonic Relief Association from its organization. He was an intimate friend and associate of the late Judge Gardner in Masonic matters. It is an interesting fact that Arthur F. Salmon, son of the deceased, is now Worshipful Master of the Lodge (Ancient York) where his father was made a Mason.
Personally, we became acquainted with Brother Salmon, February 6, 1863, when we received the degrees in the A. and A. Rite, from the 4th to the 18th, in Mt. Calvary Chapter, under his Mastership; and from the 19th to the 32d, inclusive, in Massachusetts Consistory, under William Sewall Gardner. During the years passed since then, we have had many and frequent opportunities to witness his devotion to Freemasonry; to observe also, his active participation in debate on all constitutional questions coming before Grand Lodge, and the good-natured courage with which he would advocate his own opinions. In this direction, it is questionable if any member of Grand Lodge, except the Grand Master only, has for twenty years exercised so much influence in the legislation of that Body, as did Brother Salmon. His voice and his vote were given on all important matters, with an earnestness and good nature, that carried conviction of his sincerity, even though another might differ widely with him.
Tenacious as he was, he was also subject to considerations of friendship, and friendly influence. This element of his character was severely tested at the time the vote was taken in Grand Lodge, on amending its Constitution, by asserting recognition of degrees over and beyond those permitted to Master Masons and Blue Lodges only. Brother Salmon retired to the ante-room, and there remained while the vote was being taken, consenting to subordinate his identity to the wish of many friends, rather than to assert opposition.
His enthusiasm in Freemasonry, however, knew no abatement, unless it was in the A. and A. Rite, and for reasons that he fully explained, concerning its management.
The character of our brother was one of manhood, and through this he had a strong hold upon the affections of his fellow citizens, and of his Masonic brethren. For the many years that he lived in Lowell,.he was well-esteemed, and his brethren emphasized this at his funeral. The ceremonies of this last tribute were simple, and unostentatious, according to his wish, but reverential and impressive, according to the manner of Masons. Kilwinning Lodge performed the closing rites at the grave, where the sprig of accacia was dropped by many friendly hands in token of brotherly love for William F. Salmon.
From Liberal Freemason, Vol. XIV, No. 4, July 1890, Page 118:
In April last we spoke of Brother Salmon in a biographical way, though not so fully as to include all that could have been said of him masonically. In regard to-his activity in establishing Kilwinning Lodge, in Lowell, Mass., he was Senior Warden, under his friend and lamented associate, William S. Gardner, the first Master of the Lodge, and succeeded him in that office, which he held two years. The Lodge has expressed itself with special emphasis in the report to it made by three Past Masters, and this we herewith present:
Worshipful Master and Brethren of Kilwinning Lodge: — The committee appointed at the last stated communication of the Lodge, upon the announcement of the lamented death of Right Worshipful Brother William Francis Salmon, respectively submit the following estimate of his great qualities, noble traits and invaluable services:

Perfect honesty and justice were the foundation of the man, He had not only the virtues of every gentleman. He was not simply truthful. He knew not how to evade. He was not simply honest and candid and sincere. He knew not how to tell a part of the truth. He knew not how to restrain his condemnation of a half truth. All bickering and deception he abhorred.

Apart from his supreme desire and purpose that truth and justice should prevail, he was eminently kind and benevolent. His acts of technical charity and benevolence were innumerable. His daily life was filled with disinterested services and kindnesses rendered to his friends.

Intellectually, he had the keenest perceptions and the truest intuitions; he was the most active, the readiest of men; he reasoned with great rapidity; he concluded, infallibly and executed immediately.

This, in brief, was Brother Salmon. Inflexibly just and honest; of great decision of character, and of great executive force; of the greatest kindness and benevolence, and to his friends an unfailing bulwark and support.

What he did for Freemasonry in general, his great ritualistic and other services known throughout this Jurisdiction, will be recited and recorded, where perhaps his most conspicuous work was done, and his greatest triumphs were achieved.

In the history of Kilwinning Lodge he stands alone. Among its founders but one name could be mentioned in rivalry with his; when is taken into consideration his unceasing labors from 1867, almost to the day of his death. When the character of those labors is considered, it can truly be declared, in the presence of the living and the dead, that while the works of other brethren will ever remain a fragrant memory and a priceless possession, his career among us must continue unrivalled, matchless and pre-eminent forever.

We know not through what seasons of adversity and trial Kilwinning Lodge may be destined to pass. We know not what prophet may arise in such time of peril and danger. But however great and precious may be the services rendered in the future, yet it remains on perpetual record, that under the smile and with the aid of the Supreme Architect of the Universe, Right Worshipful Brother William Francis Salmon was the creator and preserver of Kilwinning Lodge.

Your committee further submit the following resolution:

Resolved, that to the family of Brother Salmon, to whom was best known all that was truest and tenderest in the heart of the departed husband and father, the brethren of Kilwinning Lodge tender their heart-felt condolence and sympathy.

Hermon G. Smith,
George F. Lawton,
Walter Coburn,
Committee.
---