MAGLWFlint
From MasonicGenealogy
WILLIAM FLINT 1814-1859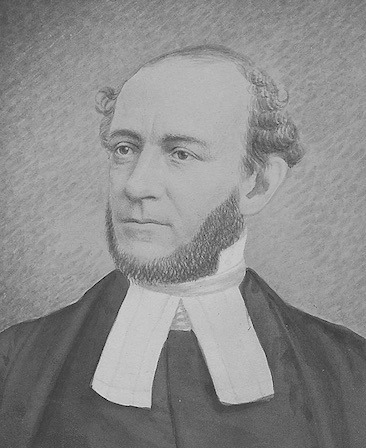 MEMORIAL
From Proceedings Page VI-245ff, 1859
"The Great Arbiter of life and Death, who doeth all things wisely and well, has in his Providence removed from this Body one so recently among us in the apparent activity of health; one long devoted to our cause and to the service of his God, to the fulfilment of every duty as a man and Mason.
"Our late D. G. M. R. W. Bro and Rev. Wm. Flint died at Greenfield, the town of his residence, and of the Episcopal Church of which, he was the beloved Rector, on Tuesday morning of the 12th. April last. His health had not been good for about a year previously but his confinement and inability to perform the duties of his profession, continued only the Friday preceding the day of his disease. It was his request that he should be buried with Masonic honors, a mark of respect we should have rendered to his memory as a worthy and devoted Mason had this request not been made. Accordingly on the day of his burial, April 14th. our funeral rites were performed by the G. Master, John T. Heard assisted R. W. Winslow Lewis. P. G. M: R. W. Charles W. Moore. R. G. S: R. W and Rev Dr Osgood. G. C: W. Br. W. W. Wheildon G. S: W. Br Lambert preached the funeral discourse, one deeply impressive and eloquent. Republican Lodge and a large number of Brethren residing in the neighborhood of Greenfield, were present also. The prayer at the grave by the venerable Chaplain, the Rev Dr Osgood breathed the spirit of piety and confidence that all was well forever with our dead Brother, and with that confidence we laid his body in the earth, with the full assurance of his souls blessed immortality.
"The Rev Dr Flint was a man of no ordinary composition. In stature commanding, with a fine voice — he was an impressive speaker — his style fervid and forcible — and his mind could pass with great rapidity from "grave to gay, from lively to severe." He had a genial, warm, affectionate heart. Ever ready to conduce to the pleasure of his friends, he was ever the welcome companion. No one who knew him but loved him. He was the "beau ideal" the very personification of the good, the upright the sincere Mason and friend. His intellectual power was strong, his mental endowments much above the common standard, and as a conversationalist he excelled. He won hearts by his kindness of manner, and respect by his evident excellence,
"We have lost a most valued Brother, and Masonry one of its firmest votaries. We have lost one who had a heart — for alas: all have the mere pulsating organ, but few possess that high functionery perfection of moral action, which is the heart's best performance, which feels aright for all and is contained in a breast which bestows happiness around.
"There is a tribute due to every departed Brother who has filled his Masonic relations with fidelity however humble the position he may have occupied in the Fraternity; and surely, to him now lost to us on earth, who occupied the honorable office next to the Chair in this Gd Lodge, who, in so many States of this Union sustained so many varied relations of Masonic importance — we owe all that we can now pay to his memory the adoption of the following resolutions:
"Resolved — that the Christian Church — the general community, and Freemasonry have lost by the death of our R. W. Brother the late Rev. Wm. Flint a true soldier of the cross, a valued citizen, a dearly beloved Brother.
"Resolved. That though translated from earth to happier skies; though lost in the midst of life and usefulness he has done his work well, and has left his memory to be cherished, his loss to be deplored.
"Resolved. That we tender the united sympathies of our Fraternity to her, who shared with him the happiness of domestic union, and trust that that union though here severed, may be re-established in the never ending tie of a still happier hereafter."
ARTICLE IN FREEMASON'S MONTHLY
From Freemason's Monthly Magazine, Vol. XVIII, Page 196, May 1859:
"it has become our painful duty to record the death of the R.W. Deputy Grand Master of the Grand Lodge of this Commonwealth - the Reverend WILLIAM FLINT, of Greenfield, at which place he died on Tuesday, the 12th ultimo, aged 45. The immediate cause of his death was a malignant tumor in the abdomen, with which he has been afflicted for sometime. He has suffered acutely nearly the whole of the past year, and been compelled to rely almost wholly upon stimulating anodines for temporary relief. He has however borne his sufferings without complaining, and with a firmness and submissiveness eminently consistent with his Christian profession and character.
"Brother Flint was a native of Charlestown, Mass., and in the public schools of that place received the rudiments of his education. He subsequently entered Amherst College, from which he graduated with honor, and soon after engaged in the study of Medicine. Having obtained his degree he removed to the South, and settled, we think, in North Carolina, where he commenced practice; but taking a dislike to his profession, or not succeeding to his expectations, he abandoned it and entered upon the study of law, and was in due time admitted to the Bar, either in Georgia or Alabama. He seems not, however, to have been more fortunate in his second, than in its first choice of a profession, for he soon after left the law, and engaged in the study of divinity, and was in due time ordained as a Minister of the Episcopal church. We are not able to state with whom he studied, or where he was first settled. He was, however, Rector of the Episcopal Church at Erie, Pennsylvania, in 1853; in which year he was called to St. John's Church, in his native town. Here he continued about two years, when he accepted an invitation to fill the vacancy occasioned by the death of the Rev. Dr. Strong, as Rector of St. James' Church, in Greenfield. Here he remained until his deceased. He was endowed by nature with a high order of talent. As a reader, he had but few equals among the clergy of the church; and as a writer, but few superiors.
"The funeral took place at Greenfield, on Thursday, the 14th, at noon. The body was taken into the church of which he was the Rector, where the solemn rites of the dead were performed by Rev. Brother Lambert, or Charlestown, Rev. Mr. Childs, of Springfield, and Rev. Mr. Reynolds, of Ashfield. An exceedingly appropriate and able discourse was delivered by the Rev. Mr. Lambert, in which the speaker paid a warm and just tribute to the personal worth and eminent ability - the genial heart and strong attachments of his deceased friend and Brother. Notwithstanding the severe storm, the church was filled to its entire capacity, and services were listened to with great attention.
"After the services in the church, a procession was formed, which attended the body to the Cemetery, where the Masonic burial services were performed by the officers of the Grand Lodge. They consisted of singing an appropriate Hymn; Prayer by Rev. Dr. Samuel Osgood, Grand Chaplain, of Springfield; Address by the Grand Master; Invocation, and Responses by the Brethren; after which each member of the Fraternity dropped a sprig of evergreen into the grave, and the ceremonies were concluded with singing, and a Benediction. A large number of Brethren were present from Shelburne Falls, Northfield, Northampton, Springfield, Chicopee, Holyoke, and other neighboring towns. The stores of the town, and the post office were closed, and the bells tolled during the moving of the procession.
"The following brief address was delivered by the M.W. Grand Master, Col. Heard, at the grave:
Brethren - We are assembled around the grave of one who when living was esteemed and honored by his fellow-men. Of his high position in general society and in the Church, I purpose not to speak. His virtues will be ever remembered by those who had the privilege to hold daily communion with him; and the example of his Christian life and the excellence of his character as a Minister of the Gospel, will receive a fitting eulogium from those who were associated with him in the holy profession to which he devoted so many of the years of his earthly existence. But I would allude most briefly to his Masonic life, which was one of great experience and usefulness.

He was made a Master Mason in Davie Lodge, Brittain's Cross Roads, Bertie County, North Carolina, in 1837. He demitted from that Lodge, Nov. 4 of the same year, and subsequently was elected Secretary of Scotland Neck Lodge, Halifax County, N.C., in which office he served two years. He afterwards removed to Augusta, Ga., and was connected one year with the Lodge at that place. Removing to Athens, Ga., he 'succeeded as editor of a newspaper, by continued advertising, in collecting together a sufficient number of old Masons to form a new Lodge,' in which he officiated as Senior Warden. On the 7th of November, 1844, he was elected to the office of Senior Grand Warden of the Grand Lodge of Georgia, which he filled one year. Previous to this, he had spent a little more than a year in Clayton, Alabama, where he established Royal Hart Lodge, and was its first Master.

In 1846, he removed to Erie, Penn., where he found a few faithful Brethren, who united with him in organizing Presque Isle Lodge, of which he was the first, and elected again to be the third Master, which station he filled. Removing to Charlestown, Mass., he became Chaplain to King Solomon's Lodge, and subsequently on his settlement in this town he filled the same office in Republican Lodge.

During his Masonic career, he was successively a member of the Grand Lodges of North Carolina, George, Alabama and Massachusetts. He died holding the second office in this Masonic Jurisdiction, which for more than two years he filled with grace, dignity and ability.

We all remember the elegant and appropriate address delivered before the Lodge in this town on the occasion of the dedication of its new Hall - a production breathing the spirit of piety and brotherly love, and inculcating in stirring terms the principles of our cherished Institution. It was then that I had the happiness to form those personal relations which lasted to the time of his death.

Our Brother dedicated the new Hall of Mount Zion Lodge in Barre in Febr., 1858, and endeared himself to the Brethren there by his genial, fraternal intercourse with them, as well as by the instructive and beautiful charge he delivered in the course of the ceremonies of dedication. His historical address before King Solomon's Lodge in September last, was replete with Masonic knowledge and expressed with the force and beauty of style for which he was distinguished.

During the time in which he was officially associated with me - a period of more than two years - our relations were intimate, confidential and truly fraternal. Not always was it in his power to attend the communications of the Grand Lodge; but, still, his attendance was frequent; and his occasional inability to perform this duty was always made known to me in terms of deepest regret.

His chair in the Grand Lodge is now vacant. The station which he filled in this jurisdiction with so great honor to himself and benefit to the Fraternity, will never again be occupied by him. That voice is hushed forever; the tones we loved to listen to will not again be heard in our assemblies.

At his request, often expressed to those who attended him in his last sickness, we are assembled to perform our burial rites over his remains. This request is in harmony with the high appreciation with which he regarded freemasonry, and is consistent in one who devoted so much of his life and talents to its extension and prosperity.

At a meeting of Republican Lodge, at Greenfield, on the 17th ult. the following resolutions were adopted:-
Resolved, That while society has been deprived of a brilliant and useful member, the church of an honest and earnest supporter, - ours have been the greater loss of a social, genial friend - a sympathizing, kind adviser, a true-hearted, generous Brother, - a loss which we most deeply feel, and which can never be supplied.

Resolved, That a copy of these resolutions be communicated to the widow of the deceased Brother, and that they be published in both the Greenfield papers, and in Moore's Masonic Magazine.

---
SPEECHES
ADDRESS ON ST. JOHN'S DAY, JUNE 1854
From Liberal Freemason, Vol. V, No. 9, December 1881, Page 278:
On St. John the Baptists' Day, 1854, the Rev. William Flint of Charlestown, Mass. delivered an eloquent Masonic address before Lafayette Lodge, in Manchester, N. H., from it we take the following extract:
You are members, my brethren, of an Order which lays claim to a very high antiquity, which travels upward with the light of its own record, far beyond the birth of any existing human institution. You are members of an Order which has included in its ranks and yet numbers with its members the great and good of the earth, whom all men have delighted to honor. When the claims of an institution, thus venerable from age, respectable from the character of those associated with it, and lovely because of the virtues which it fosters, are presented before an intelligent community, we cannot but expect that they will be heard with attention and considered with candor.
It is, we think, unwise in Masons to endeavor to trace their history in the fabulous ages of antiquity, or lay claim to that which cannot be clearly proven. The principles of truth, and love, and charity, which constitute the groundwork and design of Freemasonry, are of course coeval with the creation ; and this is all that can be meant when the birth of Masonry is dated from that era. Those cardinal virtues taught by the patriarchs are taught in the dogmas and doctrines of the institution, and in this view many of our writers have claimed a legitimate descent for the speculative Freemasonry, of the present day, from the primitive Freemasonry as it has been called, of the antideluvian world, and of Noah and his immediate descendants.
Others again find the origin of our order in the mysteries of Paganism. This opinion rests upon a better foundation. These mysteries were instituted by the more learned and virtuous of the heathen, for the purpose of preserving and handing down to posterity, a knowledge of God and the practice of morality.
The investigation would be curious and instructive, and well worthy the attention of Masons ; but it is one that cannot be fully carried on outside of the precints of the Lodge room. For ourselves we are willing to allow the Order a more modern origin, and while we would not deny the claims of those called our ancient brethren, we are satisfied in knowing that from authentic records, we have a longer existence than any other existing hums* institution.
ADDRESS AT REPUBLICAN LODGE HALL DEDICATION, FEBRUARY 1856
From Moore's Freemason's Monthly:

Vol. XV, No. 6, April 1856, Page 189;
Vol. XV, No. 7, May 1856, Page 205;
Vol. XV, No. 7, May 1856, Page 207;
Vol. XV, No. 8, June 1856, Page 252.
The admirable address delivered at the Dedication of Republican Lodge, Greenfield, on the 15th February last, by Rev. William Flint, M. D. has been handsomely printed, at the requestor the Lodge, and a copy politely forwarded to us. It is an address of more than ordinary interest and literary merit, and it would give us great pleasure to present it to our readers in full. We have marked several pages which we propose to transfer to our pages.
MASONRY AND RELIGION.
Masonry is a religious institution, founded upon the truths of the word of God, — but it is not thereby religion, or a substitute for it, natural or revealed. It does not prescribe the faith, regulate the conscience or control the judgment of any. She allows to each the liberty of his own creed, and the peculiar form of his own worship. With the revelation of God, whose sublime doctrines she cannot increase, — whose noble precepts she cannot improve, — whose sanctions she dare not adjudge, she does not interfere. But throughout all Christendom, Masons recognize the Bible as the great Light of Masonry — its study is enjoined, and obedience to its sacred precepts inculcated, according to each one's understanding of its teachings; while all gather in harmony and love around the sacred altar to pay their vows to the Most High. Hence the Bible is ever carried in our solemn processions, — it is laid open before us in all our important transactions; as the pillar of fire and a cloud went before the camp of Israel — to denote our belief in its divine origin, and our cordial acceptance of it as our guide and directory, through the wilderness of this world, to that undiscovered country from whose bourne no traveller returns.
Masonry is the ever dutiful handmaid of religion by recognizing and leading its votaries to bow in adoration before the great architect of the universe, and seek to know and imitate his perfections; and by its emblems and moral lessons striving to expand the affections and charities of the human heart,—removing its vices and cultivating its virtues, it prepares the way for the more enlightened and spiritual worship of the Father, — the highest perfection of virtue, and the loftier and purer and better hopes of the Gospel.
But it is often objected, that Religion of itself is sufficient for these things; and we gladly acknowledge it; but then to be so, it must influence and pervade all things, and when that great predicted day shall come, when, "from the rising of the sun to the going down of the same, God's name shall be great among the Gentiles, and in every place incense shall be offered unto Him, and a pure offering;" then shall Masonry be absorbed in the brighter light of religion ; then, its mission being accomplished, its doors shall be opened, and the mysteries of its Lodges cease. But until that time come, may it flourish as a blessed instrument in carrying out and applying the principles of religion, — promoting peace on earth and good will to men, — by relieving the distressed; abating strife; reconciling enemies; drawing closer the cords of Brotherly love; enjoining mercy, temperance and frugality; submission to lawful authority; belief in God and Christ whom he hath sent: reverence for the Bible and the institutions of Christianity.
These are the noble objects which she sets before the Fraternity, fully, frankly and unreservedly. If they have failed to attain them, or have stopped short, — or turned aside, — or have falsely perverted or misrepresented them; let the sin be charged upon them individually, and not upon the Institution. The duties of Masons are well defined in a few words, which shine forth, bright as the Sun and clear as the Moon, from the great central Light of Masonry. "Brethren, whatsoever things are true; whatsoever things are honest; whatsoever things are just; whatsoever things are pure ; whatsoever things are lovely ; whatsoever things are of good report; —if there be any virtue, think on these things." Whatsoever things are true in morality and in religion! Belief in the existence and perfections of one only, the living and the true God, — of whom are all things, — veneration for his glorious character, — trust in his mighty name, — and hope in his mercy, are duties forcibly inculcated by our symbols, our ceremonies, our laws and regulations. Says the Book of Ancient Charges: "The first charge is, that ye shall be true men to God and the Holy Church." Infidelity is falsehood in religion; it is absurdity in Masonry. To be good men and true in the one, we must not be faithless and disobedient in the other.
MASONRY EVERYWHERE.
But the scenes of this evening remind us that not only is Masonry here alive, springing, like the fabled Phoenix from its ashes, — but throughout the world it is still existent, — active in its heaven-appointed work of love and benevolence. Unaffected by time, the destroyer of all things human, it still remains, the same imperishable monument of divine knowledge and finite rectitude, unchangeable, — indestructible.
The morning drum that welcomes the flag of the British dominions is said never to cease its roll. The same may be truly said at this day of Freemasonry, the same in her principles and teachings as she was a thousand years ago. The bright orb of day, in his diurnal revolution, finds at each hour some hallowed spot, — the home of a Mason, or the domicile of a Lodge, on which to shed his rays of light and heat. As he leaves the shore of Asia, and with them the Lodges of the East, — he looks down upon other assemblies of the Brethren amid the populous cities of Europe, or cheers some solitary disciples as they greet each other in the deserts of Africa; — and still continuing his course, he is welcomed by the Sons of Light in our happy land, and in the republics of South America. Every where may the Mason now find a home and a Brother. From East to West, from North to South, wherever dwells civilized man, there are our Temples erected. The lessons of Masonic lore have penetrated into the far-off wilderness of our own West, and the red man of the soil has shared with his more enlightened Brother, the mysteries of the Craft. Lodges in active operation are to be found in every part of Europe, in spite of the denunciation of the Papacy, and the jealousy of an ambitious Priesthood. The banners of Freemasonry have been unfurled, and many rest in peace under their folds beneath the burning suns of Asia and Africa. At no time since God said, "Let there be light, and there was light," has Masonry been more widely spread than at the present hour, — never were its members more numerous and active. Wherever the principles of heavenly truth pour down their rays; there are they reflected from some jewel of our Orde ; there are they received and cherished in the heart and made manifest in the life of some member of the Craft.
TRIBUTE TO THE DEAD.
The following beautiful tribute to the memory of the late Rev. Dr. Titus Strong and Francis Raymond, Esq., of Greenfield, is from this address:—
But there are some missing from our midst, who have been accustomed to cheer us by their presence, strengthen us by their counsels, and incite us to duty by their upright, consistent lives. Blooming youth, with all its hopes and aspirations, and ripe old age, its fruits stored for eternity, have been removed from our earthly Companionship. The great reaper of our race, regardless of those sweet ties, — those pleasant associations which only Masons know, has gathered them into his well-stored garner. For a brief period only had the one lived among you; but long enough to secure the esteem and win the affections of this whole community. Modest and unassuming, his worth could not be concealed, — kindness and benevolence irradiated his countenance, — they beamed with mild, glad light from his eye; — while the words of sympathy and charity were ever on his lips. A blight future shone before him, — a future laden with the honors of his chosen profession, — cheered by the approbation of his fellows, and the plaudits of a good conscience towards God and man. But suddenly he passed away, going down to the grave, gently and calmly as falls the infant to sleep in its mother's arms.
We may not mourn our loss ,— for is it not by Inspiration asked, "Who shall ascend into the hill of the Lord, and who shall rise up in his holy place?" —and by Inspiration answered, "Even he that hath clean hands and a pure heart and that hath not lift up his mind unto vanity, nor sworn to deceive his neighbor." Such was our Brother. Light be the snows that wreathe their winter robe of purest white about his grave, — fit emblem of the purity of soul of him who sleeps beneath.
The other was a reverend man of many years; — one whom you all knew and loved well. For more than forty years, he had lived among you, the accredited messenger of our God, — the bearer of the glad tidings of peace, good will to men. You all know how faithfully he fulfilled his mission, —how earnestly he strove in his Master's cause, — how warm were his sympathies with the sorrowing and afflicted, — how open his heart and hand to deeds of charity and love. As a Mason, he was firm and consistent; and when the winds blew and the floods came, they moved him not, for his Masonic edifice was founded upon the rock of sure, eternal principle. With faith unshaken, and his eye fixed upon his bright reward, joyfully he met his last foe, and, conquering, was crowned with immortality.
Farewell, Brothers! until at the Grand Master's word, ye are raised from your prostrate state, and we meet again in the Lodge celestial. We will inscribe your worth on our memories, and enshrine your virtues in our hearts.
REPUBLICAN LODGE, GREENFIELD.
You are all well aware that our beautiful Masonic edifice has often been assailed by foes without and traitors within; but like every thing that has truth for its basis, it has only gained brightness by collision, — fame by slander, — strength by opposition and temporary defeat. A few years since, and a blight, deadly as the grave itself, came upon the institution. Like the blast of the hurricane, the whirlwind of popular displeasure, raised by ambition, fanaticism and ignorance, came upon her, and for a time she bowed before the blast. This Lodge closed its doors and surrendered its charter. But Masons, mm and unchanged as the principles they represented, still remained ; the fire kindled within faithful hearts went not out, and when the fury of the storm was over, they were found, like the faithful ones commemorated of old, with their lamps trimmed and burning.
Here the altar to love, to faithfulness, to truth, has again been erected ; and around it they gather, — a few, left from the company called, we trust, to the Grand Lodge above, — to mingle their joys with ours, their younger Brethren, and by their patience and fortitude stimulate us to hold fast the ancient landmarks delivered to us, — to press forward unto the great source of light, — until at last, the East is attained, and the Sun of Righteousness envelopes us with its purifying and justifying rays. With gladness we welcome them among us, whose hearts and whose hands failed not as the ark passed over Jordan, who are still with us to rejoice in the fruits of the promised land; — the toils of the wilderness passed, — the remembrance of the manna that failed not gratefully thought upon. May the light which then guided them shine upon calm and untroubled days, until welcomed and accepted, they are passed by the Grand Tyler, death, to that happy home, where no repassing takes place, — but all is perfect peace and rest, — an everlasting home.
---