MAGLTStrong
From MasonicGenealogy
TITUS STRONG 1787-1855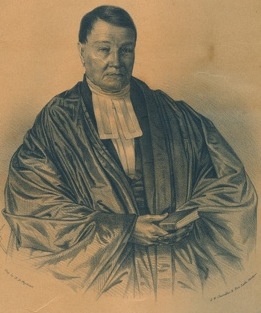 BIOGRAPHY
From Proceedings, Page 1873-230:
REV. TITUS STRONG, D.D., GREENFIELD. Episcopalian, 1820, 1828-1830.
Protestant Episcopalian clergyman. Born at Brighton, Ms., Jan. 26, 1787; died, June 11, 1855. Leaving the trade of printer, he engaged early in politics. Becoming a decided churchman, he was ordained deacon in 1814, priest in 1826, and labored in Greenfield, Ms., to the close of his life. His Candid Examination of the Protestant Episcopal Church is one of the most efficient productions of its class. He also published the Scholarly Guide, besides preparing several elementary books for common schools, and frequently contributing to the periodical.
— Drake.
Bro. Strong was D.D. Grand Master of District No. 7, in 1817, 1818, and 1819.
From Annals of American Pulpits, vol. vi., page 575 : —
FROM HENRY M. PARKER, ESQ. BOSTON, February 6, 1858
DEAR SIR, — I cheerfully comply with your request for some notices of the life of my honored and lamented friend, the late Rev. Titus Strong, D.D. The principal facts and dates are taken from an autographic diary now in the possession of his widow, which also contains his pedigree. I was myself intimately acquainted with him during the later years of his life, and I had been still longer acquainted with some of his older friends among the clergy. In preparing the following sketch, I have had the assistance of his estimable widow, and of his manuscript correspondence: —

Titus Strong, the eldest son of Titus and Mary (Burrill) Strong, was born in Brighton, Mass., January 26, 1787. He was a descendant of John Strong, who came with the Puritans to Dorchester in America, in 1630, in the same ship with Warhain, Maverick, and others. In 1788, his parents removed from Brighton to Boston, and the next year his father, while on a fishing party, was drowned in Boston Harbor, leaving three young children. The widow afterwards married John Stewart of Williamsburg, Mass.

The subject of this sketch was taken to his grandfather's at Northampton; and in 1801, when he was fourteen years of age, he went to live with Mr. Butler, of that town, to learn the trade of a printer, and continued with him four years. In July, 1805, he left Northampton, and went to Boston, where he entered the office of John Tucker, Clerk of the Supreme Court of the United States; but in consequence of the failure of his health shortly after, he went to Williamsburg, the residence of his mother, and taught a school there during the winter of 1805-6.

He then returned to Mr. Tucker's office to resume his studies; but was obliged very soon to discontinue them, for the same reason as before. The year that followed he divided between Williamsburg, Troy, Albany and Chesterfield; and at the last mentioned place, taught a school the next winter. At this time he had serious thoughts of fitting himself for the stage, on which his fine voice and elocution seemed to promise great success; but better counsels prevailed. And in the spring of 1807, he commenced the study of theology, under the direction of the Rev. Mr. Whitman, the Congregational minister of Goshen, a town near Chesterfield. In the mean time he was obliged to labor for his living.

In June, 1807, having, as it would seem for the time, relinquished his theological studies, he went to Dedham, and entered the office of Horatio Townsend, Esq., Clerk of the State Courts, who was an ardent Episcopalian. On the 4th of August following he was married, by the Rev. Joshua Bates, to Hannah Dwight, then of Dedham, but born in Medfield, April 2, 1787. They had eight children, only four of whom survived the period of childhood. In 1809 he edited the Norfolk Repository, a newspaper printed in Dedham. While a writer in Mr. Townsend's office, in consequence of reading some books in favor of Episcopacy, which fell in his way, his mind received a strong bias in that direction, and ho began to direct his thoughts towards the ministry of the Episcopal Church. Accordingly, on the 1st of October, 1812, he was admitted as a candidate for holy orders.

On the 24th of March, 1814, he was ordained deacon at Dedham, by the Rt. Rev. Bishop Griswold; and on the 7th of April, 1814, he removed to Greenfield, Mass., with a view to take charge of St. James' Church in that village. On the 26th of March, 1815, he was ordained priest by Bishop Griswold, and at the same time was instituted rector of St. James' parish. He received the degree of Master of Arts from Williams College, in 1822, and that of Doctor of Divinity, from Trinity College, Hartford, in 1839. Dr. Strong retained the rectorship of St. James' Church till the close of his life, and enjoyed, in a high degree, the respect and confidence not only of his own parish, but of the surrounding community. His last illness was a very protracted and distressing one, the disease being of a dropsical nature, with a strong tendency to develop itself in the region of the heart. This compelled him to be kept in a standing position night and day, waking and sleeping; and yet, through all his extreme suffering, his genial spirit still shone out, and mingled gracefully-with his Christian resignation and perfect trust and hope in his crucified Lord and Saviour. He died in June, 1855, leaving a widow, several sons, and one daughter.

Dr. Strong was always a good elocutionist, and was particularly distinguished for his admirable reading of the service of the church. While his preaching was uniformly sensible and edifying, he was, I think, specially felicitous in his occasional discourses. Isolated as an Episcopalian minister, as he was through nearly his whole life, he was not much seen in cities and the more public places; but, whenever he appeared, was always met with a most grateful welcome. He was an influential member of the Diocesan Convention, and was often a delegate in the General Convention also.

Dr. Strong's literary taste was for the best old English writers. He was himself an easy writer and a good logician. He maintained several controversies on Episcopacy in a manner creditable alike to his head and his heart. By his kindheartedness, however, and genial sympathetic expression of it, he won more than by controversy. "Dr. Strong," says one who knew him long and well, "had great benevolence; his main object seemed to be to keep all men and women too at peace with each other. He seemed to feel, in a remarkable degree, his dependence on God for everything. Daily and hourly, in his struggles, in poverty, sickness, and all trouble, it was beautiful to see how he referred all to God's goodness and wisdom, and trusted to them with all his strength, feeling strongly that all would work together for good, however dark worldly circumstances might be. He was a very affectionate man, as well as a pious and truly charitable one. He was so genial and social, and had so much humor, too, that in whatever company he was, no one wished to say much, but to listen to him."

The Greenfield parish was, until lately, an outpost of Episcopacy, and the town has been, historically, " a good one to emigrate from." The measure of the work done by that parish cannot be estimated even by its present strength. Its former members are scattered over the continent; and among them are some of the brightest and most honored names of the Episcopal Church. Among other parishes which, in a good degree, owe their existence to Dr. Strong's labors at Greenfield, may be mentioned those at Northampton and Ashfield, and at Guilford, Vt. In fact, he did a great deal of scattered missionary work, not only in Massachusetts, but also in Vermont and New Hampshire.

The following is a list of Dr. Strong's publications: — Tears of Columbia; A Political Poem, 1812; A Sermon on the Death of F. Barnard, Greenfield, 1815; The Common Reader, 1817; A Candid Examination of the Episcopal Church, 1818; Reply to Strictures on the Same, 1818; a Sermon on the Institution of the Rev. Mr. Huse, Claremont, N. H., 1819; Young Scholar's Manual, 1821; Scholar's Guide, 1822; A Sermon Delivered on Occasion of a Masonic Celebration, 1822; A Missionary Sermon, 1825; The Cypress Wreath: or, Mourner's Friend, mostly selected poems, 1828; The Deerfield Capture: a Tale for Children, 1831; A Sermon Preached in St. James' Church, Greenfield, on Occasion of the Last Attendance of the Parish in that Church for Divine Service, 1846; The Ministers of Christ; A Sermon delivered in Christ Church, Springfield, Mass., when the Bishop of Massachusetts admitted the Rev. Henry W. Adams, M.A., the Rector of the Church, to the Holy Order of Priests, 1848; The Good Man: a Sermon Preached in the Church of the Advent, Boston, on the Sunday after the Decease of its Rector, the Rev. William Croswell, D.D., 1851.

The following were published in the Gospel Advocate, Boston: — A Sermon Preached in St. Paul's Church, 1821; A Sermon on Family Prayer, 1821; A Sermon before the Convention, 1823; A Sermon on Reading the Scriptures, 1823; five essays on Objections to the Church, 1825. In the Norfolk Repository (Dedham), he published "The Quaker," in eight numbers, 1808.

In the Franklin Herald (Greenfield), four essays on the Sabbath, 1816; essays on Imitating Bad Examples, 1816.

Very respectfully yours,
HENRY M. PARKER.
FROM THE REV. AZARIAH CHANDLER, D.D., PASTOR OF THE FIRST CONGREGATIONAL CHURCH IN GREENFIELD, MASS., GREENFIELD, February 12, 1858.
REV. AND DEAR SIR, — It gives me great pleasure to comply with your request, in bearing my testimony to the worth and usefulness of my friend and neighbor, the late Dr. Strong, of this place. My acquaintance with him reaches back more than twenty years. As we were, for many years, both members of the committee superintending common schools, we were often brought together on these occasions; and I sometimes met him, also, in the social circle; and our intercourse was always friendly, as my recollections of him now are all exceedingly pleasant.

Dr. Strong, in person, was large, well formed and dignified; in conversation grave but affable, and easily relaxing into playfulness. Always self-possessed for ready utterance, well informed on the topics of the day, and abounding with interesting anecdotes, he rarely found himself in any company in which he was not the acknowledged leader in the conversation. I have heard him preach a few times, though never on the Sabbath. His manner in the pulpit was solemn, his enunciation full and distinct, and his emphasis unusually strong; and these, I should think, were his most striking characteristics as a public speaker. His sermons, so far as I had an opportunity of hearing or knowing, were of a decidedly evangelical cast. Whether he was to be regarded as High or Low Church I am quite incompetent to decide; for he never introduced the subject of ecclesiasticism in any of our conversations, and I never questioned him in relation to it. That he was warmly attached to his own church (as who should not be ?) was evident; but I remarked that he called it "our church," as if there might be others also. He always treated me with kindness and cordiality; has asked me to take part with him in funeral services, when at private houses; and, on my last call upon him, a few days before his death, he greeted me in a manner truly fraternal, and asked me to pray with him; which I did with full reciprocity of the brotherly feeling which dictated the request. I consider his death as a loss not only to his own church, who were strongly attached to him, but to our community at large. I remain, dear sir, in gospel bonds, truly yours,

A. CHANDLER.
FROM THE REV. CALEB SPRAGUE HENRY, D.D., April 1, 1858
NEW YORK, April 1, 1858.

MY DEAR DOCTOR SPRAGUE, — What can I contribute to your memorial of the late Dr. Strong? There are a great many persons, I am sure, who could better give you what you want. It was for so short a time that I knew him, and so long ago, that it seems to me, taking my pen to jot down such reminiscences as may arise, I shall find scarcely anything to say except that he was a good man, — a very, very good man; for such I find to be the first and most vivid impression that comes up, when fancy brings his image before my mind.

It is many years ago since I first went to live in the place where Dr. Strong passed a long and useful life,— the village of Greenfield, one of the many beautiful villages that are to be found all along the charming valley of the Connecticut River. I was then quite young, almost a minor in the eyes of the law; not in my own, I dare say, but much older, in some respects, than I am now. I went to be minister to the Congregational Church there; and you remember, doubtless, that you officially assisted (as the French say) at my ordination. Dr. Strong had then been for some years pastor of the Episcopal congregation in the place. And it was, I take it, to the credit of us both, that, although our difference of ecclesiastical opinion was very great, and very decidedly held by each of us, it did not prevent the most agreeable and friendly relations existing between us, — a thing the more to be observed as the town was not a large one.

Though firmly attached to the doctrinal and ecclesiastical system of his own church there was about Dr. Strong nothing of bigotry, narrowness, or intolerance. He was, by natural temper, and by all the habits of his life, a frank and friendly man. As such I remember him in all my intercourse with him; and we were a good deal thrown together, as a matter of course, in the society of a small town, but more especially from our joint exercise of certain functions which the wise laws of New York forbid to the clergy of the State, but whioh the people of Massachusetts universally impose on theirs. Dr. Strong, Mr. Bailey, the Unitarian minister, and myself, the "Orthodox" one, were the Town Committee to visit and examine, at stated intervals, all the schools in the several districts. To the more distant places we had to ride; and it fell to my lot (whether as junior member of the committee, or as bachelor member, having no wives or babies to provide for, I do not recollect) to furnish the conveyance; and one of the liveliest recollections I retain of those days is of that committee, on its visitorial progresses, stowed all three into the one-seated gig; a more edifying spectacle of "brethren dwelling together in unity" than of the mercifulness of "the merciful man;" not that three such men as Mr. Bailey and myself were dangerous to the springs, or distressing to the horse; but Dr. Strong was a man of two hundred and fifty pounds' weight.

Dr. Strong's countenance was as full of amiability as his person was largo and portly. His expression was, infleed, one of great benignity and deferential courtesy; and his manner partook of the modesty and unpretending simplicity which were distinguishing qualities of his character. There was nothing morose and sour, nothing harsh or austere, in his disposition or temper; on the contrary, if I remember rightly, he was lively and playful, as well as cordial and genial, in his social nature.

In fine, he was, as I have said, an eminently good man, as I understand good men; a man without formality or pretension of any kind, but of remarkable singleness, purity, and integrity of character. This is the strongest impression I retain of him, derived from the recollections of the time we lived as neighbors for two or three years, confirmed by the memory of two or three days passed together a dozen years later. I remember, too, I regarded him as a man of sound sense, and a judicious and edifying preacher, although I had not much opportunity to judge of him in the latter respect. It speaks for his possessing, in a large degree, the qualities of a good clergyman and a good man, that he retained his pastoral relations to a New England flock, during such a long course of years, and died universally respected and lamented, leaving his name a fragrant memory to all who knew him.

Very cordially and faithfully yours,
C. S. HENRY.
---
The Common Reader, by Titus Strong.