MAGLWFDavis
From MasonicGenealogy
WILLIAM FREDERIC DAVIS 1849-1927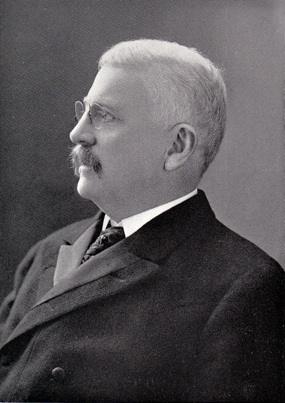 Senior Grand Warden, 1905
MEMORIAL
From Proceedings, Page 1928-57:
Right Worshipful WiIIiam Frederic Davis, Senior Grand Warden in 1905, was born in Woburn, Massachusetts, December 12, 1849, the son of Thomas G. and Margaret Ann Davis. He was a life-long resident of his native city where he died November 6, 1927, in his seventy-eighth year.
He received his education in the public schools of Woburn, and at Comer's Commercial College in Boston. His entire business life was spent in the service of the New England Mutual Life Insurance Company, entering it February 15, 1870, when a young man of twenty; a rare record in the annals of any business. For some years he had been the sole survivor of his colleagues of that day. In 1888 he was appointed Cashier of the Company, and in 1907 was elected Assistant Secretary, an office which he filled with the utmost fidelity until his death. He will not be forgotten by the many who came to him in his official capacity in those hours of stress and trouble which are incident to human life.
On October 5, 1874, he was married to Miss Velma Jeanette Barker, of an old New England family, who died October 3, 1926. They are survived by one son, William Frederic Davis, Jr.
His was a life of inestimable value to the City of Woburn, for he took an active part in its local government as well as in its beneficent and educational interests. He filled many positions of trust with honor to himself and with great benefit to his fellow citizens. IIe served on the School Board, was a member of the Woburn City Council in 1927 and 1928, and was Mayor of the City in 1899, 1900, and 1901.
He was Vice-President of the Woburn Co-operative Bank, Trustee of the Woburn Charitable Association, Trustee of the Choate Memorial Hospital, Life Trustee and Vice President of the Woburn Public Library, Vice President and Director of the Rumford Historical Society, and President of the Towanda CIub. IIe was also a member and past President of the Massachusetts Mayor's Club, and for ten years its Secretary, and a member of the Bostonian Society.
He was a member of the First Unitarian parish of Woburn, a member of the Parish Committee, a Trustee of the Parish Funds, and a Life member of the American Unitarian Association.
His only Masonic affiliation was with Mount Horeb Lodge, of Woburn, where he received his degrees in 1877 - a membership of fifty years. IIe was Master of the Lodge in 1886 and 1882, an office which his father, Worshipful Brother Thomas G. Davis, held in 1866 and 1867, and his son, Worshipful Brother William F. Davis, Jr., in 1915 and 1916. By appointment of Most Worshipful Samuel Wells he served as District Deputy Grand Master for the Sixth Masonic District in 1891 and 1892.
With such a record of worth-while service there can be no doubt that he was one who was "prompted to solicit the privileges of Masonry by a favorable impression conceived of the Institution, a desire for knowledge, and a sincere wish to be serviceable to his fellow creatures." Of such men it can be truly said "their story is not graven only on stone over their native earth, but lives on far away, without visible symbol, woven into the stuff of other men's lives."
John A. McKim,
William W. Wade,
Clifton A. Scrivens,
Committee.
---