MAGLWDavis
From MasonicGenealogy
WENDELL T[HORNTON]. DAVIS 1818-1876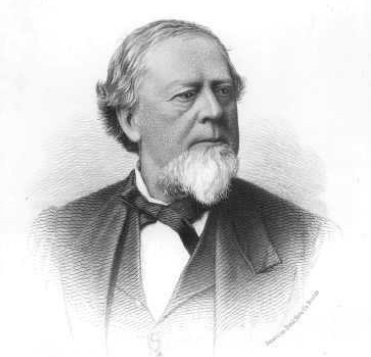 Senior Grand Warden 1865
Grand High Priest 1857
MEMORIAL
FROM PROCEEDINGS, 1876
From Proceedings, Page 1876-157:
"Most Worshipful: —
"In your Annual Address you were pleased to mention in appropriate terms our loss by the decease of our Brother, Wendell T. Davis, one of the permanent members of this Grand Lodge. Subsequently you appointed the undersigned a committee to prepare a memorial of him, with suitable resolutions. Your committee would respectfully REPORT:
"That Wendell Thornton Davis was born in Sandwich, in the Commonwealth of Massachusetts, in the year 1818. The precise date of his birth we are unable to state. He died in Greenfield, in this State, on Sunday, the third of this month. He leaves two sons and three daughters. His wife died in 1875. As a man, he was esteemed and beloved. He was a true friend; was kind, genial, social, and benevolent. The newspaper press of Greenfield has devoted columns appreciative of his high character.
"As a citizen, he filled faithfully important trusts. He was interested in public affairs ; he had represented his town in the Legislature, and was for a number of years one of its Selectmen. At the time of his death he was Register in Bankruptcy. For many years he held the office of Trial Justice, and probably heard more cases, it is said, than any other magistrate in his county. He discharged many duties, of a fiduciary character, for persons and corporations, with promptness and integrity. As a Mason — a Freemason — we shall now speak of him. He was initiated in Jerusalem Lodge, of Northampton, in 1847, and was Master of Republican Lodge, of Greenfield, in 1858 and 1859.
"In a note, addressed to our Recording Grand Secretary from Greenfield, it is stated that 'he was a Past High Priest of Franklin R.A. Chapter; Past Ill. Master of Titus Strong Council, and the first Eminent Commander of Connecticut Valley Commandery. He, in fact, was the father of our Council and Commandery. He always retained his interest, and was always the most respected and best-loved Mason and man in all this section.' He was also Past Grand High Priest of the Grand Chapter of Massachusetts. Owing to the great distance of his residence from the seat of the Grand Lodge, and his numerous duties and engagements, of a public and private nature, he was seldom present at our Communications. Still, he manifested concern in our transactions. On December 9, 1857, he was chosen a trustee of the Charity Fund. At the election of December 14, 1864, he was chosen Senior Grand Warden. He was a member of the Committee on the Library in 1869, while he represented Republican Lodge, as Master, in Grand Lodge; the same position he filled in 1870, 1871, and 1872.
"He ever took a lively interest in the welfare and honor of Republican Lodge. He was among the foremost to welcome the Grand Master on his visit to that Lodge on the 10th of August, 1857. Though the weather was most inclement, and deprived the members of anticipated pleasures to a large extent, yet the occasion was marked with great success through the activity of Brother Davis and his associates. On the 14th of April, 1859, the funeral of Rev. William Flint, Deputy Grand Master, occurred at Greenfield. He had requested to be buried with Masonic honors, under the direction of the Grand Lodge. The Grand Master, R.W. Charles W. Moore, R.W. Winslow Lewis, M.D., and Rev. Samuel Osgood, D.D., with several other Masonic Brethren, repaired to Greenfield to conduct the obsequies. There was a very large concourse of Masons and people, notwithstanding the weather was cold, wet, and cheerless. The ceremonies were conducted most satisfactorily through the labor, mainly, of our late Brother Davis. Whenever a Masonic duty was to be performed, if it rested with him, it was done with alacrity, and with a spirit of cheerfulness and devotion.
"The following is copied from the Boston Globe: —
"The funeral of Wendell Thornton Davis took place yesterday, at half-past 1 o'clock, and was the largest public or private funeral ever held in Western Massachusetts. Mr. Davis was probably the most popular man in not only Greenfield, but in Franklin county. Large delegations from the Knights Templars and other Masonic bodies of Franklin and adjoining counties were present, and special trains were run over the several railroads terminating in this town. During the funeral services all the stores of the town were closed, and business .was entirely suspended. The greatest tribute to the worth and estimation in which the deceased was held in this town was manifested by the large gathering of the poor and laboring classes, who turned out en masse to pay their respects to one who had always been their friend. The services were held in the Unitarian Church, and were conducted by the Rev. J. F. Moors. The floral decorations, which were extensive and exquisite, were contributed by friends and different associations and citizens. After the funeral services were concluded, the remains, followed by a long cortege of carriages and of citizens on foot, were carried to Green River Cemetery. The funeral ceremonies were in charge of the Masonic Bodies, the deceased having desired in his lifetime to be buried with Masonic honors. Among the distinguished persons present were the local judges of the county, the legal fraternity, Registers Noyes and Thorndike, of Boston, Mayor Merriam, Judge Ware and others of Fitchburg."
"The Boston Daily Advertiser speaks of Brother Davis thus:—
"Mr. Wendell T. Davis, Register of Bankruptcy for the tenth district, who died suddenly in Greenfield, on Sunday afternoon, was fifty-eight years old, a native of Plymouth [Sandwich]; son of Judge Wendell Davis, and brother of Mr. George T. Davis, now of Portland, Maine, and was a graduate of Harvard in 1838, the class of James Russell Lowell, Judge Devens, of Worcester, and Dr. George B. Loring. He came early to Greenfield, and has been for thirty years a prominent factor in the local, social and public life. He was for many years a director of the Fitchburg Railroad, almost from the first, Secretary of the old Troy and Greenfield Company, and always one of the stanch friends of the Hoosac-Tunnel enterprise. With others, he bought up the Turner's Falls water privilege when the Dutch capitalists gave up their attempt to found a city at Montague, and can be called certainly one of the founders of the new manufacturing city and rival of Holyoke on the Connecticut. He was the business head of the Turner's Falls Power Company, and retained an interest in most of the local manufacturing enterprises, as in all the public works of the new village. His wife died a year or so ago, but he leaves a large family, — one of his sons is in the navy, another in Colorado, and a daughter is the wife of John Conness, formerly Senator from California."
The appended resolutions we recommend to the Grand Lodge for adoption. All of which is respectfully submitted.
JOHN T. HEARD, Past Grand Master,
JONAS K. PATCH, D.D.G. Master Eighth District,
HENRY L. MILLER, W.M. of Republican Lodge.
RESOLUTIONS.
Resolved, That this Grand Lodge laments the death of Wendell Thornton Davis, one of 'its permanent members; one of the Masonic Brotherhood who for nearly thirty years was an active, faithful and exemplary Brother.
Resolved, That it gives this Grand Lodge extreme satisfaction to bear witness to his virtues, as a man and citizen as well as a Mason.
Resolved, That we sympathize with the family of the deceased, at the great loss they mourn ; and, also, with Republican Lodge at the bereavement which that body experiences in parting with one who studied its interests and welfare most devotedly, and with a kind and brotherly spirit.
Resolved, That these resolutions be transmitted to the family of Brother Davis, and to Republican Lodge.
FROM LIBERAL FREEMASON, APRIL 1877
From Liberal Freemason, Vol. I, No. 4, July 1877, Page 106:
ONE OF OURS.
Something like a dozen years ago, we made a Masonic visit to the Connecticut valley, Greenfield being one of the towns, and Franklin R. A. Chapter, therein located, forming a part of the pleasant associations which still linger with us. Among the many good citizens and Masons was one whose genial face and manner betokened goodness of both head and heart, and who contributed much to our enjoyment. In the afternoon a drive of a few miles into the beautiful Deerfield valley was taken, under his guidance. At the hotel he exhibited the old door, carefully kept in a case, which successfully resisted the tomahawks of the Indians, at a time when fire and bludgeon and axe and knife brought dismay and death to so many of the settlers in that locality, and as" the setting sun threw its rays of gold over all, the river and valley and surrounding hills seemed to rest in such abiding peace that we did not wonder at the enthusiasm of our voluntary guide, but rather joined with him in admiration of a scene as exceptional as it was beautiful.
The earlier part of the day had been spent in a visit to Turner's Falls, in nearly an opposite direction from Greenfield, and four or five miles distant. Here workmen had for some time been employed in building a new and substantial dam across the Connecticut River, and here, too, in consequence of excavations made, were revealed the tracks of birds and the prints of leaves made in the once yielding clay, but now fixed by centuries in the hardened rocks; and these, as well as the more practical business enterprises, were discoursed upon by our host with an intelligence whose conceptions and contributions were enriching the stores of science, and whose fruition was so soon to make the desert in this immediate locality "blossom as the rose."
On the further bank of the river, across which we were ferried, was the old farm-house, and then the only one in the neighborhood ; but it stood like a sign of growth and a seal of promise to the splendid Freemason, whose monument exists in the village he founded, in the factories it contains, in the homes erected 'n it, and in the hearts of those who inhabit them.
Wendell Thornton Davis was clerk of the old Upper Locks Canal Company, from which sprang, by his inspiration, the Turner's Falls Company, who have utilized a water-power which, for extent, safety, and constancy, is unsurpassed in America, the home of water-powers. In consequence of the enterprise of this company the laurel-bush and fern and scrub oak and forest trees have given place to a thrifty village, various industries have been introduced, and the hum of many busy wheels attest to the sagacity of the man who inspired the change. We have not the data at hand to tell a moiety of the things done in consequence of his direct influence; but he saw much of the fruit of his labors, and reaped something for his reward.
At the time of his death he was clerk of the Keith and the Montague Paper Companies, the Turner's Falls Pulp Company, of the Clark & Chapman Machine Company, of Turner's Falls Lumber Company, of the Farren Hotel Company, and clerk and treasurer of the Connecticut River Bridge Company; to each of which he was as a right arm. He was the legal adviser to all these companies, a director and stockholder in each, and kept his business in such perfect order that a fellow-townsman in speaking of it says: "I do not suppose that any six men in Greenfield could do it as well as he did. He had a wonderful faculty of approaching people of all grades and classes, and of winning their confidence and esteem; but his highest happiness was in making others happy. There is no stopping if we once commence to, tell his wonderful good qualities, and year after year will go by and still the people of Greenfield will not cease to mourn the loss of so good a man as Wendell T. Davis." What he was as a citizen, he was also as a Mason; foremost among his equals, and of a generous and sanguine nature, he won men to himself and retained their confidence by his unselfish and manly honor. The church honored him, the people loved him, his neighbors took courage from him; indeed all people were his neighbors, hundreds of whom shed tears at his grave and wreathed his tomb with flowers.
We remember with much satisfaction the part we took in helping to elect him Senior Grand Warden of the Grand Lodge F. and A. M. of Massachusetts, in 1864, and that he leaves as sweet a memory to the Grand R. A. Chapter of Massachusetts, of which he was Grand High Priest in 1857. In the A. and A. Rite he was also interested, though, by reason of locality, he could not participate to any extent in its work.
The various Masonic bodies to which he belonged paid appropriate official tributes to his memory, that of the Commandery, which we quote, being at greater length : —
"Et. Sir Wendell Thornton Davis laid aside his knightly armor Sunday evening, December 3d, a. d. 1876, in the 58th year of his age. He was born at Sandwich, Mass., graduated at Harvard College in 1828, studied law at Cambridge law school, and was admitted to the bar in 1841. He then came to Greenfield and engaged in the practice of his profession, which he continued to the time of his death. The numerous official positions which he occupied, during the past thirty-five years, were all filled with discriminating fidelity and thorough honesty. He has left that best of legacies to his family and friends, — a good name. But it is in the fact that he was our brother, our companion, and our friend, that we desire to perpetuate his memory, and place upon the records of the Commandery a fitting memorial to his virtues.

"His Masonic career has been long, and, as regards the interests of the Institution in this vicinity, most important. He was initiated in Jerusalem Lodge, at Northampton, September 21st, 1847, and became a member of Republican Lodge, June 3d, 1852. He was connected with, and actively interested in, Franklin Royal Arch Chapter and Titus Strong Council; while he may be considered the founder of Templar Masonry in this part of the Commonwealth. As the first Et. Commander of Connecticut Valley Commandery of Knights Templars, he gave to the body a tone and precedence which it has always retained.

"As a man and a Mason, he esteemed it not less a duty than a pleasure to assist, protect, and defend the weary, way-worn traveller who found the heights of fortune inaccessible and the thorny paths of life broken, adverse, and forlorn. We, as friends of him, may well say, adopting the words of the Greek play, —

"Ever thou wert more wise for others' good Than for thine own."

"He was the trusted confidant of the young and old. The rich and proud came to him for assistance and counsel; the poor and humble received from him quick sympathy and willing help. He encouraged youth, and did his best to open to all the culture which a few are always seeking to monopolize. His general benevolence lost none of its strength by its diffusion. He loved the whole human race — the good he reverenced, the bad he pitied.

Like Goldsmith,—


"He quite forgot their vices in their woes;
Careless their merits or their faults to scan,
His pity gave ere charity began.
Thus to relieve the wretched was his pride,
And e'en his failings leaned to virtue's side;
But in his duty prompt at every call,
He watched and wept, he prayed and felt for all."
FROM COUNCIL OF DELIBERATION, 1877
From Proceedings of the Massachusetts Council of Deliberation AASR NMJ, 1877, Page 37:
Ill. Bro. Wendell Thornton Davis died Dec. 3, 1876. He was born in Sandwich, Mass., April 12, 1818. He was a son of Mr. Wendell Davis, for many years sheriff of Barnstable County; and nephew of Hon. John Davis, judge of the United States District Court of this State. He was graduated at Harvard College in 1838; studied law in the Law School connected with the university; and soon after settled at Greenfield, where he engaged in the practice of his profession. It has been well said of him, that "he was born a public servant." Besides filling many professional offices, including those of trial justice, register of probate, and register of bankruptcy, he served for several years as a member of the legislature, and as a selectman of Greenfield.
But, although bred to and engaged in the practice of the law, he was pre-eminently a man of business and affairs; and no man in his section of the State did so much to develop its resources, and promote its material prosperity. He was for many years clerk and treasurer of the Troy and Greenfield Railroad, and was a stanch and efficient promoter of the Hoosac Tunnel enterprise. It was due to his labors, more than to those of any other person, that the village of Turner's Falls, with its great manufacturing industries, was created. He was the business head of the Turner's Falls Power Company, and retained an interest in most of the local manufacturing enterprises, as in all the public works, of the new village. In fact, the sphere of his activities was so extended, that we despair of making an accurate record of his employments, and can only praise the energy, probity, sound judgment, and cheerful industry, which he brought to the discharge of labors so varied. Nor were his interests confined to matters of personal and pecuniary concern: lie was foremost in the promotion of every social and benevolent enterprise, and took an active interest in religious and political affairs. It is characteristic of the man that he was for many years connected with the military organization of his town, and was an officer of the company, and it is pleasant to record that he was a dear lover of music, and was organist and choir leader of the village church.
But, useful and honorable as was the active life of our beloved Brother, it is in the qualities of his character as a man and a citizen that our interest is chiefly centred. He was eminently a social man, thoroughly human in his sympathies, warm in his attachments, large-hearted and lovable in all his relations to his brother-man. It has been said of him, that "he was the most popular man in Western Massachusetts;" and this, which would in many cases be equivocal praise, is only a just tribute to that sweetness and nobility of nature which endeared him to all who knew him. He carried a sunny atmosphere about him; and his natural cheerfulness and gayety of temper lent to his companionship an inexpressible charm. We cannot easily estimate the happiness which such a temper diffuses ; for the great majority of men are so oppressed with the cares of life, and so prone to take a gloomy outlook, that they bask gratefully in the warmth and sunshine which emanate from these kindly gifted natures.
It is gratifying, but not at all surprising, to find that such a man as Mr. Davis formed an early connection with our Brotherhood. He was made a Master Mason in Jerusalem Lodge, at Northampton, Sept. 2t, 1847. The charter of Republican Lodge, Greenfield, was surrendered at the time of the anti-Masonic excitement; and he was one of those who procured its restoration. He became a member of Republican Lodge June 3, 1852, and was Master of it in 1858 and 1859. He was elected Senior Grand Warden of the M. W. Grand Lodge of Massachusetts Dec. 14, 1864.
He was exalted to the degree of Royal Arch Mason in Franklin Royal Arch Chapter June 1, 1853, in which, at one time, he filled the office of High Priest. He was also Past Grand High Priest of the Grand Chapter of Massachusetts.
The Cryptic Degrees were conferred upon him in Boston Council of Royal and Select Masters. Dec. 9, 1856, he became a charter member of Titus Strong Council, of which he was also Thrice I11. Master.He was dubbed a Knight Templar in Boston Encampment Oct. 10, 1854. He became a charter member of Connecticut Valley Commandery Dec. 2, 1866, and was its first Eminent Commander. He was, in fact, the father of both the Council and Commandery in Greenfield.
He received the thirty-second degree of the Scottish Rite Feb. 20, 1S63, in Boston Consistory, and was created a Sov. Gr. Inspector General, 33°, and Honorary Member of the Supreme Council. May 22, 1863. He was deeply attached to our Rite, and greatly regretted that he could not oftener be present with us.
The time he devoted to Masonry amid the pressing cares of his overbusy life is sufficient evidence of the regard in which he held the institution. In truth, he set a high value upon the privileges of Masonry, and was ever zealous in Masonic work.
The death of a man so useful and beloved as our honored Brother will always be a cause of reasonable sorrow. But we find consolation in the reflection that he lived long enough to do great good to those about him; that the influence of his character and life will be felt long after his departure and that he left a sweet and stainless memory, — a treasure to us all, a constant incentive to well-doing, and of priceless value, as showing that the straight path of noble living is the way to pleasantness and peace.
Respectfully submitted,
Charles C. Hutchinson, 33°,
Charles Kimball, 33°,
Henry P. Perkins, 33°,
Committee
---