MAGLWCooper
From MasonicGenealogy
WALTER NOBLE COOPER 1900-1985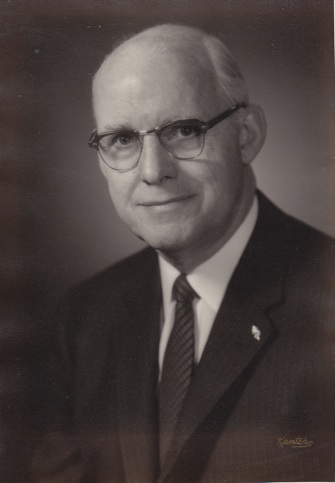 Senior Grand Warden, 1958
BIOGRAPHY
From TROWEL, June 1984, Page 25:
An active member of the Craft for almost sixty years, Rt. Wor. Walter Noble Cooper of Lenox retired in December as a Director of our Grand Lodge. He served faithfully for six years.
A native of Dalton, he has also resided in Pittsfield and Brainard, MN, returning to Pittsfield after six months. Starting work at age 16, Brother Cooper worked for the Honey Worsted Company, later for the Elmvale Worsted Company. He progressed from foreman to superintendent and, when the mill closed in 1959, he was Vice President.
Raised as a Master Mason in Pittsfield Lodge in 1925, he presided as Master in 1932. Appointed D. D. G. M. in 1951 by Most Wor. Thomas S. Roy, he was Deputy for the Pittsfield 16th through 1952.
Elected Senior Grand Warden of our Grand Lodge in 1958, he was presented the Henry Price Medal. He was appointed to the Education Department in 1968 and as land Representative to the Grand Lodge of Nevada in 1969. The Veterans Medal was presented to Brother Cooper in 1975.
Brother Cooper holds membership in the Berkshire Royal Arch Chapter; Berkshire Council, Royal and Select Masters; Berkshire Commandery No. 22; the Scottish Rite Bodies; Melha Temple of the Shrine; the Past District Deputy Grand Masters Association and the Order of the Eastern Star. He was coroneted a Thirty-third | Degree Mason in 1970.
A member of the First Church of Christ, Scientist, Pittsfield, he has been active for many years in the Pittsfield Salvation Army and has been awarded a life membership. He has also served in membership and fund-raising campaigns for the Pittsfield YMCA.
Brother Cooper's first wife, Freda W., died in 1955; two years later he married MS. Cooke. He has two daughters, Mrs. Marilyn W. Rousselot and Mrs. Judith Kayser, a son, Preston Cooper, and a stepdaughter, Mrs. Sandra L. Childs.
MEMORIAL
From Proceedings, Page 1985-93:
Right Worshipful Walter Noble Cooper was born in Pittsfield, Massachusetts on March 2, 1900, the son of Charles H. and Clara N. Cooper. He attended Pittsfield Grammar and High Schools. Entering into the employment of Elmvale Worsted Company & Elmvale Dye Works, he progressed through the corporate structure to the position of Vice-President and part owner when the mill closed in 1959. He then joined the Rice Silk Mill of Pittsfield, retiring from there in 1965.
Right Worshipful Brother Cooper received his Entered Apprentice Degree in Pittsfield Lodge of Pittsfield on March 6, 1925; was passed on April 3, 1925; and raised to the sublime degree of Master Mason on May 19, 1925. He served his Lodge as Worshipful Master in 1932. He was District Deputy Grand Master for the Pittsfield 16th Masonic District in 1951-1952. He was elected and served as Senior Grand Warden of the Most Worshipful Grand Lodge of Massachusetts in 1958, receiving the Henry Price Medal the same year.
He served on the Grand Lodge Service Committee from 1957 to 1958; was Grand Representative of the Grand Lodge of Nevada from 1969 to 1984; served on the Grand Lodge Education Committee from 1968 to 1974; and received his 50 Year Veteran's Medal in 1975. He was elected a Director of Grand Lodge in 1977, and served until 1983.
On June 4, 1982, R.W. Walter N. Cooper was presented a 50 Year Past Master's Certificate in Pittsfield Lodge by M.W. J. Philip Berquist, Grand Master. He was a member of Berkshire Chapter, Council and Commandery, York Rite, and was created a Sovereign Grand Inspector General 33rd Degree and Honorary Member of the Supreme Council of Ancient Accepted Scottish Rite on September 30, 1970 in Milwaukee, Wisconsin. R. W. Cooper was also a member of Melha Temple, A.A.O.N.M.S.
He served as a Director of the Pittsfield Y.M.C.A. and was also a life member and past Chairman of the Salvation Army Advisory Board.
A Masonic and memorial service was held for RW. Cooper on Saturday, May 11, 1985 at South Congregational Church in Pittsfield. M.W. David B. Richardson, Grand Master, was in attendance.
Upon his passing, Right Worshipful Walter Noble Cooper reached accomplishments only a very few are privileged to complete and has left all whom he has touched with great inspiration and admiration. If only his example of fellowship, understanding and concern for fellow man would be emulated by all, what a very special world it would be.
Respectfully submitted,
Charles E. Thompson
K. Eugene Trostle
Lawrence D. Tonini
Committee
---