MAGLCThompson
From MasonicGenealogy
CHARLES E.P. THOMPSON 1879-1956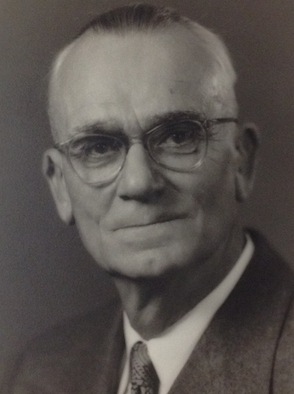 Junior Grand Warden, 1938
MEMORIAL
From Proceedings, Page 1956-222:
Right Worshipful Charles Edward Percy Thompson was born in Halifax, Massachusetts' on November 5, 1879, son of John Thomas Thompson and Rena Larue (Sturtevant) Thompson (direct descendants of John Thompson and Captain Myles Standish of the Mayfower Pilgrims), and died at St. Luke's Hospital in New Bedford on July 29, 1956.
Right Worshipful Brother Thompson was graduated from Kingston High School in 1898, having been President of his class for two years and the star of the school football team. He enrolled as a Post Graduate at Holton High School, Danvers, and at the completion of the course in 1899, matriculated at Boston University School of Medicine, from which he was graduated in 1903. As an undergraduate, he was President of Phi Alpha Gamma Fraternity.
In the fall of 1903 he opened an office at 2 Commonwealth Avenue, Boston, for the practice of medicine, and was engaged for three years as Visiting Physician to the Out-Patient Department of Boston University School of Medicine.
His rich bass voice earned him the position of soloist of the Unitarian Church of Cambridge, a post he held until he accepted a similar position at the Rogers Memorial Unitarian Church in Fairhaven in 1907.
On January 5, 1907, he married Mrs. Grace Albertine Allen of Dorchester. The service was performed by the Reverend Frank L. Phalen in the Memorial Church. In February 1909, he moved from the Hotel Putnam in Roxbury to 65 Centre Street, Fairhaven, where he practiced until his death. He is survived by Mrs. Thompson of Fairhaven and an adopted son, Chauncey Arthur Thompson of lthaca, New York.
Brother Thompson received his degrees in Star of Bethlehem Lodge, Entered Apprentice, December 18, 1906, Fellow Craft, January 16, 1907, and Master Mason, March 20, 1907. On July 12, 1909, he afiliated with George H. Taber Lodge and became Master in 1917. He was District Deputy Grand Master of the 31st Nantucket District in 1929 and 1930 and Junior Grand Warden of the Grand Lodge in 1938. As a permanent member of the Grand Lodge, he was Representative of the Grand Lodge of Norway near the Grand lodge of Massachusetts. He was a Past Patron of Gifford Chapter, No. 105, O.E.S., and had been a member of Adoniram Royal Arch Chapter and New Bedford Council of Royal and Select Masters.
"Doc", as he was affectionately known by thousands, loved Masonry and his fellow men. His life exemplified to the highest degree our Masonic teachings. Because of great knowledge of Masonry and human nature, his advice was often sought and was always freely and cheerfully given.
Brother Thompson's record of 40 1/2 years of perfect attendance at Grand Lodge Communications is probably unexcelled by any other member of Grand Lodge. He was awarded the Henry Price Medal for meritorious service to the Craft in 1938.
In April 1918, he enlisted in the United States Army Medical Corps and was commissioned Captain. While serving with the A.E.F. in France, he administered to the wounded for a period of seventy-eight hours without relief, which resulted. in his contracting double pneumonia. On his recovery, he entered the University of Bordeaux, France, from which he was graduated in 1919.
On returning to Fairhaven, he was elected the first Commander of Post No. 166, American Legion.
He actively practiced medicine for a period of fifty-three years; was School Physician for forty-seven years; Town Physician for forty-four years; and Volunteer physician for the High School football team for forty-three years.
After practicing medicine for a period of forty-six years, he took the newly-required State Examination for School Physicians, and passed with a 98% score.
He served as a member of the Fairhaven School Committee, and during World War II was Chief Medical Examiner for the local draft board. For many years he was a member and Chairman of the Fairhaven Board of Health, a post left vacant by his death.
He received many citations for his services to his country and his community: two from President Franklin Delano Roosevelt, two from President Harry S. Truman, one from President Calvin Coolidge, two from Louis B. Hershey, and one each from Post No. 166, American Legion and the Fairhaven School Department.
Brother Thompson, always an athlete, was an ardent fisherman and an accomplished golfer. He was President of the Reservation Golf Club in 1930 and 1942.
During the period from 1903 until his death, Brother Thompson was President of thirty-three different civic and Masonic organizations, some of which were: New Bedford Kiwanis Club; Fairhaven Lions Club, Leighton Club of Unitarian Church, Lyman's League of the Unitarian League, U. S. Army Officers' Club, and the Past District Deputy Grand Masters' Association. He was a member of the Associate Staff of St. Luke's Hospital, the American Medical Association, Massachusetts Medical Society, Bristol County Medical Society and New Bedford Medical Society.
After he was called to the Celestial Lodge above, funeral services were held at the Rogers Memorial Unitarian Church in Fairhaven. The Masonic Service was conducted by Worshipful Lindsey S. Gifford, Jr., Master of George H. Taber Lodge, assisted by Wor. Edward J. Wlodyka, Chaplain, and the Lodge officers. Rev. Bro; Joseph O. Purdue, Pastor of Padanaram Congregational Church, officiated for the Church Service. The Grand Lodge was represented by M.W. Whitfield W. Johnson, Grand Master, R.W. Otto A.S. MacKinnon, R.W. John Wright and R.W. Hiram A. Linfield. R.W. Brothers L. Theodore Wolfenden, E. Raymond Manchester, Colby H. Benson, Sr., and Cuthbert W. Tunstall, Past District Deputies, joined with scores of his Masonic Brethren, American Legion Comrades, Town Officers and friends to pay him his last tribute. Interment was in Halifax Cemetery, Halifax, Massachusetts.
Not only his beloved community of Fairhaven, but the world itself could well use more men of the stalwart character and capable worth of "Doc" Thompson. One never had to wonder long about which side of the fence he stood. His life of service to his family, his home town and his country was an open book for all who knew him to read, and were they wise, to emulate. It is comforting, however, to feel that his ready smile is waiting for us somewhere around the bend of the road.
The following poem, written by Bro. Bradford C. Terry of George H. Taber Lodge, was read in the appropriate place the Masonic service:
"The leaves whisper in the trees, yet, the wind is still!
Blades of grass move, and you hear the whipporwill
As he calls; calling living flesh unto the Lord!
From which he came - a tribute to Almighty God!

"He came to us, a man destined to be great
Amongst his fellow men! There was no greed, no hate -
In the makeup of this man! We loved him for himself,
For the goodness that he did, and without a thought for self!

"His name was Thompson, but to most, he was good old Doc!
Sincere always, capable, and as sound as any rock!
He cared for us in childhood, in adolescence and in age,
But no man now a'living could write Doc's final page!

'!We can say that he is gone, but he lives in all our hearts,
And like any man God made, he never really departs.
As a doctor, we respected him, as a man, we loved him dear,
Where Doc has gone to rest today, there is nothing now to fear."
Fraternally submitted,
Joseph Earl Perry
Cuthbert W. Tunstall
Lindsey S. Gifford
John Wright
Committee
---