MAGLCCooke
From MasonicGenealogy
CHARLES EDWIN COOKE 1883-1950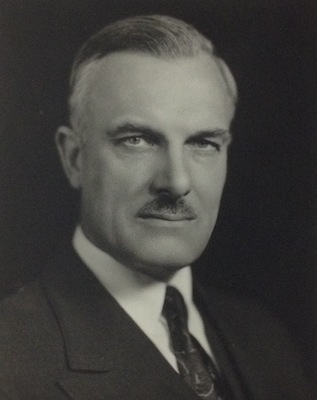 Grand Marshal, 1940-1943
Senior Grand Warden, 1944
MEMORIAL
FROM PROCEEDINGS, 1950
From Proceedings, Page 1950-237:
He was born in Lowell, Massachusetts, on July 28, 1883, the son of Edwin H. and Sarah (Howell) Cooke and a direct descendant of Major Aaron Cooke, who came to America in 1634. He died at his home in Lowell November 5, 1950. He received his education in the public schools of Lowell. He then entered the employ of the Prescott National Bank, which later consolidated with the Union National Bank of Lowell. In 1912, he entered the partnership of James M. Abbott & Co., Investment Bankers in Lowell, but resigned in 1918 to go to Washington, D. C., where for several months he was employed in the United States Treasury Department. In October, 1918, he became Secretary and Assistant Treasurer of the Saco-Lowell Shops, manufacturers of textile machinery. In July, 1944, he partly retired, resigning as Secretary, but remaining as Assistant Treasurer. He was also a Vice-President and a Director of Appleton Company, operating cotton mills in Anderson, South Carolina; and he was Treasurer and a Director of The Pawtucket Spinning Ring Company of Central Falls, Rhode Island. He was a member of the Rotary, Highland (President), Vesper Country, Mt. Pleasant Golf and Yorick Clubs, together with the Chamber of Commerce, all of Lowell; also the Boston City Club and Boston Chamber of Commerce. He was a regular attendant at First Grace Universalist Church, and just before his illness, supervised its remodelling and redecoration.
R.W. Brother Cooke married Bertha Runels on October 4, 1904, who survives him, together with four children: Mrs. Francis J. Safford, Mr. Henry M. Cooke, Mrs. William W. DeMallie, Mr. Charles E. Cooke, Jr. and six grandchildren.
His Masonic record is as follows:
SYMBOLIC: He was raised in Kilwinning Lodge of Lowell, February 9, 1906, and served as its Worshipful Master from 1917 to 1919. He was a Trustee of the Permanent Fund and a member of the Board of Trustees. He was also a Charter Member of William Sewall Gardner Lodge of Lowell. In the Grand Lodge of Masons in Massachusetts, he served as Grand Marshal from 1940 to 1943, and Senior Grand Warden from 1943 to 1944. He was decorated with the Henry Price Medal in 7941. He was the Grand Representative of the Grand Lodge of New Brunswick near this Grand Lodge since 1947.
CAPITULAR: He was exalted in Mount Horeb Chapter, R.A.M., of Lowell, June 4, 1906, and was its High Priest from October, 1921, to October, 1922. He became District Deputy Grand High Priest in 1945, and Deputy Grand High Priest in 1947.
CRYPTIC: He was greeted in Ahasuerus Council, R. & S.M., of Lowell, December 31, 1906, and served as its Thrice Illustrious Master from 1923 to 1924. In Grand Council, he was Grand Master of Ceremonies from 1934 to 1937.
CHIVALRIC: He was knighted in Pilgrim Commandery No. 9, K.T., of Lowell, December 5, 1906, and was its Eminent Commander h 1928 and 1929, and Treasurer from 1930 through 1948, when he resigned because of ill health. In the Grand Commandery of Massachusetts and Rhode Island, he served as Grand Warder from 1939 to 1940.
SCOTTISH RITE: He received the degrees from the Fourth to the Eighteenth in the Scottish Rite Bodies of Lowell in November and December of 1906 and January of 1907; and the degrees from the Nineteenth to Thirty-second, inclusive, in Massachusetts Consistory of Boston on April 26, 1907. He served his Lodge of Perfection as Thrice Potent Master frcm 1927 to 1929; and his Chapter of Rose Croix as Most Wise Master from 1939 to 1942. He was coronetted an Honorary Member of the Supreme Council, 33°, September 24, 1941, and crowned an Active Member on September 28, 1944. In Supreme Council, he served in the following capacities: Member Committee on the General State of the Rite, 1944-1945; Member Committee on Rituals and Ritualistic Matter, 1945-1950; Assistant Treasurer of the Trustees, 1946-1950; Grand Keeper of the Archives from April 23, 1948, until his death. He was also First Lieutenant Commander of the Council of Deliberation, 1948-1950.
R.W. Brother Cooke also held membership in the Societas Rosicruciana in Civitatibus Foederatis, and was a member of the Red Cross of Constantine.
Our beloved Brother was in the best sense a real man among men - of discerning judgment, a hard worker, loyal to Freemasonry in all its ramifications and willing to serve it and other good causes, which he did with zeal and fidelity. In the Supreme Council, perhaps his greatest contribution was as a member of the Committee on Rituals and Ritualistic Matter where his accuracy in diction left little or nothing more to be done after he had read and revised manuscript and proof.
His geniality made him ever a welcome companion. And his courage, when facing adverse and heavy odds, won the respect of all. Withal, he was quiet and unassuming. He had many interests in life, but was particularly devoted to his family and Masonry. His memory will be treasured dearly so long as his contemporaries try to fill the vacancy which he has left.
Private funeral services were held at the Blake Memorial Funeral Home, Lowell, on Wednesday afternoon, November 8th, Rev. Mason F. McGinness, Pastor of the First Grace Universalist Church of Lowell, officiating. The Grand Lodge was represented by Most Worshipful Roger Keith, Grand Master, and Past Grand Masters Melvin M. Johnson and Claude L. Allen. In addition to Ill. Bros. Johnson and Allen,the following Active Members of the Supreme Council were present:
Ill. Mcllyar H. Lichliter, 33°, Grand Prior
Ill. Rutherford E. Smith, 33°, Active Member for Massachusetts
Ill. Chauncey H. Clements, 33°, Deputy for the District of Connecticut
Ill. Irving E. Partridge, Jr., 33", Active Member for Connecticut
as well as several Honorary Members.
Interment was in Lowell Cemetery.
"Those who knew him well, loved him best."
Fraternally submitted
Claude L. Allen
Rutherford E. Smith
A Majority of the Committee
FROM NEW ENGLAND CRAFTSMAN, 1951
From New England Craftsman, Vol. XLVI, No. 2, February 1951, Page 30:
Death came to Ill. Charles Edwin Cooke, 33°, of Lowell, Active for Massachusetts, as a merciful release. For more than two years, he had fought a losing battle — but he fought gallantly and with superb courage. Many men would have surrendered to a helpless invalidism, but not this man! He insisted upon performing his duties as Grand Keeper of the Archives when he should have spared himself.
No man in the Supreme Council had more friends. He had traveled widely and was a welcome guest in Masonic gatherings all over the country. He took his duties seriously and whatever was assigned to him to do was done speedily and with unusual efficiency. His long experience as a corporation executive made him invaluable in counsel and in action.
It was not given to Ill. Bro. Cooke to have a long period of service as an Active Member of the Supreme Council. He received the 33° in 1941 and was crowned an Active in 1944, but he had served the Scottish Rite since 1906 and had been an ardent and devoted Freemason for 44 years.
There is a vacant place in the Committee on Rituals and Ritualistic Matter which will be hard to fill. Charlie Cooke had a genius for detail and a keen sense of precision in floor work. He will be greatly missed by his comrades on this Committee and the Chairman cannot begin to express appreciation for all he had done in the task of ritual revision.
---