MAGLRWarmington
From MasonicGenealogy
RAYMOND C. WARMINGTON 1902-1985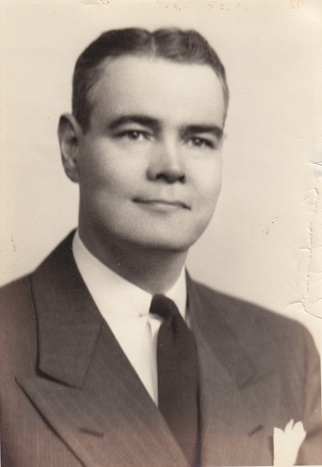 Senior Grand Deacon, 1946
Deputy Grand Master, 1947
MEMORIAL
From Proceedings, Page 1985-92:
Right Worshipful Brother Warmington was born in Quincy, Massachusetts on December 20, 1902, the son of William C. and Mary Jane Warmington. Brother Warmington was graduated from the Quincy Public Schools and Burdett College. He began his banking career in 1921 as a messenger for the Granite Trust Company of Quincy. When he was appointed Treasurer of Norfolk County in 1950 he was the manager of the Wollaston Branch of the Granite Trust Company. He was reelected to the position of Treasurer of Norfolk County in 1950, 1954, 1960 and 1966. He served as County Treasurer until 1972 at which time he retired to Harwich Port on Cape Cod. During his tenure as Norfolk County Treasurer he was also active in community, church and Masonry. He served on the boards of several banks including the Quincy Savings and Weymouth Savings.
He served on the Quincy School Committee from 1945 to 1949 and on the Quincy Housing Authority from 1963 to 1965. He was the former president of the Quincy Council of Churches, the first lay-person to be appointed to that office.
He received the degree of Entered Apprentice in Rural Lodge of Quincy on September 11, 1924; was passed to the degree of Fellow Craft on October 9, 1924, and raised to the sublime degree of Master Mason on November 11, 1924. He served that Lodge as Worshipful Master in 1935, and as Treasurer in 1946. He was twice appointed District Deputy Grand Master of the Quincy 26th Masonic District, first from 1938 to 1939, and again from 1943 to 1944. He served on the Grand Lodge Education Committee from 1943 to 1945. He was appointed Senior Grand Deacon in 1946, and served his Grand Lodge as Deputy Grand Master in 1947. He was awarded the Henry Price Medal in 1947.
Brother Warmington was an Honorary Member of Rural Lodge, Wollaston Lodge, Norfolk Union Lodge, Wessagusset Lodge, Orphan's Hope Lodge and Manet Lodge. In 1984 he received his 50 Year Veteran's Medal and in 1984 received his 50 Year Past Master's Certificate.
After retirement in 1972 he continued to contribute to community and church in Harwich Port. He was Treasurer of the Harwich Athletic Association, a life member of the Harwich Police Association, a member of the Mid-Cape Mens Club, Christ Church Men's Club and Christ Church, Episcopal, Harwich Port. He is survived by his wife, Marion H. Warmington and his daughter, Carol A. Warmington.
Burial was in Island Pond Cemetary Harwich, on March 4, 1985.
Each is given a bag of tools
A shapeless mass
A book of rules
And each must make,
Ere life has flown,
A stumbling block
Or a stepping stone.
These are the words of R.L. Sharpe and truly describe the life of our departed brother, Right Worshipful Raymond C. Warmington, for he built stepping stones for all of us.
Respectfully submitted,
Robert D. Parker
Curtis M. Gifford
James M. McBride
Committee
---