MAGLRMosley
From MasonicGenealogy
ROLAND E. MOSLEY 1917-1991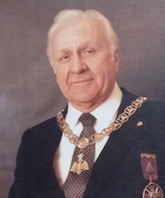 BIOGRAPHY
From TROWEL, Spring 1987, Page 5: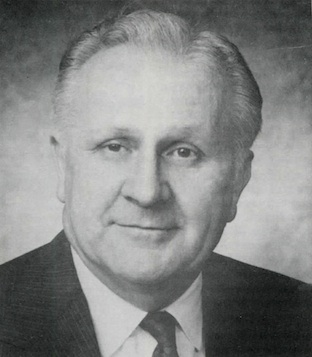 R. W. ROLAND E. MOSLEY
Named to Scottish Rite Post
R.W. Roland E. Mosley of Chelmsford, member of the Board of Directors and Past Senior Grand Warden, was named Deputy for Massachusetts by the Supreme Council of the Scottish Rite at its annual meeting in Cincinnati last September. The highest Scottish Rite office in the state, he succeeds James F. Farr 33°, also a member of the Board of Directors and a Trustee of Masonic Education and Trust.
A native of Lowell but also living in Virginia, Oregon, and Vermont ("wherever my father was earning his living"), Roland was Raised in Pentucket Lodge, Lowell, in 1947. He was Master in 1960-61 and D. D. G. M. of the Lowell 12th District in 1973-74, serving as Senior Grand Warden in 1977. Holder of the Henry Price Medal, he is the Grand Representative of Michigan.
Retired as senior vice president of the Colonial Gas Co. of Lowell and Cape Cod, he is an incorporator of the Lowell General Hospital and active with the Merrimack Valley Goodwill Industries.
In 1981 Bro. Mosley succeeded M. W. Laurence E. Eaton as Active Member of the Supreme Council, a post to which M. W. J. Philip Berquist 33° has been named. Raymond W. Williamson 33 ° of Agawam continues as the third Massachusetts Active Member.
Bro. Mosley has been active in Scottish Rite for 35 years and was Sovereign Prince of Lowell Council, Most Wise Master of Mt. Calvary Chapter, and Chancellor of Massachusetts Consistory in 1973-79.
He is a member of Mount Horeb R. A. Chapter, Ahasuerus Council, and Pilgrim Commandery No. 9, all of Lowell; Aleppo Temple, A. A. O. N. M. S., the Grand Cross of Color, and is an Honorary Legion of Honor in the Order of DeMolay.
MEMORIAL
From Proceedings, Page 1991-69; presented by Past Deputy Grand Master W. Terence Stephens:
Most Worshipful Grand Master and my Brethren.
I was appointed Chairman by our Grand Master to put together this Memorial for a very dear friend Right Worshiptul Roland Earle Mosley. For this I am most grateful.
Roland has probably talked to or has had a personal contact with almost everyone in this Lodge room. I have never known anyone like him. He always had the time for everyone. No matter who they were. From our Grand Master to the Entered Apprentice who stood in the North East Comer. We always kidded Roland about how everyone was ready to go home. The secret was to get Roland out the door. The problem was he was the driver.
But, my Brothers, do you know the reason why Roland was always the last to leave a building? It was because he was talking to someone who had a problem or needed advice. He was only practicing his Masonry. He was sharing a gift that he possessed. A gift of knowledge, a gift of understanding other people's problems, his concern for others and his love for his fellow man. He was teaching the tenets of Freemasonry; Brotherly Love. Relief and Truth.
We all enjoyed being with and traveling with Roland, and we all knew of Roland's driving. Like the night we drove up to a body of water called Boston Harbor. We were on our way into Boston and he said, "Well, there's Boston over there!" The only problem was that there was no bridge. And then there was the night we left Tewksbury for Pelham, New Hampshire and crossed Interstate 93 five times. This is what Roland Mosley was all about. A loving, caring, compassionate man. Roland Mosley is one of the reasons I have enjoyed Masonry as much as I have. Just knowing him as Roland, my friend, my leader, my confidant and my Brother, will always keep him close to me.
Ill. Roland Earle Mosley, 33rd degree, was born in Lowell, Massachusetts. on November 17, 1916, the son of Harry and Louisa (Johnston) Mosley. He attended the public schools in Lowell, Massachusetts; Norfolk, Virginia; Portland, Oregon; and Sanford, Maine. He furthered his education by attending evening courses at Boston University, earning a Bachelor of Science Degree in Business Administration in 1956. He was an expert stenographer, making use of this skill at business meetings and for his own private memoranda.
With the exception of time spent during World War II as a member of the United States Marine Corps, Brother Mosley's entire business career was with the Lowell Gas Company, spanning 44 years of service. At the time of his retirement in 1984 he held the position of Vice President responsible for the Purchasing and personnel departments. He was also Vice President of the Cape Cod Gas Company, both divisions of the Colonial Gas Company headquartered in Lowell, Massachusetts.
Ill. Brother Mosley was a member of the Board of Directors of the Merrimack Valley Goodwill Industries, the advisory board of the Greater Lowell Regional Vocational School, the Exchange Club, and the former Yorick Club. He was also a corporate director of the Lowell General Hospital.
He is survived by a nephew, Donald Mosley, several cousins and his sister-in-law, Mrs. Jewel D. Mosley.
Our Ill. Brother's long and distinguished Masonic record follows: Raised a Master Mason in Pentucket Lodge, A.F. & A.M., in Lowell, Massachusetts, on November 20, 1947, and was the Worshipful Master from 1959-61. He was a former President of the Lowell Masonic Temple Association and was currently its chairman of the Charities and Legacies Committee. He was appointed District Deputy Grand Master of the Lowell Twelfth Masonic District for two years beginning in 1972 and elected Senior Grand Warden of the Grand Lodge of Massachusetts for the year 1977. During his term as Senior Grand Warden he was awarded the Henry Price Medal for distinguished service. On December 12, 1984, he was elected a member of the Board of Directors of the Grand Lodge and was still serving in this capacity. He was the Grand Representative of the Grand Lodge of Michigan near the Grand Lodge of Masschusetts.
Exalted in Mount Horeb Chapter R.A.M., Lowell, Massachusetts, on November 29, 1978.
Greeted in Ahasuerus Council, R. & S.M., Lowell, Massachusetts, on April 3, 1979.
Knighted in Pilgrim Commandery No. 9 K.T., Lowell, Massachusetts, on May 23, 1979.
Completed the degrees of the Lodge of Perfection; Council, Princes of Jerusalem; and Chapter of Rose Croix in the valley of Lowell on September 15, 1951 and proclaimed a Sublime Prince of the Royal Secret, 32nd degree, in the Valley of Boston on September 24, 1951. He was the Sovereign Prince of Lowell Council, Princes of Jerusalem fiom 1971-73, Most Wise Master of Mount Calvary Chapter of Rose Croix from 1976-79, and Second Lieutenant Commander of Massachusetts Consistory from 1979-82.
On September 27, 1972, at Boston, Massachusetts, he was created a Sovereign Grand Inspector General, 33rd degree, Honorary Member of the Supreme Council, and crowned an Active Member at Philadelphia, Pennsylvania on October 1, 1981. He served as Assistant Grand Seneschal from 1979-81. At the Annual Meeting held in Cincinnati, Ohio, he was elected Deputy for Massachusetts on September 25, 1986. He was the Grand Representative near the Northern Jurisdiction for the Supreme Council of Turkey.
Ill. Brother Mosley performed various Special Assignments and served on the following committees:
DeMolay and Youth Activities, 1981-91
Benevolences, 1983-91
Ill. Brother Mosley was a member of the Massachusetts College of Societas Rosicruciana, Aleppo Temple, A.A.O.N.M.S., in Wilmington, Massachusetts and St. Matthews Conclave, Red Cross of Constantine of Springfield, Massachusetts. He was a recipient of the Honorary DeMolay Legion of Honor, and the Rainbow Grand Cross of Color.
A Masonic funeral service was held on Tuesday evening, March 12, 1991, at the Lowell Masonic Temple with Worshipful Joseph L. Husson, Worshipful Master of Pentucket Lodge, A.F. & A.M. officiating. I1l.J. Philip Berquist 33rd degree, gave the eulogy, Brother John A. Gqpdwin, 32nd degree, served as Organist and Brother Donald R. Parsons, 32nd degree, was the soloist.
Over 600 friends and associates from across New England were present to honor our highly respected Masonic leader headed by Most Worshipful Edgar W. Darling, Grand Master of Masons of Massachusetts accompanied by all the elected and many of the appointed Grand Lodge Officers as well as Ill' Philip L. Hall, 33rd degree, Grand Secretary General and Deputy for New Hampshire; Ill. Richard W. Parker, 33rd degree, Deputy for Vermont; I1l. A. Norman Johnson, 33rd degree Deputy for Connecticut; Ill. Royce G. Wheeler, 33rd degree, Deputy from Maine; Ill. Donald F. Culton, 33rd degree Deputy for Rhode Island; Active Members trl. Raymond W. Williamson, 33rd degree, and lll. J. Philip Berquist, 33rd degree, of Massachusetts; IIl. Frederick H. Lorenson, 33rd degree, Connecticut; Ill. Philip G. Rollins, 33rd degree, Rhode Island; Ill. Sidney R. Baxter, 33rd degree, Assistant to the Sovereign Grand Commander, and former Grand Tteasurer General, Ill. Franklin G. Hinckley, 33rd degree of Maine. Representing the York Rite Bodies at the service were Most Excellent Lane E. Wheaton, 32nd degree, Past Grand High Priest, appointed to officially represent the Grand Royal Arch Chapter of Massachusetts; Most Illustrious Vernon S. Bowers, 33rd degree, Grand Master of the Grand Council of Royal and Select Masters of Massachusetts; and Right Eminent Max Ludwig, Jr., 32nd degree, Grand Commander of the Grand Commandery of Massachusetts and Rhode Island. Also seated in the Lodge room were a host of past and present Masonic officers from several states, members of the staff of the Supreme Council and the Museum of Our National Heritage, former business associates, and many Honorary Members of this Supreme Council.
Interment was at Oakland Cemetery, Sanford, Maine.
A Fraternal Remembrance by,
Right Worshipful Donald G. Hicks, Jr.
Right Worshipful Charles A. Lukas, Jr.
Right Worshipful Roland K. Woodberry
Right Worshipful W. Terence Stephens
---