MAGLRLash
From MasonicGenealogy
ROBERT LASH 1779-1863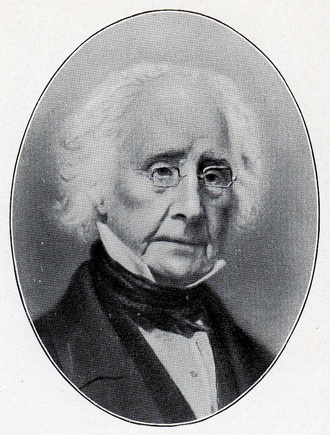 Senior Grand Warden, 1844.
BIOGRAPHY
from the 75th Anniversary of the lodge named for him, April 1943, Page 1943-47:
Born in Boston November 7, 1779, he attended school there and was one of the first group of boys to receive that coveted meed of scholarship known as the Franklin Medal. For fifty years he was associated with the old Boston Bank and was an official there until his death in October 1863, having then reached the age of eighty-three years, eleven months. During his most active years he resided in various parts of the old North End, but in 1843 he purchased a house at the corner of Chestnut and Fourth Streets in Chelsea, which he later made his home, spending the evening of his life among us here, enjoying the love and respect of all who knew him. The purity of his personal character showed in his face, although its gentle benignity gave no hint of the remarkable fearlessness and moral courage which a study of his career proves him to have possessed. It is of course with his Masonic life and record that we are chiefly concerned. He was raised in Mount Lebanon Lodge in Boston in 1801 at the age of twenty-two years, and after serving it as Secretary and in other capacities, became its Worshipful Master in 1812, serving again in the East in 1822. For fifteen years, beginning with 1818, he held office in the Grand Chapter of Massachusetts, reaching the chair of Deputy Grand High Priest. In 1824 he was elected Commander of Boston Encampment, K.T., and in 1832 became Grand Master of the Grand Encampment of Massachusetts and Rhode Island. In 1844 he was Senior Grand Warden of the Most Worshipful Grand Lodge of Massachusetts, being then sixty-five years of age.
We of today have but a faint idea of the physical and moral stamina required of one who would hold high office in the Masonic Fraternity at the period in which he was most active. Doubtless the times, which we may well call the dark and anxious days of Masonry, did much to make him conspicuous and to increase his influence, for then as now, "the occasion ever makes the man." As we in these days see our Fraternity respected, it is hard to conceive the gloomy period when for a man to acknowledge the tie of Masonry was to invite suspicion, abuse, persecution and threats; and it is only because our beloved Brother endured these things with steadfast purpose and unfaltering courage that reference is here made to the subject even superficially. But it was not his inflexible firmness and resolution, great as these were, which at that time distinguished him amongst his Brethren of equal fortitude. His greatness lay in the purity of his moral character; and the influence which he exercised to calm the spirit of hatred and passion which was aroused against our Order came not from his lofty Masonic office and high position, but from the daily exemplification in his own life of the principles for which this great Fraternity of ours then stood and will ever stand until Time shall be no more. Every account of him which has been studied lays stress upon this; and while we today honor the sublime courage and spirit which led him to sign the historic "Declaration of the Freemasons of Boston and Vicinity," (a draft of which from his own pen was kept in this Lodge until lost in our great fire) his Brethren of the time, under the direct influence of his living personality, realized his true worth better than we can ever hope to do. He is our patron saint, almost, and we are entitled to one more glimpse of him as he appeared to those who stood by his side. It was said of him by a widely known contemporary, "His simple presence in our midst was enough to draw back many thoughtful and considerate men from the ranks of the opposition who would otherwise have been impelled thereto by the excitement which raged around them;" and it came to be an accepted fact "that an institution to which the upright and spotless Robert Lash belonged could be neither corrupt nor dangerous to the interests of mankind."
from the Centenary History of the lodge named for him, December 1967, Page 1967-570:
"Wor. Bro. Robert Lash . . . was born in Boston on November 7, 1779, educated in its public schools and was among the first to receive the Franklin Medal for scholarship and distinction alike for the purity of his private life and the integrity of his business career. He was an official of the old Boston Bank in the North End for over 50 years. He lived here most of his life and commuted from Chelsea to Boston via the Winnisimmet Ferry for the outrageous amount of 2 cents per day. His Masonic record was a most notable one even by our present standards. Raised in Mount Lebanon Lodge in 1801 he twice served it as Master, once in 1812 and again in 1822.
"For 15 years he held office in the Grand Chapter of Massachusetts, reaching the chair of District Dep. Grand High Priest. In 1824 he was elected Commander of Boston Commandery, Knights Templar, and in 1832 Grand Master of the Grand Encampment K. T. of Massachusetts and Rhode Island. In 1844 he was Senior Grand Warden of the Grand Lodge of Massachusetts.
"For the last 20 years of his life his home was at the corner of Chestnut and Fourth Streets in Chelsea where he died in October 1863 at the age of 83. An account of his funeral, too lengthy for our pages here, was in all Masonic publications then in circulation where it appears that the Grand Master officiated at his services. His home Lodge, Mount Lebanon, was in charge and under the escort of Boston Commandery and Palestine Commandery K.T. accompanied by the cortege to Woodlawn Cemetery, where the Chaplain of Mount Lebanon Lodge performed the burial service of the Order in a most impressive manner."
MEMORIAL
FROM PROCEEDINGS
From Proceedings, Page VI-467, 1863:
"The Com. appointed by the M. W. Grand Master to prepare and present to the G. Lodge resolves for their adoption upon the decease of R. W. Robt. Lash, a permanent member of the G. Lodge, submit the following.
"Whereas, the G. Lodge of Massachusetts have learned with deep sensibility of the death of their beloved and venerable brother Robert Lash, who for more than half a century has moved among us, commanding the unqualified esteem and warm affection of all who knew him, and furnishing a beautiful exemplification of the tenets and character of Freemasonry therefore,
"Resolved. That we recall the person, dwell on the life, and cherish the memory of our dear and honored brother, with unmingled satisfaction, regarding him as one, who in every particular was a model of a Christian man and Mason, sweet in temper, cultivated in mind, delightful in manner, and spotless in virtue,
"Resolved. That we are grateful for the privilege of his society which we have enjoyed for so many years and for the fragrant legacy of his example which we now cherish and that we are proud to hold him up to those who shall come after us, as one whose whole life and spirit are worthy of the most exact imitation.
"Resolved. That our sorrow in parting with this cherished brother is alleviated by the knowledge that he was so perfectly fitted for the transition, coming to his grave like a shock of corn, fully ripe in its season, and that we rejoice in the hope of meeting him hereafter, in that bright world where no grief or evil can come, because there the Supreme Architect of the Universe immediately presides."
Wm. R. ALGER,
J. R. BRADFORD,
A. A. DAME,
Committee.
FROM FREEMASONS' MONTHLY
Moore's Freemason's Monthly, Vol. XXIII, No. 1, November 1863, Page 44:
DEATH OF R.W. ROBERT LASH
"This venerable and beloved Brother died at Chelsea, Oct 4th, aged 83 years and 11 months. He was born in Boston, Nov. 7th, 1779. He received his education at the public schools of his native city and was one of the first, if not the very first, scholar who received the Franklin medal. He was for half a century connected with the Boston Bank, which connection was only broken by his death. He was initiated, passed, and raised in Mount Lebanon Lodge in the Summer of 1801 and admitted a member Nov 20th 1801; was elected and served as Sec'y 1803, 4, and 5; was Junior Warden 1808, 9, 10; Senior Warden, 1811; Master 1812 and 1822. All these various offices he filled with remarkable ability. Being of a literary turn of mind he was well adapted to preside over and instruct his Brethren in the mysteries of the Craft. His life was a blameless one, and his death a noble example of virtue its own reward.
"His funeral took place Oct 7th at the Universalist Church in Chelsea, which Church he attended during his last years on earth. Mount Lebanon Lodge having charge of the Masonic services, the order of the procession was as follows: Boston Encampment, John K. Hall, Commander, acting as escort; Palestine Encampment of Chelsea, Charles Avery, Commander; Mount Lebanon Lodge of Boston, John L Stevenson, W Master; followed by numerous relatives and friends. Among whom were M.W. William Parkman, G. Master; Chas C Dame, D.G.M.; Chas. W. Moore, G. Sec.; John McClellan, G. Treas., and other distinguished Masons. The funeral cortege moved to Woodlawn Cemetery, where Rev. Br. Wm R Alger, Chaplain of Mount Lebanon Lodge performed the burial service of the Order in an impressive manner. At the close of these exercises the procession returned to the Lodge room in Chelsea where after resting and refreshing themselves the Lodge was closed and the Encampments returned to their armories.
"At a Regular meeting of Mount Lebanon Lodge, held at Freemasons' Hall, Boston, Oct. 12, Rev. Bro Wm. R. Alger presented the following Resolutions which were unanimously adopted:
Resolved, That Mount Lebanon Lodge of Free and Accepted Masons cannot suffer the first meeting after the death of their oldest and most honored associate to pass without some formal expression of the esteem in which they held him, and of the pride and fondness with which they will cherish his memory.
Resolved, That the connection of Brother Robert Lash with our Lodge throughout its entire history, a connection sustained by him for over sixtytwo years with a fidelity absolutely faultless, sheds lustre on our annals and justly calls for an expression of our admiration and gratitude.
Resolved, That if ever a member of our Order did in youth as an Entered Apprentice industriously occupy his mind in the attainment of useful knowledge, in manhood as a Fellow Craft apply his knowledge to the discharge of his duties to God, his neighbor, and himself, and in age as a Master Mason enjoy the happy reflections consequent on a well spent life, and die in the hope of a glorious immortality, all this was strikingly exhibited in the experience of the endeared and venerated Brother whose presence we are henceforth to miss on earth - a Brother whose friendship it has been our privilege to enjoy whose character it honors us to appreciate, and whose example is a priceless heritage to his family and Brethren.
Resolved, That we recall the fellowship of our departed Brother with unmingled satisfaction, that we fondly cherish the recollection of his many rare virtues, and that we shall ever take pride and pleasure in pointing to him as one whose character furnishes a beautiful model of what a Mason ought to be, whose life is an attractive picture of how a Mason ought to live, and whose serene and trustful transition from earth to heaven is a perfect illustration of how a Mason ought to die.
"Bro. Alger addressed the Lodge in a fervent and eloquent manner, eulogising the memory of the departed and from the remarkable serenity of his life and death drew hopeful aspirations of the future of those who like him feared God and loved their fellow men."
POEM, AUGUST 1807
CORRESPONDENCE, MARCH 1867
From Moore's Freemason's Monthly, Vol. XXVI, No. 5, March 1867, Page 153:
Chelsea, Jan. 1, 1867.
To the W.M. of "Robert Lash" Lodge.
Dear Sir,— I know not how to find words to thank you and the members of the newly instituted Lodge, for the honor you have conferred on our dear father's name — a name so hallowed by us, and with loving regard by you, and which calls forth our gratitude and thanks, that you wish to keep that name as a tribute to his memory and worth. My father loved the institution from early manhood, and worked in it and for it with fidelity till late in life. He loved the brotherhood, and was ever at home in their circle, and his influence is still with them. We sincerely appreciate the estimation in which you hold our venerated father, who now dwells above all earthly orders in the kingdom of the Grand Master who presides over all orders and degrees on earth and in heaven. That your Lodge may be blessed and prospered is the wish of my sisters and myself.
Yours respectfully, R. S. LASH.
Chelsea, Jan. 81, 1867.
To Miss E. S. Lash.
The Worshipful Master, Wardens, and Members of Robert Lash Lodge have received with grateful emotion your kind letter, and the most welcome and precious memorials of your revered and honored father, which accompanied it. These relics will he sacredly treasured in the archives of the Lodge as mementos of one whose personal and social virtues can never be forgotten by those who looked upon Mm in life as their eldest brother, and as one of the noblest types of the high and beneficent principles of Masonry.
His pure and undeviating devotion to every duty, his long and brilliant career as a Mason, his large humanity and Christianity, bis genial manners and unspotted life, though fondly cherished in the hearts of his children and relatives, cannot be confined to the small circle of home and family, but must expand to the force of a lofty and noble example to all his associates, and to the society in which he lived. The assumption by us, as a Lodge, of so pure a name, will, as we trust, incite us to a more exact imitation of the many virtues of our illustrious brother, and to the attainment of that honorable and unblemished character, of which he was so dear and so true a model. And thus may Ills memory, shining like a beacon light over tempestuous seas, draw us at length into the haven of perfect peace in which his soul now reposes.
With the kindest regard for yourself and sisters, and for all the relatives of your distinguished father, permit us, in behalf of Robert Lash Lodge, to subscribe ourselves grateful recipients of your most generous gift, and
Very respectfully your obedient servants,
Tracy P. Cheever,
George W. Churchill,
Benjamin P. Shillaber,
Committee of Robert Lash Lodge.
Accompanying the letter of Miss Lash, was a box containing many articles of regalia which had been worn by her father in the various Orders of Masonry of which he was a member, and which were presented by his daughter to the Lodge. The box also contains diplomas, and a draft of the celebrated Declaration of the Freemasons of Boston and vicinity in the handwriting of Brother Lash.(see note below) These relics of this most honorable brother and gentleman are held in very high regard by the brethren of "Robert Lash" Lodge, and will be preserved in a peculiar case, to be made for their reception, and placed in the reception-room of Masonic Hall.
Note. This declaration, written by the editor of this magazine, and first adopted by the Boston Encampment, was copied by Brother Lash, who was a fine penman, for the purpose of receiving the signatures of brethren who might desire to sign it. The original intention was to confine it to the members of the Encampment, but it was subsequently printed and opened for more general subscription. — Editor.
---
Remarks at the presentation of Past Masters' Jewels at Mount Lebanon Lodge, 1851