MAGLRBayes
From MasonicGenealogy
RALPH ERNEST BAYES 1886-1977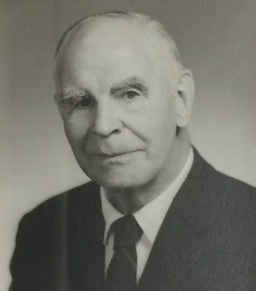 03/08/1978: 1978-37
MM 1912, Alpha #139, Wagner, South Dakota
Member 1919, Budleigh
Member 1945, The Harvard
Member 1968, Mizpah
Grand Chaplain 1965-1977
---
MEMORIAL
Presented by the Cambridge Masonic Lodges, 1977:
After serving The Harvard Lodge as their Chaplain for twenty seven years Brother Bayes was presented a "Harvard" rocking chair. Maybe it was a "suggestion" that he should retire. Not so - he then was only 84.
[1] and The Harvard Lodge must share the honor of Brother Ralph's services long before he was affiliated with our Lodges. He was a member and Chaplain of Budleigh Lodge in Beverly at the time of their Institution in 1919. He was also chaplain for Liberty Lodge, Beverly at their Centenary. Fifty years later Brother Ralph represented our Grand Lodge at Liberty Lodge as Grand Chaplain.
We find Brother Ralph active with all the Collateral Bodies. He received his Scottish Rite Degrees in Yankton, South Dakota in 1914. He affiliated with the Valley of Boston in December 1953. At the April Rendezvous of the Boston Consistory in 1974 Brother Ralph was presented a citation with his Fifty Year Veteran's Medal by then Commander-in-Chief Stanley Fielding Maxwell.
In the York Rites Brother Ralph was exalted in St. Andrew's Royal Arch Chapter and affiliated with Cambridge R. A. Chapter on June 8, 1962.
Brother Ralph was Greeted in Boston Council of Royal and Select Masters in 1960. He was appointed Grand Chaplain of the Grand Council of R. & S. M. by Most Illustrious Waldo I. Powell on December 11, 1961.
He was Knighted in Cambridge Commandery, Knights Templar on June 18, 1960.
Brother Ralph lacked a formal High School education. Being an avid reader, his mature outlook on life, his services with a local church and with the recommendation of the President of Yankton College he was able to pass the requirements for admission to that College. At the age of twenty two he received his B. A. Degree and was ordained a Congregational Minister. In 1930 he returned to Yankton for his Honorary D. D. Degree.
He received his Bachelor of Sacred Theology Degree from Andover Seminary and his Master of Sacred Theology Degree from Harvard Divinity School. He was later elected President of Harvard Divinity Alumni and was their oldest Alumnus.
He held Pastorates in Massachusetts and Wisconsin. In Massachusetts he held a Pastorate at the Congregational Church in Beverly while he was affiliated with Budleigh Lodge. He also held interim Pastorates at Pilgrim, Prospect and North Congregational in Cambridge and Hillcrest Church in Melrose.
His longest period of service was at the Mariners' House at North Square, Boston, where he served for forty-two years, retiring at the age of eighty-three. Mariners' House is a self supported residence for active seamen and fishermen that find themselves stranded or in distress while on shore leave.
Locally here in Cambridge we found him working with the Republican City Committee. He has made 64 trips across the Atlantic and three times around the world. Several times of year he would enjoy an evening of relaxation with the members of 5/0, a club composed of active workers in the York Rite in the Cambridge Temple. The fellowship we felt with his presence was always warm and congenial, a natural characteristic that never changed, even at ninety-one.
Worshipful Reverend Brother Ralph Ernest Bayes, D. D. was called to Higher Service Saturday morning December 31, 1977. Masonic Service was held at Watson's Funeral Home, 11 Magazine Street, Cambridge on January 4th, 1978. Service conducted by the Harvard Lodge and Mizpah Lodge with Wor. Whitfield W. Johnson, P. G. M., presiding Master of The Harvard Lodge; Burial in Cambridge Cemetery.
We are grateful his life touched ours. We extend to his loving wife, Doris, our sincere sympathy.
Wor. Whitfield W. Johnson, The Harvard Lodge
Wor. Richard L. Rivinius, Mizpah Lodge
Prepared by R. W. Lorenzo B. Carr, Mizpah Lodge.
---