MAGLKWillis
From MasonicGenealogy
KEVIN JOHN WILLIS 1968-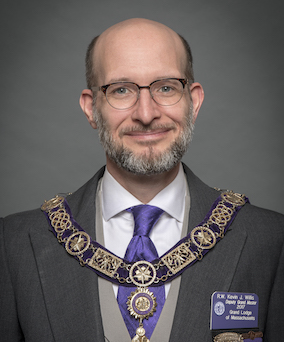 MM 1997, WM 2009, 2010, Mount Horeb (Woburn)
Member 1998, The Massachusetts
Member 2010, Samuel Crocker Lawrence
Member 2011, Somerville
Member 2014, Golden Rule
DDGM, District 13, 2014, 2015
Deputy Grand Master 2017
BIOGRAPHY
SPEECHES
FEAST OF ST. JOHN, DECEMBER 2016
From Proceedings, Page 201:
When giving his speeches, Most Worshipful Harvey John Waugh has a practice of notifying his audience of how long he intends to speak. This is a good and admirable practice because it ensures self-discipline on the part of the speaker and sets expectations for all. As much as I admire that practice, it is difficult for me to give you an estimate for this address for a variety of reasons. Foremost among them is that it has been my experience that my speeches are usually interrupted by repeated – yet disregarded – pleas from the audience for me to sit down and stop talking. Nevertheless, to give you an idea of the length of this particular endurance test, I fully expect that by the end of the evening the Grand Master will call an emergency meeting of the Board of Directors to approve the construction and installation of a neon sign above the entrance of 186 Tremont Street to be lit whenever he has left the jurisdiction leaving me as the Acting Grand Master, which will read: "Abandon All Hope, Ye Who Enter Here!"
Most Worshipful Grand Master, distinguished guests, brethren all: first, I must publicly thank the Grand Master for his confidence in selecting me to serve as Deputy Grand Master. When I first became a Mason twenty years ago last month I would never have dreamed that I would be asked to accept such a role, and if I had dreamt such an unlikelihood, I would have characterized the alleged "opportunity" as a nightmare. At the then age of twenty-eight and enjoying a full head of hair, my greatest fear as a young man and Mason was speaking in public; and by public I mean a crowd of fewer than 3, 5, 7, 9 or more. Fortunately, since that time Masonry has provided me the opportunity to improve myself and build my self-confidence to the point that addressing a crowd of this magnitude is now only marginally terrifying. Suffice it to say, therefore, I never expected to be in this position. Thank you, Most Worshipful Brother Gleason, I hope I exceed your expectations over the course of the next twelve months. Second, I must presume there are an infinite number of more qualified brethren who declined Most Worshipful Brother Gleason's offer to serve as Deputy Grand Master in 2017, leaving him no choice but to pick this last kid available for the Masonic dodge-ball team. To those of you in the audience who declined to take on this role, thank you for stepping aside.
Before proceeding further, I wish to acknowledge several brothers without whose guidance, mentorship, and support I would not be standing before you this evening: my late father-in-law, Brother Harold Alfred Bufe, and his father, Worshipful Harold Amandus Bufe, both of whom were raised in the former Mystic Lodge, now known as New Moon Lodge, in Pittsfield; three Past Masters of Mount Horeb Lodge in Woburn: Worshipful Warren Johnson, Worshipful Bill Irving, and the late Worshipful Tom Moore; and my friends and brothers, Right Worshipful Richard Maggio, who appointed me to be his District Secretary in 2010, Right Worshipful Ted Morang, Sr., who is one of the hardest working members of the Craft I know and who counseled me not to say no to wearing the color purple if I were ever asked, and Most Worshipful Richard James Stewart, who appointed me to serve as a Grand Steward and then a Grand Lecturer during his term as Grand Master. Thank you, brethren.
State of the Fraternity
Given that in the coming months Freemasons wheresoever dispersed upon the face of the earth will be celebrating the 300th Anniversary of the Grand Lodge system in England and we in Massachusetts will simultaneously enjoy our 284th year as a Grand Lodge, I have been giving some thought concerning the state of our Fraternity. How might we assess our current condition?
To borrow from Charles Dickens, I would suggest that it is the best of times, it is the worst of times, it is the age of wisdom, it is the age of foolishness, it is the epoch of belief, it is the epoch of incredulity, it is the season of Light, it is the season of Darkness, it is the spring of hope, it is the winter of despair, we have everything before us, we have nothing before us, we are all going direct to the Celestial Lodge above, we are all going direct the other way.
This is the state of Massachusetts Freemasonry as we enter 2017. In other words, depending upon your vantage point, we are the same as we ever were – a tale of two Lodges, or more accurately, a tale of two basic conditions of varying degrees of success and failure in our Lodges. Individual Lodges are currently enjoying some of the best times of their existence and others are suffering some of the worst. We are led by Worshipful Masters with wisdom rivaling that of King Solomon and Worshipful Masters supposed to have that degree of wisdom but finding themselves missing the mark by a considerable degree. Lodges are working candidates and Lodges are becoming atrophied. Lodges are delivering Masonry to their membership and Lodges are doing nothing but collecting dues (and in some cases, not) from their neglected membership. After 283 years, this is nothing new.
Mount Horeb Lodge
I am a member of four Blue Lodges, but my mother Lodge is Mount Horeb Lodge in Woburn. When I joined the Lodge in 1996, the Lodge was experiencing what I surmise was a fairly typical existence for a mid-1990's era Lodge. That is, membership was relatively high, but few brethren as a percentage of membership were attending meetings. The remaining brethren of the World War II generation were enjoying their twilight years in Masonry with very few Baby Boomers and men from Generation X filling the gap.
Fewer and fewer Brothers were coming out for the meetings, and fewer and fewer candidates were being proposed and worked. In the 1950's and 1960's the Lodge was often meeting twice per month to run ten candidates per month. How shocking must it have been to see the drop off in Lodge attendance from 1966 to 1996. But it was not shocking. It was so gradual that few noticed until it became a crisis – not unlike the proverbial frog being slowly boiled to death.
By the turn of the new millennium, the leadership of the Lodge knew we were experiencing dysfunction, but we were not truly cognizant of the severity of our situation. By 2004, it was not unusual to see fewer than eight to ten brothers attending meetings, including the Tyler and Organist. We typically opened the Lodge at 7:00 PM, held a quick business meeting to pay the bills, exemplified a brief portion of the work (ironically, usually the hour-glass), then closed by 7:45 PM. Those of us who lived nearby were safely home by 8:00 PM to feel the warm glow of the television as we sat alone on our couches on Lodge night. Fortunately for Mount Horeb Lodge, though not at all appreciated at the time, the Grand Master's personal representative paid a visit to the Lodge and sounded the alarm. The then fresh-faced District Deputy Grand Master for the recently formed Thirteenth Masonic District, a future leader of this Grand Lodge by the name of Right Worshipful George Bibilos and his distinguished Suite of Masons, attended our Installation of Officers in the fall of 2004. To enable the Lodge to receive Bro. Bibilos for that visit, we had to borrow members from his Suite to serve as Stewards. Being an outsider, Bro. Bibilos quickly recognized the dysfunction. Immediately following the installation, he pulled the newly installed Master aside and with the bedside manner of Dr. Kevorkian instructed him to start looking for a Lodge to merge with. Even though we had all been witnesses to the decline, none of us thought we were anywhere near the stage of needing to merge, but Bro. Bibilos's assessment was correct. It was quite a shock to the senses. Fortunately for Mount Horeb Lodge, there were a few of us naïve enough to believe we could turn things around without merging. Spoiler alert: Mount Horeb Lodge is still with us and now enjoying some of the best times of its existence.
So what did we do to stave off disaster?
A Renaissance
Those of us who remained held a number of meetings over the course of the next several months. As we entered the Lodge building for each meeting we passed the photographs of the eleven Charter Members from 1855. I remember thinking to myself as I passed those ancient photographs, "3, 5, 7, 9 or more; if these eleven could build a Lodge facing all the difficulties a brother faced in 1855, why couldn't the 200 of us remaining at the dawn of 2005 rebuild this once great Lodge?" The active members among us each did a self-assessment to see what we could do to help turn things around. We talked with our wives to manage expectations, we examined our personal situations, and we considered the possible consequences of proposed action versus inaction. Over the course of the next several years, we worked hard to make our meetings interesting, planned and executed activities, and made Lodge night an event not to be missed. We put ourselves out into the community by hosting a monthly breakfast, attending worship services at our local churches, participating in St. John's Sunday services each June, marching in parades, hosting comedy nights and dinners, and issuing press releases in the local newspapers for every event.
We raised our Lodge dues almost four-fold. We tripled our initiation fee. Keep in mind, most of the membership was from working-class Woburn, not Weston, Wellesley, or Winchester. As the comedian Adam Carolla has been known to say, we were not "high falutin!," we were "low falutin!" Yes, there were howls from some of the "frugal" and "parsimonious" members, who argued that they could not possibly pay an extra 19¢ per day in dues, but most did so without objection. Prospective candidates did not even blink at the thought of a $300 initiation fee – truthfully, most thought it would be (and should be) hundreds more. We gave our hardworking membership value for their dollar. We advised our prospective candidates that meetings would be held on the first Wednesday of the month for the rest of their lives, and we expected to see them each month.
Most importantly, we re-established personal contact with our brethren and their widows. Every brother received a handshake at the meetings, and no one sat alone. If a brother was sick or otherwise distressed, he received a card from the Lodge and a visit when possible. We recognized milestone birthdays and Masonic anniversaries with cards. Flowers were sent to our widows, hand-written cards were sent to every brother at Christmas, and fruit baskets were delivered to our elderly shut-ins. If a brother was absent from a meeting, inquiries were made and personal invitations were issued. We were not perfect, but we endeavored to practice proper Masonry, which improved ourselves and our Lodge. As a result, brethren were eager to introduce their family and friends to the Craft and we began seeing large classes of candidates year after year. It was not 1960 again, but the Lodge was working candidates on a regular basis. Catastrophe had been averted, but it easily could have played out differently. It took about five years to bring us back from the edge, but we began to feel the change almost immediately after focusing on our membership issues. Even now, we are not safe from slipping back into our bad habits.
Examples of Success
Brethren: to the extent there is a membership problem in Masonry as we enter 2017, it is no different than it was in 1717 or 1733, or 2004. For too many of our members and their families the only contact received from the Lodge is to collect dues or to perform a Masonic memorial service. We need to change the culture back to what it was when each of our Lodges was first chartered. We are in the friendship business and we need to take care of our customers. If your Lodge is struggling and you wish to see an example of Masonry practiced well, pay a visit to Friendship Lodge in Wilmington, Golden Rule Lodge in Wakefield, St. Paul's Royal Arch Chapter in Boston, or Mount Olivet Chapter of Rose Croix in the Valley of Boston. What these Lodges and Chapters have in common is that they are enthusiastic, vibrant, and focus on personal connections with the membership.
The B.F.F. Program
When I became District Deputy Grand Master of the Thirteenth Masonic District three years ago, I introduced a program in my District, which I facetiously referred to as the "B.F.F." program. For those of you without tween and teen daughters, "B.F.F." is what one best friend calls another, meaning, "best friend forever." Under the B.F.F. program, I charged the Lodges in my District to establish a program where each brother in the Lodge was given the name of two or three members and instructed to establish personal contact with those brothers after each meeting. This would be a way for the brethren to get to know one another better. The idea was not to browbeat the missing brother for failing to attend that month's meeting, but simply to inquire whether the brother and his family were well, if he needed a ride to Lodge, or to find out if the Lodge could be of assistance to him or his family in any way. Not every Lodge in my District adopted the idea, but those that did were better for it.
Year after year we beat our breasts lamenting the waning of our membership rolls. We need to focus on our membership, not just prospective candidates, but our existing members. By the exercise of Brotherly Love we conciliate true friendship among those who might otherwise have remained at a perpetual distance. If we can fix our relationships with our existing members, our reputation for doing good for God, our country, our neighbors, and ourselves will grow and we will attract new candidates. Sons will want to share the Masonic experience of their fathers, nephews of their uncles, and neighbors and co-workers of each other.
Charge to the Worshipful Masters and District Deputy Grand Masters
Worshipful Masters and District Deputy Grand Masters, you are in a unique position within your Lodges and Districts to effectuate a return to the best of times in your Lodges. Be the facilitators of those life-long friendships many of us have come to know for ourselves through Masonry. Give the members of your Lodge the job of getting to know one another. Create a program to ensure that every brother in your Lodge and District feels the same level of friendship and brotherly love that many of us have experienced in our Masonic careers. Set the Craft at work and give them necessary instruction.
Charge to the Brethren
Brethren, all, to you I say this: think back to the night of your initiation. Recall what your expectations were for how you thought one brother Mason would treat the other in this great and mysterious fraternity known as the Freemasons. Live up to that expectation! Do not wait for the Master of your Lodge to put you to work, ask your Lodge Secretary for a membership roster and start reaching out to your brothers. Pick up the phone, hop in your car, walk down the block and get to know your brothers! In Masonry (and in life), practice the Golden Rule! Practice Masonry the way you expected it would be when you knocked on the door as a candidate while in darkness wishing for light. Do this, and you and your Lodge, too, may enjoy the best of times in 2017 and beyond.
Thank you, brethren. Thank you, Grand Master.
AT CORNERSTONE REDEDICATION IN NORWOOD, MAY 2017
Address of R.W. Kevin J. Willis, Deputy Grand Master, Acting Grand Master,
at the Cornerstone Re-Dedication of the Norwood Masonic Building
on May 20, 2017
Worshipful Master, Brethren, Ladies and Gentlemen:
The precise day, month, year, or even century when Freemasonry was established is known only to Him from whom no secrets are hid. Historians and scholars generally believe this Great Fraternity evolved over time, most likely originating with the guilds of stone-masons in medieval Europe. Nevertheless, because so many of us desire certainty, we generally point to the year 1717 (300 years ago) as an acceptable start date for modern Freemasonry, since that was the year the Grand Lodge of England was formed after four pre-existing Lodges met to elect a Grand Master from among themselves. The Grand Lodge of Ireland was organized in 1725 followed by the Grand Lodge of Massachusetts in 1733. This makes the Grand Lodge of Massachusetts the third oldest Grand Lodge in the world and the oldest duly authorized Grand Lodge in the western hemisphere.
Over the course of the past 284 years, the Grand Lodge of Masons in Massachusetts has performed countless dedication ceremonies for public buildings great and small: town halls, libraries, post offices, churches, synagogues, and other houses of worship, even the Massachusetts State House, and of course, literally hundreds of Masonic Buildings such as this great edifice here in Norwood. The proceedings of the Grand Lodge show that when this particular building was originally dedicated in 1916, the Deputy Grand Master, (later Most Worshipful) Frederick W. Hamilton, served as the Acting Grand Master. Bro. Hamilton was an ordained Universalist Minister and Past President of Tufts College before he became Deputy Grand Master. After his year as Deputy Grand Master he served the Grand Lodge as the Grand Secretary for 25 years until his death in 1940. Owing to his many, many years of service to the Craft, he was given the title of Honorary Grand Master and his oil portrait now hangs among the Past Grand Masters in the Grand Lodge of Massachusetts in Boston.
Bro. Hamilton was asked to make a few remarks in 1916 when this building in Norwood was dedicated, but the exact text of those remarks have been lost to the four winds of heaven. A few years earlier, Bro. Hamilton made an address at the dedication of the Cambridge Masonic Temple, which was located not too far from the church he attended. Fortunately these remarks were recorded in the Grand Proceedings. Now, given what we know of Bro. Hamilton's scholarly background, it is unlikely that he simply repeated his Cambridge speech here in Norwood, but perhaps there were echoes of the themes of which he spoke before the gathering in Norwood one hundred years ago. Therefore, please indulge me as I share a few words from Bro. Hamilton's address:
We have laid the stone in accordance with the ancient customs and usages of the Craft. It has seemed good that some comment be made on the meaning and purpose of the ceremony and of the building which is to rise on this spot.

This service is of interest to the Brethren, and it is of value and importance to us all that there be . . . a proper home for our Order, wherein its teachings may be communicated and its tenets transmitted for generations according to custom.

The Brethren will find within the walls of this Temple satisfaction for one of the great needs of men. Masonry is more than a club; it is more than a means of society and enjoyment; it is more than a medium of good fellowship, and more than an arrangement whereby a man may find friends when traveling away from home. It is all this, and more. It is an opportunity for the satisfaction of one of the deepest needs of humanity, the social instinct which lies at the foundation of all that makes the life of man high, noble and beautiful.

It is the instinct of men to co-operate, and the nature of men to gather together, for man is in a sense a gregarious animal. This instinct lies at the very foundation of civilization and religious institutions. Man cannot live alone or pray alone, and it is satisfying an instinct for men to gather together. Moral and religious culture soon cease to exist among men when they cease to assemble together for their cultivation. The consciousness of a common purpose is needed. We need the institutions of religion to apply our social instincts to the cultivation of the high and noble purposes of life. God is very near at all times and is not very far away at any time, but we seem nearer to God when assembled together than when alone. We need such institutions; so we form associations and we form fraternities.

Wherever men are, there are associations. Men fall into groups whenever and under whatever conditions they meet. Boys and girls fall into groups on the street, which are often known as the gang. In school and college, fraternities spring up for the pursuit of common purposes and instincts. So in maturer years come such fraternities as this, in which we are interested and for which this building is to be erected. Here we may meet together and share each with the other not only of the open purse, but the open heart. Here we may share not only our substance, but our mental, moral and spiritual acquisitions. Whatever gifts we have received from Almighty God may here be shared, each with the other, the richer with the poorer and with those whose opportunities have been less. So in years to come we may here learn the old lessons anew and renew our pleasures and share the hopes and anticipations of the future, not in hired quarters, but in a building built by the Craft and hallowed by its associations.

It is proper to say at this time that what we have done here is an act not only of Masonic significance, but of public significance. It is not only for the advantage of the Craft, but also for the advantage of the community that this Temple should be located here . . . right on this public thoroughfare . . ."

In free government like ours everything depends upon the character of the men [and women] who form the citizenship of each community. Little depends on exterior things. We build big cities and build big buildings, but a community is not great because much wealth is created in it, and is not stable because of great buildings. A community is not just because of equitable laws or because of that legal machinery which, while indispensable to free government, does not constitute free government. A community is great when men and women are great, free-hearted and high-minded. It is stable when their lives are founded on the everlasting rock of righteousness and justice.

More and more the citizens of the United States are taking hold of the work of government, and are realizing the possibilities of free government. The assumption of duties, rights and privileges involves the assumption of great responsibilities.

Men [and women] who are to govern each other must learn to respect and understand each other — to respect each other's interests and to be just and generous. They must learn that it is [disgraceful] for men to take advantage of other men and to rise to power over the misfortunes of others. They must learn that it is [disgraceful] to legislate for themselves and to the disadvantage of others.

Our Fraternity exists for the purpose of teaching those deep lessons so often unfolded before us. May we always remember how important it is for us that we should learn these lessons, and for the community that there should be a large and increasing number of [citizens] in its midst who have learned these lessons and who are striving to reach them. These things lie at the basis of citizenship, at the root of character, and at the foundation of religion. . .

I am glad that the Fraternity is to be properly housed. I am glad for the community that this Temple is to be located here, sending forth the lessons of Masonry among those who may never cross its threshold and who may never have revealed to them the secrets of the Craft.

May the blessings of heaven rest upon the Brethren here assembled.

R. W. Frederick W. Hamilton, June 1910, Cambridge, Massachusetts.
Brethren, ladies and gentlemen, Bro. Hamilton's remarks are no less valid in 2017 as they were when delivered over 100 years ago. It is not hard to imagine how much better our society would be in 2017 if more of us, as citizens, "learned to respect and understand each other – to respect each other's interests and be just and generous," as Bro. Hamilton remarked. The Brethren assembled have learned that Freemasonry unites men of every country, sect, and opinion and conciliates true friendship among those who might otherwise have remained at a perpetual distance. We do not discuss religion and politics in the Lodge, and owing to this, we enjoy a general harmony in our meetings and do not suffer the bitter divisions experienced in much of American political life today. This is not to say that any individual Mason among us is not entitled to his opinion, but he keeps it to himself while within the tyled doors of the Lodge. As we have learned, "to no man is given the right to dictate to another in matters of belief and faith. No man is infallible and the sole possessor of truth. A Freemason grants to every person those rights which he claims for himself." For this reason, I echo Bro. Hamilton: I am glad for Norwood that this Masonic Building is located here, "sending forth the lessons of Masonry among those who may never cross its threshold."
Worshipful Master, Brethren, ladies and gentlemen, thank you for joining with us to day to re-dedicate this building for the benefit of Freemasonry and may Brotherly Love, Relief and Truth ever prevail among those who cross its threshold. Thank you.
---