MAGLKCollard
From MasonicGenealogy
KENNETH L. COLLARD 1921-1997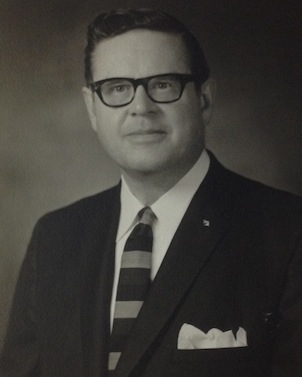 Junior Grand Warden, 1972
MEMORIAL
From Proceedings, Page 1997-22:
Right Worshipful Kenneth Lounsbury Collard, also known as "Ken" or "Doc", was born in Belchertown, Massachusetts in 1921, the son of James L. Collard (N) and Nyimpha Bolindo Collard. He attended grade school in Belchertown, then graduated from Williston Academy in 1939, from the University of Massachusetts in 1943, and Tufts Medical School in 1946. He completed his internship at Methodist Hospital in Brooklyn, New York, in1947.
He took his three Degrees in Vernon Lodge, Belchertown, Massachusetts, in October, November and December, 1941, and signed the By-Laws in early January,1942. For the next six or seven years, there is no more record of his Masonic activity, as he was completing his education at medical school and doing a hitch in the Army Medical Corps with the rank of Captain.
"Doc" Collard married the former Rachel E. Fuller of Belchertown. They had three children, all living: John Edward Collard of Fort Lauderdale, Florida; James R. Collard of Belchertown, Massachusetts; and Barbara Steinmetz of New Market, New Hampshire. "Doc" passed away on Wednesday, November 20, 1996, at Mary Lane Hospital in Ware, Massachusetts, after a long illness.
In the fall of 1949, Bro. Collard was installed as J. S. of Vernon Lodge. He continued in every station in the line until he was installed Master of Vernon Lodge by R. W. Alexander R. Dunbar on October 22, 1955. Meanwhile, he joined the Scottish Rite in the Valley of Springfield in the fall of 1951, then joined the Melha Temple, A.A.O.N.M.S. He also became a member of the Jesters. While Bro. Collard belonged to, and supported these bodies, his first love was his Blue Lodge, and he devoted most of his efforts to supporting it.
One of his outstanding contributions to Masonry was that for many years Bro. Collard donated his services to Grand Lodge in examining the patients applying to enter the Masonic Home in Charlton.
"Doc" had many other interests. He was a past chairman of the Congregational Board of Trustees, a past chairman of the local Salvation Army unit, a past committee chairman of Belchertown's Boy Scout troop, a past director of the Hampshire National Bank and past director of his church choir. Wor. Bro. Collard had a nice voice and sang at numerous Masonic installations over the years.
Having completed his term as Wor. Master, Wor. Bro. Collard was appointed Marshal of Vernon Lodge, replacing his father, Rt. Wor. James L. Collard, who had served for thirty-three years. This started the custom, which still continues, of the Jr. Past Master serving as Marshal of his Lodge. This was a very happy night for Wor. Bro. Collard as his father, Rt. Wor. James L. Collard (N) , was presented the Joseph Warren Medal for distinguished service to Masonry. The following year, Wor. Bro. Collard was no longer a line officer, but he joined the Relief Committee, carried on the blood drive program and was very active as President of the Building Association.
Wor. Bro. Collard continued to perform each year on Past Master's Night. His name appears almost monthly reporting for the Relief Committee, and many times as reporting on the Masonic blood drive program. He was installing soloist many, many times.
On June 1, 1966, Wor. Bro. Collard was elected a member of the Board of Masonic Relief and was re-elected to that position ever since until 1995. That position is now called Masonic Home Representative. On December 29, 1969, "Doc" was installed D.D.G.M. for the Palmer 19th District by M. W. Herbert H. Jaynes, Grand Master. On March 14, 1970, a reception was held to honor R. W. Kenneth L. Collard on his appointment as District Deputy Grand Master for the Palmer 19th District. Over 115 people attended, and the Wor. Master of Vernon Lodge noted that Rt. Wor. Dr. Collard had served and promoted the principles of Masonry, not only in the Lodge and in Masonic programs, but also in his association with mankind while practicing his profession and in his daily contact with the public.
December 27, 1971, was the high point of "Doc"'s career. On that date, R. W. Collard was installed Junior Grand Warden of the Grand Lodge of Massachusetts by M. W. Donald W. Vose. On March 11, 1972, a reception was held in honor of R. W. Kenneth L. Collard, M.D., Junior Grand Warden, at the Mill Valley Golf Links. At this reception, M. W. Donald W. Vose, Grand Master of Masons in Massachusetts, presented R. W. Kenneth L. Collard with the Henry Price Medal.
R.W. Wor. Bro. Collard loved to sail, and for many years kept a 33-foot railboat and sailed the North Shore. Sometime, and I suspect it was the year he was Junior Grand Warden, some of his friends convinced him to try the South Shore. R. W. Bro. Collard agreed and is quoted as saying, "yes, this is better; if I ran aground on the North Shore, it was usually on a rock pile - here it is usually a sand bank."
He really enjoyed his membership in the past District Deputy Grand Masters Association and became its president. He took up motorcycle riding, then bicycle riding. At a later period he used to lead walks in the Quabbin Reservoir.
FROM THE TINY ACORN THE MIGHTY OAK GREW
In the shadow of a Very Distinguished and Highly Honored Mason, R. W. Kenneth L. Collard, grew to become one of the most honored and distinguished Masons in the history of Vernon Lodge, if not the most distinguished.
It is an honor and a privilege to pay tribute to such an exemplary character, a true Mason and a cherished brother, R. W. Kenneth L. Collard, Past Junior Grand Warden.
R.W. Horatio Bisbee
R.W. Arthur L. Rockwell
R.W. Douglas J. Fry
---