MAGLJReid
From MasonicGenealogy
JAMES L. REID 1894-1974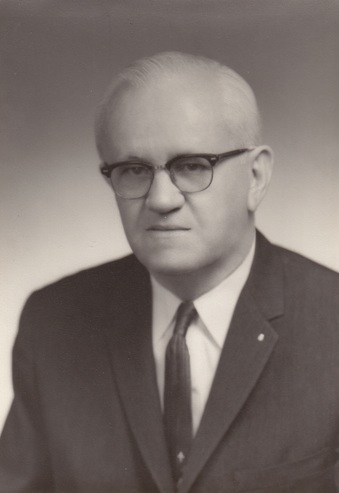 Senior Grand Warden, 1962
MEMORIAL
Right Worshipful James Lawrie Reid was born in East Cambridge, Massachusetts, on June 16, 1894, son of Thomas and Janet Lawrie Reid, who were born in Scotland. He died suddenly at home in Moultonboro, New Hampshire, on August 29, 1974.
He was educated at the Thomas M. Hart School, South Boston High, and the Bentley School of Accounting. Due to the untimely death of his father, he left the 7th grade to help support his family, completing his education at night. For two years he was with Western Union, 14 years in the stock brokerage business with Long & Nash, and until retirement was with Felton & Son, Inc. for forty years, retiring as Assistant Treasurer. During World War II, Brother Reid served as Chief Petty Officer in the United States Coast Guard Reserve. He was a member of Phillips Congregational Church, South Boston, serving as Deacon, Sunday School Superintendent, and leader of the Young Men's Bible Class. After retirement in 1967 he was elected a Lay Leader and Preacher in the Moultonboro Methodist Church.
He was married in July, 1919, to Florence Finley, who died in 1973. Brother Reid is survived by four daughters, Mrs. Ernest (Doris) Oster, Attleboro; Mrs. Douglas (Florence) Vassall, Plainville, Mass.; Mrs. Richard (Jean) Voppe, Moultonboro, New Hampshire; and Mrs. Bruce (Carol) Stevens, Hyde Park, Mass.; also three brothers, Robert Reid, Dorchester; William Reid, Quincy; and George Reid of Randolph; three sisters, Mrs. Agnes Barnes of Brockton; Mrs. Marion Davis of New York City; and Helen O'Keefe of New Jersey. Twelve grand children and one great-grandchild.
Brother Reid received his degrees in Saint Paul's Lodge in 1920, servdd as Master in 1930 and in 1954; was District Deputy Grand Master of the South Boston 4th Masonic District in 1936-37; he was Master of the Fourth Lodge of Instruction in 1936; Grand Pursuivant in 1946; Senior Grand Warden in 1962. He served his Lodge as Secretary, Treasurer and Trustee of Funds. He was Grand Representative of the Grand Lodge of California near the Grand Lodge of Massachusetts, was President of the Past Masters' Association of the 4th District, Honorary Member and Life Member of Saint Paul's Lodge, and Honorary Member, Life Member and Charter Member of Zerubbabel Lodge. Brother Reid was also affiliated with Bristol Lodge of North Attleboro.
His medals included the Joseph Warren, Henry Price, Veteran's, and Christopher Champlin from Rhode Island. In the collateral bodies we find St. Matthews Royal Arch Chapter, High Priest in 1932; Boston Council, Royal and Select Masters; Roxbury Council and its Illustrious Master in 1936; and Joseph Warren Commandery No. 26, K.T. In the Scottish Rite, he was a member of Boston Lafayette Lodge of Perfection, Giles F. Yates Council, Princes of Jerusalem, Mount Olivet Chapter of Rose Croix and Massachusetts Consistory, a member of the celebrated World Conference Class of 1939. He demitted and affiliated with the Valley of Concord, New Hampshire, in 1966. He was also a member of Aleppo Temple, A.A.O.N.M.S., and demitted to join Bektash Temple of Concord, New Hampshire, in 1966.
The Masonic funeral service was conducted Sunday evening, September l, 197+, by Chocorua Lodge, F. & A.M. of Meredith, New Hampshire, at the Kemp-Symonds Funeral Home in Meredith. The church service was on Monday, September 2, l974 at the Moultonboro Methodist Church with Rev. Samuel Landers officiating. Burial was in Middleneck Cemetery, Moultonboro.
He earned his wages as a Master Mason and produced his perfect ashlar. Now his Golden Bowl has been broken and his spirit returned unto God who gave it.
Respectfully submitted,
Laurence E. Eaton,
Thomas J. O'Brien,
Robert A. MacDougall,
Committee.
---