MAGLJPRobertson
From MasonicGenealogy
ROBERTSON, JOHN PRESCOTT 1916-2011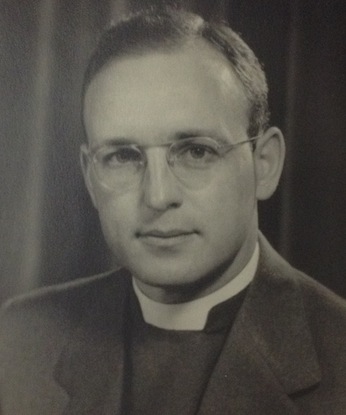 MEMORIAL
Formerly of Harwich, Massachusetts, died September 8, 2011 at his home in North Kingstown, Rhode Island. He was the husband of Barbara Lewis Robertson for 68 years. He was the first of seven children of the late Charles Todd Robertson and Helen Queen Robertson, both natives of Scotland. Born in Norwood, Massachusetts, January 5, 1916, he was valedictorian of his high school class, graduate of Bentley School of Accounting, Boston Latin, Tufts College, Crane Theological School with post graduate work at Harvard Divinity School and Boston University School of Theology. He received honorary Doctorate Degrees from Tufts University, Medford, MA and Yankton College in South Dakota. Dr. Robertson served as Pastor of three churches; Braintree, Massachusetts; Glen Ridge, New Jersey and Wakefield, Massachusetts. He served as Interim Pastor in numerous parishes in Massachusetts after his retirement in 1982.
Throughout his life he was affiliated with the Boy Scouts earning the rank of Eagle Scout, serving as Chaplain, Board of Directors and was cited by the National Council for outstanding leadership. He was a life time member with the Order of DeMolay, holding various titles and awards; Grand Lodge of Masons, Scottish Right and served as Chaplain of Aleppo Temple in Massachusetts; Member of Rotary International, serving a variety of positions including District Governor; and member of the U.S. Coast Guard Auxiliary Flotilla in Chatham, Massachusetts. Dr. Robertson was the recipient of the George Washington Medal for Excellence in Public Communication. He authored and published "Our Scottish Heritage", "Romance of the Ministry", "Sermons Preached in a Cape Cod Church" and "The Final Duty Done". Besides his wife, Barbara, he leaves five children; David Lewis Robertson, Howell, NJ; Joanne Hitchcock Thistle, Hopkinton, MA; Carol Szwed, Palmer, MA; Martha Todd Sullivan, N. Reading, MA; Donald Stuart Robertson, N. Kingstown, RI; 7 grandchildren and 2 great-grandchildren.
SPEECHES
AT FEAST OF ST. JOHN, DECEMBER 1984
Most Worshipful Grand Master, Distinguished Guests and My Brethren:
First of all, I should like to say how much 1 deeply appreciate the privilege of witnessing that moving ceremony of Installation once again. I saw it first some 36 years ago when M.W. Brother Roger Keith of Brockton was installed as Grand Master.
During my teaching sabbatical a few years ago at the University of St. Andrews, Scotland in the College of St. Mary — founded, by the way, in 1410 — I journeyed the 50 or so miles inland to Cowdenbeath, and witnessed the grand entrance of Lord Elgin, a direct descendant of Robert Bruce, with all the color of the tartans, and the sounds of pipes and drums, but I don't think anything, anywhere, moves me more deeply than the Installation of the Grand Master of Masons in Massachusetts. It constitutes another precious stained-glass window in my Cathedral of memory.
Most Worshipful Brother David, I take this moment to thank you for this high honor you have bestowed upon me and to offer my personal congratulations to you and your officers.
Even though I have attended quite a few Feasts over the years since 1948 when I became a Grand Chaplain, it has been most helpful to get into the spirit of speech-making tonight by carefully observing those who have preceded me to this rostrum.
A number of years ago, when I worked for the Commonwealth as Senate Chaplain, the then Senior U.S. Senator, R. W. Bro. Leverett Saltonstall, invited me down to Washington to offer a prayer for him and his colleagues.
As we were waiting for the signal to enter the Chamber, the Senate Chaplain, Fred Harris, leaned over and tugged my sleeve. His unsolicited, but nonetheless timely counsel, I shall not soon forget. "Keep your eyes and ears wide open, John, and you'll catch a composite of America!"
This I have attempted to do, as far as those who have preceded me are concerned. And all that is not unlike the experience of a couple of American sailors. When their vessel was discharging at Stockholm one Sunday morning, they took shore leave to enjoy a walk about the city. They approached a huge church where services seemed about to begin and decided to go in. First they had a tactical huddle and agreed that since they did not know the language or understand the religious ceremony, they would pick out a man in the seat in front of them and do exactly as he did.
They carefully followed their model and appeared to be getting along fine until he stood up all alone when the Pastor finished speaking. The two visitors also stood up and became aware of some suppressed laughter in the congregation.
At the conclusion of the service they stopped to shake hands with the Pastor who did speak some English. They asked him that had caused the merriment. "Oh, that," he explained, "I had announced a baptism that it taking place this afternoon and I simply asked if the father of the child would be good enough to stand up."
So, you see, there are times when you can get carried away by paying strict attention.
Your Grand Master did that, I'm afraid, when he and his lovely Carole worshipped at our Pilgrim Church in Harwich Port on Cape Cod Shrine Club Sunday. Then one day came his gracious invitation. "Can you cross that Cape Cod Canal and come up to Boston to speak to us?" Now — how to measure up to the high expectations of my host?
That brings to mind one of my Dad's stories of the Scot who owned a wee But and Ben just outside of the fair city of Aberdeen in northern Scotland. One night during a dense fog there was a knock at the Crofter's door. An itinerant Roman Catholic priest was requesting overnight hospitality. That is one thing a member of the Kirk of Scotland never refuses. Early the next morning over some porridge and scones, the priest was extolling the virtues of his host. "Why," he exclaimed, " to think that you should have such a beautiful portrait of His Holiness, the Pope, hanging on my bedroom wall!" "Are you sure of that, mon?" the Scot inquired. "Of course, I'm sure!" "Well," said the Crofter, "wait til I get my hands on that antique peddlar. He sold that to me as Robbie Burns in his full Masonic regalia!"
The Feast of Saint John the Evangelist symbolizes love and light. These qualities are found in the life and wit of this Saint of God, and they are reproduced to a marked degree in this Grand Lodge among the distinguished Past Grand Masters with whom I have travelled: Roger Keith, Tom Roy, Whit Johnson and Andy Jenkins and Herb Jaynes. I have been the recipient of their generosity and their inspiration — I owe a very considerable debt to them.
When it came to selecting a theme for this address 1 encountered a certain amount of difficulty because I knew that one of the most important characteristics of a Masonic address is a title that will be relevant and contemporaneous.
So, now, let me call to your mind, this past summer the nation gloried in the fact that the Olympic Games were held in America, in Los Angeles, California. One Sunday night, my grandson came into the study and informed me that I should be watching HBO. Somewhat reluctantly I acceded to his request and these were the first words I heard:
"But they that wait upon the Lord, shall renew their strength — they shall mount up with wings like eagles, they shall run and not be weary." (Isaiah 40:31) "Matthew," I asked, "what's this all about?" "Oh," he explained, "it has something to do with the Olympic Games!" Just imagine stumbling, of all places, into the church scene of the award-winning film "Chariots of Fire" on Home Box Office.
The title is derived from the poem entitled "Milton" by William Blake. At one point in the film you hear a boy's choir singing the last verse: "Bring me my bow of burning gold! Bring me my arrows of desire! Bring me my spear! O, clouds, unfold! Bring me my chariot of fire!"
Blake's poem, you see, transcends our differences and expresses a resolution — a true patriotism — a firm allegiance to work for a better world, that is so desperately needed today. To work for a better world! The "Chariots of Fire" which animated two young athletes spoke emphatically to me of the soaring element in our faith that can transform lives to God's eternal glory.
The driving figure behind this film is an Englishman named David Putnam. "I was looking for a story not unlike 'A Man for All Seasons,' " says he, "about an individual who does an unexpedient thing."
He found the story of not one but two such men. A true story, at that, about the 1924 Olympic Games. With superb camera work the director gives an effect of ballet to the training of the athletes and the decisive races. But he does more than that. We are made to realize that there is much more to winning races at that level than just making your feet travel faster than the competition.
The physical training is, of course, fierce. But, behind it all lies the spirit of the runner — his qualities of mind and heart, and above all else, motivation. As Eric Liddell explains in his soft lowland Scot's voice: "Where does the power come from? It's within you." Behind the wild excitement of the crucial races at the 1924 Olympic Games, lies this drama of motivation. For within Eric Liddell and his protagonist Harold Abrahams there burns a consuming fire. So it was with these two fine young men — though in vastly different ways.
Abrahams is the son of an immigrant Lithuanian Jew who has proposed in England and worships the country. So, while enjoying all the amenities of a Cambridge College, young Harold dedicates himself with every fiber of his being to train, to run, and to win.
Eric Liddell, on the other hand, is the son of Scottish missionaries in China, who himself has a desire to emulate their example. He feels down within his soul that he must do the unexpedient thing.
We saw Doug Flutie, the amazingly gifted Boston College quarterback and the 1984 Heisman Trophy winner do just that in that rainy night on the first of December against Miami with 6 seconds remaining to play. "The Play!" He did the unexpedient thing!
The flying Scot believes that his talent for running is a gift from God that he must not spurn. To his anxious sister he confides, "God made me fast." And he is resolved to "run and win to the Glory of God." That was the Chariot of Fire within him.
Then it is, that we come to the memorable scene that puts Liddell in the pulpit of the Church of Scotland in Paris in 1924 reading those powerful words from Isaiah, "They shall run and not be weary."
Hemmed in by the power and the glory of the nations gathered in Paris, he has every possible pressure exerted on him to desert one of his basic principles. Confronted by none other than the Prince of Wales he quietly, modestly, but firmly refuses to compete on a Sunday. Says Liddell, "I cannot run on the Sabbath day."
For the Scot, it was a case pure and simple of his loyalty to the God he had sworn to serve and obey. He did not run on Sunday.
The story, as many of you know so well, ended happily and triumphantly. Liddell was able to quote the word of God, "He who honors me, 1 will honor." And in the World Almanac you can read that at the 1924 Olympics, the 100 meter dash was won by Harold Abrahams and Eric Liddell. The "Flying Scot" won the 400. They did the unexpedient thing! Those of us who are your guests, Most Worshipful Sir, salute you and your colleagues in this Grand Lodge who have often done the unexpedient thing for the Fraternity over the years. Thank you.
---