MAGLJHolmes
From MasonicGenealogy
JAMES C. HOLMES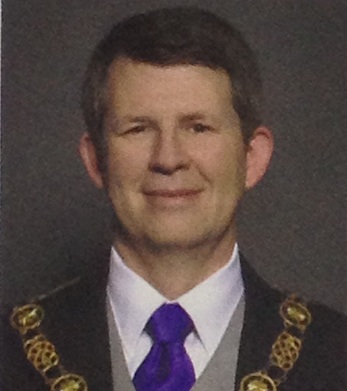 Junior Grand Warden, 2012
BIOGRAPHY
TROWEL, 2012
From TROWEL, Spring 2012, Pager 12:
Rt. Wor. James Carleton Holmes was installed as the junior grand warden, which is the third-highest elected Mason in the state. Bro. Holmes will also serve for a one-year term.
Bro. Holmes began his Masonic career in 1977 at Saint George Lodge in Brockton. He served as master in 1984, 1991, and 1992. He has been the lodge secretary since 1995. Bro. Holmes is also a member of Paul Revere Lodge and Fellowship Lodge and was presented the Joseph Warren Distinguished Service Medal in 2008. Rt. Wor. Bro. Holmes first served Grand Lodge in 2001, when he was appointed as the district deputy grand master of the Brockton 29th Masonic District. He served on the scholarship committee from 2004 to 2010, and on the district deputy resource team since 2005. He is active in several regional and statewide organizations and committees including the Worshipful Masters Association of Southeastern Massachusetts, serving as secretary/treasurer since 2004; the Masonic Secretaries Association of Massachusetts, currently first vice-president; and the Past District Deputy Grand Masters Association, currently as second vice-president.
Bro. Holmes is a 32° Mason in the Ancient and Accepted Scottish Rite in the Valley of Boston, where he is a member of all four bodies and has been a degree worker since 2008. He belongs to the York Rite's Satucket Pilgrim Royal Arch Chapter, Brockton-Abington Council Royal and Select Master Masons, and Bay State Commandery. He is also an Aleppo Shriner and a past advisory council member of Ousamequin Chapter, Order of DeMolay.
Bro. Holmes is an accounts manager with Brockton 
Professional Baseball, LLC, and lives in Rockland. He and
 his wife Susan have four adult children and four grandchil
dren.
---