MAGLJHJohnson
From MasonicGenealogy
JOHN HENRY JOHNSON 1908-1986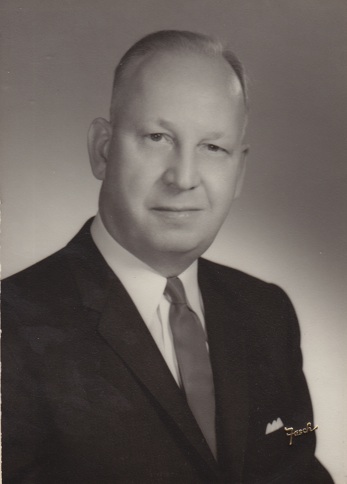 MEMORIAL
FROM PROCEEDINGS, 1986
From Proceedings, Page 1986-17:
Right Worshipful John Henry Johnson was born in Boston, Massachusetts on January 20, 1908, the son of the late John Johnson and Wilhelmina Victoria Gustafson. Educated in Boston schools, he graduated from Mechanics Arts High School and entered Suffolk University, receiving his Bachelor of Law Degree in 1931.
His professional career began shortly out of high school when he joined Boston Edison Company and at the same time worked his way through law school. At Boston Edison he served in many capacities such as Union Steward for seven years; on the Executive Negotiating Committee for three years; Charter Member, Director and past President of the Credit Union. In management he retained the position of lawyer as a Right of Way Agent for land acquisitions, rights and permits until his retirement in 1972.
As a member of the Massachusetts Bar Association for over fifty years, he maintained an office for private practice in his home, assisting families in Probate Law.
Right Worshipful Brother Johnson entered Masonry in Wollaston Lodge, Quincy on April 1, 1930 and was raised a Master Mason on June 3, 1930, going on to become the Worshipful Master in 1942. He served the Grand Lodge as Junior Grand Steward in 1951, District Deputy Grand Master of the Quincy 26th Masonic District for the years 1957-1958 and in 1962 received the Joseph Warren Medal for Distinguished Service. He was elected Senior Grand Warden of our Grand Lodge for the year 1967 and invested with the Henry Price Medal on March 28 of that year.
Right Worshipful Brother Johnson served our craft well in many areas. He was a member of the Committee on Charters and By-Laws since 1952 and served as Chairman for many years and in 1968 was recognized as a Grand Representative to the Grand Lodge of Denmark near the Grand Lodge of Massachusetts. He was a Charter Member of The DeMolay Lodge and served as its first Master in 1975-1976. He held honorary membership in three Lodges, namely: Union Lodge, Nantucket; Norfolk Union Lodge in Randolph; and Bethesda Lodge in Valparaiso, Chile of which he was Proxy to this Grand Lodge. As recently as October of 1984, he affiliated with Joseph Webb Lodge of Boston.
Brother Johnson expanded his Masonic view in both York and Scottish Rite. In 1963 he joined the York Rite at Mt. Wollaston Royal Arch Chapter, which later merged with St. Stephen's Royal Arch Chapter in Quincy; Boston Council, Royal and Select Masters and St. Bernard Commandery No. 12, Knights Templar in Boston, where he later became Eminent Commander in 1976. ln 1952 he joined the Ancient Accepted Scottish Rite in the Valley of Boston by his membership in Boston Lafayette Lodge of Perfection, 14th degree, Giles F. Yates Council, Princes of Jerusalem, 16th Degree, Mount Olivet Chapter of Rose Croix, 18th Degree, and Massachusetts Consistory 32nd Degree. In 1975-1976 he served as Most Wise Master of Mount Olivet Chapter of Rose Croix and on September 28, 1977 he was created a Sovereign Grand Inspector General, 33rd Degree, Honorary Member of the Supreme Council.
Right Worshipful John Henry Johnson, as a young man, joined Crusader Chapter Order of DeMolay. In his manhood years he served our youth by being a Dad Advisor of Old Colony Chapter of DeMolay in Quincy. He received the coveted DeMolay Legion of Honor, and eventually served as President of the Massachusetts Court, DeMolay Legion of Honor. Recognizing his dedication to youth, the International Supreme Council, Order of DeMolay, elected him an Active Member and appointed him as Executive Officer in Massachusetts in 1970 in which position he served for ten years.
He was also a member of Taleb Grotto in Quincy, Aleppo Temple, Ancient Arabic order, Nobles of the Mystic Shrine and Boston Court #103, Royal Order of Jesters.
As an ardent and dedicated churchman, Brother Johnson was a member of the First Baptist Church of Wollaston for over fifty years. He taught Sunday School, was moderator of the church for seventeen years, and Past Chairman and long time member of the Board of Deacons.
Right Worshipful John Henry Johnson was married in Boston on October 1, 1932, to the former Marjorie Gladys Mclntire who survives him along with their three children - Donald K. Johnson of Abington, Mrs. Barbara E. Wilkins of Quincy, and Mrs. Phyllis E. Rines of Minnesota. He is also survived by eleven grandchildren and three great-grandchildren.
On Wednesday, February 5, 1986 in Quincy, Massachusetts, at the age of 78 years and 15 days, our Right Worshipful Brother John Henry Johnson entered the Celestial Lodge Above. Masonic Services were conducted by the Officers of Wollaston Lodge of Quincy on Monday,,February 10. Funeral Services were held Tuesday, February 11, 1986 at his beloved Wollaston Baptist Church, followed by interment in the family lot at Forest Hills Cemetery, Boston, Massachusetts.
He wore the crown of youth and left it shining; he blazed a trail of Brotherhood and Service for all to follow, and may he now rest in a glorious immortality.
Respectfully submitted,
R.W. Arthur L. Rockwell
R.W. Arthur H. Sharp
R.W. Robert D. Parker
Wor. David A. Abbot
Committee
FROM TROWEL, 1986
From TROWEL, Summer 1986, Page 10:
R.W. J. Henry Johnson, Past Senior Grand Warden (1967), Grand Representative from Denmark at the Grand Lodge of Massachusetts, member of the Committee on Charters and By-Laws, and a staunch supporter of the Order of DeMolay, died Feb. 12 at Quincy City Hospital after a brief illness. He was 78 and had been an attorney for Boston Edison Co. for 50 years.
Raised in Wollaston Lodge in 1930, he served as its Master in 1942. He was Jr. Grand Steward in 1951 and D. D. G. M. of the Quincy 26th District, 1957-58. Holder of the Joseph Warren and Henry Price medals, Bro. Johnson was an affiliate with Joseph Webb Lodge, an honorary member of Bethesda Lodge of Chile, and the first Master of The DeMolay Lodge, Boston, under dispensation in 1975. A member of the York and Scottish Rite Bodies, he was a 33rd-Degree Mason.
Born in Boston and a resident of Wollaston for 60 years, he was moderator of the First Baptist Church for 17 years. A graduate of Suffolk Law School in 1931, he was a member of the MA Bar Assn. His association with DeMolay began as a member of Crusader Chapter, Dorchester, and he had been an Advisor of Old Colony Chapter, Quincy. An Active and Past President of the MA Court DeMolay Legion of Honor, he was a Past Executive Officer for DeMolay in the state and an Active Member of the International Supreme Council.
Former Executive Director Robert G. Baillargeon, now employed at DeMolay headquarters in Kansas City, MO, said of Bro. Johnson, "The ritual of the Senior Councillor in the Initiatory Degree of DeMolay befits this man who was a good and useful member of society: 'When you reach the evening of life, may you be able to look back upon a long and happy journey, filled with memories of duties well performed, the Western sky glowing with the Promise of the everlasting journey.' Dad Johnson made a difference in the lives of young men over a period of generations. We are grateful for being able to share our lives with his."
Bro. Johnson leaves his wife, Marjorie (Mclntyre); a son, Donald K. Johnson of Abington; two daughters, Barbara E. Wilkins of Quincy and Phylis E. Rines of Minnesota; 11 grandchildren and three great-grandchildren.
---