MAGLASharp
From MasonicGenealogy
ARTHUR H. SHARP 1942-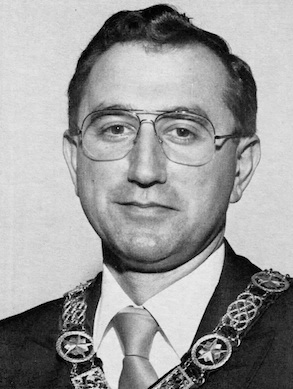 BIOGRAPHY
From TROWEL, Summer 1986, Page 6:
Sponsored by his father in 1966 and Raised in Orphan's Hope Lodge, East Weymouth, by life-long friend R. W. and Judge Robert L. Steadman, R. W. Arthur H. Sharp was installed Deputy Grand Master on Dec. 27, 1985. Born and educated in Weymouth where he was a member of South Shore DeMolay Chapter, the son of Raymond E. and Elizabeth H. Sharp is in the twentieth year of an active Masonic career. He was Master of Orphan's Hope Lodge in 1979.
Contributing freely of his time and talents to the Craft and to his community, Bro. Sharp is active in York Rite and Scottish Rite Masonry, Taleb Grotto, and Aleppo Temple, A. A. O. N. M. S. As the director of the Scottish Rite Advancement Program his volunteer members have sponsored 1,100 new members. He was given the Meritorious Service Award in 1983 by the Supreme Council, Northern Masonic Jurisdiction. As a speaker for the Lodges of Instruction for Grand Lodge he has two popular presentations entitled, "The MacArthurs — Military Masons" and "Bro. Charles A. Lindbergh, the Lone Eagle." He is a presenter on the subject, "Grand Lodge."
Educated in Franklin Institute, Boston, where he received an Associate Degree in Mechanical Engineering in 1962, he earned a B.S. Degree in Engineering Management at Boston U. in 1965. He financed most of his educational costs through high school and college as a private painting contractor. His employment with Boston Edison Co. as a sales engineer began in 1965. In August he married Patricia E. Jacobs, the hometown girl he had met in church youth activities. They are the parents of Donna Lynn, 17, a senior at Weymouth South High see her essay in this same issue, and Arthur H. Sharp, Jr., 15.
Drafted into the Army in November 1966, he attended infantry training at Ft. Leonard Wood, MO, and graduated seventh his class from the Army Engineer Officer Candidate School at Ft. Belvoir, VA. As a first lieutenant he was assigned to New Cumberland, PA, and then sent to Vietnam as a facilities engineer, a contracting officer, and division staff officer in the Third and Fourth Corps area. He was awarded the Bronze Staff and while he refused a regular Army commission, he remained in the Army Reserve for three years, being stationed at Waltham, MA.
Returning to Boston Edison in September 1969, he was promoted to management roles. Ten years later the company sponsored him at the Harvard Graduate School of Business. The three-month, live-in program was attended by 135 corporate middle managers from around the world. The Can Group of which he was leader won first place in academics and second in athletic competition among the 15 competing groups. Today Bro. Sharp is Group Manager in the Demand Planning Dept. of Boston Edison, focusing on conservation and assessment of the remaining potential within Edison's franchised service territory that provides electrical power to 40 cities and towns. As a member of the Aleppo Temple Shrine Yacht Club he and his family enjoy cruising the coastal waters of the Bay State and Maine in their trawler yacht. He is a member of the South! Shore Shrine Club and the Southeastern Past Masters Association. In Weymouth he is associated with the South Shore Health and Education, Inc., South Shore Hospital, South Weymouth Savings Bank, Old South Union Church, the Chamber of Commerce, and the town's Industrial Development Commission and Zoning By-Law Study Committee.
---