MAGLHTinkham
From MasonicGenealogy
HERBERT M. TINKHAM 1932-2003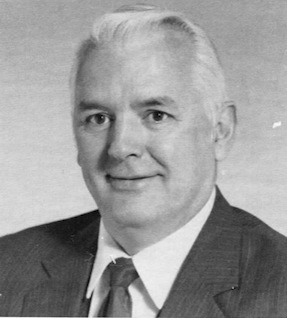 Junior Grand Warden, 1985
BIOGRAPHY
From TROWEL, Spring 1985, Page 7:
Never a member of the Order of DeMolay himself, R.W. Herbert M. Tinkham has, nonetheless, been an ardent supporter of the youth and is the present Deputy of District No. 7 of the Order of DeMolay in the state. He is Chairman of the Advisory Board of Avan Chapter, Attleboro. His sons Jeffrey and David were DeMolays, the latter a Past Master Councilor. Jeffrey is also an Eagle Scout.
Bro. Herb and his wife, the former Catherine J. Nelson of Walpole, are the proud grandparents of a boy and girl. Their North Attleboro home has always been a busy Masonic place.
An employee of the Foxboro Co. for 23 years, he is now supervisor of machinery and equipment for the main company plant on Cohasset St., Foxboro. He was an explosive ordnance specialist while serving in the U.S. Army in 1953-55.
Raised in Bristol Lodge, North Attleboro, March 17, 1970, Bro. Herb has been a most active member of the Craft, serving as Chairman of the Service Committee for his Lodge and as District Service Representative for the Attleboro 28th. A member of the building committee of Bristol Lodge, he is active in the Veterans Medical Center Chapel Escort program at the Brockton V.A. Hospital.
Master of Bristol Lodge when America celebrated its 200th birthday in 1976, he was Master of the 17th Lodge of Instruction in 1978-79. The D. D. G. M. of the Attleboro 28th in 1980-81, he is a member of the Past D .D. G. M. Association of Massachusetts. He is presently District Representative of the 17th Lodge of Instruction to the Grand Lodge Education Committee.
A Past High Priest of Rabboni Royal Arch Chapter, No. Attleboro, he is an officer of Attleboro Council, Royal and Select Masters; Bristol Commandery No. 29, Knights Templar, and What Cheer York Rite College. He is a 32nd-Degree Mason in the Valley of Boston and leader of Group No. 30, Scottish Rite Advancement Program. He holds membership in Nava Grotto, M. O. V. P. E. R. A Past Patron of Angle Stone Chapter No. 118, Order of the Eastern Star, Bro. Herb has been active in Grace Episcopal Church in his town. He has also been active in Boy Scouting and served as a vocational advisor to the Tri-County Vocational School in Franklin, MA.
MEMORIAL
From Proceedings, Page 2004-20:
Right Worshipful Herbert Morrill Tinkham was born on October 11, 1932 in Norwood, Massachusetts to Fred Leroy and Elizabeth Eldora (Stowers) Tinkham. He was educated in Norwood Public Schools and attended Rhode Island School of Design. As a teenager and young man, he enjoyed and was successful in competition in pairs skating. From 1951 through 1953, he served in the United States Army 145th Explosive Ordinance Disposal Squad, reaching the rank of Corporal.
On August 10, 1957 he was married to Catherine Joan Nelson, and they moved to North Attleboro. This marriage produced two sons: Jeffrey Edward Tinkham and David Stuart Tinkham, and three grandchildren. In 1961 he began working for Foxboro Company in Foxboro, Massachusetts as a Master Modelmaker, Senior Associate Engineer and Supervisor of the Machinery and Equipment Maintenance Department. He retired from Foxboro Company in 1994 after thirty-three years of service. He was a member of the Grace Episcopal Church in North Attleboro, where he served on the vestry and as an assistant Sunday School teacher and usher. He was a committeeman for the Boy Scouts Troop #30 in North Attleboro. He also held membership in the Lawrence W. Foster Post, American Legion, in Foxboro, and the Society in Dedham for the Apprehending of Horse Thieves. He also served as a technical advisor to Tri-County Regional Technical Vocational School in Franklin. Throughout his life he built a small machine shop that he enjoyed in his spare time.
Brother Tinkham was raised in 1970 in Bristol Lodge in North Attleboro, serving as Worshipful Master in 1976. In 1979 he was the Worshipful Master of the 17th Lodge of Instruction. Also in 1979 he was appointed District Deputy Grand Master of the Attleboro 28th Masonic District, serving in 1980 and 1981. From 1980 until his death, he served as Grand Representative of the Grand Lodge of Alberta, Canada, near the Grand Lodge of Massachusetts. In 1985 he served our Grand Lodge as Junior Grand Warden and received the Henry Price Medal that same year. He was Chapter Dad for Avon Chapter, Order of DeMolay, in Attleboro. After serving as Junior Grand Warden, he became the Executive Director for Massachusetts State DeMolay, serving from 1985 to 1989.
In 1971 he joined Rabboni Royal Arch Chapter in North Attleboro and served as Excellent High Priest in 1984. He joined Attleboro Council, Royal and Select Masters in 1973 and served as its Illustrious Master. In 1976 he joined Bristol Commandery in Attleboro, serving as Commander. He was a member of What Cheer York Rite College. He was also a member of Boston Lafayette Lodge of Perfection, Giles F. Yates Council, Princes of Jerusalem, Mount Olivet Chapter of Rose Croix, and Massachusetts Consistory, Valley of Boston of the Ancient Accepted Scottish Rite of Freemasonry. He was a member of Aleppo Temple, Ancient Arabic Order Nobles of the Mystic Shrine, in Wilmington, and a member of St. Matthew's Conclave, Knights of the Red Cross of Constantine.
On December 3, 2003, Brother Tinkham was called to the Celestial Lodge above. He was a kind, quiet, and gentle man who never refused to lend a helping hand to those in need. Until the last day of his life here on earth, he gave of himself until it hurt; and yet, through it all, he always had a smile on his face and a kind word for everyone whom he met. He was a model of gentleness, kindness, and compassion that all of us can emulate and revere until time shall be no more.
Respectively submitted,
Louis A. Harmon
David S. Tinkham
Robert H. Hartley, Chairman
---