MAGLRHartley
From MasonicGenealogy
ROBERT H. HARTLEY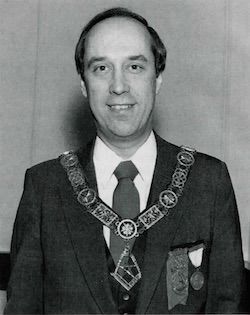 Deputy Grand Master, 1995
BIOGRAPHY
From TROWEL, Spring 1989, Page 15:
When Robert H. Hartley was installed as Grand Lecturer in December, he not only brought to Grand Lodge his expertise in Masonic ritual but, equally important, he brought his cultivation of the Spanish tongue that earned him the award of Massachusetts Spanish Teacher of 1988, by the Mass. Foreign Language | Association. The award given him on October 29 is a one-month, all-expense-paid trip to Spain this summer.
Appointed Grand Lecturer by M. W. Albert T Ames, Bro. Hartley had been the Spanish interpreter for Grand Lodge and the Supreme Council, Scottish Rite. Now in his 17th year as a teacher in Seekonk High School, the 39-year-old native of Dighton is chairman of the foreign language department and the curriculum steering committee of the Seekonk public schools. In 1974, he established the Alfonso X. El Sabio chapter of the Sociedad Honoraria Hispanica at Seekonk High School, where he is still an advisor.
A 1966 graduate of Dighton-Rehoboth Regional High School, Bro. Hartley pursued the study of foreign languages at Central Connecticut State College where he received a B. S. degree in 1970. He received a Master's degree in Spanish at the Univ. of Massachusetts in 1975. Seekonk Principal Doreen Meeker stated, "He is a truly exceptional teacher who has provided students with many years of quality service."
Bro. Hartley has successfully arranged his foreign language classes to fit the ability of the students. "The problem with the way language is being taught," he pointed out, "is that many schools lump students of varied abilities in the same class, thus causing students with limited ability to become frustrated." He noted that more than 70 percent of graduating seniors have passed two years of language, an increase of 15 percent over previous years. "Every student can learn a foreign language if allowed to practice with a class geared to his or her limits."
Bob Hartley is no stranger to Spain. He has chaperoned students on summer trips and is looking forward to his return this summer when he can renew some old acquaintances with friends and also visit some areas he has not seen. Educational organizations of which he is a member include: the American Assn. of Teachers of Spanish and Portuguese, Seekonk Educators Assn., Mass. Teachers Assn., National Education Assn., American Council on Teaching of Foreign Languages, South Coast Foreign Language Department Heads Assn., and the Mass. Foreign Language Association.
Raised in Charles H. Titus Lodge of Taunton in 1973, he was Master in 1978-79 and was appointed D. D. G. M. of the Taunton 28th District in 1984-85. He has been Secretary of his Lodge since 1979 and is Junior Deacon of the 25th Lodge of Instruction. He is the training instructor for the 17th, 25th, 37th, and 41st Lodges of Instruction, and an instructor for the 25th. He is a member of St. Mark's R. A. Chapter and Taunton Council Royal and Select Masters, Scottish Rite (Valley of Boston), the Masonic Secretaries' Assn., and the Past District Deputy Grand Master's Association.
A lay reader, treasurer, member of the board of trustees, and a Sunday School teacher in the Trinity United Methodist Church in Taunton, he is the son of Harold and Inez Hartley of North Dighton. A brother, Gary, is also a Past Master of Charles H. Titus Lodge. From the turn of the century, the Hartley families in the Fall River and New Bedford areas have been renowned for their famous pork pies, ever since Thomas Hartley came to Fall River from England in 1900. Their story is told in the October 1988 issue of Yankee Magazine.
From TROWEL, Spring 1995, Page 6:
Deputy Grand Master Robert Harold Hartley of North Dighton may never be accused of being a back-slapping jokester or wearing a smile to influence friends, but he is guilty of presenting himself as a dignified, qualified, learned man which really personifies Masonic leadership. He is the choice of Grand Master David W. Lovering and at the conclusion of Hartley's acceptance talk, the Grand Master knew he had made a wise choice.
"You could hear a pin drop while he spoke, and he gained the complete attention of his audience," concluded a past Grand Lodge officer who had attended many occasions like the Feast of Saint John. "We sat up and took notice; this man is different."
What makes Bob Hartley extraordinary among most of us is his demeanor as an educator and a religious leader. He came prepared to offer a challenge to the Craft before it is too late. A member and lay leader of Trinity United Methodist Church of Taunton, where he has been a Sunday School teacher, church treasurer, trustee and chairs the pastor-parish relations committee. He is also a certified lay speaker. "Bob Hartley is the church," one Mason told me, "and we are indeed fortunate to have him."
The eldest of two sons of Inez and the late Harold C. Hartley. Bob is the curriculum coordinator in the foreign language and fine arts department of Seekonk High School where he teaches Spanish. A member of the adjunct faculty of Rhode Island College of Providence, he is a graduate of the Dighton-Rehoboth High School. Central Connecticut State University with a B. A. in Spanish and French and has earned his M. A. at the University of Massachusetts at Amherst. In April he will take an entourage of 42 students to Spain on an educational tour. It will be his seventh visit.
In the summer Bob and his mother pack their camper and head for New Jersey where they pick up Sarah, age 14; Jonathan, 11; and Daniel. 9: children of his brother, Gary, and his wife, Rhonda, and take a trip that opens new horizons to the children and gives their parents a break. Like Bob, Gary is a Past Master of Charles H. Titus Lodge of Taunton, and he is an ordained minister who is the associate pastor to Calvary Tabernacle in Elizabeth, NJ, a one thousand member church that recently purchased a theater to serve the needs of the growing flock. Gary is one of two assistants to the pastor and acts as treasurer. He once had charge of the computer system for Reed and Barton Corp. of Taunton. A surprise to his mother, he sold his new home and entered the Salvation Army at Newark, NJ. where he built a strong group and raised enough capital to erect new quarters. He came to Grand Lodge on December 27th to see his brother installed.
In 1988, our new Deputy Grand Master was named the Massachusetts Foreign Language Teacher of the year, an honor bestowed by the Massachusetts Foreign Language Association. His talents were quickly employed by Grand Lodge and Scottish Rite, and he is the Grand Master's personal Grand Lecturer to the new Logia America, under dispensation, meeting in Cambridge and where Spanish is the spoken language. He also serves on the Grand Master's Long Range Planning Committee.
Raised in Charles H. Titus Lodge in 1973, he served as Worshipful Master in 1978-79 and has been Secretary since 1980. A Certified Instructor for the 25th Lodge of Instruction and a Training Instructor for several other districts, he was Master of the 25th in 1991-92. A holder of the Joseph Warren Medal, he is a member of the Masonic Secretaries Association of Massachusetts, the past District Deputy Grand Masters' Association and is now President of the Southeastern Past Masters' Association. Associated with York Rite Bodies in Taunton and Boston and the Aleppo Temple Shrine, he is active in Scottish Rite in the Valley of Boston where he is Master of Ceremonies with Mount Olivet Chapter of Rose Croix. He is a member of the Philalethes Society and St. Alban's Research Society.
The productive and useful lives of Bob and Gary Hartley came about when a young Fall River man in the U.S. Air Corps, stationed in Florida, chanced to visit an open house for servicemen at a church where Inez Burke attended. Harold Hartley was a crew chief, and he told his buddy that he had met the girl whom he was going to marry. And it happened. Mrs. Hartley is a graduate of what is now Florida State University, and she adopted and adapted to New England like a native. Mr. Hartley and a brother once operated a baking business in Somerset and the family of Bob Hartley can bake you the best pork pies you ever ate. Our Deputy Grand Master is a man of many talents who lives and acts respectfully and contributes his life to society.
SPEECHES
FEAST OF ST. JOHN, DECEMBER 1994
From Proceedings, Page 1994-237:
Most Worshipful Grand Master, Past Grand Masters distinguished guests and Brethren of the Grand Lodge of Masons in Massachusetts:
Imagine for a moment that the working tools of Masonry were holding a conference. Brother Common Gavel presided at the meeting, of course. Several of the other working tools suggested that he leave the meeting because he was too noisy. Brother Common Gavel replied, "if I have to leave, Brother Plumb must go also. All he does is hang around without accomplishing anything." Brother Plumb then spoke up. "If you wish, I will leave. But Brother Trowel must leave, too. All his work is on the surface. His efforts have no depth." To this Brother Trowel responded, "Brother Twenty-Four Inch Gauge will also have to withdraw, for he is always measuring folks as though he were the only one who is right." Brother Twenty-Four Inch Gauge then complained against Brother Square. "You ought to leave too, because you think that you are so virtuous and perfect that no one can match your accomplishments or meet your expectations." In the midst of all this discussion, in walked the Stone-Mason. He had arrived to start his day's work on the temple he was building.
Putting on his apron, he went about his tasks as he sought to construct and beautify this magnificent edifice. He employed the common gavel, the twenty-four inch gauge, the trowel, the plumb, the square and the level. After years of work, the temple was finally completed. How beautiful and majestic it was! An outstanding example of the craftsmanship of the Stone-Mason!
Just as the Stone-Mason was about to put his tools away, Brother Level arose and in his usual calm and level-headed manner, he remarked: "Brethren, I have noticed that all of us are workers together. Each of us has a purpose, a talent, a special ability. None of us alone could have built the temple. But together, we have erected a temple to God."
What a diversity we see in nature! Every snowflake is different. Every fingerprint is unique unto itself. No human face is exactly like another. Likewise, we each have a talent and a special ability to offer. Each of us has a gift that has been bestowed upon us that can be used in service. Are we using that gift to its full potential? One of Ripley's "Believe It or Not" items pictured a plain bar of iron worth $5. The same bar of iron, if made into horse shoes, would be worth $50. If it were made into needles, it would be worth $5,000. If it were made into balance springs for fine Swiss watches, it would be worth $500,000. The raw material is not as important as how it is developed. We each have gifts and talents, but their worth will be dependent on how we develop and use them. When the working tools are not put to use, nothing gets accomplished. The Stone-Mason needed every tool to build the Temple. When used together, a structure begins to take shape and grow.
Likewise in Freemasonry, every member is special and unique with God-given talents that must be developed and employed. Perhaps you have the unique gift of providing comfort and solace to a grieving and lonely widow, an ill or shut-in Brother. Your visit will make a difference. Perhaps you have the unique gift of oration and can inspire, educate and inform others. Your presentation will make a difference. Perhaps you have the unique gift of cooking a most sumptuous meal, or planning, organizing and implementing a great social program for your lodge. Your skill will make a difference. Perhaps you have the unique gift of leadership and can assume an officer's station and eventually become Master of your lodge. Your leadership will make a difference. Perhaps you have the unique gift of working with youth and should be involved with DeMolay and Rainbow. The time that you spend with the young people today will make a difference.
Perhaps you can provide transportation to a Brother, help a member or a widow with house repairs, correspond with members who live out of state, donate blood at the next local Blood Drive. Your contribution will make a difference. Perhaps you have a relative, neighbor, business associate or friend who would make a good Mason, but who knows little or nothing about our fraternity, or who is waiting for someone to ask him to become a Mason. Your approach to him will make a difference. The possibilities are endless for there is so much to do. We need everyone to contribute his part, to develop his talents, and to put them to use for the benefit of and in service to mankind.
Two hundred years ago this month, Most Worshipful Paul Revere was installed Grand Master of our Grand Lodge for his first term. There were at that time twenty-two lodges in our jurisdiction. When he left office three years later, the number of lodges had more than doubled to forty-five.
While I will not predict that we will double the number of lodges or double the number of members, I challenge all the Brethren of our Grand Lodge to double our efforts in the year ahead for the promotion of Masonry, the strengthening of our lodges, and for the involvement of our members in every community throughout our jurisdiction. All of our lodges, each of our communities, indeed all of humanity calls out to us to work together to improve the life of others. Great opportunities to help others seldom come, but small ones surround us every day. Each of us can make a difference. Together we can build a beautiful and magnificent temple on a firm foundation of Brotherly Love, Relief and Truth. Most Worshipful Grand Master, as we stand on the threshold of yet another year of Freemasonry in Massachusetts, it is a great privilege to serve you, our Grand Lodge and the Brethren of this jurisdiction. On behalf of all your officers, I pledge our support, the use of our talents and the dedication of our time and energy, so that together, we can show the world that Freemasonry in Massachusetts is "Alive in '95".
Thank you.
---