MAGLHMarion
From MasonicGenealogy
HORACE EUGENE MARION 1843-1914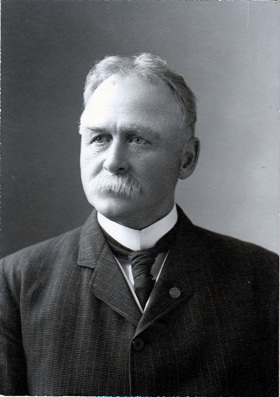 Junior Grand Warden, 1905
MEMORIAL
FROM PROCEEDINGS, MARCH 1914
From Proceedings, Page 1914-148:
HORACE EUGENE MARION was born in Burlington, Mass., Aug. 3, 1843, son of Abner Marion and Sarah Prescott Marion. He descended from good Revolutionary stock. His ancestors were compatriots of Paul Revere, and Dr. Samuel Prescott accompanied Paul Revere on his memorable ride April 19, 1775.
He was educated in Warren Academy, Woburn, one term; Howe School, Billerica, and Atkinson Academy, Atkinson, N. H., where he fitted for college. He passed the examinations in the summer of 1862, and was admitted to the Classical Department of Amherst College, but before the fall term commenced he enlisted as a private, Aug. 29, 1862, in Co. G, 5th Reg. Mass. Vol. Militia for nine months' service, and was mustered out July 2, 1863. He then entered the Scientific Department of Dartmouth College, fall term of 1863.
He re-enlisted July 21, 1864, in Co. G, 5th Regiment, as Second Sergeant, for one hundred days, and was mustered out Nov. 16, 1864. At the end of his term of service he resumed his studies at Dartmouth College and graduated in 1866, with degree of Bachelor of Science (B.S.). He then commenced the study of medicine and graduated in 1869, and received the degree of Medicine (M.D.) from Dartmouth College. He settled in Brighton and commenced the practice of medicine, January, 1870, and continued to practice there as physician and surgeon until the time of his death, with the exception of time spent abroad in travel and study.
His military record since the war is no less prominent: Second Lieutenant, Co. G, 5th Reg. Mass. Vol. Militia; Assistant Surgeon, 5th Reg. M.V.M., rank First Lieutenant; Surgeon Fourth Battalion, rank Major; Medical Director, First Brigade, rank Lieutenant-Colonel. He joined tle Ancient and Honorable Artillery Co., Sept. 4, 1894, and withdrew April 4; 1904. He was a Charter member of Francis Washburn Post, 92, G.A.R.; for many years its Surgeon and for two years its Commander. Jan. 17, 1900, he joined Edward W. Kinsley Post 113, G.A.R., and was Medical Director from January, 1906, until the time of his death.
Brother Marion was Physician to the Overseers of the Poor in Ward 25 for twenty years, Medical Inspector of Schools for sixteen years, member of the American Medical Society, member of the Massachusetts Medical Society, member of Boston Medical Library, member of Cambridge Medical Improvement Society, member of National Geographical Society, member of Bostonian Society, member of Sons of American Revolution, member of University Club, member of St. Botolph CIub, Ex-President of Middlesex South District Medical Society, and member of the First Parish (Unitarian) Society of Brighton.
Brother Marion was married Jan. 12, 1880, to Miss Catherine Louise Sparhawk of Brighton, who survives him. The children who survive him are Eva Prescott Marion and Gardner Sparhawk Marion. One son, Benjamin Cobb Marion, died June 13, 1908.
MASONIC RECORD.
Initiated an E.A. in Bethesda Lodge of Brighton, May 30, 1871; passed to the degree of F.C., Sept. 26, 1871; raised a M.M. Oct. 24, 1871; admitted to membership Nov. 21, 1871. He held the following offices in Bethesda Lodge: Junior Deacon in 1872; Senior Deacon in 1873 and 1874; Junior Warden in 1875 and 1876; Senior Warden in 1877, 1878, 1879 and 1880; and was its Worshipful Master, 1881 and 1882. He was District Deputy Grand Master, District No. 5, in 1887, 1888 and 1889, and was elected Junior Grand Warden in this Grand Lodge, Dec. 14, 1904, serving during the year 1905.
He received the Royal Arch Degree in Cambridge Royal Arch Chapter, Nov. 13,1874, and was knighted in De Molay Commandery of Knights Templars Feb. 27, 1878. He was a member of the Worshipful Masters' Association of the Fifth Masonic District, and also a member of the District Deputy Grand Masters' Association from 1887 and served on its Committee.
He passed away suddenly Feb. 8, 1914. This is the record of an active business and social life, and by its activities we were brought closer to him in our various associations.
R.W. Brother Marion was always the same genial, companionable man and Brother. His bright, cheerful nature, his kindness of heart and affable manner, drew us to him at all times. One of the dearest, ties in Masonry is its intimate friendships which bring to us warm expressions of Brotherly Love. A life that is devoted to the welfare of its associates, filled with integrity and honor so that it retains unbroken love and esteem, is beautiful indeed.
Well may we say:
"None knew him but to love him,
None named him but to praise."
Respectfully and fraternally submitted,
James M. Gleason,
William M. Farrington
Irving G. Findlay.
FROM NEW ENGLAND CRAFTSMAN, MARCH 1914
From New England Craftsman, Vol. IX, No. 6, March 1914, Page 206:
NEC 9-6, 03/14, p206
Horace Eugene Marion, for nearly 35 years a physician in Brighton, Mass., died of heart disease February 8, at the age of 71 years. He was made a Mason in 1871. He was Past Master of Bethesda Lodge, past Deputy Grand Master and past Junior Grand Warden of the Grand Lodge of Massachusetts. He was active in many societies and highly regarded in all.
---