MAGLLShaw
From MasonicGenealogy
LEROY E. SHAW 1881-1961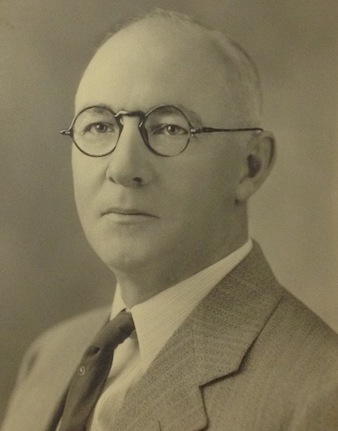 Grand Sword Bearer, 1929-1931
Junior Grand Warden, 1932
MEMORIAL
From Proceedings, Page 1961-112:
Right Worshipful LeRoy Ebenezer Shaw, born in Pittsfield, Massachusetts, February 2, 1881, the son of Alvin Arthur Shaw and Etheleen Ingalls (Steward), died at his home in Pittsfield, Saturday, April 29, 1961.
R. W. Brother Shaw spent his early life in the nearby towns of Windsor and Dalton where he attended public schools, graduating from Dalton High School in 1898. Although Brother Shaw had no other formal schooling, by his own initiative and endeavors, he was admitted to the practice of law in 1904. He attained this goal by spending many hours reading law in one of Pittsfield's law firms. In those days an applicant for the Bar could obtain the State Board of Examiners' permission to "read" in a barrister's office, and when it appeared that he was prepared by his sponsors, he could then take the examination.
He became an outstanding and highly respected attorney, sewing as President of the Berkshire Bar Association in 1945. At the time of his death, he was dean of Berkshire County lawyers and was one of the few surviving lawyers of Pittsfield who became a member of the Bar by "reading" law.
Our Brother was active in civic affairs of his community, serving on the City Council and later as Chairman of the Licensing Board. He was also a member of the local Draft Board, having served in that capacity during both World Wars. At the end of World War II he was Chairman of the Republican City Committee.
Brother Shaw was married. on October 10, 1912, to Hazel Pettengill of Cummington, Massachusetts, who is his only survivor. Our Brother was a long time member of the South Congregational Church in Pittsfield and a former president of the South Church Brotherhood.
He had a long and distinguished Masonic career. He was raised in Unity Lodge, Dalton, Massachusetts, on May 12, 1909; elected Master in 1916, and served his Lodge for many years on the Board of Trustees. He was appointed District Deputy of the Pittsfield Sixteenth District for the years 1925 and 1926; served as President of the Past District Deputies Association of Massachusetts during 1937 and 1938, and at one time was President of the Past Masters' Association of the Pittsfield Sixteenth Masonic District.
Brother Shaw served as Grand Sword Bearer of the Grand Lodge in 1929, 1930 and i931. In 1932 he was elected Junior Grand 'Warden and also served as representative-at-large on the Board of Masonic Relief from 1927 until the time of his passing. He was a life member of Unity Lodge. He received the Henry Price Medal in 193? and was the recipient of a fifty-year Veteran's Medal in 1959.
He was a member of all the local York and Scottish Rite Bodies and was High Priest of Berkshire Royal Arch Chapter in 1923. He served as Eminent Commander of Berkshire Commandery No.22, Knights Templar, in 1925. Brother Shaw was Puissant Sovereign of the Red Cross of Constantine in St. Matthew's Cbnclave, a member of the Berkshire Shrine Club and of Melha Temple, A.A.O.N.M.S.
A memorial service was conducted by Unity Lodge at the funeral home the evening prior to the funeral service which was held at the South Congregational Church, Rev. Bro. Raymond E. Gibson, Pastor, officiating. Burial was in the Shaw Cemetery in 'Windsor, Massachusetts.
Right Worshipful Brother Shaw was a "just and upright" Mason. He lived by the teachings of the Fraternity and practiced its principles in his contacts with his fellow beings. Above all, he was a true friend, one always to be counted on when needed. He will be deeply missed by the countless numbers who knew and loved him.
Fraternally submitted,
Walter N. Cooper
Karl O. Lepisto
Bernard W. Frost
Committee
---