MAGLDTaft
From MasonicGenealogy
DANIEL WALDO TAFT 1833-1906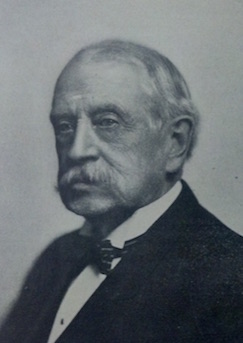 Senior Grand Warden, 1902
MEMORIAL
From Proceedings, Page 1906-109:
"Daniel Waldo Taft was born in Uxbridge, Mass, on July 26, 1833, and died in the same town July 27, 1906, aged seventy-three years and one day. He was the son of Orsmus and Margaret (Smith) Taft, who had lived in the same town for a long period. A few years later the family removed to Oxford, where he attended the public schools, later completing his education at the Macomber Academy in Uxbridge and at Worcester Academy.
"At the age of twenty-one years he made his first start in active business life, going to Blackstone, where he became bookkeeper in the Seagrave Mills, a position which he held with marked suecess until 1863, when he returned to Uxbridge. During this ten years' service he gained much practical knowledge of manufacturing that proved extremely valuable to him during his later career. In 1863 he leased a large woolen mill in Uxbridge, and this he operated successfully for twenty years, when the plant was purchased by a stock company. By his energy and ability he made the products of his mill known all over the country and among woolen men they were the standard goods by which other productions were gauged.
"After retiring from the woolen manufacturing business he came to Boston and allied himself with a woolen commission house, under the firm name of Hobbs, Taft & Co. This venture also proved extremely successful and added much to his reputation for business sagacity and sound judgment. In 1895 he identified himself with the Taft-Pierce Machine and Press Company, which purchased the large plant of the Wardwell Sewing Machine Company in Woonsocket, R.I. The property was entirely renovated and new machinery installed throughout. The business was a success from the start and grew rapidly. Its products are now found all over the country. In 1902 Mr. Taft withdrew from the Company and since that time has devoted himself to looking after his extensive interests, both public and private.
"He early became interested in politics and was an ardent and unfaltering Republican. He was, perhaps, the best known and most frequently consulted political worker in Southern Worcester County. He served in nearly every political office of importance. His advice was always sound, his course clear and direct. He was elected to the State Legislature in November, 188?, and served during that and the following year, proving a most capable and efficient legislator.
"To the needs of his native town Mr. Taft was always ready to respond. He was first elected moderator of the annual town meeting in 1865 and with oue exception served continuously till 1900, a record without a parallel in the town. In 1900 he refused longer to flll this onerous position and his grateful fellow citizens presented him with a handsome gold-headed cane as a token of their regard. Iu 1876 he was elected Selectman of the town and served for three years. His wisdom, prudence and ability were never better shown than at this period. The town's needs were great and he gave his time, his money and his ability freely to her. To this day his administration is pointed to as a model for evely wise public servant to imitate if he would secure the lasting gratitude of his fellow townsmen.
"He was connected with the Uxbridge Savings Bank and the Blackstone National Bank for more than twenty years, being vice-president of the latter, and a member of the finance committee of both institutions.
"He was married in 1856 to Miss Henrietta Goulding of Worcester, and she survives him, with three children, Mrs. Henry Wheelock, of Uxbridge, Mrs. Edward B. Clapp, of Worcester, and D. Wendell Taft, of Uxbridge.
"Such, in brief, is the business and political career of the 'first citizen' of Uxbridge, one who through a long and busy life earned also the title of the 'good citizen' for nothing that affected the public welfare was too unimportant to receive his attention. His influence was always for good - his advice never unheeded, for he was a worker in every branch and department. It was particularly in his relations as an employer of labor that he occupied such a strong position in the community. Every person in his employ, from the highest to the lowest, the most ignorant as well as the learned, recognized in him a friend. He knew true worth, even in the humblest, and he felt himself not above any who rendered good service, no matter what their position in life. They came to him freely in their troubles and they never came in vain. Small wonder, then, that nearly every one in the community felt at his death that they had lost a personal friend.
"For such a man the beauties and strength of Masonry early appealed. In December, 1855, he applied for admission to Blackstone River, in the town of Blackstone, where he then resided, was accepted Jan. 15, 1866, received the Entered Apprentice degree February 17, the Fellow Craft degree March 4, and was raised to the sublime degree of Master Mason March 25, 1856. How well he entered into the work of this Lodge is shown by his election as Master in 1868. He served in that office for two years and in 1860 and '61 was District Deputy Grand Master of the Fourth Masonic District. He withdrew from Blackstone River Lodge Oct. 23, 1866; and from that time to his death was affiliated with Solomon's Temple Lodge, of Uxbridge. He served as Master in 1875 and 1876 and again in 1885 and '86. In 1901 he was elected treasurer of the Lodge, which position he held at the time of his death. He took the Scottish Rite degrees in Boston in 1863; became a menrber of Hiram Council, of Worcester, in the same year, and in 1864 was made a member of Worcester County Commandery, from which Body he withdrew in September, 1900. He was a charter member and trustee of St. Elmo Chapter of Whitinsville. He was elected Senior Grand Warden of this Grand Lodge in December, 1901, and served his year in this important position with dignity and honor. With him Masonry was more than an ideal, it was a reality, it was even a religion.
"The Ritual was to him an open book, he had its every word engraved upon the tablets of his memory. He was never too busy to teach the student of Masonry. Night after night after trying and wearisome days of business cares, he would come to the Lodge-room to instruct youthful enthusiasts. He was accurate to a marked degree. Masonry was too sacred to him to be misused, to be neglected or to be forgotten. Under his watchful care Solomon's Temple Lodge conducted the ceremony of initiation with accurate care and earnest enthusiasm. Ideals implanted by him have permeated the whole history of the Lodge during the past forty years, for in all this time he was the most tireless worker, the noblesl, example of the true Mason. Shall we say that such men die; no, they cannot. They but shine as stars in the firmament of this grandest of all world-wide fraternal organizations.
"I cannot say, and I will not say
That he is dead he is just away.
With a cheery smile and a wave of the hand
He has wandered into an unknown land
And left us dreaming how very fair
It needs must be, since he lingers there.
Think of him faring on, as dear
In the love of There as the love of Here.
Think of him still as the same, I say.
He is not dead - he is just away."
Fraternally submitted,
William L. Johnson,
Geo. W. Storer,
Charles A. Barton,
Committee.
---