MAGLWJohnson
From MasonicGenealogy
WILLIAM L. JOHNSON 1856-1931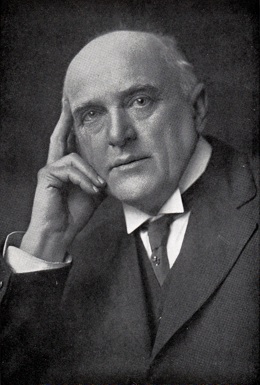 Junior Grand Warden, 1918
MEMORIAL
From Proceedings, Page 1931-151:
Brother Johnson was born in Southboro, Mass., October 23, 1856, ancl died in Saint Vincent's Hospital, Worcester, July 3, 1931. His death followed a major surgical operation from which he failed to rally.
He was educated in the public schools of Southboro, Worcester, and Cambridge and at Harvard University, where he took the degree of Doctor of Medicine in 1878. He took up the practice of medicine in Uxbridge and continued to practice there successfully for the remainder of his life. As physician, medical examiner for more than twenty years, holder of many town offices, and member of the Legislature, he was one of the leading citizens of that part of the state for many years. His public and social activities were many and useful, and he left a place in the community which it will be hard to fill.
He received his degrees in Solomon's Temple Lodge in 1886 and was chosen Junior Warden at the next annual election. He was Master in 1889 and 1890 and Chaplain from 1900 to his death. He was District Deputy Grand Master for the then Nineteenth Masonic District in 1896 and 1897 by appointment of M.W. Edwin B. Holmes and M.W. Charles C. Hutchinson. He was Junior Grand Warden in 1918, sitting in Grand Lodge when his Lodge observed its one hundredth anniversary. Although so long active in his Lodge and in Grand Lodge he never took any other than the symbolic degrees.
He was very active in the Foresters of America and was State Chief Ranger in 1923.
He is survived by a widow and three daughters.
So passes another of the "old guard", to whom the Brethren looked for the leadership which must now be exercised by others as we close our ranks and move forward.
From Proceedings, Page 1931-179:
R. W. William Louis Johnson was born in Southboro, Massachusetts, October 23, 1856, the son of Dr. Henry F. and Eunice S. (Fay) Johnson; died in Worcester, Massachusetts, July 3, 1931.
At an early age he moved with his parents to Cambridge, Massachusetts, where he received his early education. He also attended the public schools of Worcester, Massachusetts, for a short time. He later attended Harvard University and Harvard Medical School, graduating from the latter institution with the class of 1878. The following year he removed to Uxbridge, Massachusetts, where he began the practice of his profession, which increased with the years until he became the leading physician in that section.
He was appointed Medical Examiner for the Seventh Worcester District, in 1898 by Governor Wolcott and continued in that office until 1919. He was one of the oldest examining physicians for the Metropolitan Life Insurance Company and continued practice until the time of his death.
Brother Johnson was what might be described as the old type of "country doctor" who attended his patients regardless of their financial status. This highly ethical side of his nature was exemplified in a clause in his will ordering all his books of accounts with patients destroyed, so that none might be embarrassed.
Being intensely interested in his profession, it was natural that he should become affiliated with medical organizations. He was a member of the Worcester District Medical Association, Massachusetts Medical Association, National Medical Association, and of the Thurber Medical Society of which he was a Past President.
He was a deeply religious man and was a member of the Congregational Church through all his adult life. He was Moderator and Chairman of the Trustees of the Uxbridge Congregational Society for many years and a member of the Church Brotherhood. He also was Moderator of the Worcester South Association of Congregational Churches.
The more than ordinary abilities of Brother Johnson, combining as they did an almost perfect mixture of the practical with the ideal, together with the urge to be of service to his community, led him into many activities outside his profession.
In politics he was a staunch Republican, being a member of that party for many years and active in many campaigns, municipal, state and national.
He served on the Uxbridge School Committee, 1883-1886; was a Trustee of the Uxbridge Free Library 1886-1895; Chairman of the Board of Health 1897-1919 and Town Moderator 1922-1928. He was a Past President of the Blackstone Valley Agricultural Society.
He served his district as Representative in the General Court in 1914-1915, being a member of the Committee on Public Health, and was a leader in the fight which resulted in the enactment of legislation compelling the City of Worcester to cease to contaminate the waters of the Blackstone River by the disposition of its sewage. He also greatly aided the movement for the establishment of the State Reservation at Purgatory Chasm and served until his death as a member of the Commission in charge of it.
Brother Johnson was greatly interested in literature, especially in the poetic form, probably in large measure due to his studies under James Russell Lowell and Henry Wadsworth Longfellow while at Harvard. He had a remarkable memory and could quote passages of poetry at will to fit any occasion. Largely through his efforts the Composite Club, an association for discussion and debate of current events and literary study, was formed in Uxbridge. He served this as President for a time and was its Treasurer at the time of his death.
He was a student of history, especially that of New England, and for many years was Treasurer of the Mendon Historical Society, showing much interest in its work and meetings. He wrote many historical sketches, of which a large number have been published in magazines and newspapers. He also delivered historical addresses on many occasions.
Brother Johnson was married September 12, 1883, to C. Adelaide Capron, of Uxbridge, Massachusetts. Three daughters were born to them: Dora, Grace and Beulah, who with the widow, one brother, three sisters and twelve grandchildren survive them.
Masonry in the Blackstone Valley owes much to the zealous interest of Brother Johnson in the welfare of the Fraternity in that vicinity. He was ready on all occasions to give of his time and ability to assist in any way and was constantly trying to bring about a stronger feeling of fraternalism and closer relations between the several Lodges.
He was raised a Master Mason in Solomon's Temple Lodge, Uxbridge, June 17, 1886, and became its Master in 1889-1890. He held the office of Chaplain of his Lodge almost continuously from 1900 until his death and was Chairman of the Trustees since 1911.
He served in 1895-1896 as District Deputy Grand Master, having been appointed to that office by M. W. Edwin B. Holmes, and in 1918 he was Senior Grand Warden of the Most Worshipful Grand Lodge of Massachusetts. In token of the appreciation of the Grand Lodge for his long and distinguished services to the Craft, R. W. Brother Johnson was presented the Henry Price Medal in 1929.
The example of such a life of Christian idealism, expressed as it was in devotion to the cause of relieving human suffering, integrity of purpose, unfailing religious observance, and a willingness to give unstintingly of his talents to the cause of the common good, will never be forgtten by those who were privileged to know him.
The golden song of heaven is
A poem built of souls like his,
Whose gentle songs were fashioned of
God's light and laughter, life and love.
Where is he gone? The lengthening miles
Have lured him to the afterwhiles.
Edmund C. Young,
Leroy A. Rollins,
Robert W. Taft,
Committee.
SPEECHES
---